Fresh on the back of the news of a disc version of Zipp's top-end wheel, the 454 NSW, the global wheel giant has announced a new offering at the other end of the scale.
Introducing the Zipp 302 Carbon Clincher, a 45mm deep, Indianapolis-made carbon rim, available in both rim and disc brake versions, and expected to retail in Australia for around $2200 a pair.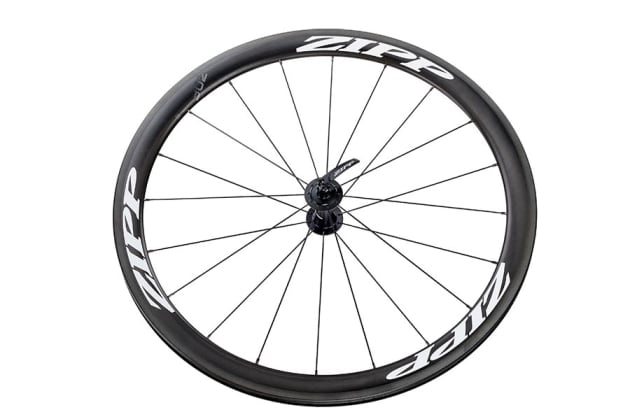 Being touted by Zipp as offering 'Achievable Speed', the company says the dimple-free design is optimized for low aerodynamic drag and precise handling in all riding conditions.
"The 302 Carbon Clincher delivers the ride that Zipp wheels are renowned for at a price that makes Zipp carbon quality and performance more attainable than ever," say Zipp.
With a 26.5mm max rim width, 25.6mm brake track width and 16.25mm internal width, the rim brake version has a combined weight of 1645g, while the disc come in 50 grams heavier at 1695gm, (740g front / 905g rear).
The 302 features a 20 front / 24 rear spoke count in its rim brake form and even 24 / 24 split in disc brake build. The wheels are built with Sapim secure-lock nipples, Sapim CX-Sprint spokes, have 76/176 and 76D/176D hubs and are only available with white '302' decals.
"The 302's smooth carbon rim is hand assembled to Zipp's new 76/176 hubs using Belgian CX-Sprint spokes and brass spoke nipples," say Zipp.
"(This is) to build a wheel that is both fast and reliable—tough enough to survive the Spring Classics or the road less traveled, yet light enough to tackle the steepest grades."
Each new Zipp 302 Rim-Brake Wheel Includes:
• Zipp valve extenders
• Zipp rim tape
• Zipp Tangente quick-release skewers
• SRAM XDR driver body for 176 hub available separately
Zipp recommends the Zipp Tangente Platinum Pro Evo Brake Pad for use with the 302 Carbon Clincher (not included).
The Zipp 302 wheelset is expected to retail for around $2200.