Born from an unsuccessful endeavor into women's cycling apparel, the skingrowsback brand now features an extensive product catalogue and clearly represents the idea that if at first you don't succeed, try, try again.
Now with 9 years of business under the belts, Jamie, wife Catt and the skingrowsback team have refined their products to a high level of functionality and form.
"We started skingrowsback because we wanted to do women's cycling apparel (back in 2005 or 06)," Jamie told Bicycling Australia, "We wanted it make it ourselves, but after we started we realized there was too many variables. We were courier's in Sydney at that time so we started to make courier equipment like lock loops, top tube pads, phone pouches and hip packs."
For fun, Jamie was using old top-tubes to create small wallets for friends and in 2008 they unveiled their first messenger bag.
Based in Ulladulla on the South Coast of NSW, Jamie and his team designs and hand-makes an impressive catalogue of products and prides himself on making things that last. High expectations and a keen eye for detail are obvious in each product featured in the skingrowsbackbrand.
"Function before form. It has to work, then it has to look good", Jamie explains.
The skingrowsback PAK30 backpack is testament to this. Weighing in at 1.5 kg and with a volume of 30 litres (300mm wide x 500mm high x 200mm deep), this bag fits most airline carry-on size requirements.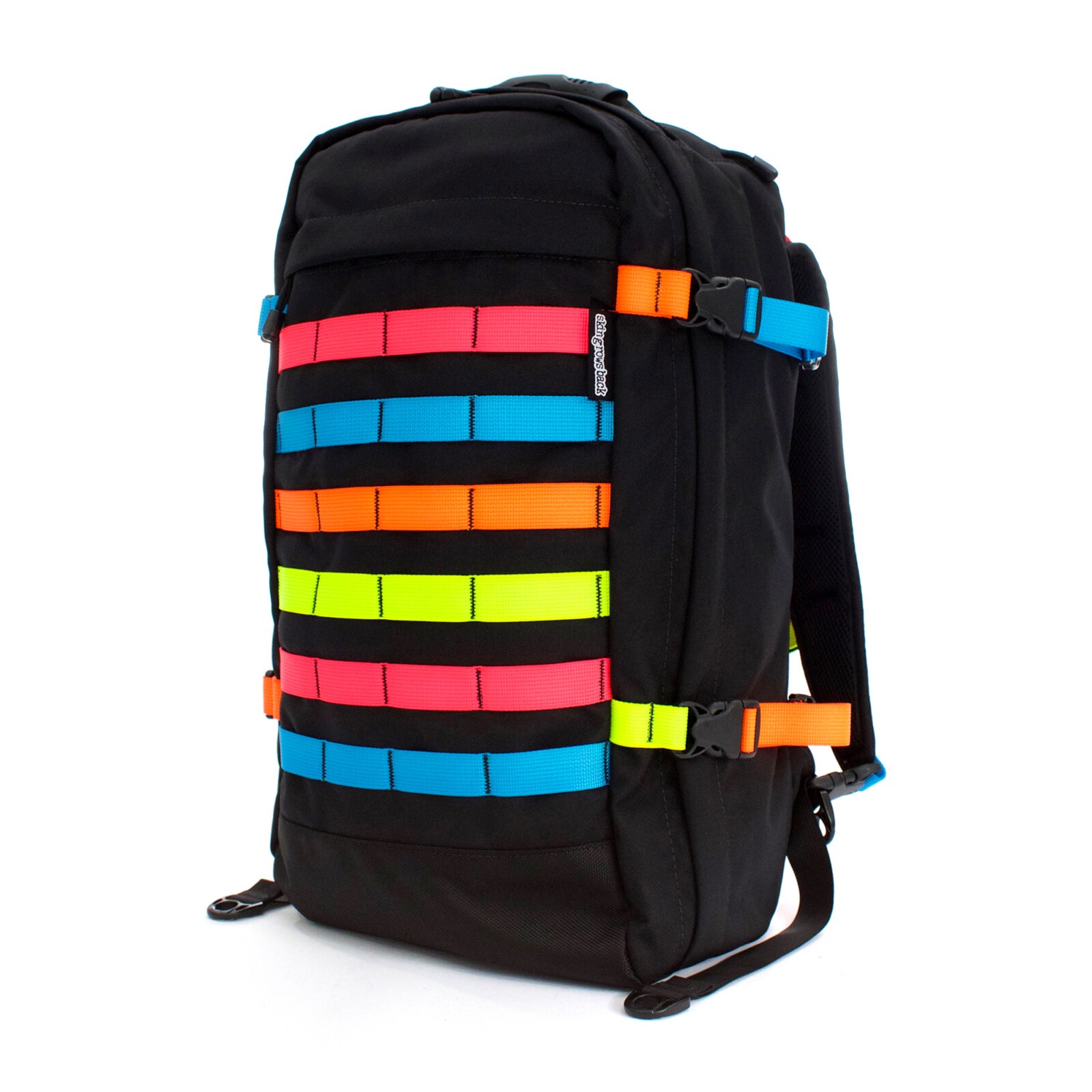 The PAK30's high functionality is the cornerstone to what makes this backpack a worthwhile purchase. The bag is designed with highly durable and waterproof material and features multiple pockets including a front zip document pocket, laptop sleeve, bidon sleeve and a padded back pocket that can also accommodate a hydration bladder.
"We designed it for racing and travelling, that's what the inside is all about. All the new bags have laptop and bidon sleeves, and three mesh pockets"
Other noteable features of the PAK30 include a magnetic slide release sternum strap, a main compartment zip that allows the bag to open out completely for easy packing/access and Molle front webbing.
For those unfamiliar with this design, Jamie explains:
"So the Molle system was invented by the US military and it was designed so you could quickly attach and detach bags and components to the bag. We use it for that reason but also for aesthetic reasons."
The PAK30 features six webbing lengths across the front panel and maximizes the exterior carrying ability of the backpack to include further bidon carriers or small detachable pouches ideal for easily lost items such as your lip balm or race licence.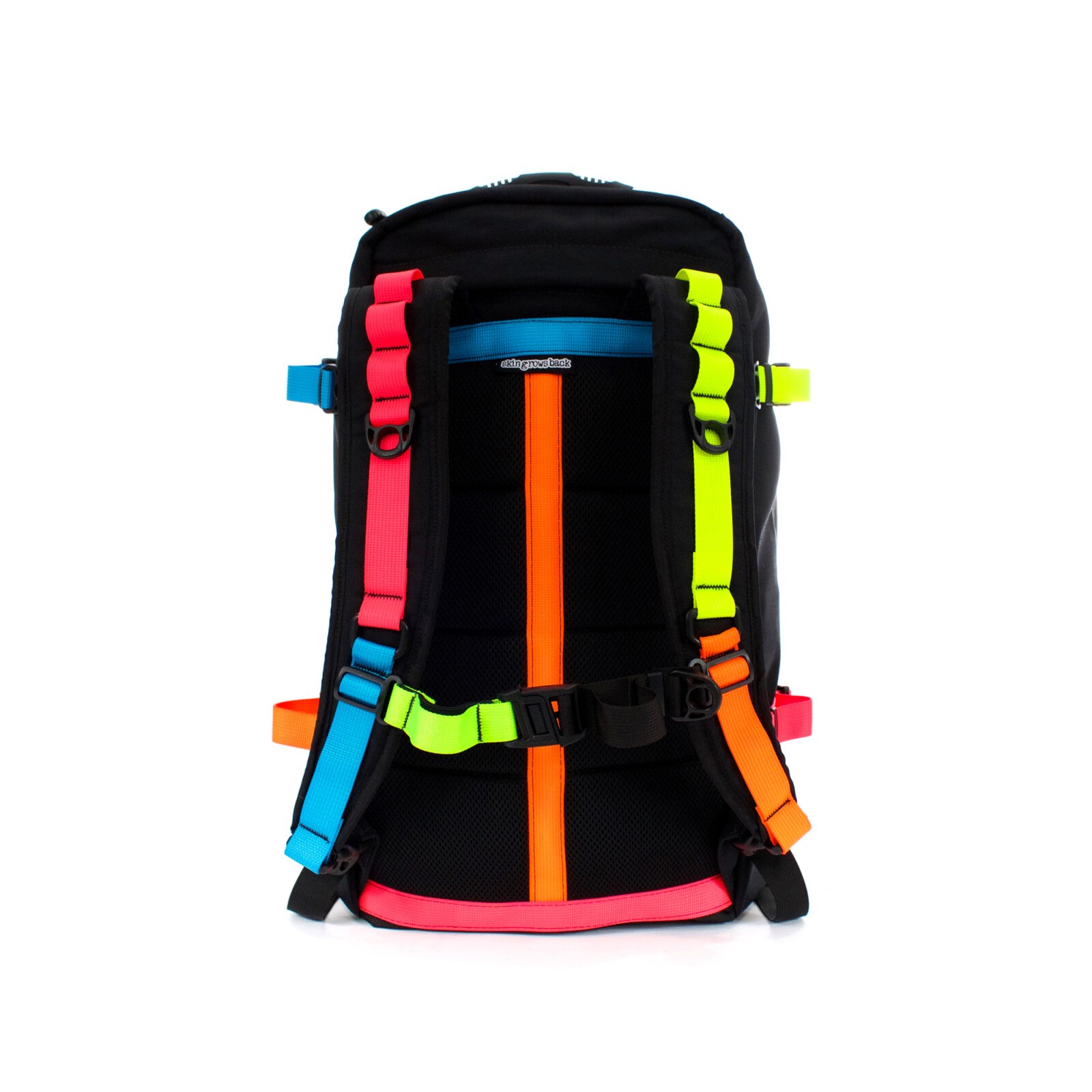 The team has also incorporated packing cells and shoe bags to the catalogue as well as designing the backpack to include four compression straps with the idea of attaching a skingrowsback helmet scoop.
Just one use of the PAK30 was enough to convince me this backpack is well worth the pricetag. It feels like a quality and made-to-last product, looks good and fits a surprising amount of gear inside and while I would have preferred lockable zips and an internal bidon cage did make me wonder how many people would risk potential internal water leakage, the PAK30 is now my go-to race bag.
While some potential improvements to the PAK30 could include a fully contained zip pouch for your laptop and as previously mentioned, lockable zips on the external/main compartment. In saying this, it's clear the skingrowsback PAK30 and complete range are made to be quality and long-lasting and tick almost all the boxes I have for what's required from a racepack. Each time I packed up this backpack I was surprised there was still more room, despite its conservative looking size.
And the best feature? Definitely the main compartment that zips open completely. No more rummaging at the bottom of my racepack from that spare glove or heart rate monitor. You can really tell the care Jamie and his team have put in to sewing and designing the PAK30 to be a high quality and essential accessary to every racer's artillery.
The PAK30 is available in multiple designs and customization options and retails for $249.95.
Check out skingrowsback.com for further details.