Tubeless tyre tech is rapidly evolving but how are the offerings improving? Peter Maniaty finds out here.
If only they were easier to fit…" It's been over a year since I typed those words. But they are, verbatim, how I ended my review of Continental's first generation of tubeless GP 5000 tyres, the TL.
Well, I am delighted to report that, even if you read nothing else of this review, I found the all-new GP 5000S TR to be light years ahead of their predecessors when it comes to installing. Still a tight fit, to be sure, but nothing like the infernal arm wrestle of 12 months ago that saw me break two tyre levers and take the skin off my knuckles. The even better news is the GP 5000S TR takes what was an already outstanding tubeless offering and makes it even better.
More Revolution Than Evolution
First seen last September at the 2021 UCI Road World Championships—and shortly after that, carrying Sonny Colbrelli to victory at Paris-Roubaix—the GP 5000S TR replaces the original GP 5000 TL tubeless offering launched back in 2018. While they may share a similar name, the S TR is a very different tyre to the TL.
This is more a story of revolution than mere evolution. Hookless-compatible for the first time, the 700x25C model reviewed weighs in at a very competitive 250 grams. That's around 50 grams lighter than the TL equivalent. According to Continental they're also 20% faster and have 28% stronger sidewalls, all while being significantly easier to fit. Having ridden them for over two months, I can vouch this is more than just marketing puffery.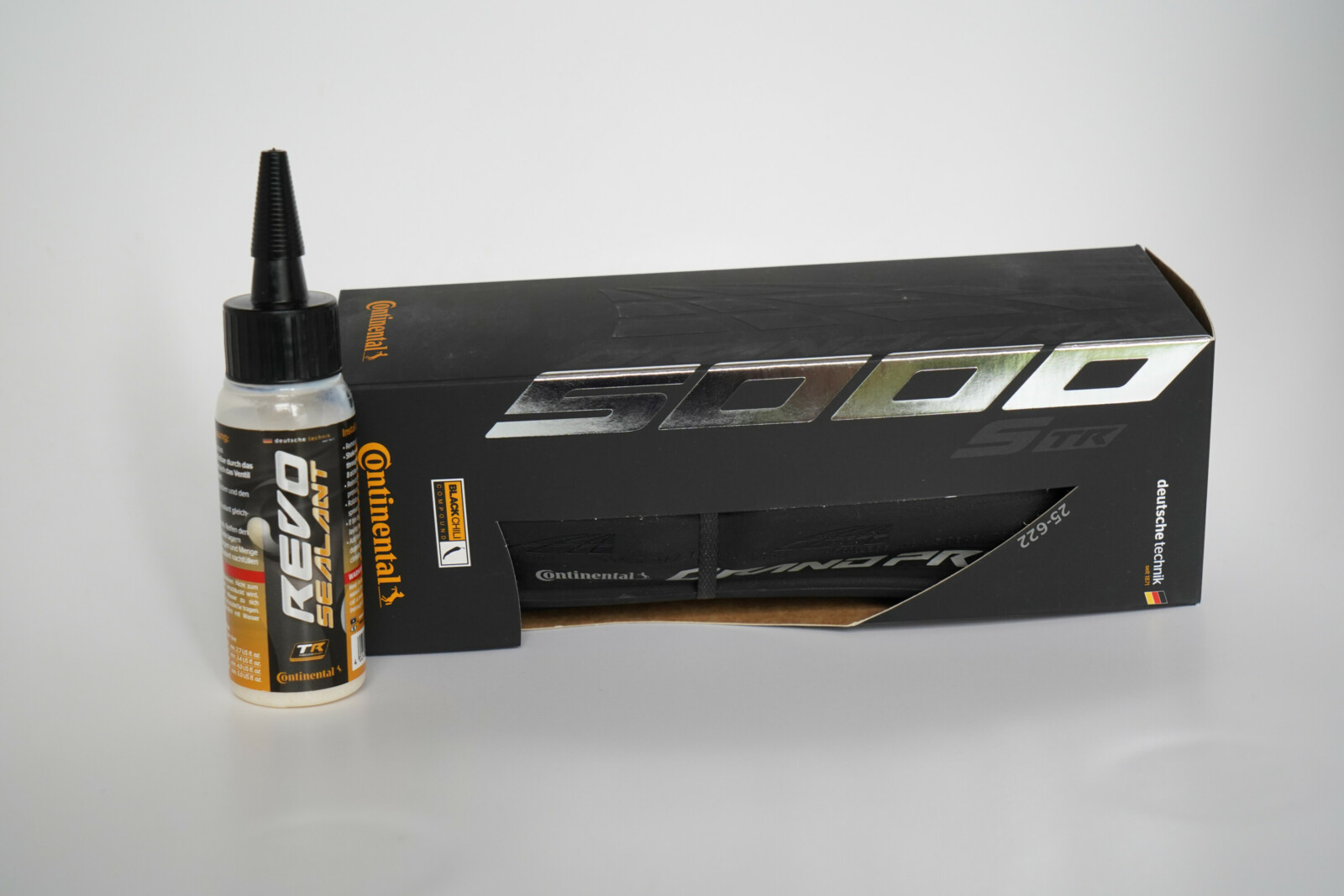 New Dual Ply Casing
How has Conti done it? Well, for starters the carcass construction of the S TR is significantly different. Gone is the previous three-ply 180 TPI casing, replaced with a new dual-ply 220 TPI construction (2 x 110 TPI layers) under the tread. Also gone is the air-tight butyl rubber inner liner that made the TL fully tubeless. Like most of its contemporaries, the STR is considered 'tubeless ready' as it requires sealant to seal the tyre.
The combined impact of these changes is reduced weight, together with a 10-20% shaving in overall tyre thickness at the centre of the tread compared to earlier GP 5000 iterations. While we're only talking 0.3mm or so, theory would suggest this thinner casing of the S TR may be a little more prone to cuts and punctures, thus making the correct use of a high-quality sealant a must.
While I don't have access to a controlled testing facility, what I can say is that during the 2,000km+ ridden for this review I've had no durability issues whatsoever, and a quick inspection shows the tyres are still in excellent condition. Highlights include smashing at high speed through a jagged dinner plate-sized pothole on my club's Christmas ride back in December (thanks for pointing it out, guys). I was waiting for the dreaded flat, yet it never came. Sure, that could be as much down to good luck as good work in the design lab, but it was impressive nonetheless.
What's The Same?
While upgraded across the board, it's worth noting there are still several important carry overs from previous GP 5000 models, both tubed and tubeless. Most notably, the S TR continues to feature Continental's now-legendary Black Chili rubber compound (still one of the fastest rolling compounds on the market), LazerGrip etched micro profile tread and Vectran™ tear-resistant fibre layer. Chapeau to Continental for resisting the temptation to change absolutely everything. After all, when you're on good things, it pays to stick to them.
On The Road
The decisive test of any tyre is how it performs in the real world and, again, the S TR really is first rate. As already mentioned, I've found them impressively durable in a wide range of conditions. Cruising or racing, dry or wet, they provide a wonderfully smooth yet lively ride, delivering one of the best all-round tubeless experiences I've had. They boast outstanding rolling resistance and glide effortlessly across the tarmac, offering a highly responsive road feel with plenty of feedback, not spongy in the slightest.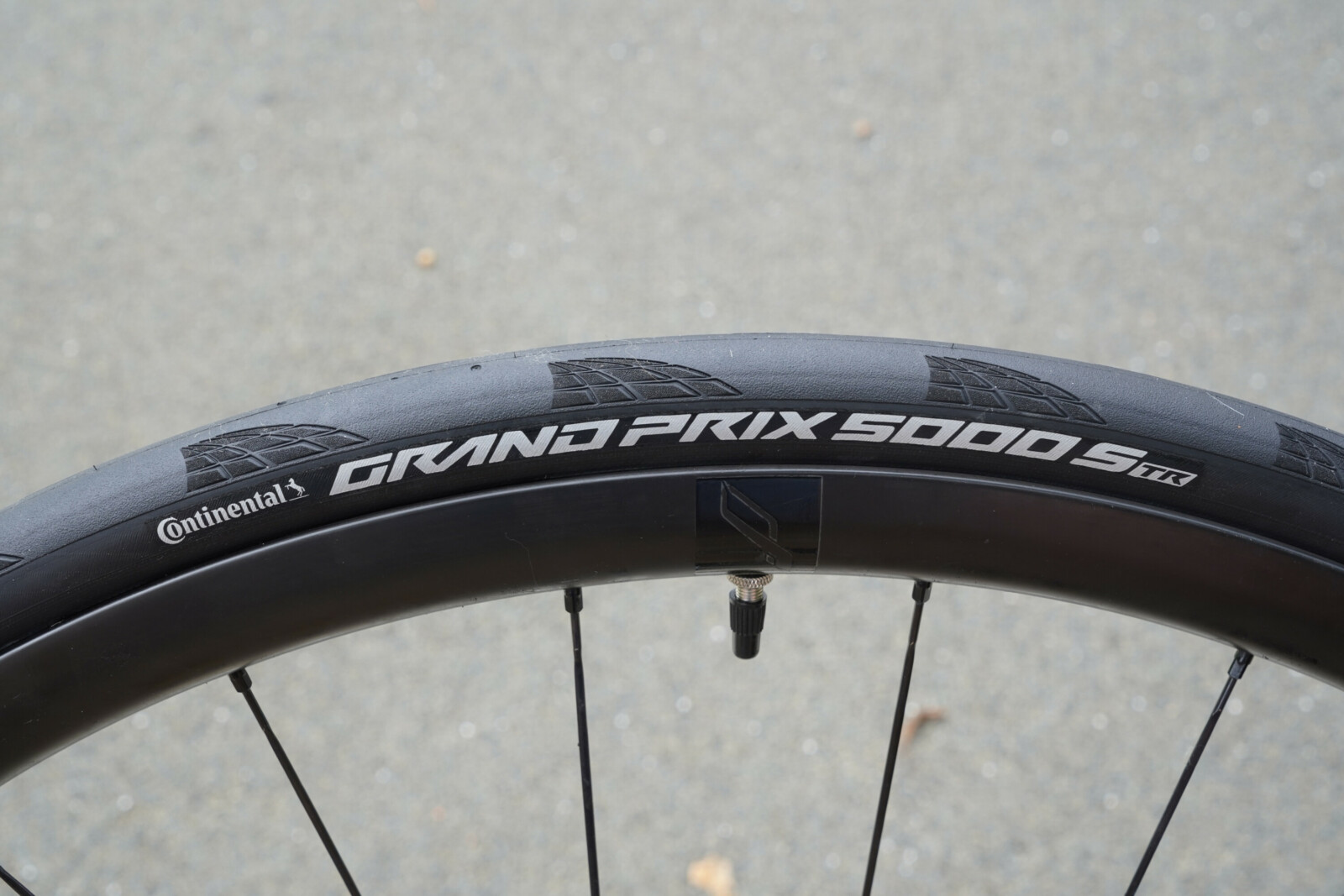 Are they 20% faster as Continental claims? I'm not so sure about that, but they are certainly a very slick tyre. As you'd expect from any rubber carrying the GP5000S moniker, the handling and grip is supremely assured. I experimented with a variety of pressures on my hooked carbon rims, running as low as 70psi with no issues whatsoever before settling at around 80psi. Recommended maximum pressures for the 25mm model reviewed are 109psi (hooked) and 73psi (hookless).
Summing Up
With an RRP of $125 per tyre, the Continental Grand Prix 5000S TR is certainly priced to stretch the value equation. But my experience suggests they are worth it. Critical will be how their long-term durability holds up, especially as we roll into the Autumn months.
But, for now, being lighter, faster (arguably) and noticeably easier to fit than the TL—the importance of which simply cannot be overstated—they have all the hallmarks of setting a new benchmark for 'tubeless ready' performance rubber. I've thoroughly enjoyed them from the first kilometre to the last.