The Lezyne CNC Tubeless Drive is a 3-in-1 mini hand pump, tubeless repair kit and C02 inflator, which sounds like it could be an ideal minimalist gravel ride saver. Here Steve Thomas puts it to the test.
Over the years I've probably cursed the trail and roadside evils of a flat tyre and a mini pump more than I have anything else on a ride. That non stop and bent double while pumping hopelessly scenario is usually faced in the mid-day heat as your arm burns and the air seeps out almost as fast as it goes in. My quest for viable solutions to this (that don't involve a full-length frame pump) have seen few bounds over the years, and when travelling for many years I've even carried a cheap plastic floor pump for the initial blow up.
There are many manufacturers who claim amazing inflation feats from their half pint sized wrist wrenchers, but when you get down to it logic dictates that there's only so much air you can get out of a small pump – or is there? The Lezyne CNC Tubeless Drive hand pump come tubeless flat tyre saviour has been widely touted as the solution, or at least so when you're out on the ride and you run out of air — can this be so?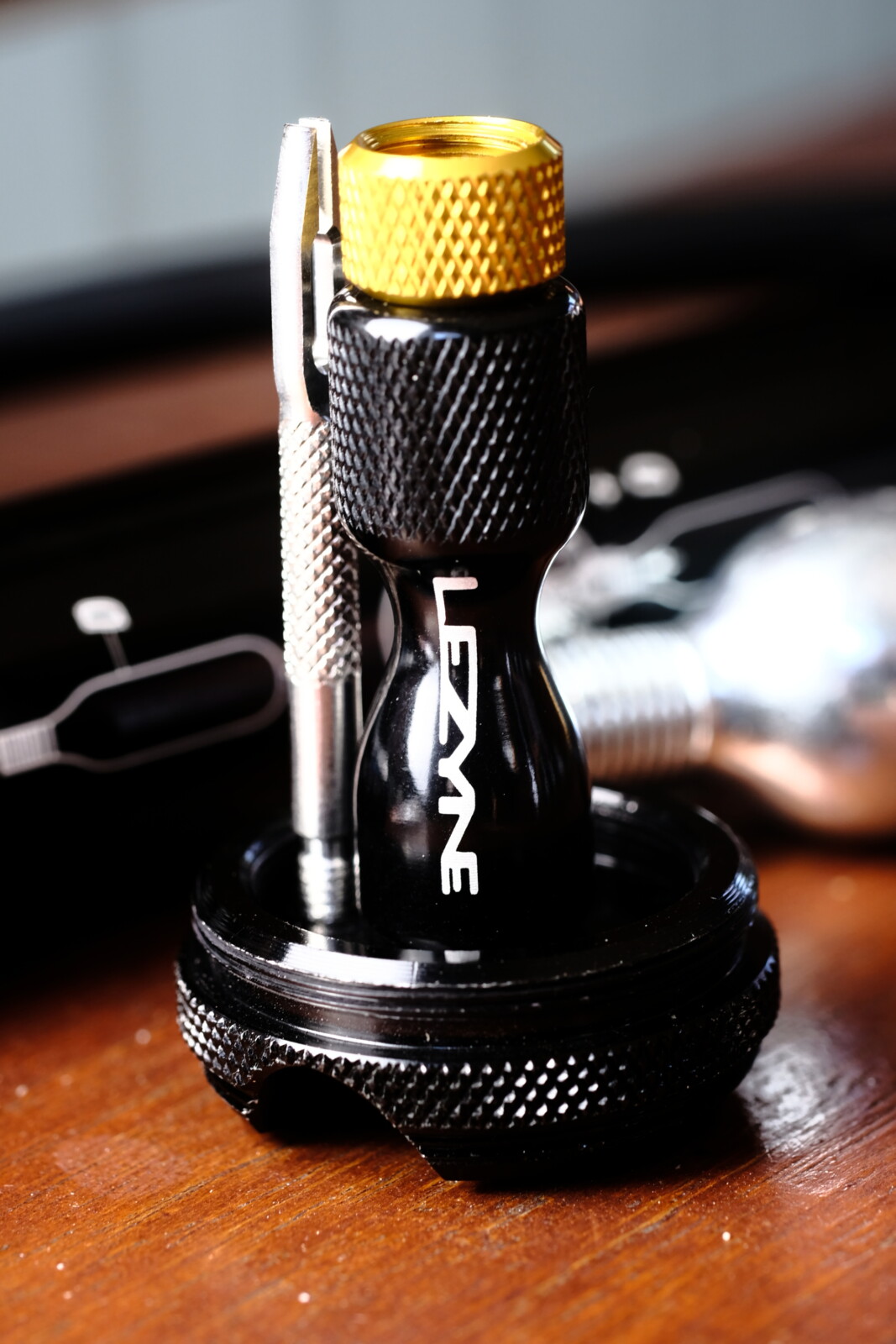 In the past I've used a number of Lezyne mini pumps and other products, and from this and my experiences with their pumps I can certainly ascertain that most of their inflation products are top drawer, and they are all made by Lezyne and sold only under their own name, and not rebranded or produced for any other manufacturer (which is very unusual in this OEM led industry).
Straight out of the box (or rather off the card) you will note that the build quality of this CNC engineered aluminium device lives up to the brand's repute, and of course, it does carry a price tag to match that quality. Even so, with all things considered it's a reasonable amount to pay for what you get, and based on past (and on-going experiences) of Lezyne products this is a decent and long-term investment in kit that will stand the test of time.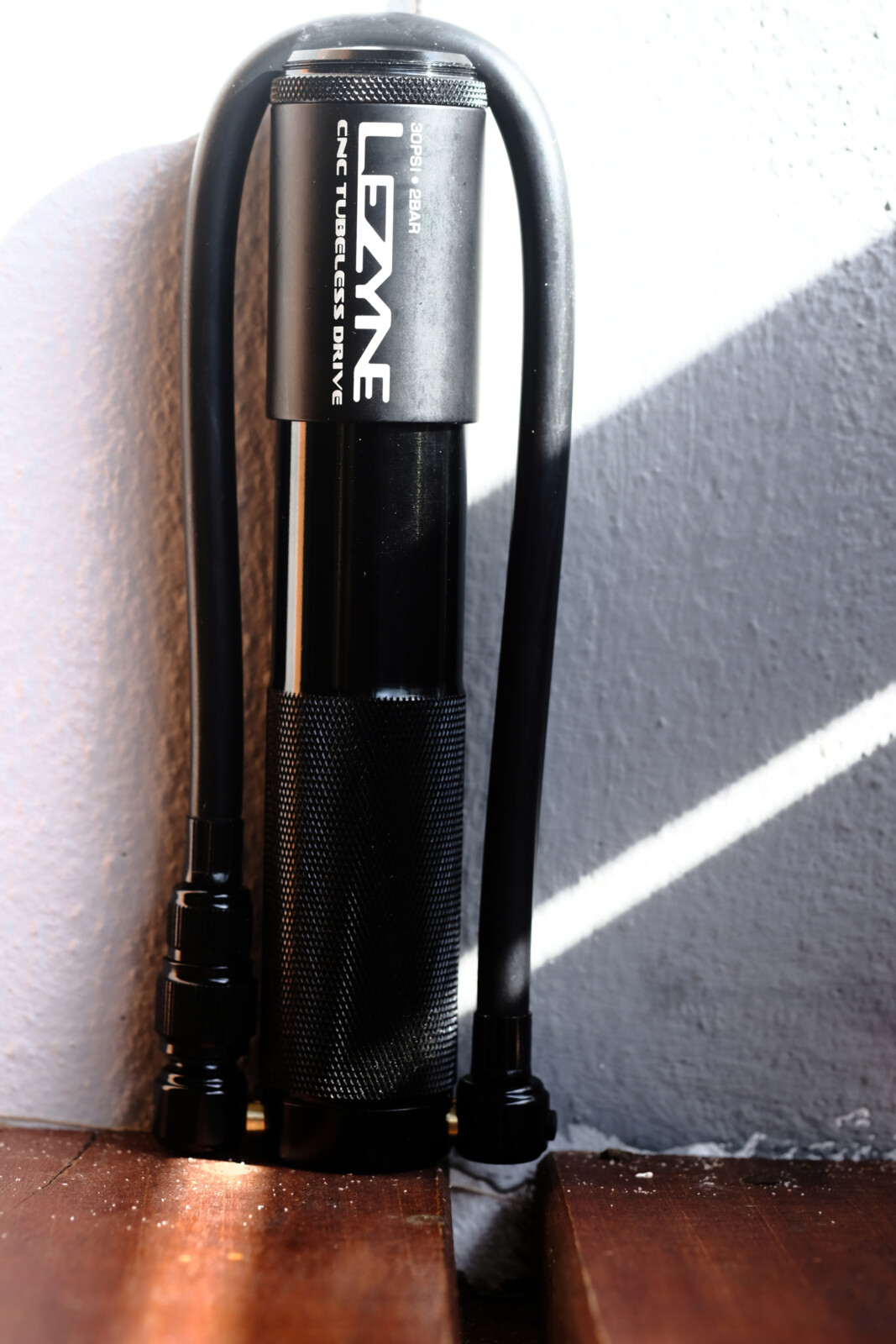 The device is primarily aimed at mountain bikers, although it is almost equally as adept for those of us who like to skinny off road – otherwise known as riding gravel. Standing just 173mm tall and weighing in at 276 grams when fully loaded this is a stocky and hefty device and is robust and precise. The hand pump itself can also be used as a basic floor pump, although I found this not to be an easy task given as it has no flip down foot stand (as does their Micro Floor drive, which I've been using for many years).
The pump strokes may be short, but somehow it produces a lot of air with each blast, albeit that some effort is required to do it. Unfortunately, it has a 30psi/2 Bar limiter on the hand pump, which for me, as a 6-foot light-heavyweight is exactly what I ride most gravel tyres at, but clearly, it's not enough puff for those who like a harder ride or for road tyres.
The pump has a wrap-over hose and screw-on Presta adaptor, which is quite a precise fit, meaning that you will also need to be sure your valve cores are tight before using it, as it could well remove them on exit. Needless to say, this inflation limit is not going to be enough to pop your tubeless tyres on the rim if they get pushed off, which is why there is a space for an included 20oz CO2 canister inside the shaft and a CO2 adaptor inside the screw off handle compartment.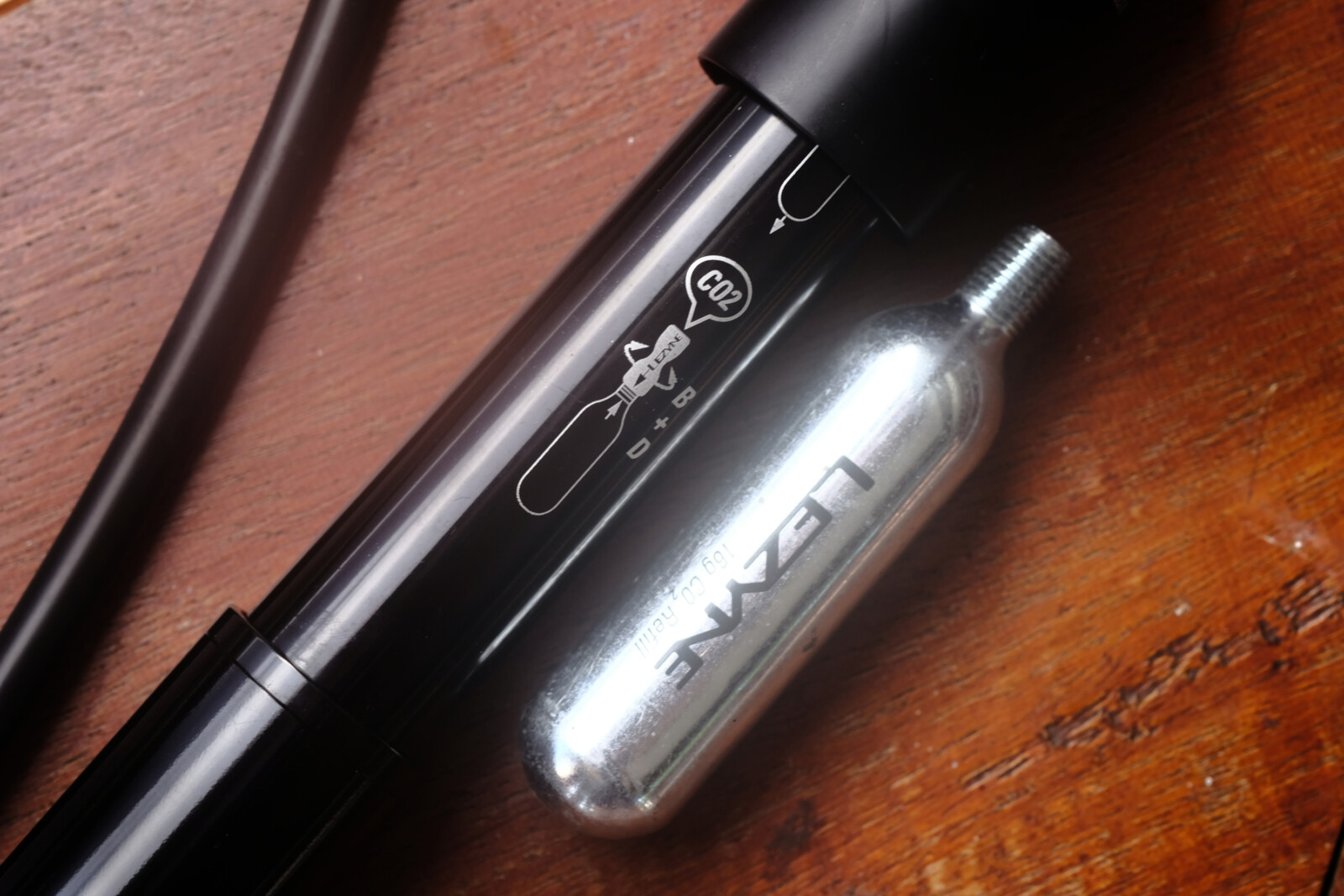 Due to being air shipped, my pump came minus the CO2 canister, but luckily, I had a couple of Lezyne capsules to hand – a 16 and a 20 ounce, both of which are capable of popping a tubeless tyre in place if needs be. That said, some other branded 20oz cartridges may not always fit into the shaft.
There's More Inside
Also, in the shaft and handle is space to stash the supplied tubeless tyre plugs, and you could even add a few emergency bank notes or some ID in there. Hidden inside the screw-on top, along with the CO2 adaptor is the tubeless repair tool, all off which piece together firmly and discreetly under the hood, making this a great minimalist and space saving package – and one which will go in your back pocket, but perhaps better placed in a bag.
All up this is a well thought out quality tool, which is well worth buying for those who ride gravel or mountain bike and run pressures of 30psi or lower. For sure it will find a home in my bar bag for gravel rides, although it will not be taking the lead from my Micro Floor Drive pump when it comes to travel, where I will need to inflate from flat and hit higher pressures more regularly. 
At A Glance 
Lezyne CNC Tubeless Drive
3-in-1 mini hand pump, C02 inflator and tubeless repair kit
Colour: black
Weight: 276g including 20g CO2 cartridge
Length: 173mm
Max 30psi/2 Bar inflation
RRP: AU$125