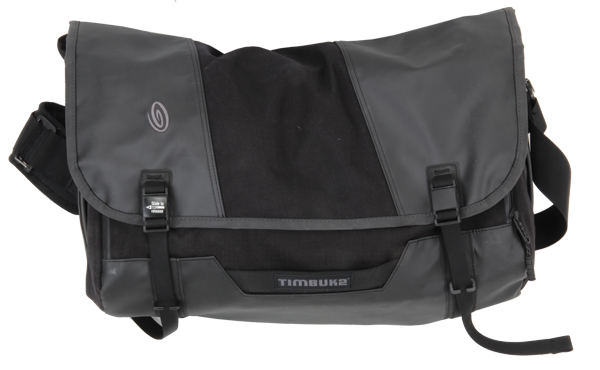 Not so corporate as to offend the sensibilities of couriers or inner city hipsters, though perhaps not the most suitable attaché for the most conservative of businessmen, the Timbuk2 Especial is a highly desirable piece of baggage that won't hold you back.
Luggage choices make a strong first impression. Like most accessories, your briefcase, suitcase or backpack can make you look good, competent and capable when appropriately matched with your activities and clothing.
When it comes to carrying laptops and documents, a traditional, conservative workplace might usually suggest a dressier briefcase that looks professional and appropriate with a suit. Less formal situations, which still require you to carry the digital device du jour and other gear, allow for a more casual choice of clothing and luggage. Enter the Timbuk2 Especial.
Quality fittings and finish stand out on the Especial immediately. Designed inSan Francisco, the Especial has some classy west coast cool; it's comfortable with jeans and a T-shirt, but sophisticated enough that it won't look out of place with shirt and tie.
It's constructed from black and grey Ripstop Cordura—this fabric has a reputation that says it will last every minute of the lifetime its warranty claims.
Clearly a lot of thought has gone into making this bag. The main shoulder strap is padded and is designed to allow exactly the right angle of attachment for maximum comfort and secure positioning. Left-handed users can remove and reverse the strap to suit as well. There's an adjustable sternum stabilising strap that has been designed to hide away when you don't need it, neatly secured along the bottom seam on the back of the bag.
The back of the bag has three raised, padded panels that aim to hold the pack slightly off your body to increase ventilation. OK, not a bad idea and there are plenty of bags with some sort of cooling 'system', so it is an issue. I haven't seen any system that actually works and this is no exception—it's still quite easy to work up a sweat wearing the Especial.
One-handed access to your gear inside is easy with the slide open; self locating, self locking magnetic clips secure the main closure of the bag. There is also a good dose of velcro holding this main flap down, so it won't just fly open when you least expect it. There are four strap handles neatly sewn into the side and back and bottom panels so you can grab the bag easily from any angle. Your phone, keys and wallet will stay dry in any of the three, easy access, waterproof zippered pockets.
Another standout feature is the night time visibility. Difficult to see in regular light, the grey tape sewn around the hems and seams is highly reflective so you'll be visible to traffic in the dark.
All these features, (pockets, straps, reflectors) might make the Timbuk2 sound somewhat less than 'especial' but this is not the case. It has been designed with style and incorporates well-hidden, ingenious features to make it superbly functional and confidently cool.
47 x 41 x 13.5cm and 1.5 kg
Price: $123
Distributed byPhoenixLeisure