They are one of the most critical aspects of cycling – replacing or upgrading the wheels on your bike can make and astonishing difference to the performance, ride, handling and overall enjoyment of cycling.
Whether you're on a bunch ride with mates or competing in a Gran Fondo event such as Bicycling Australia's Bowral Classic, wheel choice is one of the most important factors of your time on the bike.
While the standard of stock or factory wheelsets is steadily increasing, they'll never match the variety, quality or performance of a specific, hand assembled, aftermarket wheelset.
Deciding Upon A Second Wheelset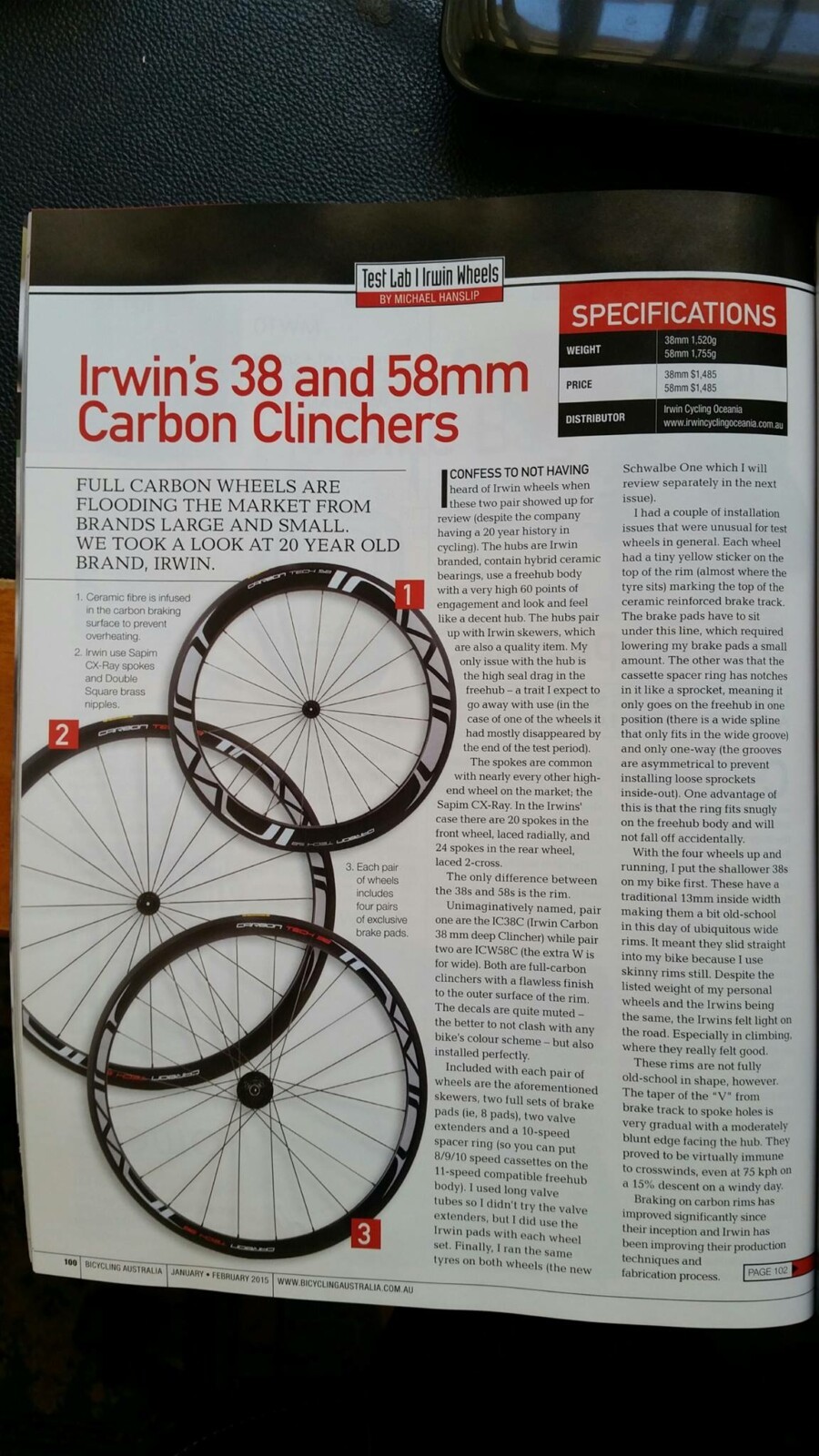 A popular option is to purchase a second wheelset – the original wheels being kept for commuting, training or those wet-weather days with the higher-quality (and more valuable) hoops being reserved for race day, special events or trips.
Which brings us to the million dollar question … what wheels when? For expert advice on this we spoke with Richard Riechelt from Irwin Cycling Oceania, the Australian distributor of hand-made Irwin wheels.
We started by asking Richard the big question … with all manner of wheels available to the consumer – seemingly endless options with more added daily – how does a rider decide on their first big upgrade?
"Wheel profile preference is a very individual choice," Richard replied.
"You will see riders in the Grand Tours all using different configurations depending on their personal preference, their characteristics and cycling strengths and weaknesses.
35mm – 40mm A Common Choice
"Our view is that a wheel in the 35mm-40mm range is a great all-round choice. It climbs well, rolls well and is very comfortable. Many riders enjoy the attributes of a deeper rim and go for 60mm. An example is our Irwin 58mm – the wall profile gives a bit better aero and stiffness which is a characteristic of higher profile carbon wheels."
Richard went on to say that basically the less spoke length, the stiffer the wheel.
"This is not to say 38's aren't stiff because they are for sure," he said.
"The 58's add that real character and all the feedback we get is how solid they feel and well balanced they are.
"Personally, I find a great compromise is the 38mm on front and a 58mm rear. This gives great aero and stiffness on the rear and lovely handling on the front. We call this the 'Mullet combo' – business at the front and party out the back."
The Crosswind Factor?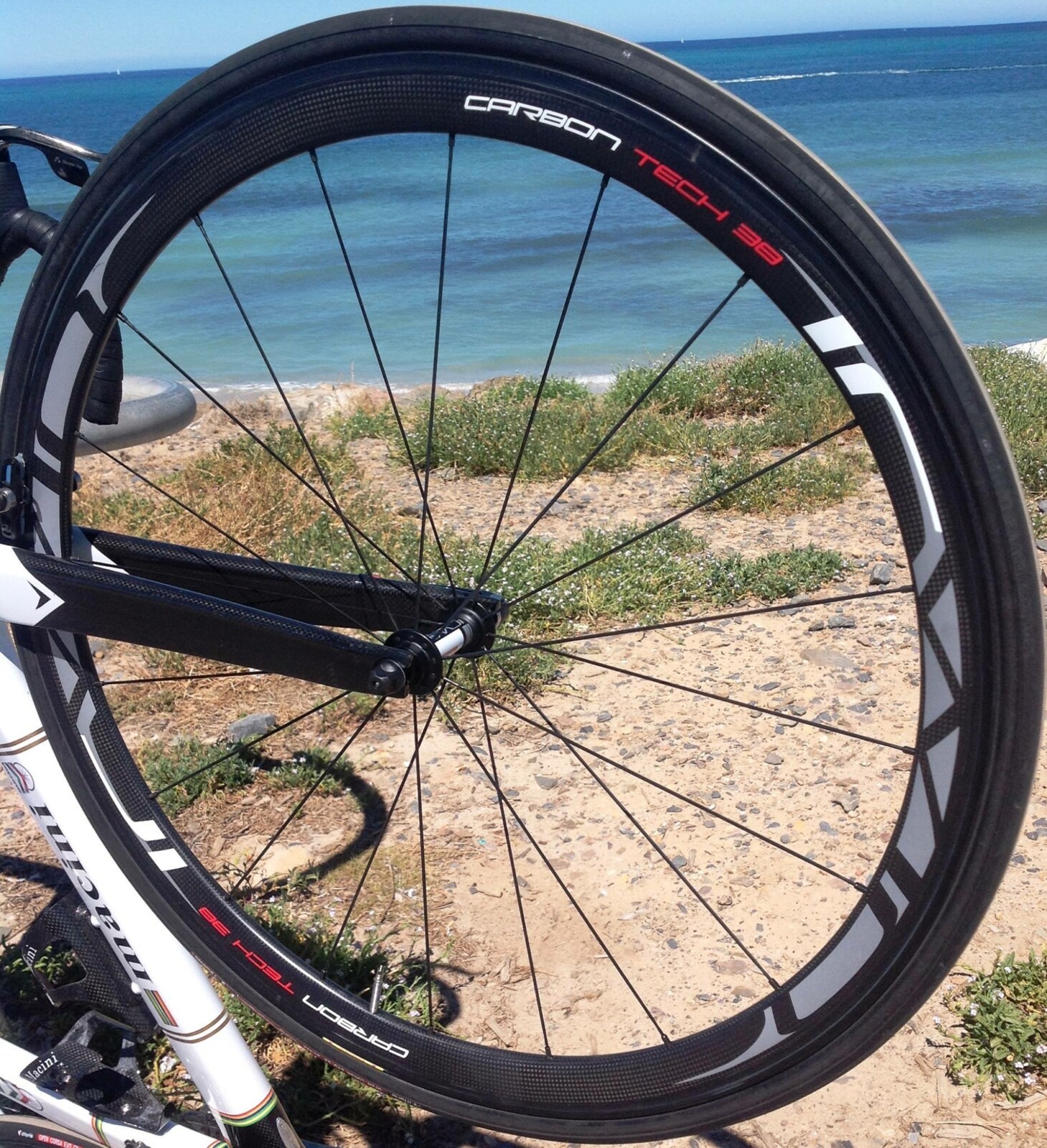 It's widely known that the deeper the wheel, the more difficult and potentially twitchy or even dangerous it can be in cross winds. That said, in his completely neutral review for Bicycling Australia, Michael Hanslip said the earlier model Irwin 38mm wheels were virtually immune to cross winds. We asked Richard how this was so.
"Michael wrote very favourably about the IC-38's – they were a great wheel, but they have been superseded by the ICW-38's which actually has even better performance in the crosswinds. The U-shaped profile of the deal so much better with crosswinds than the traditional V-shaped rims due to their improved aerodynamic characteristics."
Richard said the profile shape assists riders who may be less experienced or slightly nervous about riding crosswinds.
"It gives them greater confidence," he said. "It's also a reason that many customers go for the higher profile U-shaped 58's because of less susceptibility to crosswinds."

With so many wheel manufacturers out there and new ones popping up almost weekly, we asked what riders might should look for when deciding 'which wheel'?

"When folks are looking to buy wheels they should look at the build quality, the warranty, the features and of course the need to consider their budget," he said.
Carbon Braking Surfaces
Braking is obviously a critical factor and has come a long way, particularly with carbon rims in recent years.
"For example our rims have a ceramic impregnated braking surface," said Richard. "Your reviewer said this was the best carbon wheel braking performance he'd experienced at the time of his review. We also have ceramic bearings in our hubs. This gives greater longevity and great rolling performance to our wheels."
"Buyers should also look at the quality of the spokes. On a personal not we only use Sapim CX Ray spokes as they are fantastic quality and consistent in their performance, both through the extensive build process, but importantly out on the road."
A passionate cyclist and self-confessed 'cycling-nerd', Richard says one of his interests is analysing the critical differences between brands.
"When I'm riding I I want to know I am riding on something fantastic," he said. "I sat down with the engineers, designers, builders and owners at Irwin and was blown away. I had used all the big brands on the road and the track over many decades, but when the team took me through the finer points of why those chose some design characteristics and building process. The way they use certain carbon layups in some areas and then why they change it in others, they resins they use, how they test the wheels, the fact they build and press the wheel and then rebuild the wheel to make it perfect, was so above anything I had read about or seen before. It was super impressive."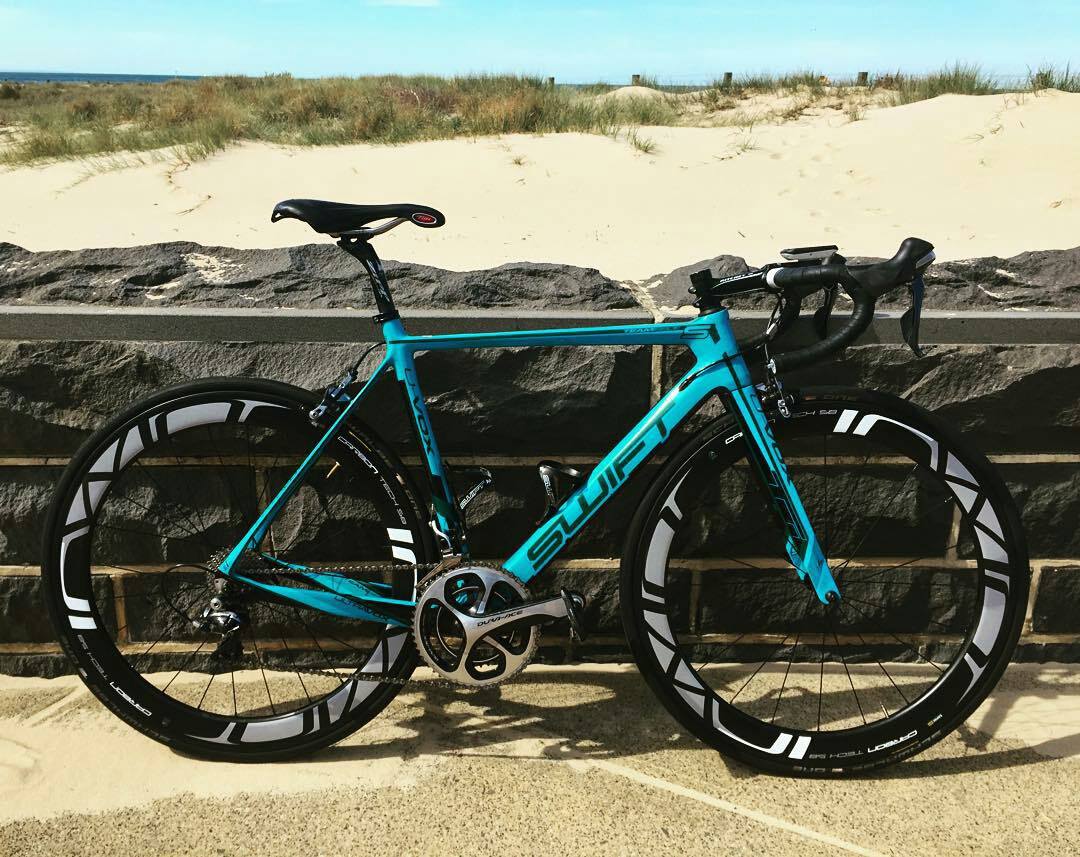 Weight & Performance
Asked about the balance between ultra light weight and all important safety he said it would be relatively easy to create a lighter wheel or design one with less spokes.
"The balance between speed and safety is one manufacturers have to stay true to," he said. 'The consequences can be dire."
Finally, we asked if he had any further comments for buyers looking to add a second set of wheels, possibly even a pair of Irwins' to the collection.
"All of our customers and athletes tell me how much they like them," said Richard. "They really love the solid feel and the balance. Pair a set of wide rims with a good quality 25C tyre and you'll have comfort, handing and speed which is the perfect outcome."