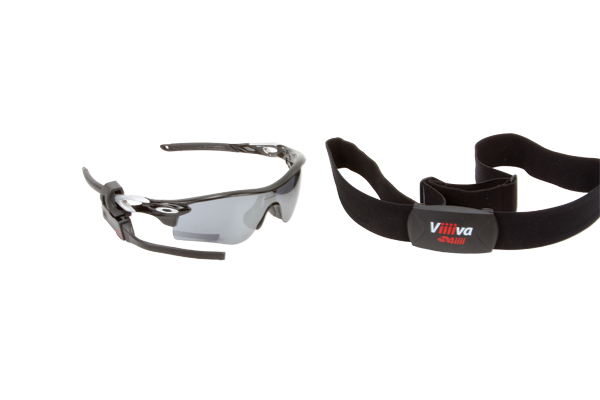 Wearable technologies are fast becoming the latest must-have gadgets, so I was quite intrigued when the chance came to try out the 4iiii training system for myself. Whilst perhaps not as sophisticated as some of the 'heads up' systems and prototypes I'd heard about, 4iiii still boasts plenty of features that, in the right circumstances, are no doubt pretty handy for many of us road warriors.
So what exactly is it? Well, 4iiii is a virtual training partner centred around a small Bluetooth device that attaches to the arm of your glasses either via a bespoke plastic bracket (provided) or, if you prefer, cables ties. The device, known as 'Sportiiii', features both a speaker for audio 'Voiiiice' prompts and a slender arm with a series of flashing coloured lights to provide instant performance feedback as you ride, depending on how you've set up the device beforehand using the free 4iiii smartphone app.
Sportiiii is ANT+ compatible and can be configured to monitor all the usual ride data like heart rate, speed and cadence without the need to look down at your stem. But perhaps most interestingly, for me at least, you can also sync it to your Strava account to gain real-time GPS functionality, and receive audio and visual feedback on your proximity to – and performance during – preselected Strava segments. You can even preselect a virtual training partner from the segment's leaderboard to compete against, be it your own PB or someone else's. If you want to commit Stravacide this is a great way to do it.
As for the actual usability of 4iiii? Well, it took a fair bit of fiddling to get started and the instructions could possibly be clearer. But once I was up and running it was easy enough to use and surprisingly unobtrusive. The audio prompts are clear and come with adjustable volume and frequency. Initially I was slightly concerned about my view being obstructed by the Sportiiii device itself, but as I quickly discovered the arm is quite flexible and I was able to position it in such a way that vision and safety wasn't a problem. It's also worth noting that given the 4iiii system uses flashing coloured lights – with each colour signifying a designated data zone – as opposed to an actual LCD display, I was able to remain focused on the road ahead at all times, relying on my peripheral vision to see the colours.
Retailing at around $220 would I buy the 4iiii system myself? Without the Strava functionality I'd probably have to say no, simply because I already have a perfectly good GPS device. However, from a pure training perspective the Strava compatibility certainly does have appeal.
The 4iiii system is USB chargeable and comes with its own heart rate monitor known as 'Viiiiva'. To access the Strava functionality you'll also need to download the 'Cliiimb' iPhone app from the App Store. It's free.
RRP: $220
Distributed by Bicycle Parts Wholesale