Annette Edmonson, a key member of Australia's women's pursuit team, says she is "beyond devastated" after the team finished 5th at Rio.
"They say everything happens for a reason, but this time I can't quite understand why," she wrote to fans and supporters.
"I'm beyond devastated for the girls, who I believe deserved so much more. As did the coaches, staff, family and friends who put so much time and effort into us."
"Unfortunately these things happen in elite sport, and I'm so thankful for having a team of girls who were so positive about getting back up and out there, who never once complained about the pain or effort, who gave everything to keep the dream alive.
Thank you, Amy, Mel, Georgia, Ash and Beck for making the journey from London so incredible."
Edmonson and the team have since been inundated with support and encouragement.
Red hot favourites to make the podium in their event, members of the team were caught up in a shocking training crash on the velodrome boards last Monday – a crash that threatened to end their Olympics campaign on the spot.
Melissa Hoskins was the most seriously injured in the incident and taken to hospital for observation and treatment. Unable to race and now contemplating retirement, Hoskins sat on the sidelines to watch teammates Ashlee Ankudinoff, Amy Cure, Georgia Baker and Annette Edmondson beat Italy to place 5th overall.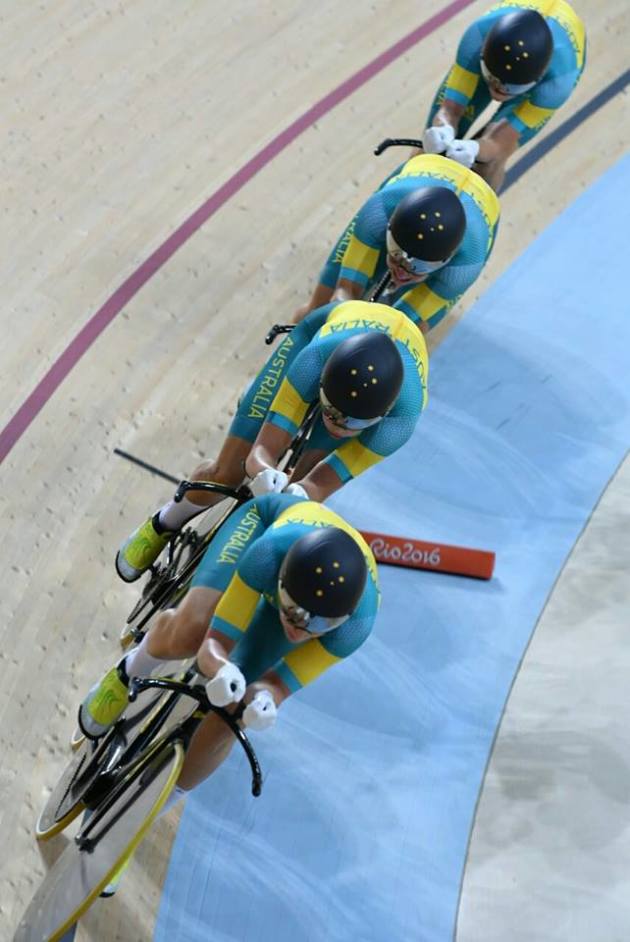 Nursing a serious shoulder injury and bruised sternum and ribs, Ashlee Ankudinoff was in a world of pain during the finals.
"It hurt. But not as much as missing out on the Olympics," she said.
"It was definitely playing on my mind but my legs were screaming more than my chest was hurting so I knew I just had to push through it and help these girls get a fifth so it was worthwhile. We're just happy we got to do a ride and do Australia proud."
Despite a nightmare week for the heartbroken team, Edmonson displayed grit and determination of Olympic proportions.
"If I could go through it all again, I would," she wrote.
"I know who I'll be riding for during the Omnium over the next few days."