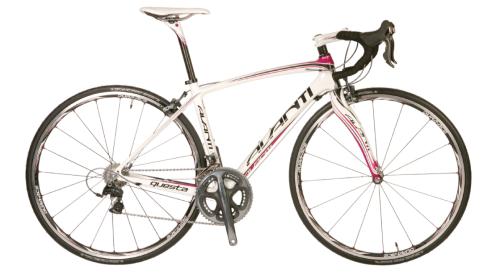 The Avanti Questa Team is a hot looking bike. This is not an entry level bike. It is a weapon and is most definitely aimed at the more serious rider who isn't just out for a Sunday stroll. It's often said in cycling that you get out of it what you put in. With the Questa, that effort will be well rewarded.
The Avanti Cadent Team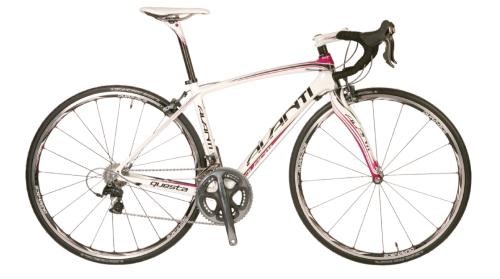 I must say, testing a bike in winter requires a little more enthusiasm. Most rides are squeezed into the small hours of the morning, or incorporated into the commute to work. This brought about my first response to this bike, on my Wednesday morning ride, "It's too (expletive) early and too (expletive) cold! This however, had nothing to do with the bike. So I knuckled down and concentrated on how the bike would go. And 'Go' it certainly does!
The Avanti Questa Team is a hot looking bike. I received many admiring comments, from both my male and female riding buddies. Avanti are the largest bike manufacturer in New Zealand. Their women's range of bikes includes the Questa, Vitale, Aria and Forte. It's becoming more and more apparent that female specific bikes are a definite advantage for women, with all the usual reasons behind the design. Women have shorter torsos, arms and smaller feet. We generally have longer legs than a man of the same height, with narrower shoulders, wider hips, and the all too often mentioned wider sit bones.
With all this in mind Avanti developed W.I.S.E. (Women + Inspiraion + Science = Excellence) They asked the age old question, 'what do women want?' with cycling specifically in mind. Experiments and discussions amongst groups of mountain bikers, road cyclists, triathletes and elite athletes led to the technology that is intended to deliver the same performance already available to men.
The Questa Team sits at the top of the Womens Race performance Road Bike range. It is followed by the Questa 2 and the Questa 1.The male equivelent is the Quantum, without the aforementioned re-engineering to make a women's geometry bike. At 6.8kg the Questa is a super light bike with a 948g frame for the 54cm. This is attributed to the thoughtful use of carbon throughout. This consists of an ADT (Avanti Design Technology), R5 Carbon Frame, ADT E5 full carbon integrated fork, Zero Team handlebars and seat-post. The frame, is predominantly white, with stylish lines of magenta and black. With its subtle femininity, this is not a girly bike. It has class, and unpretentious elegance. And like a true thoroughbred also promises performance to match its good looks. Avanti has also developed a design feature they call M.O.D.S (Maximum Output Differential Stays). This deals with the need to handle extra force on the drive side. The right hand chain stay is 12-15% larger than the less loaded left hand side this improves the strength to weight ratio of the bike.
My usual ride has compact gearing, which I must say I'm a big fan of. Yet strangely enough, I didn't completely hate the 53/39 Dura-Ace crank set. With the first test ride being up Mt Keira pre-sunrise with lights, I had the unusual advantage of just being able to feel the bike, without looking too far up the hill. I knew the hill was there.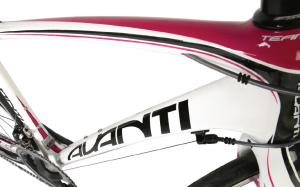 It always is! But I found myself getting into a comfortable climbing rhythm, and not missing the 50/34 of my own bike. It will be interesting to see what I think when the test bike goes back…
At first I found the speed of the Questa a bit daunting. Descents had me feeling a little less than relaxed. Part of this was due to the fact that I felt slightly too far forward on the bike for my liking. This was soon fixed with a simple flip of the stem which raised my shoulders slightly. I was also struggling to reach the brake levers comfortably. The Dura Ace brake levers can be altered easily by removing the face plate and fine tuning the reach adjuster screws. Having to make these minor adjustments re-enforced the importance of being properly fitted to your bike. A comfortable riding position makes for a more confident rider. And once the adjustments were made, I was indeed more confident.
On the Questa, all you need to do is think 'fast', and fast you'll go. Obviously your legs play a part in this, but with some concerted effort you will be adequately rewarded. Out of the saddle sprints give you an almost weightless feeling combined with explosive acceleration. A substantial pace can be set on long flat roads, and this soon has you grinning. A four hour ride can see you chewing up some serious kilometres. To say that the Questa is responsive would be an understatement. It's almost psychic. There is a unity of rider to bike that I had not experienced before. On one ride I encountered a patch of screws on the road. Before I knew it I was amongst them and a puncture was inevitable. The Questa had impressive reflex action and dodged through the debris without incident.
The Zero Team handlebars were most comfortable. The centre has a flat winged area, excellent for seated climbing or when you want your hands close to the stem. This enables you to keep your hands and shoulders relaxed, instead of the death grip you might use with standard round bars. The zero bars also have an ergo shaped bend which gives you a comfortable grip in the drops.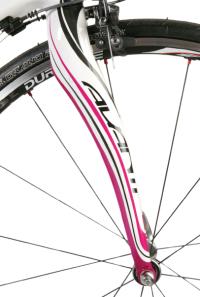 The Questa is fitted with a Selle Italia SLK Lady SE. A firm flat saddle that is most comfortable, and also looks quite nice. Saddles are such a personal choice, and I found this one to be instantly likeable. Avanti have enhanced the ride further by fitting a superior quality tyre. The Continental GP4000 tyres are confidence inspiring. Quite often manufacturers will save money by fitting a bike with lower quality tyres, which can add weight and/or compromise the bike's potential. Not this time. Further evidence of the thought that has gone into this bike is the good range of sizes. Starting at XS-50.5 and going up to a L-55. I tested the S-52. Not just a token bike for girls, but a serious proposition for serious female cyclists.
Avanti have definitely outdone themselves with the Questa Team. It is ridden by world champion cyclist Alison Shanks who describes it as "the best all round bike I have ridden". This is not an entry level bike. It is a weapon and is most definitely aimed at the more serious rider who isn't just out for a Sunday stroll. It's often said in cycling that you get out of it what you put in. With the Questa, that effort will be well rewarded.