Seventy four car-dooring incidents were reported across the city in four years, with locations on William Street, King Street in Newtown and Crown Street in Surry Hills the biggest black spots.
With increasing numbers of bikes on the roads, a joint campaign between the City of Sydney and NRMA is educating drivers and bike riders on the risks of car-doors being opened into the path of a bike rider.
Since the Think of the Impact campaign launched in March, the City has received requests for more than 20,000 bike and car stickers, proving car-dooring is an important issue whether you're riding or behind the wheel of a car.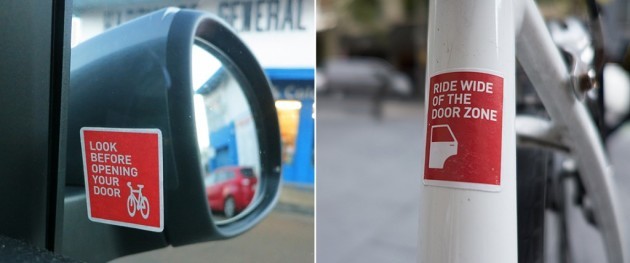 Lord Mayor Clover Moore said the City and NRMA have taken steps to counter easily avoidable accidents of this sort.
"The huge number of bike and car sticker requests shows car dooring is an issue people care about," said the Lord Mayor.
"Being hit by a car door is like riding into a brick wall – potentially life threatening. But it's also completely avoidable.
"We want to remind riders to cycle wide of the door zone and make sure drivers, and their passengers, are looking out for riders."
NRMA President Kyle Loades said all road users should look out for each other.
"We're seeing more cyclists on Sydney roads so we want to make sure there is adequate education in the community so everyone knows how to share the roads safely,' Mr Loades said.
"The force of a cyclist running into a car door, even at slow speed, can cause major injuries.
"Most drivers do not realise a $319 fine can apply if they open their door into the path of a bike rider and cause an accident.
"This is about making sure drivers pay attention when they open their door. At the end of the day, we'd prefer to see nobody get fined and everybody get home safely to their families."
Car-dooring black spots in the city and inner areas include intersections along William Street, Surry Hills and Newtown.
"It just takes one moment for this type of accident to happen. No no matter whether you're in a car or on a bike, it's important to pay attention to your surroundings."
For more information or to register for a cycling course, visit sydneycycleways.net