In one of the most controversial Grand Tour wins in recent years Chris Froome has savoured Giro d'Italia victory, the Team Sky rider presented with the crown and cup at a gala ceremony in Rome.
His third consecutive Grand Tour victory after the 2017 Tour de Franc and Vuelta a Espana, the win puts Froome alongside Eddy Merckx and Bernard Hinault – the only other riders to be simultaneous Grand Tour champions.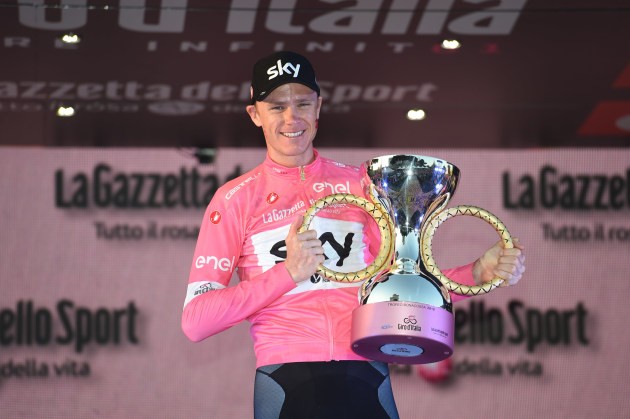 But the win was not without controversy, a dark cloud still hanging over Froome's 2017 Vuelta win after being found to have elevated levels of asthma medication salbutamol in his system.
Many are also still debating Froome's Stage 19 performance where he gained 3-minutes on Tom Dumoulin and claimed the lead after a thrilling 80km solo breakaway.
The Hide Of A Rhino
Kenyan born Froome has previously ridden with a stylised rhinoceros on the frame of his Pinarello. He's an ambassador for anti- poaching organisation Unite For Wildlife … but it could easily be seen as a metaphor for his own thick skin.
Despite the seemingly perennial and unshakable controversies, an upbeat Froome celebrated in Rome on Sunday saying he needed time to reflect on what had been a tumultuous three weeks.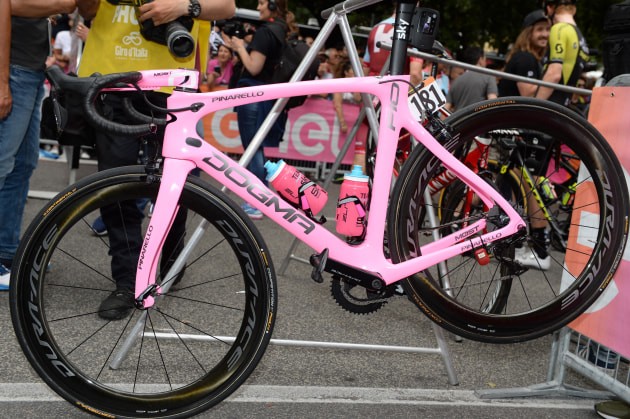 "For any cyclist, it's a dream to have all three Grand Tour leader's jerseys," he said.
"I'm still pinching myself. I can't believe I'm here in the Maglia Rosa."
"To have all three leaders jerseys in the space of 10 months, it's an incredible feeling," he continued.
"I've always been a little bit afraid of coming here and really targeting (the Giro) just because of the demands of the race. It's so different to any other race that exists. To be here in this position now and to have won the race – I can't quite believe it myself."
Froome will now prepare for the Tour de France, a race he has won 4 times, with Stage 1 starting in just 5-weeks time on Saturday July 7.
Bicycling Australia will deliver daily stage-by-stage coverage of the world's greatest cycling race the Tour de France – save the page to your favourites and check our latest news daily!