Gravel bikes are becoming far faster, slicker and more versatile, with the Aspero from Cervelo no exception.
Cervelo Aspero Review
It could be described as 'the speed pyramid', with race-level roadies proudly sitting at the top, and all the various incarnations of the humble bike trickling down to that wide base at the bottom.
Traditionally gravel bikes have sat well below top-end road bikes so far as performance, efficiency and speed go. But a select few brands have made it their business to change this in recent times—the clear trend being faster, slicker and more refined platforms equally capable on both road and the rough stuff.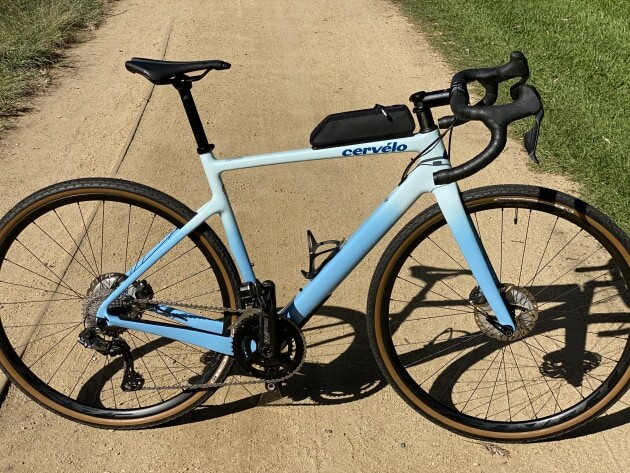 'Haul Ass, Not Cargo' is a catchphrase Canadian manufacturer Cervelo are using to market their specialist gravel model, the Aspero. Yes it's catchy, and yes it seems to ring true—this sky blue Aspero we've recently been riding has been a blast to ride on a wide range of surfaces, situations and scenarios.
This Bike's Backstory
The bike we are reviewing today is somewhat of a custom build. You won't find this build for sale at the local build shop or online, but it is possible to have one built to the same spec. Our test rig started out as an Aspero frameset.
The colour is 'Seabreeze', but we've been calling it sky blue, and it certainly received a lot of attention during the test period.
The build was assembled by the team at Sola Sport, Aussie distributors of Easton Cycling products and accessories. Basically every component of the test rig was either an Easton or Cervelo product, the exception being the tyres which were 38mm Panaracer GravelKings.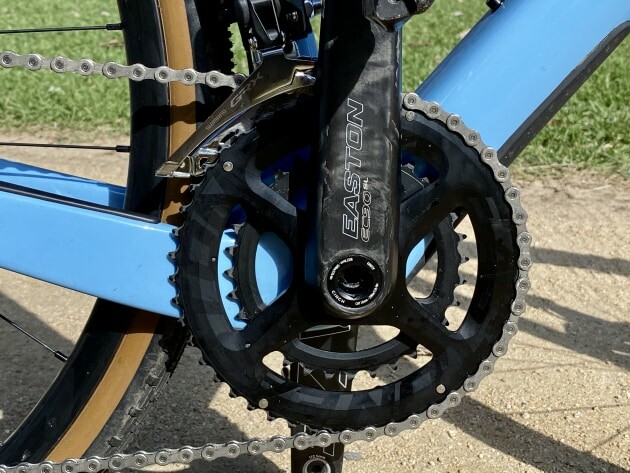 Fitting out the frameset with EC 70-level Easton equipment made a lot of sense in two regards. The first is the fact that Cervelo use a lot of Easton gear as original equipment; the second being the quality, workmanship and strong reputation Easton have earned over the years.
Starting from the cockpit: the test rig was fitted with the EC70 flared gravel bar. At 440mm wide, this bar flares prominently from 4 to 16 degrees and provided comfort and good control on the mixed surfaces we rode. The bars were expertly wrapped in Easton's MicroFiber tape that gripped as good as it looked and set the bike off very slickly.
Moving rearward, and the build featured an EC90 ally stem. Behind that is Cervelo's custom Aspero A-Series utility (or Bento) bag. This is attached to the top tube via two internally concealed hex screws. It's a handy storage area for keys, bars, gels…small go-to items you may need during the day.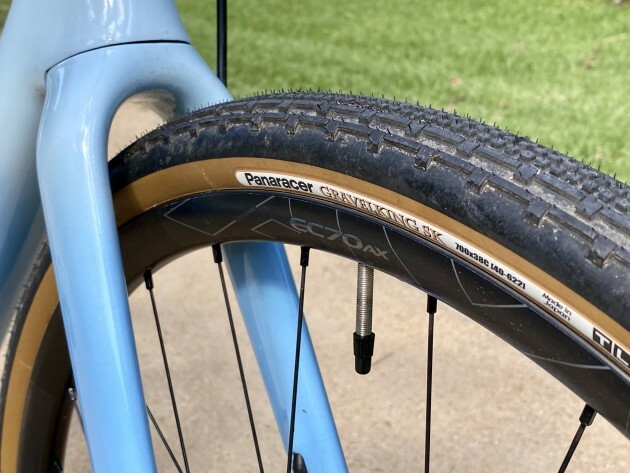 To the rear of the toptube, and behind the neat 'A-Series Aspero' graphics is an alloy Easton seat post clamp that secures the company's 27.2mm alloy post. Saddle-wise, the test bike featured a Prologo NDR, a comfortable seat well-suited for gravel and off-road riding.
2x Drivetrain
With speed, stiffness and efficiency front and centre here, the bike has a lot in common with Cervelo's R series. The Aspero features dropped seatstays that are smoothly shaped and moulded into the sculpted seat tube, the stays flow down to the neatly integrated rear dropouts. Fitted with Shimano Di2 GRX, the flat mount discs integrate perfectly with the frame, while the derailleur wiring is neatly ported into a rubber lug on the drive side.
Wheel-wise, the bike was fitted with Easton's second-tier EC70AX gravel-specific wheelset. A full review of these featured in the April/May edition of Bicycling Australia and can now be read online at www.bicyclingaustralia.com.au.
Unlike a lot of gravel builds these days, the test bike was assembled with a 2x drivetrain. The crankset is Easton's top-level carbon EC90SL, while the chainrings were the companies 47/32 combo. In conjunction with the electronic GRX front derailleur, shifting was surprisingly smooth and effortless.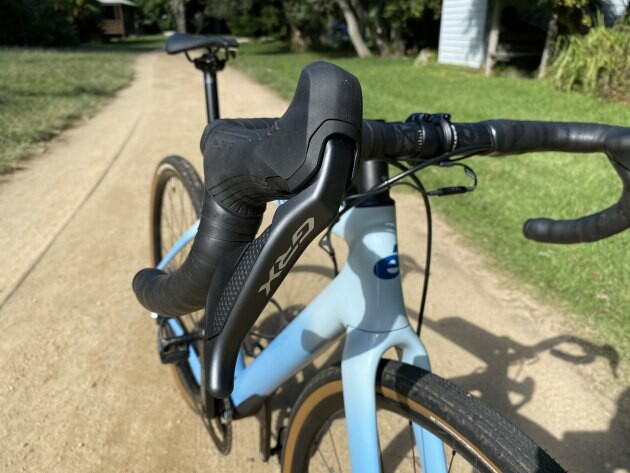 While initially disappointed to be embarking on a gravel sortie with 2x drive, I soon realised the many attributes of the system. Range-wise, with the 34/11T cassette on the back, gearing covered the full gamut required for a 50/50 mix of fast road and gravel, including decent climbs, undulating bitumen and loose, gritty descents.
Bringing it all together, and with a build weight of just over 8kg, this machine truly lives up to its go-fast status. Even with the 38mm Panaracer tyres fitted, the bike felt raring to go and unrestrained on the bitumen. It felt fast and particularly comfortable—the geometry coming into play and obviously the expansive tyres and wide rims coming into play.
…It felt refined, well thought out, and surprisingly capable
as an all-rounder, and it was a genuine shame to have to hand it back…
Bunnyhop the bitumen and get on the gravel and that's where this bike's speed, agility and handling really shine through. While the 2x groupo feels more at home on the road, the tyres, geometry and flared bars significantly enhance the rig's off-road attributes. Combine these factors and the Aspero begins to stand out as a legitimate all-rounder.
We tested the bike with several tyre widths on 700c wheels, the frame and fork designed to accommodate tyres to more than 40mm. Obviously 650b wheels can also be fitted with these taking tyres to at least 47mm and—by our measurements—considerably more.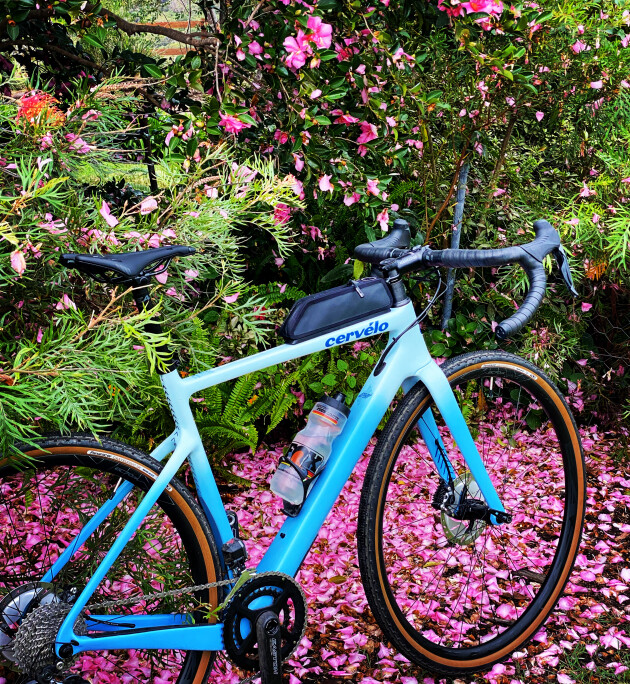 Cervelo have added another unique touch to the Aspero, a 'flip-chip' in the base of the fork. Known as a 'Trail Mixer', this simple addition keeps the trail measurement consistent regardless of 700c or 650b wheels and tyres being used.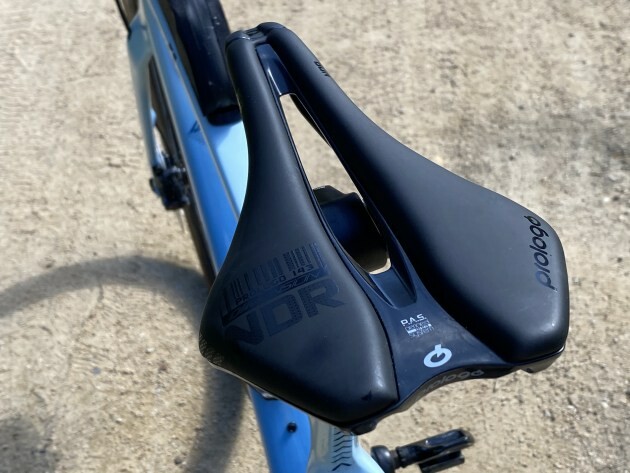 Overall the bike felt smooth and comfortable on the road and light, fast, sure-footed and controllable on the gravel. It felt refined, well thought out, and surprisingly capable as an all-rounder, and it was a genuine shame to have to hand it back. The Easton components complimented the build perfectly, their subtle matt black finish helping accentuate the blue/white colouring and bring out the best in the bike.
A True All-Rounder
If you're in the market for not only a gravel bike but an all-rounder—a commuter, gravel road fun machine or even a lightweight weekend bike-packing platform—I wouldn't hesitate in recommending the Aspero.
But there's just one problem…as this review was being completed Cervelo announced an addition to the Aspero range—the Aspero 5. So now you may have some thinking, budgeting or explaining to do.
Overall
A truly capable all-rounder. Fast on the road and gravel, a versatile bike be it commuting, gravel racing, weekends away or N+1 option.
Finish
In a word, stunning. The test rig received numerous positive comments during the test period. Finish is outstanding; the bike looks as good as it performs.
Value For Money
Surprisingly good, with the Aspero starting at around $4000. Various groupset and frame colour options are available—it pays to shop around!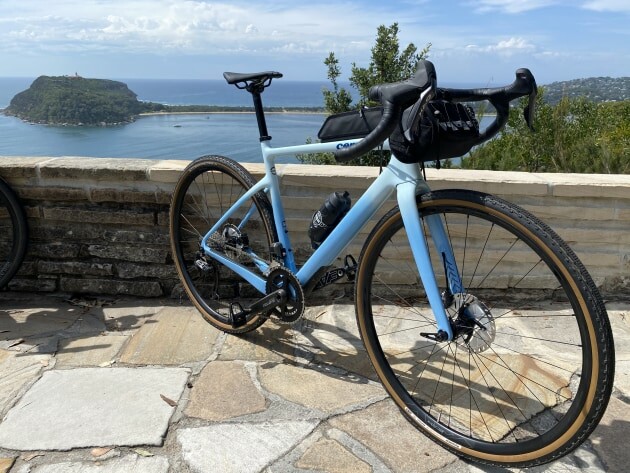 Specifications
Frame and fork: Cervelo Aspero
Headset: FSA
Wheelset: Easton EC70AX
Tyres: Panaracer 38mm GravelKing
Crankset: Easton EC90SL with alloy chainrings
Chain: Shimano GRX
Front derailleur: Shimano GRX Di2
Rear Derailleur: Shimano GRX Di2
Cassette: Shimano 34-11
Shifters: Shimano GRX
Handlebar: Easton EC70 AX (alloy)
Stem: Easton EC90AX
Brakes: Shimano GRX Hydraulic
Saddle: Prologo NDR with cutout
Seatpost: Easton EC90 alloy
WIN A CERVELO ASPERO
One lucky 'Dirty Bowral' rider will win a brand-new GRX 1 Aspero valued at $5,700 and courtesy of event partner Cervelo Australia.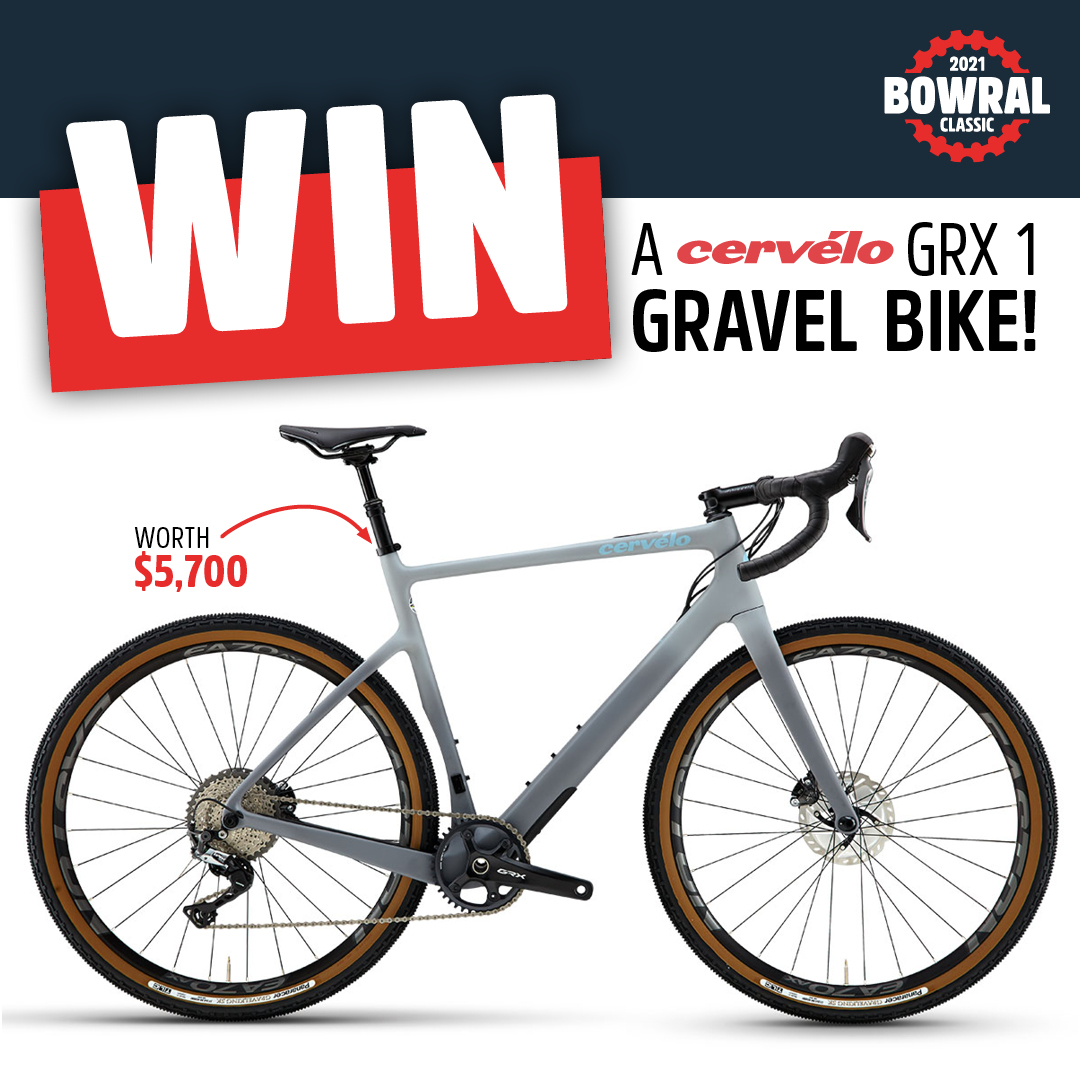 The Bowral Classic is Bicycling Australia's signature Gran Fondo event and this year it will feature a 50km gravel / off road event.
Simply register for the gravel-plus ride to go in the draw to win. The inaugural Dirty Bowral is on Saturday, 11 December in the spectacular Belanglo State Forest. To enter visit www.bowralclassic.com.au