It's a cool crisp spring morning and I'm riding at warp speed up Beach Road in the North Road ride. I turn to Olof, my training buddy. Olof is relatively new to the sport having come from a body building background so he's got a little talent and willing to take on anyone for a sprint. There was a time when I could out sprint him but he's been beating me for weeks now so I know he's ready for a new challenge.
I point out a rider a few bike lengths ahead of us in the bunch. It's a guy with legs that are well defined and muscular. He looks a little bigger than the rest of us. I say to him, "See that rider up there? He'll take three bike lengths out of you in as many pedal strokes. Just you watch him at the sprint at the BP service station sign in St Kilda. As our strung-out bunch races in unisons through the suburbs I can see Olof's attention now focused on his new found target. As we get closer to St Kilda, I start manoeuvring around in the bunch to get Olof lined up on his wheel. The sprint is about to start and I want him to be in the front seat of what's about to happen next.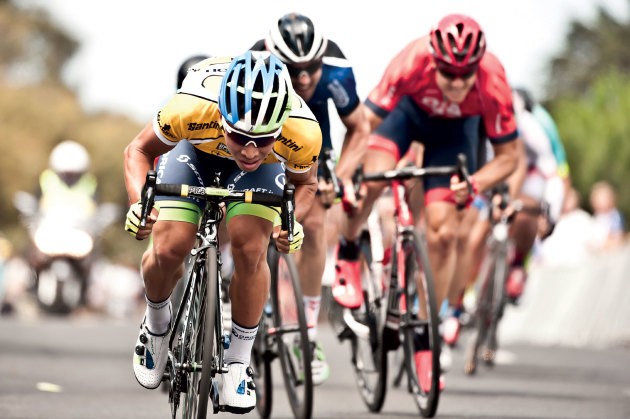 The pace quickens in the last 250 metres. We can see the finish looming as we start shelling riders. The last 50 metres goes by in slow motion. Olof changes gear, stands up out of the saddle and steps out to go around his new friend. I watch him drop the maximal amount of power he can muster into the pedals and he winds up his bike to over 55 km/h. He's leading at the front of the bunch and focused on just one thing. I glance over to the BP service station. There's this imaginary line that extends out from the base of its green sign where the North Road Ride World Champion of Melbourne claims their win of the ride. As I glance back to Olof he's giving it his all to get there first.
A split second later I see our friend notice his new challenger and pulls up level alongside Olof. He holds Olof there as they are locked mano-a-mano, sprinting side by side. Then our friend drops back just a little as if he is fading and I can see that Olof thinks he's got it. Olof's oblivious to what's going to happen next and I know for sure that our friend is just tormenting him now. Our friend lays back a little bit more just 15 metres from the line then kicks hard. In just a few pedal strokes he comes past Olof, who's doing over 60km/h now, and for a moment makes him look like he is standing still. As Olof rolls over the line he's still trying to figure it out what just happened. Then only a few moments later it starts to dawn on him. He just got rolled, big time.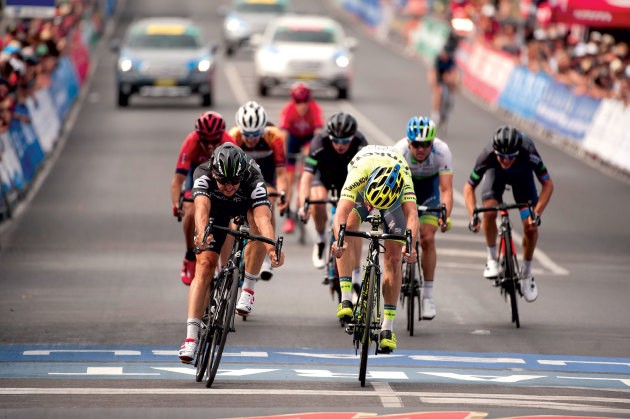 I pull up alongside of him and he's out of breath and looks a mess. With dismay in his eyes he glances over at me and holds my stare for a moment. Then, his face cracks into the biggest grin I've seen from him in weeks. I smile back at him. We roll home and he's excited. His enthusiasm for riding is contagious. For the rest of the ride he's entertaining me as he chats nonstop about what just happened and we joke about me setting him up. So as we depart Olof's parting words to me are "I'm going to start work on my sprint". As I watch him ride into the distance I think to myself that's how you can tell a true champion, because defeat empowers them to be better.
About Sprinters
When talking about sprinters I like to say this … "A tired sprinter can come over the top of a fresh roadie any day of the week." So, what makes a sprinter able to just come over the top of you at the end of the ride? Well, I've been coaching cyclist for a few years now and a lot of it comes down to physiology. You're either a sprinter or you aren't. That being said, I want you to understand that even if you aren't a pure sprinter there is a lot that we can do to improve your sprint so that you can successfully take on these fast finishes of your bunch rides or club races.
Now sprinters sometimes get a bad rap. Here is the reason why. They hang out in the bunch all race, never seen doing a turn at the front. Then just before the finish they suddenly appear and ride past everyone at warp speed to take line honours. Because of this they are often called "sit on sprinters". The sprinters strength also hides their weaknesses. Once their weaknesses are exposed sprinters can be isolated in a race and easily defeated. As I wasn't much of a fast finisher myself I used to collude with other riders and gang up on them. The plan was simple. Make sure the sprinters weren't there at the end of the race to contest the sprint. This was unless I was racing with my wife, Jodie, who's a sprinter. Then my tactics changed and it was my job to lead her out.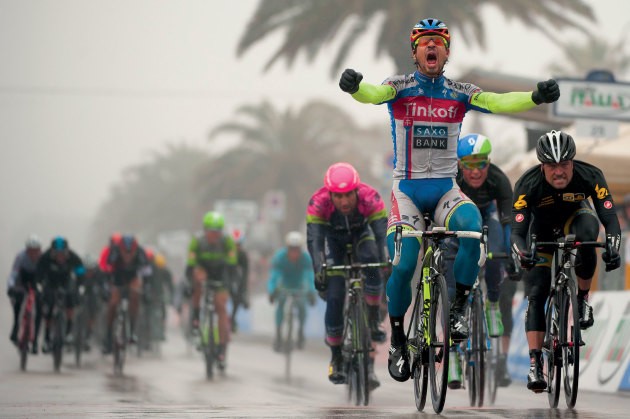 Sprinters, by nature are wired differently to endurance riders. They are impatient and impulsive and when they commit to something they do so at 100% with their absolute conviction. They are the rider that you won't see much at hilly races with long climbs, same for handicap races as they struggle to put out the sustained power required for both disciplines.
But put them in a criterium and they are in their element. It's short and fast. As long as they have enough endurance to get to the end of them, there'll be a good chance they'll podium. This is because they have a high percentage of Fast Twitch Type IIb fibres. It's these fibres that produce huge amounts of power but only for a short period of time, which is measured in seconds. The fibres are white in colour because they primarily burn energy anaerobically. These fibres use a different energy system to the Aerobic Type IIa and Type I fibres that we predominantly use throughout a bunch ride or race. So while the sprinter is hiding in the bunch they have this whole reserve of untapped "power" in their Type IIb fibres ready to be released in the final few metres of a ride.
Training for Sprinting
Just like anything in life, the more you practice something the better you can get. While I was never a pure sprinter, under the right circumstances I could win a bunch sprint when I spent time working my sprinting "craft" using the steps below. Many of the cyclists that I have coached have done so and gone on to be more successful sprinters.
But before we start please take note of the following:
• Make sure that you have warmed up for at least 20 minutes before starting these efforts and spend 20 minutes cooling down afterwards.
• Always do the first effort, either seated or standing at 80% to prepare your body.
• You can take up to a maximum of five minutes rest between efforts.
• Alternate starting legs between left and right.
• Apart from the short hill climbs seated and standing efforts, all efforts are done at maximum.
• If you find your power drop off by 25% as you are working through the session, stop and ride home. No benefit in continuing if you can't do them at maximal effort.
• Don't do these efforts on consecutive days.
• While I prefer that sprint training is done out on the road, all of these efforts can be simulated on a high quality home trainer.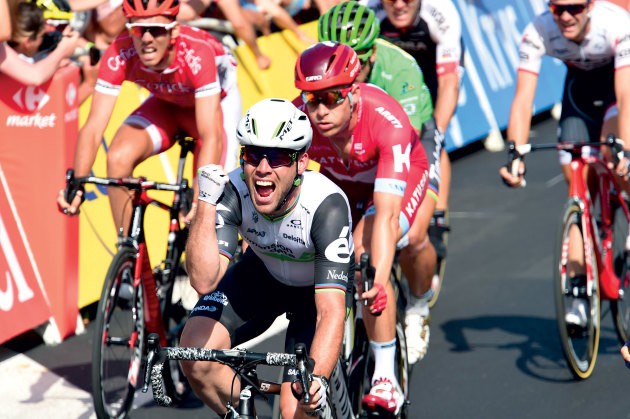 FIRST 4 WEEKS
SHORT HILL CLIMBS SEATED AND STANDING
Done twice a week and incorporated into your ride. Focus on driving straight down into the bike while stabilising your core. Focus on technique not speed. Pay attention to smoothing out your pedalling while focused on the bottom and the top of the stroke.
• 5 x seated and 5 x standing efforts in the drops at around 60 rpm on a 250m hill climb at 7+ % gradient.
SECOND 4 WEEKS
Done twice or three times a week. Again, focus on technique not speed. Drive straight down into the bike while stabilising your core. When standing use your arm strength to help get on top of the gear. Done on a flat road or one with a slight incline.
STANDING STARTS X 12
The intent of this is to just get on top of the gear so you should have it wound up after about 50 metres. The first few pedal strokes are critical so try to apply as much force as you can while getting on top of the gear.
• Do 6 x standing starts seated and 6 x standing starts standing in the drops in big chain ring gear of your choice from almost full stop to max speed.
EXTENDED STANDING STARTS x 8
These efforts are done riding to exhaustion and no longer 500 metres. Do half of them seated and the other half standing in the drops.
• Do 4 x standing starts seated and 4 x standing starts standing in gear of your choice from almost full stop to max speed then ride to exhaustion (approx. 500 metres).
LAST 2 WEEKS
Done twice a week.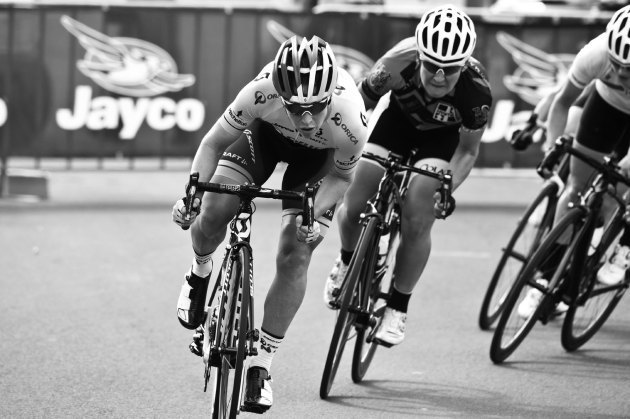 MAX SPRINT HILL EFFORTS
Focus as much as you can on technique, although you'll probably get a bit messy towards the end. All done standing in the drops.
• 6 x 250m hill climb at 7-10% gradient
• 6 x 750m climb at 3% gradient
SAFETY FIRST: When doing sprint training make sure that you have a quiet road to do them on with no driveways or side roads that you need to pass. Also, all these efforts involve quite a bit of strain on your body, including knees and back so if you have any injuries then get clearance from your doctor first. If you feel you have strained something, then stop and get it checked out.
Putting it all together
There are three components to consistent sprinting:
• You must be able to be riding at sub threshold prior to the sprint. If you are already maxed out even before you start your sprint, then you need to go back to the basics and work on your aerobic fitness first.
• You need to be positioned well prior to the start of the sprint. Practice through trial and error will help you find out where you need to be positioned prior to the start of your sprint.
• You need to have developed the explosive strength and speed to kick past your competitors. The above training is designed to help you build this.
NOTE: Many of my clients who are strong enough to win sprints still need to master their positioning before they are able to start winning them.
In criterium races I tell my clients to get in the drops and stay incredibly alert when they see the three laps to go sign come out. Their sole focus is to get themselves well positioned and then hold it till the sprint starts.
• Get into the right gear to start your sprint. You might have to ride a gear or two higher than normal.
• Look for the rider that you think is going to be a good lead out for you and get settled on their wheel.
• When you are ready to launch your sprint, kick as hard as you can to come around your lead out rider. You'll soon find out which is the best distance to start your sprint. It could be anywhere between 150 metres and 50 metres to go.
• Take into account wind conditions and the course. If the course has a corner close to the finish then your position coming into that final corner is critical. If it's a head wind finish, leave your final kick a little later than if it's a tail wind. As for cross winds, try to come around the sheltered side of the rider if you can.
SAFETY FIRST: Always keep a straight line when you are sprinting to avoid accidents. You don't want to be the person that brings the bunch down due to erratic riding. If sprinting out on open roads, always be mindful and courteous of other road users.
Finally, get out there and have some fun with sprinting.
So, what happened to Olof? After a bit of sprint training he went on to win a few North Road Ride World Championships of Melbourne. He retired from them when he got married and now his time is spent with his wife and young family. He still comes to our Bright Boot camps to help out as a support rider and his enthusiasm for riding is still very contagious