Indoor bike storage—it's one of the more important aspects of our sport, but sadly doesn't get a whole lot of attention. Here we take a look at a number of impressive indoor bike storage solutions.
Secure, worry-free bike storage is one of the most important aspects of our sport, after cycling of course. But the safe storage of a bike can often be afterthought.
You've waited months then finally picked up your dream bike and bought it home for the first time…but where are you going to keep it?
Here we take a look at just a small selection of the many wonderful indoor bike storage solutions.
Yes, indoor! Fortunately many riders have moved on from the old days of leaving the bike in the shed and forgetting about it 'til the next ride. Yes, the dream of getting a bike out of the garage and into the living room can be a reality with these racks.
These days bikes can indeed be part of the furniture and interior decoration, and a key ingredient to a happy home. "Happy home? You're mad," some might scoff. Well my place is full of bikes; there's just about one in every room, and it's the happiest place I've lived in.
With all manner of racks—from the simple to the elaborate—we hope you enjoy the following indoor bike rack guide.
Steadyrack
A genuine Aussie success story, the Steadyrack bike storage solution is a classic example of the simplest ideas often being the best. No nonsense in design and activation, the rack offers a simple but quite ingenious way of securely storing a bike.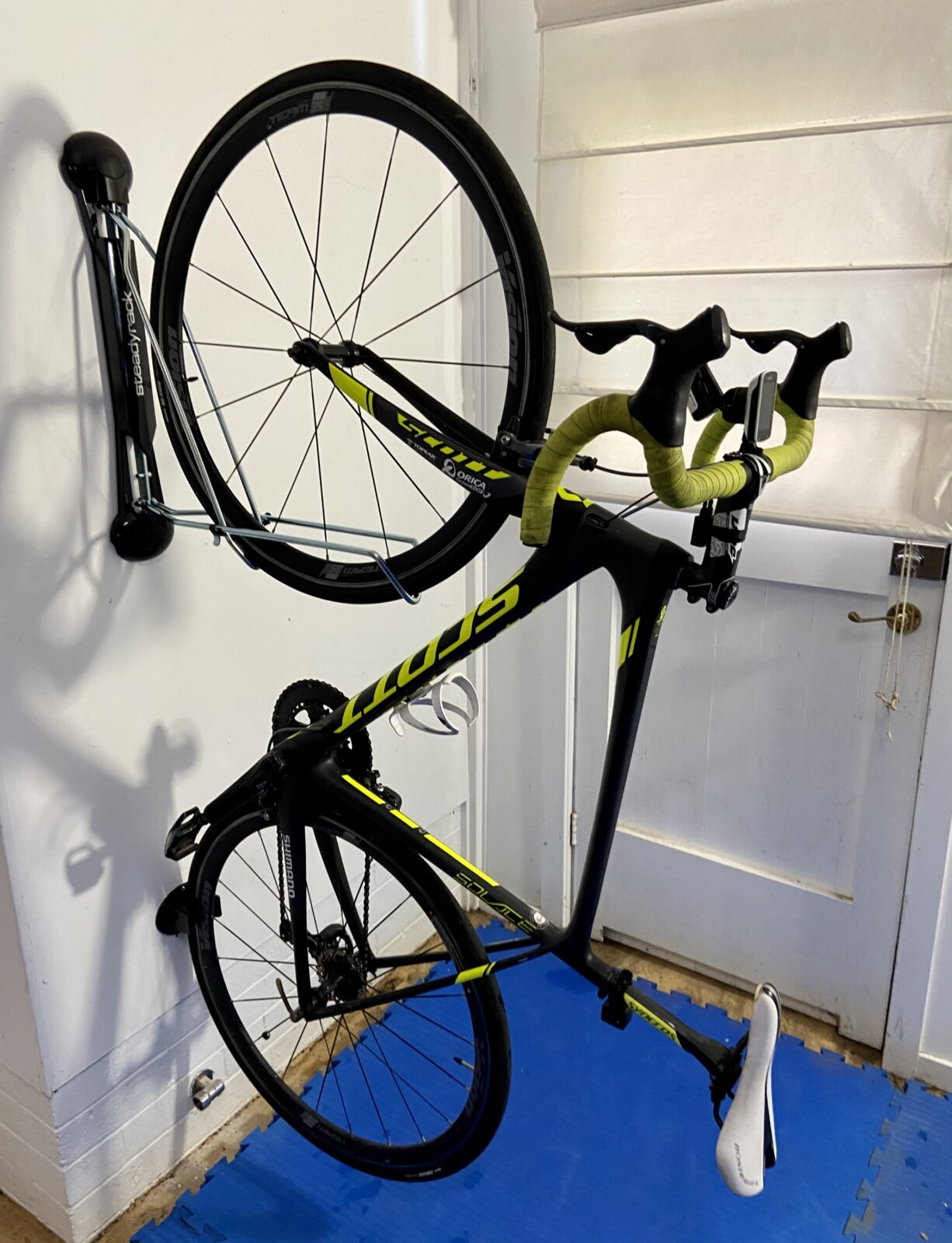 The back of the rack is secured to a sturdy wall via four screws that sit under two face plates. A rear tyre rest point is also attached to the wall, under the rack (and in position to buffer the tyre and wall).
Putting a bike into the rack is as simple as folding down the front wheel holder and lifting the wheel into place.
The mechanical assistance offered by the turning front wheel helps the bike to roll in and out of the rack.
For more visit www.Steadyrack.com
Parax
Reviewed in the last edition of Bicycling Australia, we've recently been using the L-Rack from German company Parax. The resounding theme with each of the Parax offerings is their simple design, stylish finish and practical inclusions.
An incredibly high quality finish and top-level workmanship are what these racks are all about—they simply look stunning on the wall.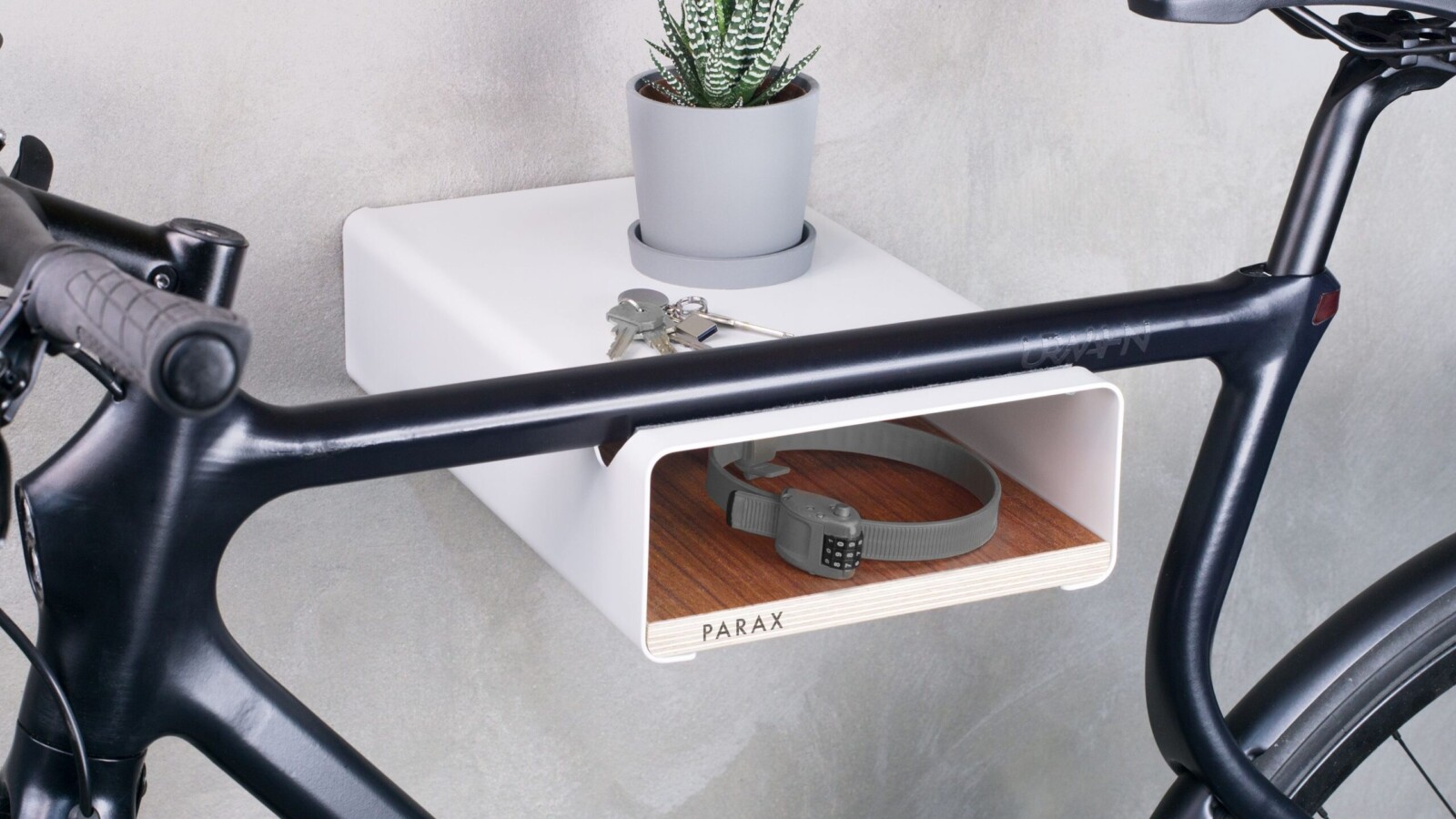 Each of the racks is designed to blend with internal furnishings (yes…that dream of getting a bike out of the garage and into the living room can come true with Parax).
The company also offer a range of base colours and timber finishes with their top-quality racks.
L-Rack from Parax
Options include the L-Rack, a simple and stylish fold down design that holds not only the bike, but provides a neat storage shelf for your helmet or shoes, or gloves and accessories. Fitting the L-Rack to the wall is part of the Parax experience and quite a rewarding home project in itself.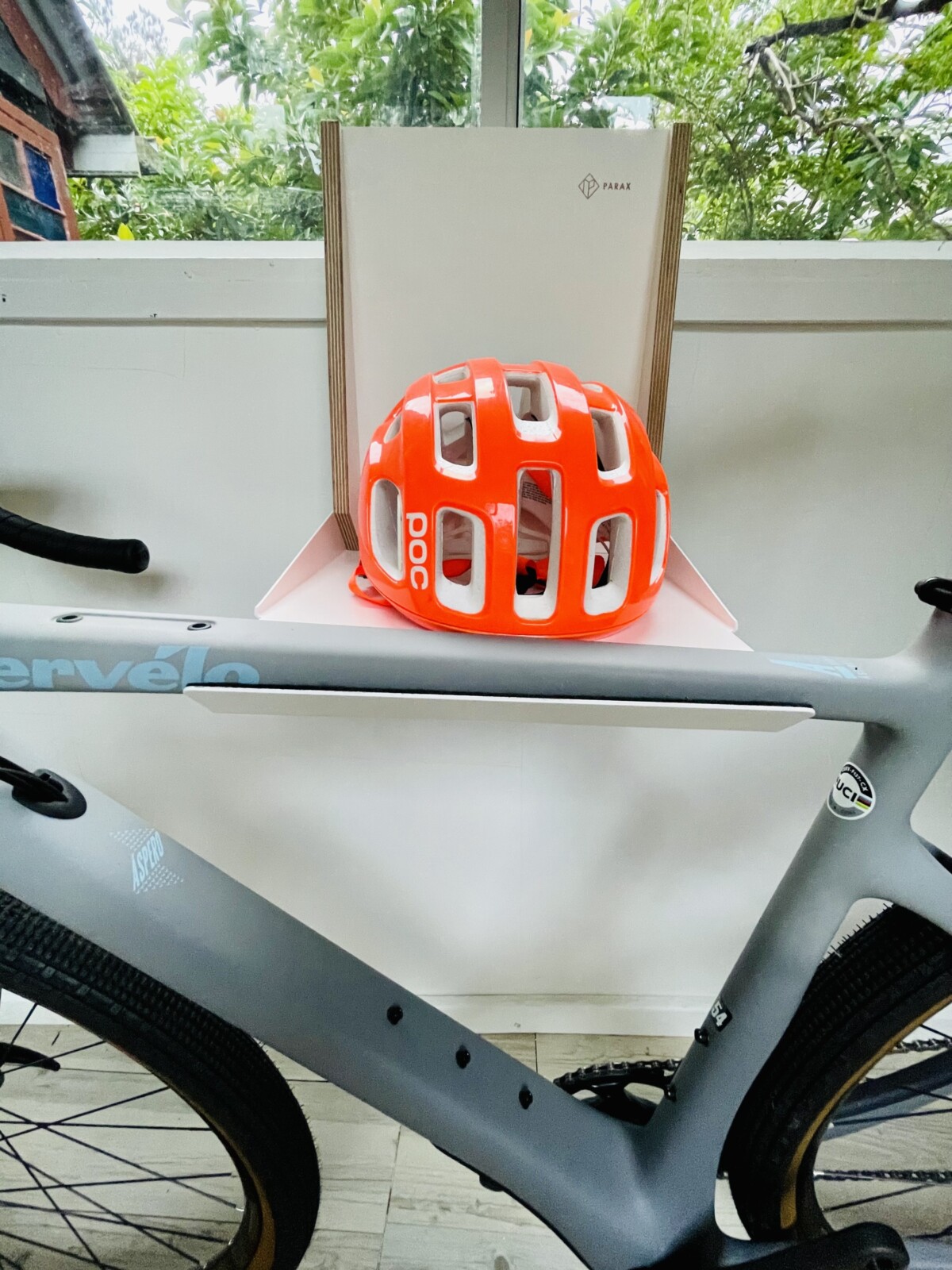 Simply fit the rear mounting plate to the wall using the included pendulum to ensure it's level, then mark the holes and attach with the included torx bit in a battery drill. Then fit the body of the rack over the bracket and let gravity take over from there.
All Parax models are available in a range of colours and really do compliment the home—well, at least we think so.
A Cervelo Aspero gravel bike spends a lot of time on our test model L-Rack…and it looks great!
The L-Rack RRP is $199 – more at www.bspokevelo.com.au
Parax S-Rack
Close in resemblance to the L-Rack but with a fixed (i.e. non fold-down) design, the S-Rack offers a clean and minimalist look and is a great way to showcase your pride and joy inside the home.
A felt pad protects the bike's frame from scratches and provides a non-slip grip. Also, the rack is designed for bikes with a straight top tube and a handlebar width of up to 50cm + overall weight of 20kg.
Like other Parax racks, there's a supplied fixing kit and a drilling template so the holder can be screwed into place in a few easy steps.
The RRP of the S-Rack is $139
More at www.bspokevelo.com.au
D-Rack from Parax
Similarly to it's fold-down sibling, the D-Rack combines design with functionality to your bike in the foreground. The holder fits direct to the wall via a fixing plate and drilling template, and different wooden fronts and colors allow you match it to your chosen room.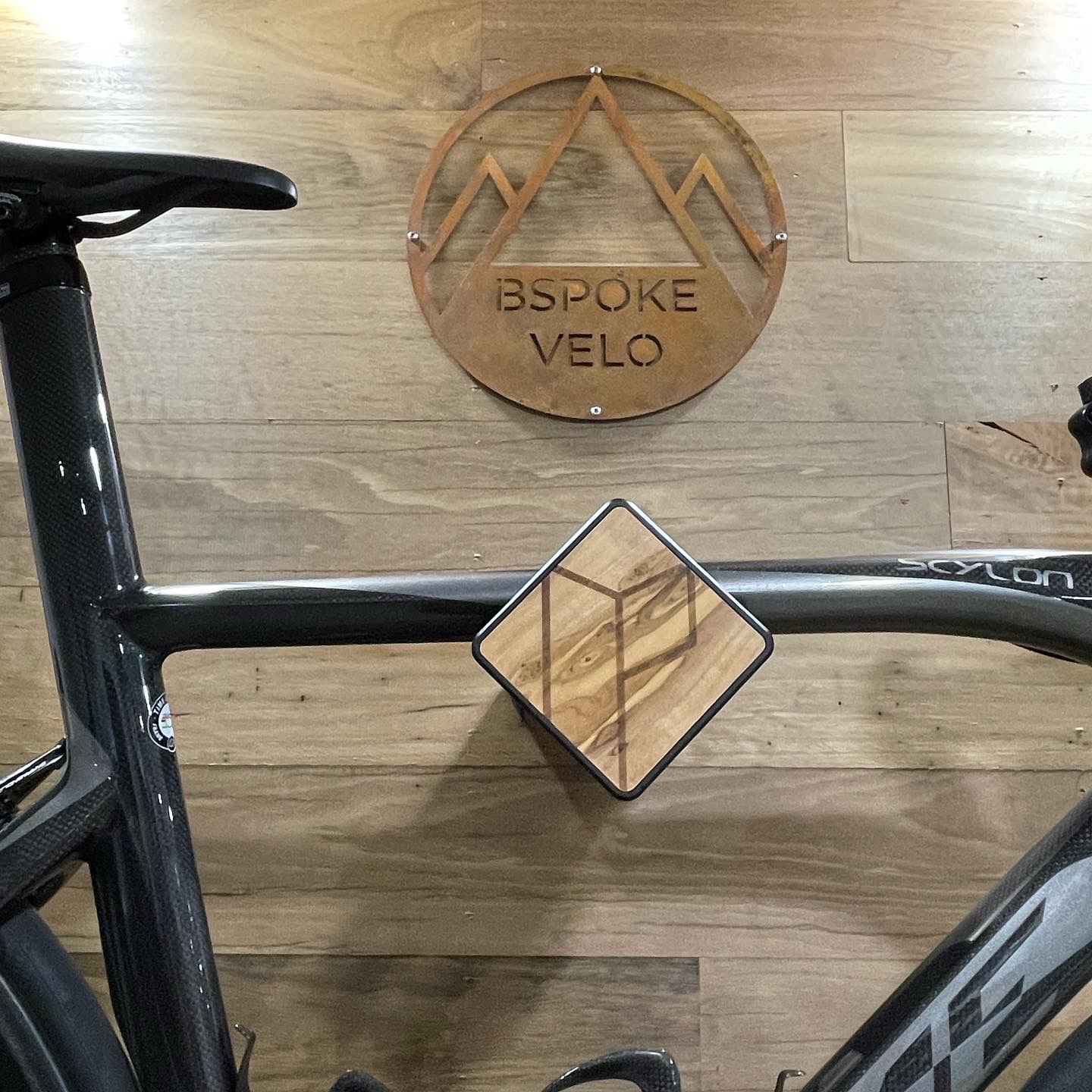 A silicone pad protects the bike frame from scratches and provides a non-slip grip, and the rack holds bikes with a handlebar width of up to 52cm (size M) or 66cm (size L). The maximum load of the bike mount is 20kg—plenty for any road or gravel bike.
The D-Rack RRP is $299 More at www.bspokevelo.com.au
Hiplok Bike Racks
Airlok
A stylish & secure bike hanger, the Airlok features a hardened steel frame and integrated 30mm hardened steel locking pin.
Made up of four parts—the mounting plate, face plate, protective bike holder and the lock pin—the Airlok is impressively designed and a well thought-out storage solution.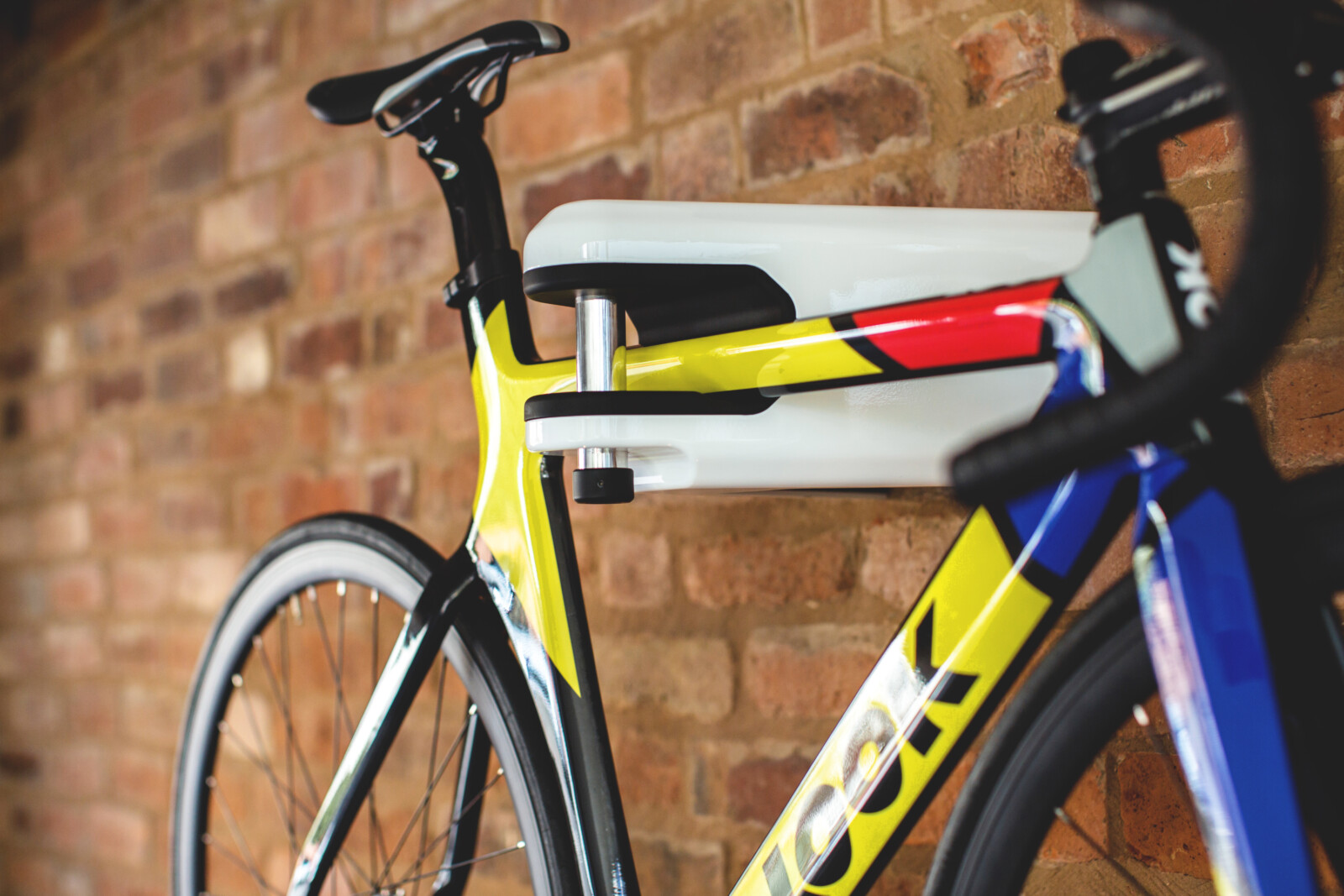 The impact-resistant rubberised mouth protects the frame, prevents scratches and offers peace of mind. The rack is suitable for indoor and outdoor use This is a practical, super secure way to store your bike at home, in the garage, the shed or the office and we rate it highly.
RRP $329.95 More at www.hiplok.com
Hiplok Jaw
This compact wall-mounted rack holds the bike in horizontal or vertical position and is the epitome of a simple & secure storage.
The fully adjustable design fits all popular frame and wheel types and sizes, and is pretty much a 'one size fits all' storage solution.
The Jaw has proved simple to fit and the pack includes the relevant hardware. The device does not include additional security but has been crafted to work with Hiplok's Z Lok.
RRP $39.95 Ask at your local bike store or www.hiplok.com
Hiplok Jaw+
Basically the Jaw with additional security in the form of the 'Z Lok combo', the Jaw+ is near identical to the original Jaw. Like its sibling, there's the fully adjustable design for all popular frame and wheel types. Tyre sizes from 20mm to 75mm are accommodated, and the rack is held to the wall via four fixings included in the pack. Like all other Hiplok racks and locks, it's suitable for both indoor and outdoor use and comes with a lifetime warranty.
RRP $69.95
Ask at your local bike store or find out more at www.hiplok.com
Delta Cycle Australia
Delta Ceiling Hoist
Stop tripping over bikes and reclaim valuable garage storage space with the Delta Ceiling Hoist. Designed for ceilings up to 12ft high, it's great for road or commuter bikes.
The pulley system makes it effortless to raise and lower bikes & features non-stretch nylon rope.
Supporting up to 45kg, a smart auto-lock mechanism prevents accidental release, while padded hooks protect the frame.
Designed with inline bolt holes, installation easy with all
hardware included.
The RRP is $44.98 and Delta racks are available from Bunnings.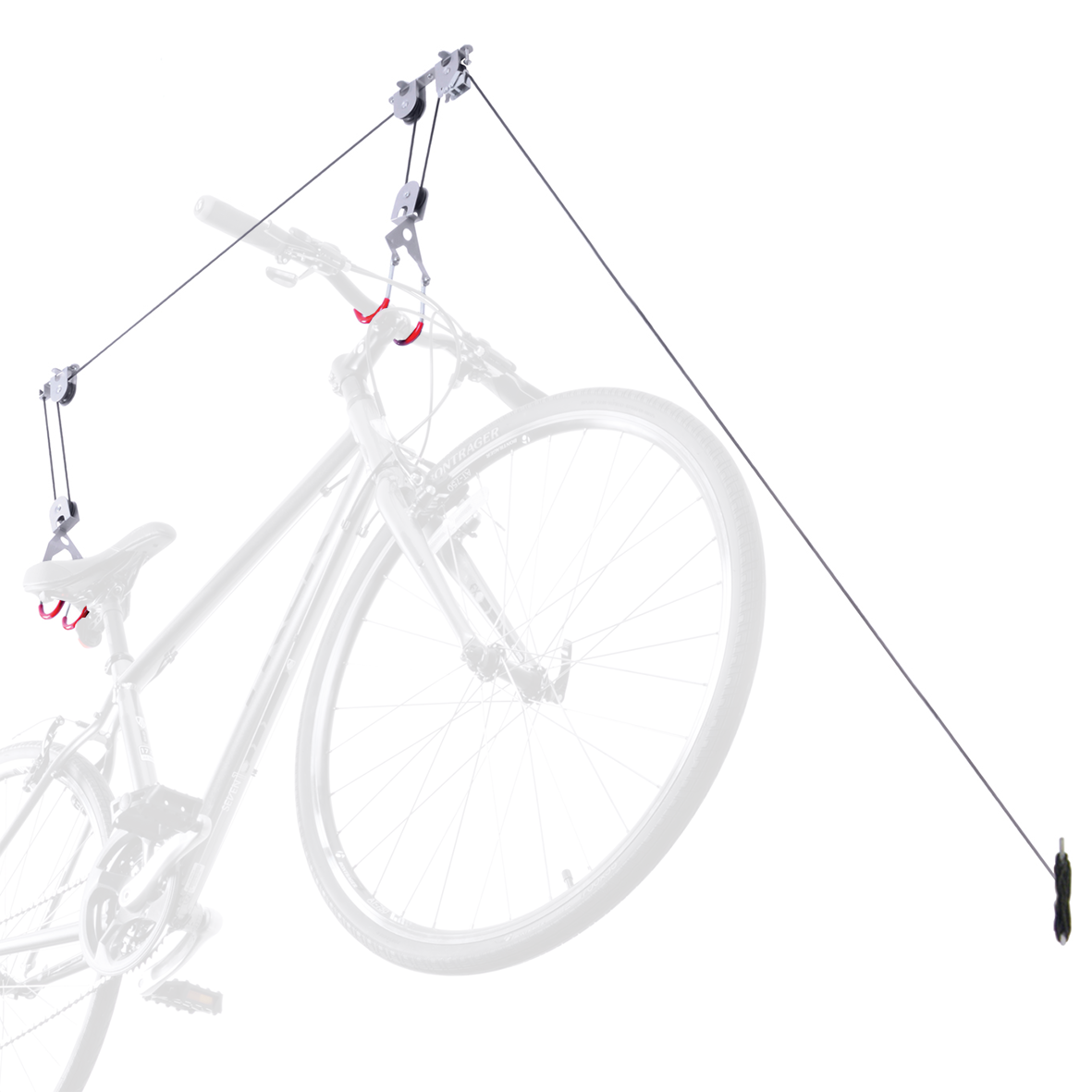 Delta Two Bike Gravity Stand
Enjoying cycling should not mean sacrificing floor space to accommodate gear. With a small footprint and innovative design, the Delta Two Bike Gravity Stand safely suspends your bicycles and securely holds them within reach for your next ride. Ideal for apartment living or a garage, no drilling or hanging is required. The stand supports a total of 36kg.
RRP $164.98 via deltacycle.com.au or at Bunnings.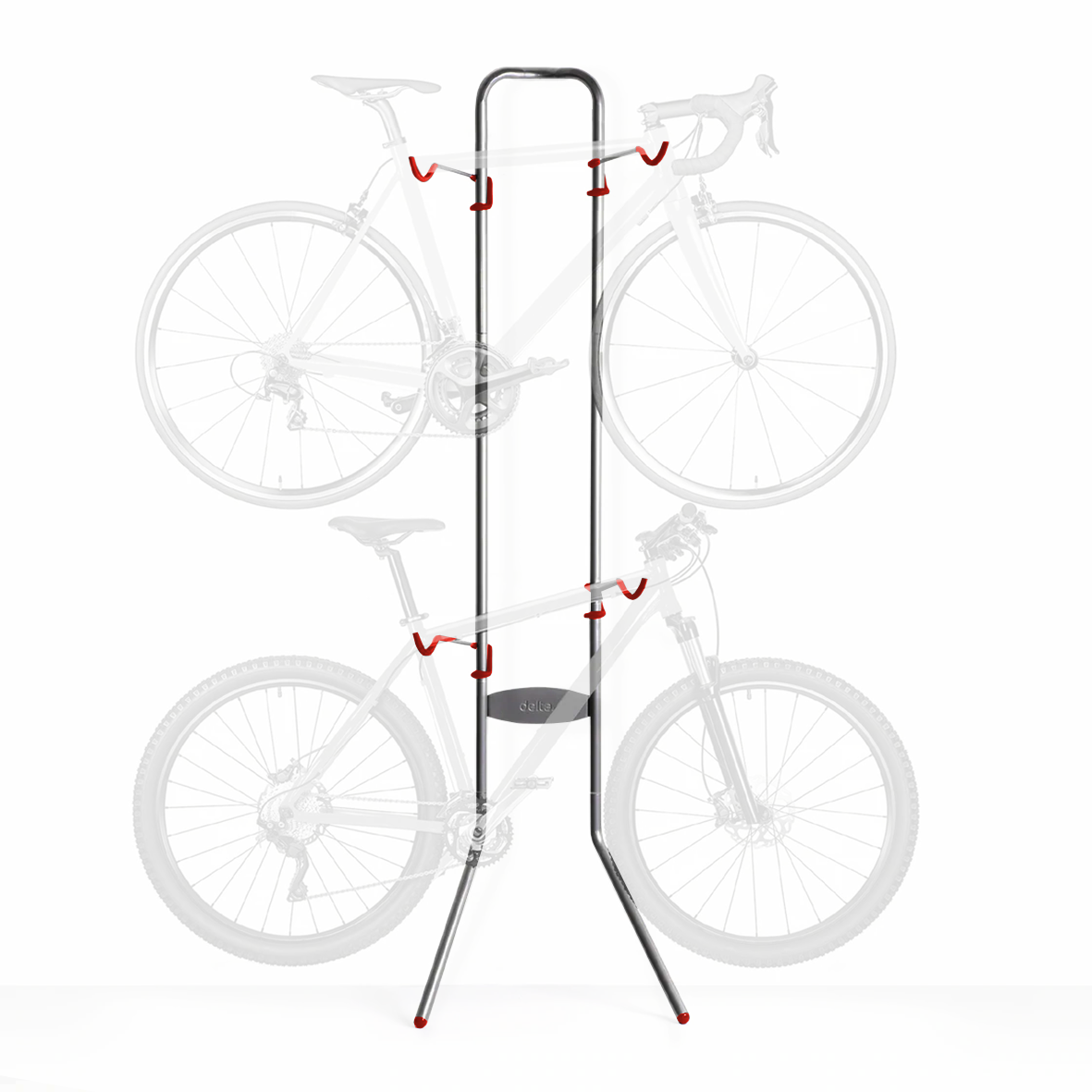 Delta Universal Bike Wall Mount Rack
Clear garage clutter with the Delta Universal Bike Wall Mount Rack.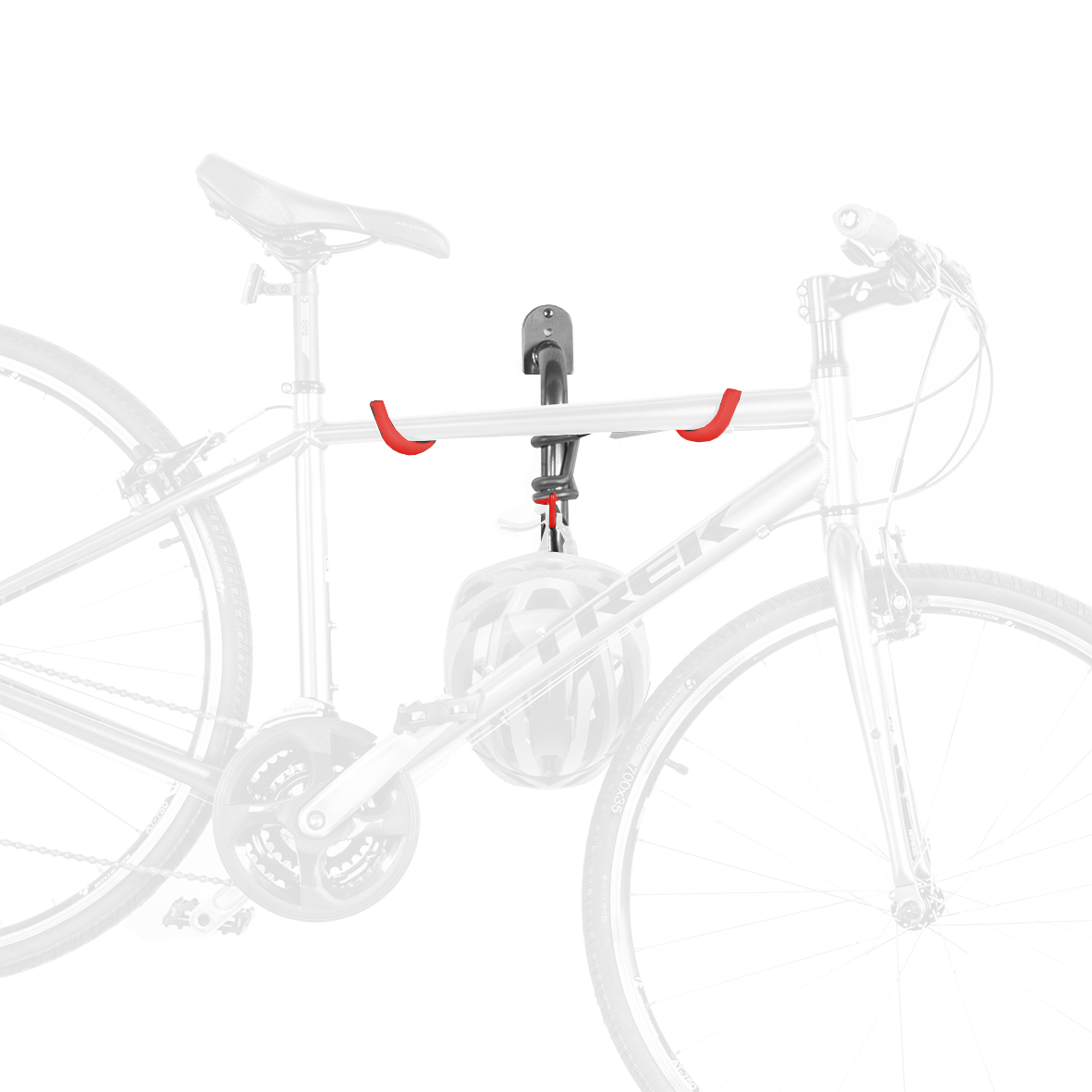 With a horizontal design and proprietary bike hook design, your bike is stored safely up off the floor on any wall. Ideal for your apartment, home or garage, the Single Bike Wall Mount Rack mounts into any wall stud with included hardware for an easy bike storage solution.
Featuring an innovative and attractive contemporary design, industrial-grade steel construction ensures the wall bike rack is built to last, allowing easy access to your bike.
RRP $54.98 via www.deltacycle.com.au or your local Bunnings.
Superstand Bike Racks
The Superstand has been designed to provide easy and unobtrusive bicycle parking in any situation, including at home, at races, or at work.
Bikes ranging from 20" wheel size through to 29" wheels all fit in the Superstand. There are three different width options to cater for the various tyre widths—up to 2.5", 2.6" to 3.25", and the width-adjustable fat rack for fat bikes caters for tyres ranging from 4" up to 5.25".
The 2.5" width Superstand is available in one-bike, two-bike, and three-bike versions.
Australian owned and designed, each Superstand is constructed from steel tubing and finished with a heavy-duty speckled powder coating.
RRP $65 Side by Side Stand
The Side by Side Stand is a simple minimalist storage solution for two bikes & perfect for small spaces. A versatile stand, it can be set up with a bike entering from either side, or both bikes entering the same side. Rubber feet and steel tubing construction ensure stability on any level surface, and the finish is a durable epoxy.
A great and ever-popular option, this is the stand for simple front or rear wheel entry and best use of space.
RRP $65
Two Bike Tree Stand
The tree stand helps save critical floor space by storing two bikes with one above the other.
It's a strong, sturdy but simple stand that simply leans against wall—no fixing to the floor or wall is required. A bonus is tool-free assembly.
Vinyl coating protects bike and contact points on floor and wall, and arms attach independently of each other to ensure bikes are level when hung on the stand.
RRP $139
Ask for Superstand at your LBS or visit www.bikecorp.com.au for your local stockists.