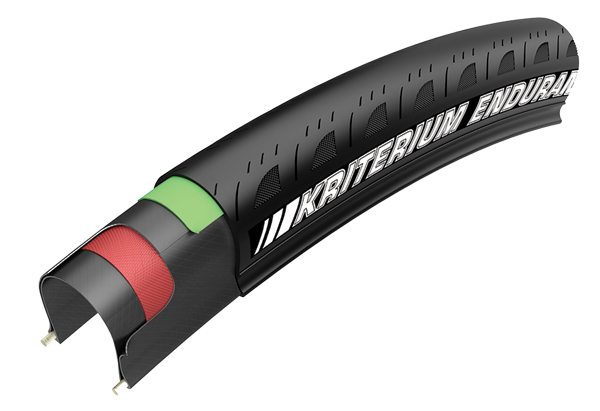 I like to try new things, my wife often gets frustrated when we eat out because I try and persuade her to order a different meal from me so we can both taste something new. Unfortunately my tendency to try the "new" has got me burnt too many times with regards to bike tyres. Too often have I veered away from my trusted training tyres-of-choice only to be greeted by rubber with inferior grip, regular punctures, short wear, or all of the above. Scarred, I stopped believing and became a one brand tyre junkie.
Part of the problem with tyre choice is that no tyre (that I've found yet) can eliminate punctures and have long life whilst being lightweight and maintaining road-feel. A good tyre, however, tries to find the balance.
Enter the Kriterium Endurance. Among the Kenda road tyre range is their race tyre, the 200g Kriterium. The Endurance model reviewed here adds weight (extra 70 odd grams to its little brother via a second layer of puncture protection and presumably some extra rubber to increase the mileage. Kenda's proprietary puncture protection system, Iron Cloak, similar to other puncture protection systems is a Kevlar belt; in this case "a blend of Aramid fibres". One interesting point of difference with Iron Cloak is that the belt is not limited to the tread area, but runs from bead to bead. I would hazard a guess that 95% of punctures (excluding pinch flats) occur over the tread area, but sometimes it's better to catch the 5% too, even if it does mean a little added weight. The Kriterium Endurance adds a secondary layer of ceramic particles and aramid fibre underneath the tread to hopefully make the tyre bomb proof.
Mounting:
Sometimes endurance style tyres are very stiff and getting that last 50mm of bead over the rim nearly breaks your thumbs but thankfully the Kriteriums were relatively supple and gave up the fight early on.
Riding:
I had previously been riding the 25mm version of my trusted tyre brand, so the first thing I noticed about these 23mm tyres was the added rigidity of the ride. This was not all bad though, the loss of the 25mm "sponginess" made the bike feel livelier and although these tyres are, if anything, slightly heavier than my previous ones the sense of acceleration and road feel was quite adequate. Grip in the wet felt quite assured. On rougher roads, particularly when descending, the rigidity of the Kriterium becomes evident and I found myself wanting the compliance that the 25mm would give. Whilst a short term review can't address whether the puncture protection claims about these tyres are accurate, I had no problems with them. After roughly 800 km of riding in mixed weather and on a range of surfaces there were no visible signs of embedded glass or any cuts to the rubber surface.
Recommendations:
If you are getting itchy feet with your current tyres, the Kenda Kriterium Endurance offers a safe option for you to try. These are not lightweight race tyres but rather solid training tyres which give reasonable road feedback, good grip, and which feel quite lively and racy. The Endurance leans toward the heavy side of the weight/lifespan/puncture-resistant balance, but it do so with finesse. I could even see these Kriterium Endurance becoming my new "trusted" training tyre of choice.
RRP $69.95
Distributed by: Sheppard Industries www.sheppardcycles.com