Although it's our prime race season here Down Under, back in Europe they're all sliding around in the mud and running with their bikes. They call it Cyclo-Cross, and it's huge! Cowbells clang boldly as if there is a mass stampede taking place. Air horns blast out in unison, while regional and national flags rage above the frantic crowds, all cheering insanely for their favourites. No it's not a Premier League soccer match, it's a typical Belgian cyclo-cross race.
If you could imagine all the roar and atmosphere of a finale of a Tour de France stage on the great Alpe d'Huez and then bring it all into the centre of a small town for everyone to join in, you'll get a feel of what it's like at a major cyclo-cross race on a cold winter's day in Belgium. Or anywhere else within driving distance of the tiny beer and fritte producing nation, which is without a doubt the homeland of all things bike racing.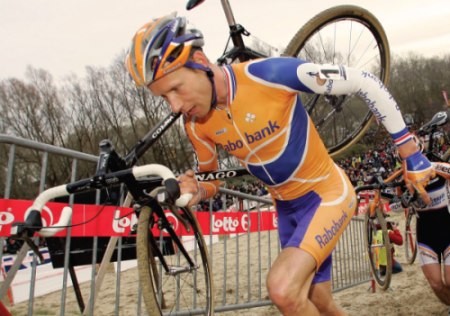 To most Australians cyclo-cross is some kind of strange sport that involves riding and running around in the cold and the mud, and could well seem kind of pointless. After all, that's what mountain bikes are for, aren't they? But say that to any Belgian cross fan and you'll probably be hung by his braces and battered by his cowbells. Sure enough Belgium has more than its fair share of great classic bike races to go to. The place virtually drowns in cycling culture and history. But when it comes to cyclo-cross, they are that extra little bit fanatical.
The misty cabbage fields of Flanders are a bleak and unforgiving place in winter. The wind roars, the rain cuts sideways, and in-between the rains the ice freezes in the ploughed furrows. It's these sorts of conditions that have moulded the Flandrians over the years, and is partly why they have such tough bike racers. So the thought of getting out and racing around these fields in such conditions is not exactly alien to the wind hardened northerners, and coming out to watch them do it is considered great entertainment on a cold and dreary winter day.
On any given weekend between September and late February there will be local cyclo-cross races all over Belgium and Northern Europe. These races have all of the usual categories, are held on circuits of about a mile in distance and for the senior riders are usually raced for one hour plus one lap. They're basically like a big muddy crit. Conditions vary, but a typical race circuit will contain a number of obstacles, lots of twisty grass riding, short road sections and a few technical bits with a short run or two. Most aficionados don't consider a race to be a true cyclo-cross unless the circuit is also capped in ankle deep mud, and they often are. The sport began around a century ago as a way for road riders of the day to keep fit during the harsh winter offseason.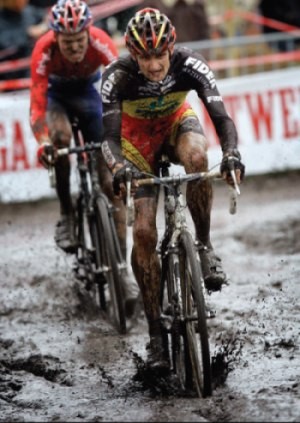 But these days with longer and more demanding road race schedules to cope with, and the easy availability of cheap sunshine in southern Europe, not as many of the really top line road riders compete seriously in cross. There are of course some exceptions. Riders such as Lance Armstrong, John Gadret and Roger Hammond are fans of playing dirty.
Cyclo-cross has grown in stature and standard dramatically since its official 'incarnation' in 1950. Belgium leads the major players by a long muddy stick, while Holland, Czech Republic, Switzerland and France follow with smaller cross powers like the USA, UK, Italy and Germany a little behind. That said, from a participation numbers stand point the US pretty much rules, with some American events attracting over 1,000 riders. There are a number of potential reasons for the sport's popularity. From an average rider's point of view it's great fun and really works well as a way of maintaining and boosting fitness by forcing them to ride more and cross train during the winter. It's great for bike handling work, and it's all over within an intensive hour which might otherwise have been spent in front of a TV on a wet day. In the US it often attracts many older riders. Not only because it's seen as cool, it's a great way to be able to race at weekends for riders who simply do not have the time available to put in the long training hours that are required to even stay in the bunch of an average road race.
At the top end it's a different story. Many European riders first cut their knees in muddy cyclo-cross fields, so it is pretty much in their blood. Plus for those on a higher level, it's an incredibly lucrative sport, and they are virtual super stars in their home countries – especially in Belgium. Besides the usual team sponsorship and prize money, most elite riders will receive handsome start money for races, particularly the bigger events. A rider of the prominence of Sven Nys for example, could earn up to A$12,000 in start money for a major race and then race another 40 times during a season.
Major race organisers are full time commercial set ups, so the standards are always high. The upper echelon of cyclo-cross is comparatively rich compared to other branches of the sport. Why? Imagine Frazer vs. Ali, the Aussie Rules Final or the Ashes taking place every weekend somewhere close to your home town, and once a year within walking distance – and for free!
Just as they do with other major sports, the average fans in Belgium know all of the riders. Bart Wellens even has a weekly TV docu-soap show following his every move, so when these guys come to town everyone turns out to watch. Add in the fact that the circuit distance and layout means they can see the riders every few minutes, and it's great free entertainment. Bike racing is a tough sport, and in Belgium it has always been associated with the tough working classes. So when these working class cycling heroes come out to race the atmosphere is nothing short of electric. But, of course you have to add in the other great Belgian element – beer! Yes beer. The Belgians make more of it, and better beer than anybody, and they love to drink the stuff too. What better accessory for a Cyclocross bubba watching a race? And then by late afternoon it's all over, and they can make it home in time to watch the race again on TV, as all of the major races are televised. This accounts for the sponsorship, popularity, and the high awareness factor of the sport in Northern Europe. From the TV network's point of view filming a cyclo-cross is a piece of cake, and very cheap, compared to following a road race.
Other Countries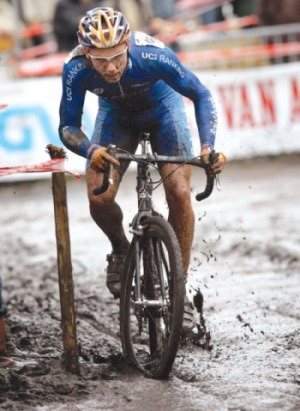 Outside of Northern Europe there's the Czech Republic, which hosts the World Championships in 2010. Although the former eastern block nation has no great cycling culture, its system has always produced great cyclo-cross riders. Back in the communist days they boasted several World Champions, drawn into the sport by the great potential bonus offers. Even now they rank second only to Belgium on a performance scale. In the USA the sport first kicked off in the late 70s, but now it's huge, and American riders are making regular top positions in big Euro races. Elsewhere cyclo-cross gets harder to find. In Japan there are a few races and the Kansai Series is very popular, sometimes attracting visiting Europeans.
In China there is a very small series in Beijing, and Mongolia is sending a small team of riders to try their hands at the sport in Europe with the support of Johan Musseuw's bike manufacturing company. I guess the question is – will it ever happen here in Australia? Well, Cyclocross bikes are slowly finding their way into shops here and some of the bigger mountain bike races are allowing cross bikes to compete too. There was also a cross event held on the cross-country MTB course in Canberra before the recent World Championships, and there is a fledgling series, and unofficial National Championship in Victoria. Check out www.cyclocrossaustralia.com.
"There is no reason it shouldn't take off here; it's a great sport, and cyclo-cross bikes are the ultimate all-rounder."
A Brief History of Cyclo-cross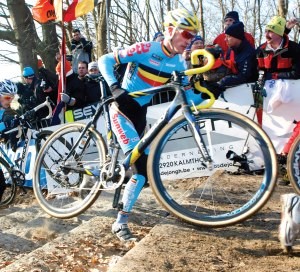 The sport of cyclo-cross came about towards the end of the 19th Century. There are many theories as to how, but it is largely attributed to a cycling French solider named Daniel Gouseau. During the cold northern winter months he used to ride his bike around the local forest and farm trails, hopping over obstacles along the way, all in the name of keeping fit. It is said that the French army witnessed this and took to training their soldiers the same way.
Many other road riders of the day used to race each other from village to village for winter training, cutting across fields and through woodland to try and make the shortest route. The running element was added it is said, to get the blood circulating in frozen feet. The first official French National Championship was organised by Gouseau in 1902, and over the next decade many other nations added their own championships. In those early days the leading road riders all competed in Cyclocross, hoping to maintain their fitness and improve bike-handling skills, much as many top riders have done ever since.
Many of the early Tour de France winners were also great cyclo-cross champions. In 1924 the first ever 'Criterium International' was held. This was then recognised as the ultimate cyclo-cross race and considered to be the World Championship of the sport. In 1949 Roger Rondeaux (one of the early greats of the sport), won the last Critirium International. The following year the event became the World Professional Cyclo-Cross Championship and the first winner was 1947 Tour de France champion Jean Robic. Cyclo-cross has grown considerably since then, with 24 nations lining up for last year's World Championship. Many ask, what about adding the sport to the Winter Olympics? The chances of this happening are very slim. Firstly it's still a fairly Eurocentric sport, and secondly it does not require snow or ice to happen. However, they are trying to introduce cross-country running to the Games – so never say never!