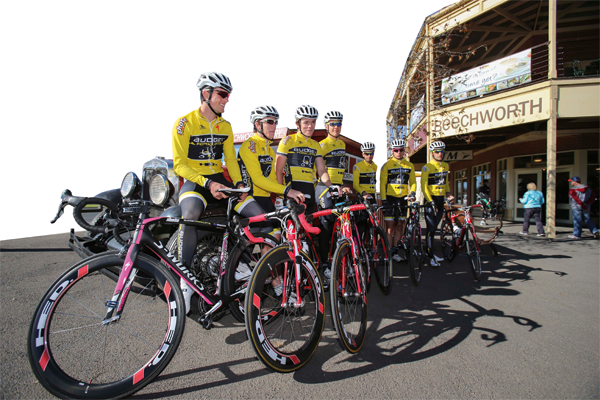 It began as a pet project targeting upper middle bogans but the Budget Forklifts cycling posse has grown to become one of the best and most consistent performers on the National Road Series calendar – all done without paying their riders a cent in wages. Anthony Tan delves into the team's inner workings to find out what makes them tick – and click.
It wasn't the most auspicious start for Budget Forklifts cycling team owner Tim Leunig.
In 2006, when his company decided to start a junior development cycling team out of their Perth headquarters, they had already been involved in motorsport for two decades, sponsoring speedway cars and drag racers. "It was to do with our industry, mainly – there was quite a lot of revheads, so (sponsoring a cycling team) was a good fit for us," Leunig tells me by phone, whose gravelly voice bears a remarkable resemblance to Federal Minister for Industry, Ian Macfarlane, sounding more like a dyed-in-the-wool smoker than a sports nut. "With cycling I could very much see it was a developing sport, and sort of had that link to mid-to-top end management rather than the motorsport, which was more (geared) to forklift operators and machinery operators. So that was the idea behind it."
Things began well enough. But in early 2008 and unbeknown to Leunig, just when his little team of wannabes were about to make their first trip to race in America, the Perth-based coach he appointed had begun a secretive relationship with a minor over the internet; once in the States, a sexual encounter followed, and said coach found himself behind bars. The coach claimed not to know the minor's age and after two months' jail time the charges were dropped. As far as the team was concerned, however, the damage was done. "Whether it was actually an offence or not or breaking the law, it was inappropriate behaviour as far as us continuing the relationship, so we severed our ties immediately. We just had to pick up the pieces and make a decision whether we were going to (continue)… I went to a couple of friends of mine and asked if they would be prepared to help me," Leunig says, to which his allies answered in the affirmative.
Unperturbed, and buoyed by a visit to the Tour de France the previous year with business partner Daryl Griffiths (together, they own Shotz Sports Nutrition, also a team sponsor), Leunig and his mate decided to fast track their plans to compete in the 2008 National Road Series (NRS).
Recalled Blair Windsor, one of the original seven members (and still a team rider today) in an amusing blogpost retrospective last February: "I can remember myself, a young 18-year-old walking off the plane (with the moves like Jagger) in Melbourne to meet the team and race the Tour of Gippsland for the first time. I indeed remember landing and walking out to be greeted by what looked like two hired goons who quickly ushered me away. I felt like I was in an episode of Underbelly as two large men took me straight into a meeting room at the Hilton. I can remember walking in to see a bunch of cyclists all slumped over a meeting room table, looking like they were on trial for murder. To be perfectly honest, if there was a chance to jump on the plane back to Bathurst, I most certainly would have been front row heading home.
"Instead, I took an excited breath and walked quietly to a seat where my name was. I sat there confused, excited and wondering if there were a chance we would all get a free lunch out of this. Eventually, a man walked in who introduced himself as Tim Leunig, owner of Budget Forklifts and the man making this all happen. He was extremely professional and direct, however it was evident he was there to help and support his very young cycle team. He spoke so very passionately about his family company and this quickly rubbed off into his cycle team. Even though I [now] look at Tim as a friend, back in that meeting he scared the absolute crap out of me, and the more he talked about professionalism and teamwork, the more I wondered when could I get my free lunch and head home.
"Eventually we were excused from the meeting and it was time for business, heading down to the week-long race. You would think that with the current success of the team and the constant support from Tim and his company that we would have absolutely dominated that tour, leading to a successful relationship… Nope, the opposite happened. We got smashed!!! We literally could not beat our own Budget Forklift shadows!"
Two months later, they sent a squad to race the marquee event on the domestic calendar, the Herald Sun Tour, where ProTeam CSC-Saxo Bank dominated proceedings and came away with a 1-2 podium finish courtesy of Stuart O'Grady and Lars Bak. To their credit, four of Budget Forklifts' seven riders finished the race; Cameron Jennings was best placed in 29th place – albeit sixteen-and-a-half minutes down on O'Grady.
Four years on, and Budget Forklifts, despite a policy of never paying its riders, finished at the top of the 2012 individual NRS rankings with their man Luke Davison. So good was the entire squad, in fact, that the team finished with five riders in the top ten places, having won half of the dozen events on the calendar, and had it not been for a poorly weighted points system that was rectified the following year, they would have walked away with the teams classification, too.
Although unable to match their success the following season, it's a far cry from the Unmagnificent Seven of 2008. "I think Cam's (team manager and sport director Cameron Watt) done a fantastic job since he's come in and started managing it, the last couple of years," says Leunig. "And there's a real team spirit about us, supporting each other. The team's very close, you know… we try and provide very good conditions for the riders, but without paying salaries."
Asked to rate the performance of the team last year, Watt says, "From our expectations we had at the beginning of the year, for the NRS, I'd give us eight out of ten, and the bits of the UCI (races) we've done, we've certainly exceeded our international expectations, so I'd have to give us a ten out of ten. It was very hard to back up (after the 2012 season) and when you're coming up against guys like Nathan Earle… even with the benefit of hindsight, I think we've done as good as we possibly could have, against a rider of that calibre. Nathan Earle, on paper, was unbeatable, and he's proved that in the results. But the morale and the mood in the team has never been one of defeat. You'd think if you're up against an unbeatable opposition, it's very easy just to give up and race for second place. And I think a lot of other teams have done that. Not once has that attitude crept into our team. Not once have we laid down arms. We've fought to the end."
Telling him teams like Drapac, even before they applied for a Pro Continental licence, pay all their riders, while Huon Salmon-Genesys Wealth Advisers, the number-one ranked team the past four seasons, remunerated five of their sixteen contracted riders last year, I ask Leunig: Why not pay them? Wouldn't it put his boys on a more level playing field, perhaps make them hungrier to perform, and thus perform better? "It's more the policy behind the team is to develop juniors. We have a couple more senior guys in the team but the idea is that it's a development squad. What we're trying to do is develop cyclists so they can go to the next level and then go and earn a salary and sign on to a pro team," he says, citing Davison, who went on to ride for Drapac last year as an example. "So, if we can get three or four guys signed up and moved on to the next level each year, we find that very satisfying. That's a successful year and reward for the effort."
"If you're at a level that you can get a salary," Watt adds, "then that's a good indication you've outgrown our team, and it's time to take that next level. (In 2012) Luke Davison and Mark O'Brien, they had such good years, we wanted to push them to that next level, because obviously we couldn't pay them a salary… It's good encouragement for them to move on."
Some team managers would see losing close to half their team at the close of the season, as they did in 2012, as a sign of discord, but for Leunig and Watt, it's the opposite: "It's almost what makes it worthwhile. That is the challenge," Watt, who began managing the team at the end of 2011, taking over from Jeremy Betts, says. "And it's personally what I get a kick out of – grabbing a new bunch of guys, and building a team around a bunch of guys that have never met each other before. I really revel in that challenge. Obviously we're in it to win, but that's what really motivates me."
At the time of writing, Watt told Bicycling Australia he wasn't expecting to see as many changes to Budget Forklifts' 2014 team roster compared to the year previous, although Tour of Gippsland winner Jack Anderson, who, along with Windsor was one of the team's first signings back in 2008, had confirmed he penned a deal with Drapac. "We've got a group of young guys that we brought on new (in 2013), and they've certainly not plateaued and are on a pretty steep upward trajectory. So we really want to keep those boys and build on what we've done with them."
I challenge Leunig: With an eclectic mix of young and old, surely, the team's raison d'être can't all be about junior development, can it?
"Well, it's to provide that stepping stone for the juniors to develop, as we said – that's a big part of it. But it's also about having a strong enough team that can mentor them and experience success, and learn the pathway to that – what's required to be at that level. So, that's the idea having the mix (of riders of different ages). Certainly in the first couple of years, we had a lot of junior cyclists in there and we were coming nowhere and they weren't really learning that much and they weren't getting to that next level… so we realised we needed that balance in there."
"But I will say," Watt hastens to mention, "the older guys who don't have aspirations to further their career and use us as a stepping-stone, it's definitely not a retirement village or a holiday house where you go away racing with your mates. I think everyone can see our team's pretty serious in that respect, so even though they're not using (the team) as a stepping-stone, they take their training and racing very seriously. Then we've got guys who are young and do want to make cycling their number one career in their lives, and they take their training and racing very seriously as well. The two different groups complement each other."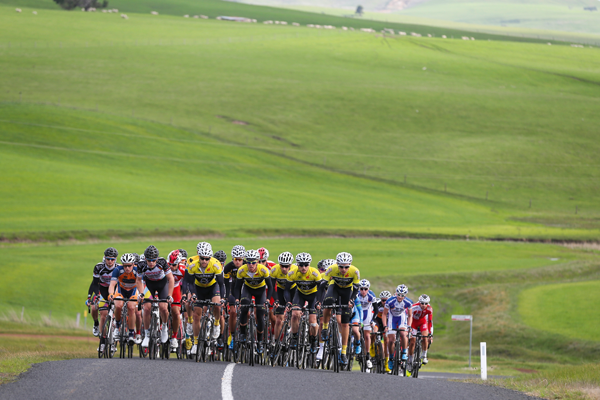 With a largely unchanged roster, a similar operating budget of around a quarter of a million dollars, and their clothing and equipment sponsors mostly staying put, the biggest change for Budget Forklifts in season 2014 will hopefully be abroad, predicts Watt, where they plan to obtain invites at up to six races on the UCI Asia Tour, up from four the previous year. "Really, that was our goal (in 2013), but getting the starts was the issue. I pretty much applied to every single race on the Asian calendar. I had Cycling Australia write to every single race, recommending us for a start.
"It's been very, very hard; one, because we were the third Continental team from Australia, and (secondly) the opportunities they (Huon-Genesys and Drapac) have been given in Asian UCI races, they've done very well in. The Tour of Japan, for example, if Drapac and Genesys want to do it, and we want to do it, then Genesys and Drapac are going to get the start over us. Which we're certainly not complaining about – they deserve it, they've got the runs on the board. (But) we're more and more confident that we'll be able to get those starts (this year). We've got a few results now (on the Asia Tour), so that should open some doors, but also Drapac going Pro Conti, I think that's going to open (more) doors for us, because I'm assuming there's only going to be two Continental teams in Australia – just us and (Huon Salmon-) Genesys. I can't see there being a third."
I ask Leunig: what about going Pro Continental themselves in the not too distant future, thereby guaranteeing race starts in more UCI classified events? "To be honest, probably not. We get a bit of exposure in Asia and we think that's an important part of a rider's development to experience that, so we're sort of increasing that profile slightly – and it fits with our business model as well. But (as far as) going to the next level, I don't foresee that in the near future."
Says Watt: "The only reason why we want to do more Asian races is purely for the riders, making the next step and getting them more exposure. But it's also a way of holding on to some good riders that possibly could get a salary somewhere else. If they get a measly salary of, say, five thousand dollars to go to another team, but we've got a better calendar, then they're probably better off staying with us."
Budget Forklifts' Mr Big began the team to fulfil a market segment – but has it now become a passion for the 49-year-old Perth businessman?
"Oh yeah – definitely a passion. The development we've seen at the NRS, it's just amazing. And I think we're going to attract more international riders to ride over here as well, so the level's going to get better and better. And as our racing gets better it will of course attract more spectators and more interest in the general community as well. Some of the racing we're seeing now… is just so far ahead of what we saw three or four years ago. It's amazing, you know."
Could you see yourself backing this team for another five years, ten years, even? "When we do something, we go long term," Leunig says. "Like our motorsport, we decide on certain (marketing) avenues, and unless something is not working particularly (well) for some reason, we stick with it. It's sort of an arm to our business now – we're linked to that. It shows a (certain) strength to be there for a particular time, as well."
Twitter: @anthony_tan