PRO is the non Shimano arm of Shimano, the brand that Shimano can still offer to teams who might be contracted to use a different groupset.
The manufactured, high end products for road, mountain bike, triathlon and track. Some of their products are legendary, such as the bar and stem combo used by HTC-Columbia's Mark Cavendish.
The Turnix Carbon saddle on test here is right at the top of their saddle line and is available in a number of combinations, standard padding, split cut (shown here), triathlon, and a 'tail up' version. You also have the choice of carbon or titanium rails with the titanium versions being approximately $80 cheaper. This particular saddle caught our eye when it was sent in for our saddle shootout in Bicycling Australia issue no. 162. For starters, it's surprisingly light, only 170 grams, which while not unique is $220.00. uncommon for a saddle with this much padding.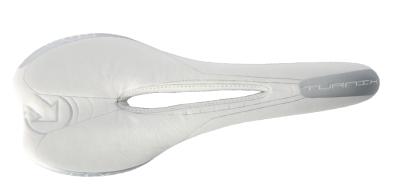 It has a reasonably flat sideways profile that slightly flares up at the back and of course it has the pireneal cut out. The centre area is slightly dished to mimic our body shapes. The cover of this particular one is pure leather and it has THE most delightful smell you can imagine. It's like, new shoes or a really high quality handbag. One of those smells that trigger some kind of childhood memory. Hmmm…
Underneath, we see how the Turnix gets its carbon moniker with the carbon rails running into a pleasingly scarlet coloured re-enforced nylon shell. These rails are a standard size and have 65mm of adjustment. Using the tried and tested pressing thethumb method, there appears to be softer padding around the cut-out area and at the nose than the rear of the saddle. In fact there is quite a difference between the two and this