Richie Porte made Willunga Hill look easy today to claim his fourth straight win on the legendary climb and all but cement his maiden Tour Down Under crown.
With more than 100,000 screaming fans along the roadside, all knew Porte would attack – the only question was when. It was around the 2km to go point that he left four fellow lead riders behind, climbing out of the saddle and dancing up the steepest section of the climb.
"That hurt more than the other three that I've rode up here," Porte said after the victory.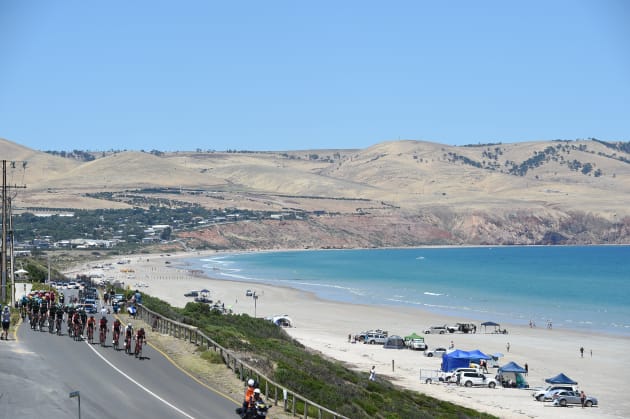 "That street circuit in Adelaide it's not easy (and) anything can happen there," Porte continued.
"I'm happy with where I am at the moment. I've put some good time into the other guys and you know I think it will make tomorrow feel a little bit more relaxed for us. This is not an easy climb so to win it… it's great for morale," he added. "Obviously for me the biggest goal this year is July (and the) Tour de France but things are going well."
With a similarly stunning late attack, fellow Aussie Nathan Haas finished second on the stage to move to third overall. 'Colombian Kangaroo' Esteban Chaves joined Haas in a sprint to finish 3rd.
Bad Luck For Jay McCarthy
Prior to the stage there was much anticipation Aussie Bora-Hansgrohe rider Jay McCarthy would advance to overall top three. But it wasn't to be, the 23yo hit with bad luck and forced to briefly unclip in the closing kilometres of the stage.
"Someone swung out, and took out my front wheel," said a dejected McCarthy after the stage.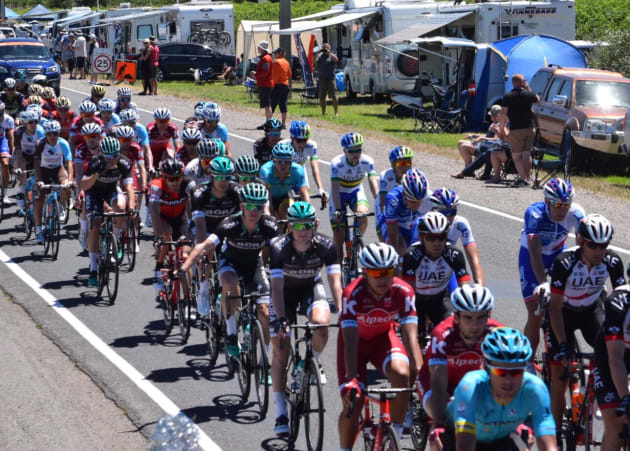 "It was the worst-possible place for that to happen and I had to almost come to a complete stop," McCarthy added.
"It took me a while to get going again and I could not follow the first attacks. I really fought back and I almost caught (fourth placed Diego) Ulissi at the line (but) I had to fight with everything I had to come back. It's a shame not to have had a clean run on the climb. The legs are good and I owe it to my team to keep racing tomorrow for the time bonuses. It's not like the final stage of the Tour de France. We will keep fighting."
2017 Santos Tour Down Under Overall Results After Stage 5
1.Porte R. (BMC) 18h00'21"
2.Chaves J. (ORS) 48″
3.Haas N. (DDD) 51″
4.Mccarthy J. (BOH) 54″
5.Ulissi D. (UAD) 59″