He is our most loved and revered pro rider, and one of Australia's greatest-ever cyclists. Here retiring legend Richie Porte goes one-on-one with Lee 'Hollywood' Turner.
"It's a strange time, in some ways my whole adult life has been around riding a bike for a living," legendary Aussie cyclist Richie Porte told Lee Turner in this retirement interview. "But now it's snuck up on me and it's all over," he added.
"But I'm ready for a change, I'm ready to invest more time in family. And get back to Australia and have a normal life … It's all pretty exciting really."
Lee Turner: Were you sad about riding your last race?
Richie Porte: I'm not the most emotional person but it was quite an emotional occasion. The Tour of Britain, and my wife being British – we had family and friends there from Australia. At the end of the day it was nice to go out on my own terms. I had friends, other riders, who didn't get contracts and it was nice to finish up how I did. I said a while back that 2022 would be my final year as a professional.
We recently met up on your home roads in Monaco. You were fit, fast and firing. There's absolutely no chance you would stay on another year?
No … In the Giro I was asked that question if I wanted another contract. At the end of the day my son is four, going on five, that takes precedence now to get him into school. It was easy enough to get my head into this year and I was motivated – but now it's time to go. I guess you leave a bit of a legacy and it's nice I have been competitive in my last year. It has been 16 years of living overseas and I'm ready. Like Forest Gump said, "I'm tired and I want to go home."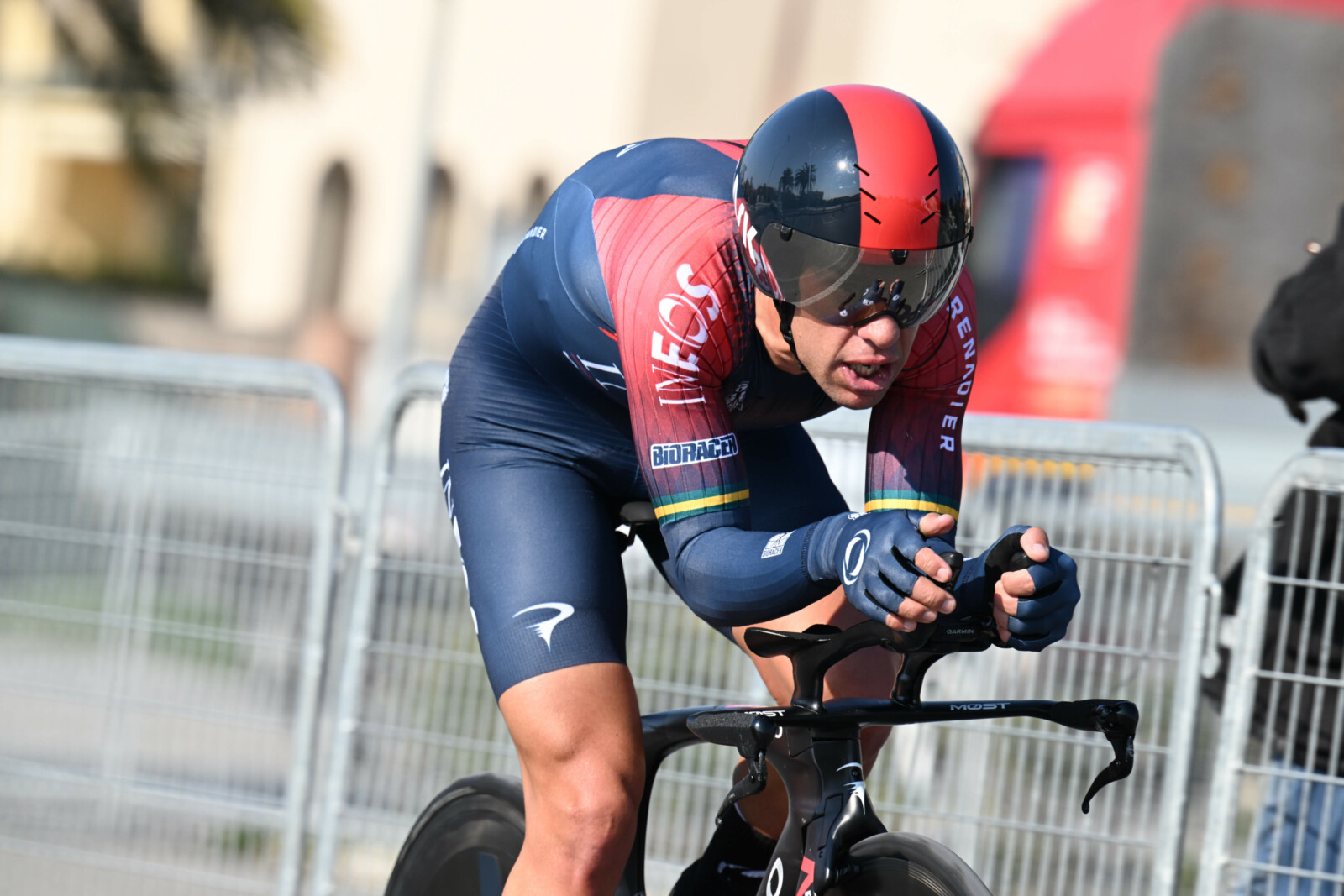 Let's go back to the beginning. Where and when was your first pro race and who were you riding for?
That was 2010 with Saxo Bank. It was a one-day race on Majorca. I was on the bus with all these guys I'd been watching for years – big champions of the sport. I remember Frank Schleck watching me and other neo pros go into battle with wind vests on. He said "you know it's going to snow up the top don't you?" We were like 'bring it on'.
That race we ended up in the back of a spectator's car absolutely freezing – and they dropped us back at the bus. That was my first pro race with the team. I just remember being at a cafe between races and Robbie McEwen came up to say hello. It was quite strange seeing a guy like him – I'll never forget things like that.
Yours wasn't exactly a typical start to the sport – can you tell us how swimming and Triathlon shaped your career.
Yeah, I came from a family of swimmers and grew up around the pool. My parents still swim to this day. I was probably about a foot too short to do anything with my swimming, so I started Triathlon. Eventually I took up cycling and was lucky that Andrew Christie Johnson was at one of my first races. He gave me an opportunity – he gave me a bike and sent me off to the Tour of Canberra where I finished stone motherless dead last because I didn't know how to race a bike. When you look back at those races we had in Australia, they were at a very high level. I don't think it's quite the same now and that's a shame. But let's hope someone can revive that.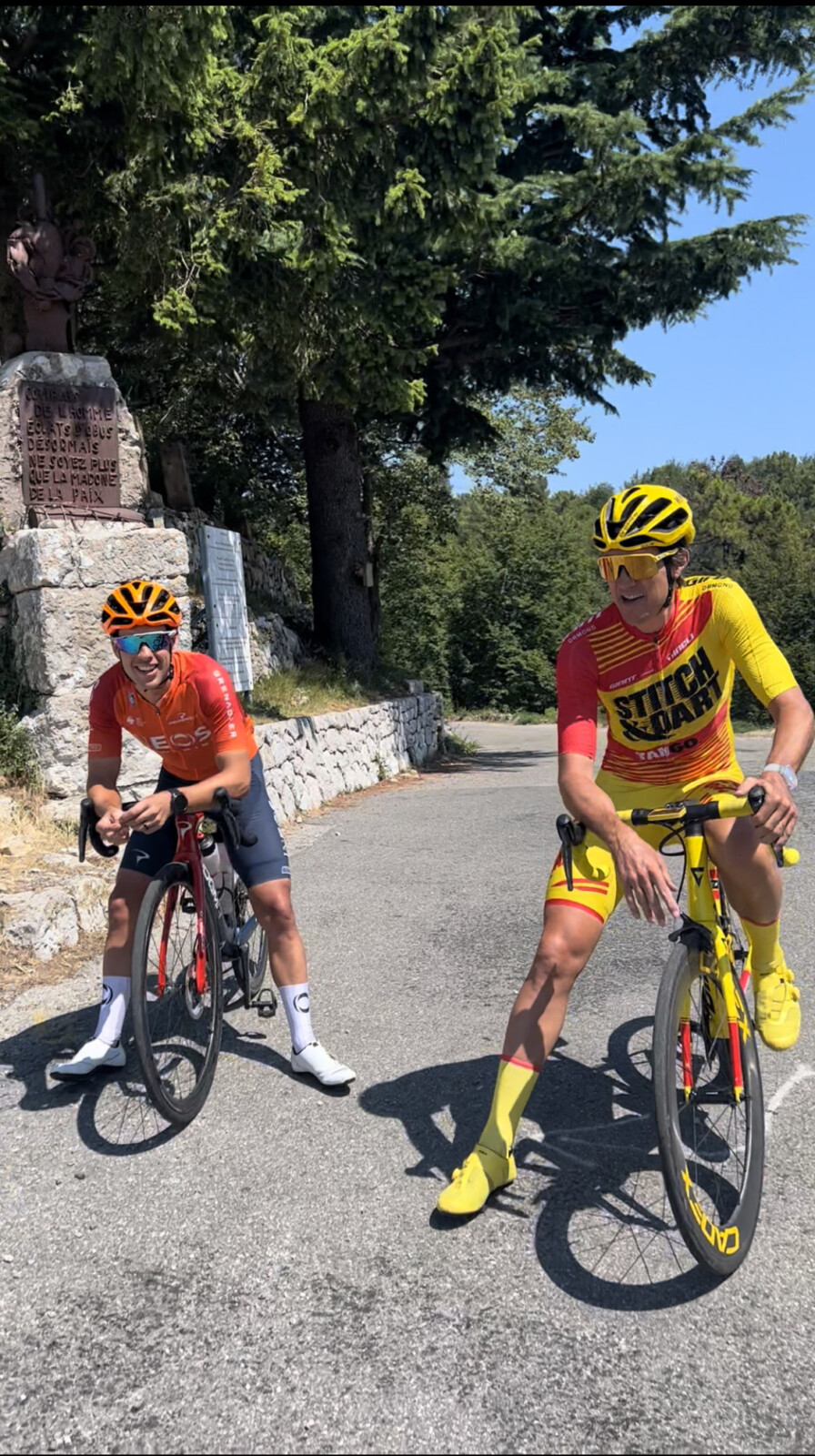 The UniSA team and the Herald Sun Tour have helped so many young riders, how did they steer your career?
I was lucky I had a good Nationals. The guy who finished in front of me, and also didn't have a pro contract, was Rory Sutherland, who wasn't able to take the gig in Adelaide. So I ended up riding for the national team UniSA at the Tour Down Under. Back in those days it was a different race – you could get in the breakaway and score some time bonuses and then finish in Top 10 GC.
For me that was kind of where things kicked off. Basically just from that little bit of luck, that's where my name got out. No one really has an easy path into the WorldTour. Had I gone through the Australian Institute of Sport programme none of this probably would've happened. I then turned professional with Saxo Bank and it has been quite the journey since. 
You wore the Leader's Jersey at your first Grand Tour, then won the best young riders jersey, can you tell us about the 2010 Giro d'Italia?
It was incredible. I lived in Italy for three years as an amateur and we'd always get home in time to watch the race on TV. So I knew what a big deal the Giro was. Then one day I got in a big breakaway and had Carlos Sastre – who had won the Tour two years earlier – say "you are going to be in the jersey tonight." We still had 200km to go, being a Tasmanian boy I was thinking "that's Launceston to Hobart – that's a long way on a bike and a lot of things can happen!"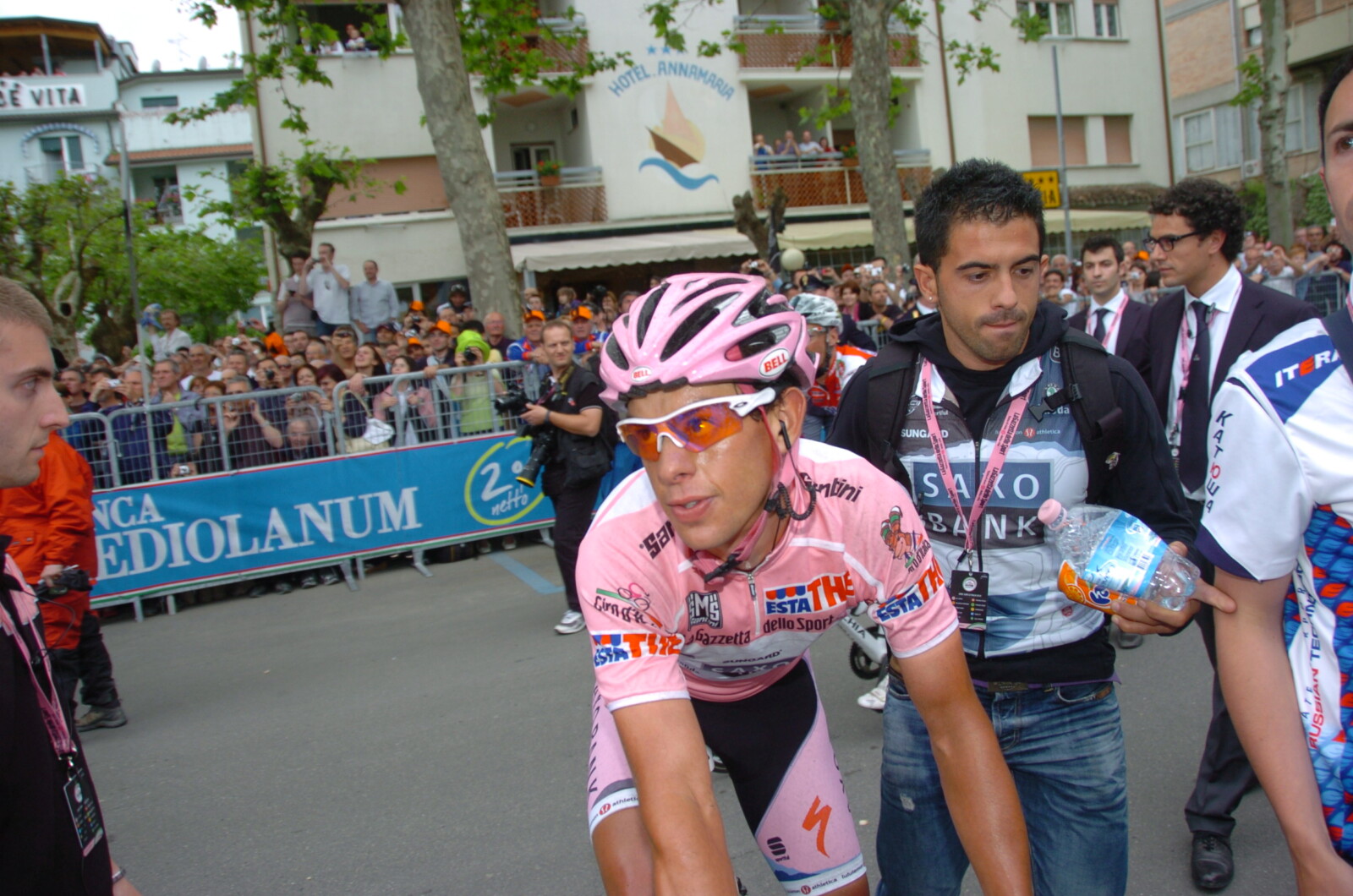 I ended up in the pink jersey and it was amazing. There was so much shouting – and no one is bigger than that jersey. Then I got sick from riding in the crappy weather. It actually wasn't the most enjoyable three days – fighting gastro and things like that. Then to get the White Jersey in my first Grand Tour was pretty incredible as well.
I guess that was a pretty big launchpad and the years immediately after that must have been pretty intense?
It was – it was brilliant but there was a lot of expectation. I was still new to the sport and had really only been a bike rider for three years. That was a surreal time – all the attention. Of course it's going to go to your head when you're top 10 at a Grand Tour and people are throwing ludicrous money at you at the time – it was kind of a blessing but not the best thing at the time.
Probably at Sky it was easier as I was able to go back to a role and serve an apprenticeship. I had brilliant people like Tim Kerrison as my coach. It was good to go back a few steps and work for guys like Bradley (Wiggins) and Chris (Froome) and also win races on my own. 
You were such a loyal lieutenant who worked tirelessly for the likes of Wiggo and Froomey in the Team Sky glory days, how was that period of your career?
It was incredible to be a part of that setup at the time. Team Sky from 2012 to 2015 – they sure were the glory days and I haven't been a part of a team like that. It was just absolute perfection in everything. They changed cycling and I have great memories like riding into Paris with the Yellow Jersey. Especially Froomey, I was good mates with him and we are still close. They were great memories – like winning an AFL Grand Final 21 days in a row.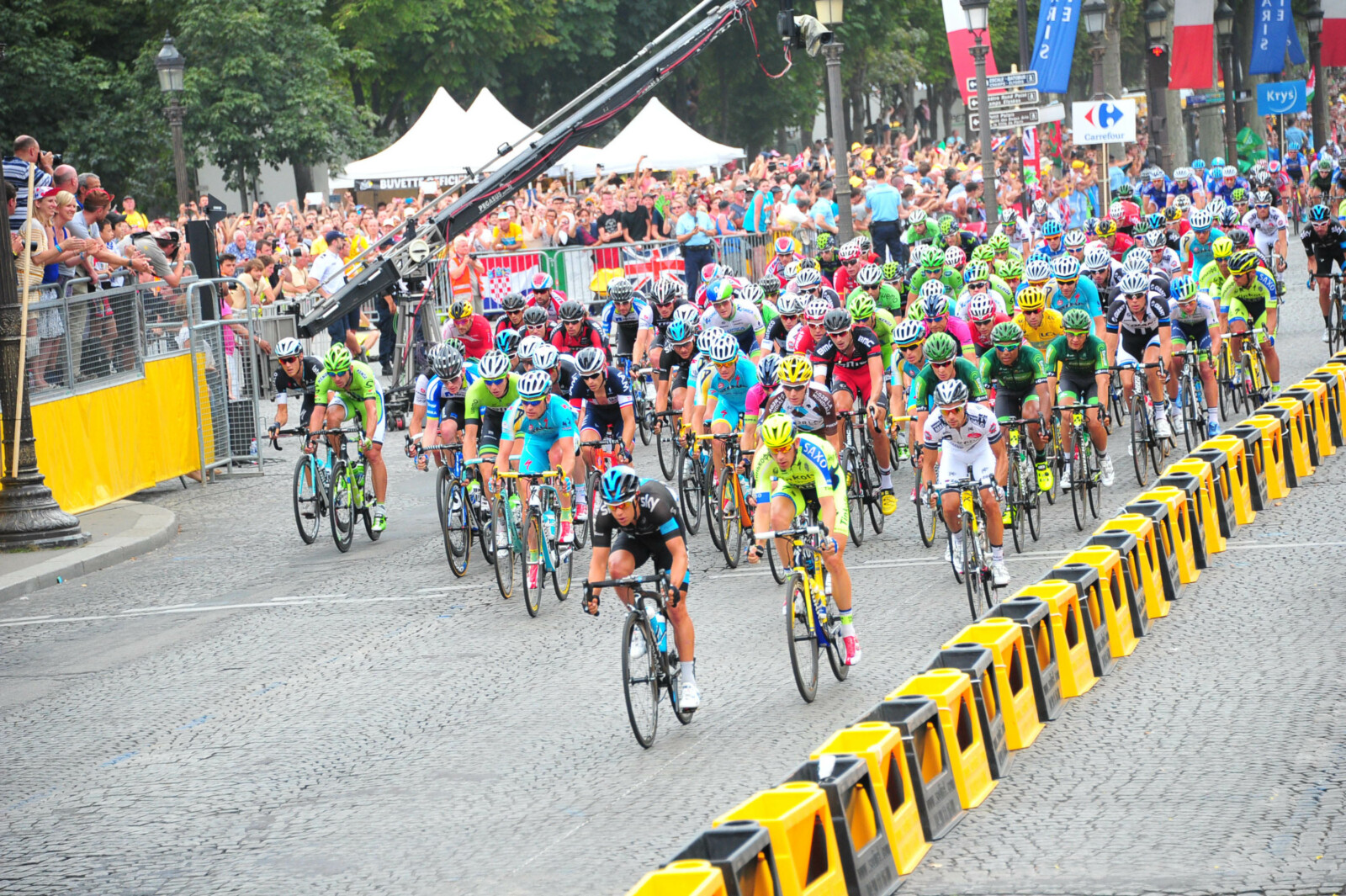 At the time did you think maybe you could be team leader? How does it feel being a key lieutenant – sometimes even feeling you could climb harder or win the race yourself?
I guess I had a lot of self doubt. I trained with Froomey day in, day out, but never saw myself as good as him. I knew how mentally tough and strong he was, and I think I'm just wired a little differently. I'm not the most confident person, and probably listened too much to what others were saying about me.
Maybe when I went to BMC and took on that leadership role – plus with Trek – they were my big opportunities to lead a team. But there wasn't the support we had at Sky or Ineos. I'm quite happy with my palmares – of course you are going to be judged by some saying "you didn't win a Grand Tour". But people within cycling know I did well at some pretty cool races. 
Thinking back to my first years – doing Paris-Nice and taking an absolute kicking in bad weather – and to have won it – things like that are pretty cool. It would have been great to have done what Cadel and Jai Hindley have done, and win a Grand Tour for Australia, but I'm still quite proud of my career.
There were some excellent on-road rivalries in your time. The endless attacks from Quintana, Talansky, Valverde – can you tell us about some of those memories?
Yeah, when you race someone like Valverde who you watched in TV – and put Lance away on some stages – people can say what they want about Alejandro –  but what a bloke, what a bike rider. If you think back to 2013 when the peloton sort of ganged upon Sky, and next thing it was Froomey left by himself, well Valverde was the catalyst for that.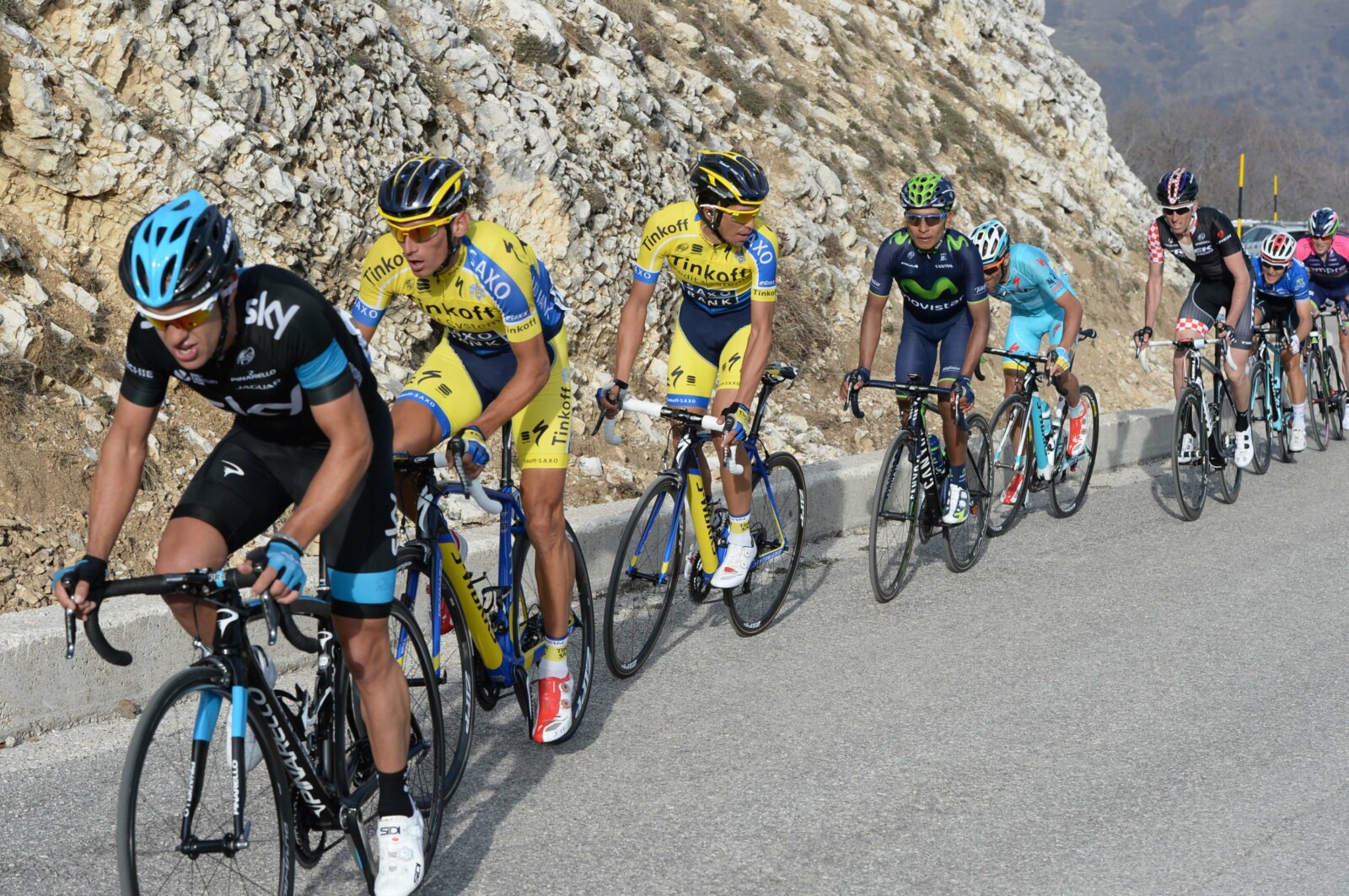 He was tactically just so brilliant … he'd attack from far out. Just to have ridden with guys like that and to have a good relationship with them is wonderful. Someone like Talansky, he had a great career but probably could have been the next great American. His nickname was 'the Pitt bull' and his race face was incredible. 
2014 didn't end well for you due to sickness – I think it was pneumonia – there are so may 'what ifs' but how do you feel looking back at that time?
I think that was the one that got away, to be honest. Nibali won the Tour that year and he was a class above, but obviously Froomey crashed out and I went from being Plan B – which is such a nice thing to be called. I just sat in G's (Geraint Thomas's) wheel and we took good time on most of the GC guys. I was second in General Classification and then just got sick – sick as a dog.
I probably shouldn't have finished that Tour – I knew it wasn't doing me any good to keep on riding. But a few months later we had a scan on my lungs and there was a lot of scarring there. The doctor told me I had something going on and couldn't believe I had finished the race. 
I guess there will always be 'what ifs'. It wasn't to be.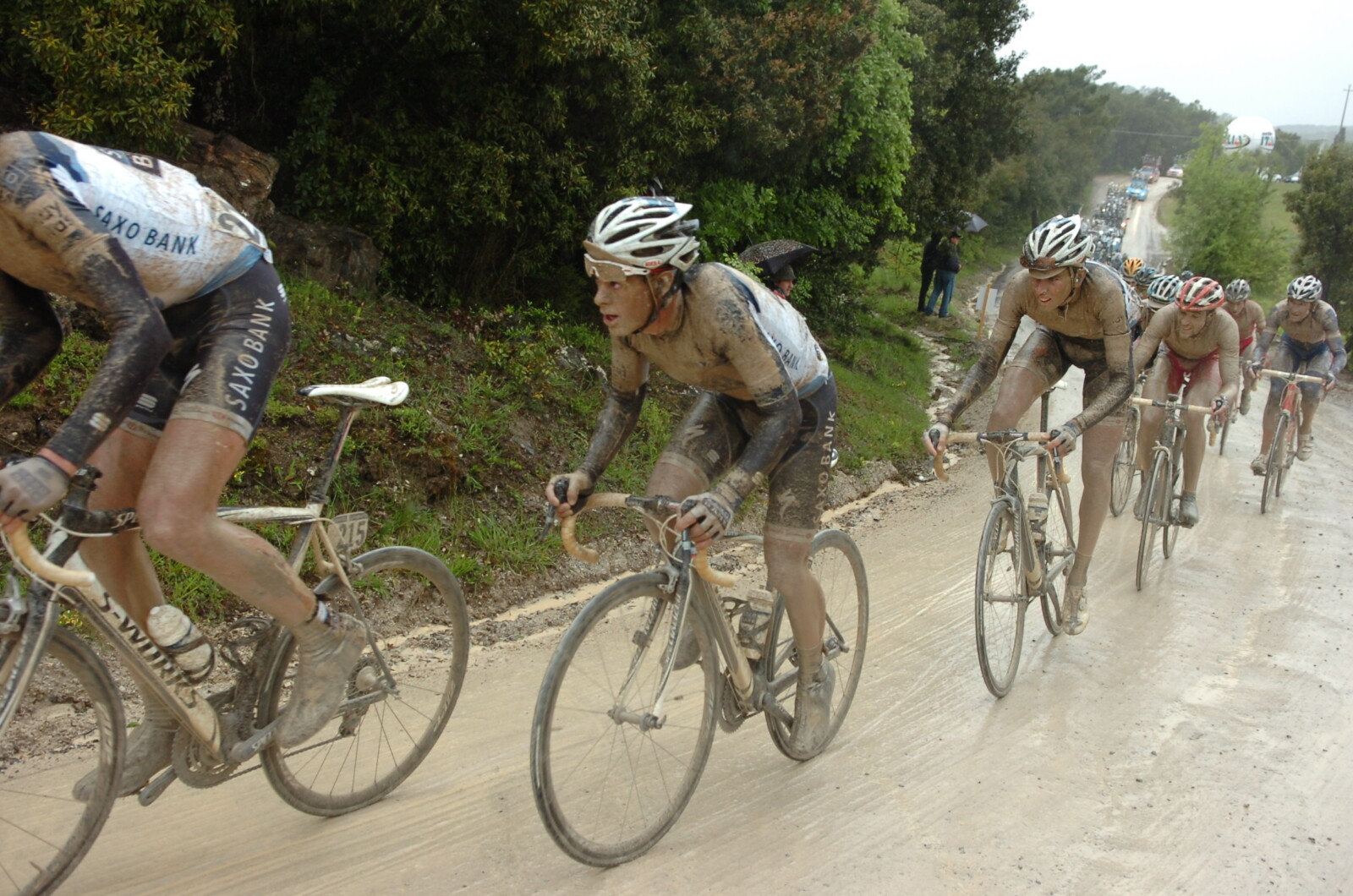 2016 was another great year for you with some solid results including 5th at the Tour and also being involved in Froome's infamous 'running up Ventoux' incident. Take us back to that day …
Yeah, that's probably the one that stings the most. I really should have been up at the pointy end – but with a puncture on the second day I lost two minutes. Then that crash into the back of the moto on Ventoux – even to this day it's unbelievable that could happen.
It was on Bastille Day that always whips the crowds into a frenzy. Once we got onto Ventoux it was insane – we were finishing a bit lower because the wind was just too much. And then, the three of us were away and were probably going to take good time.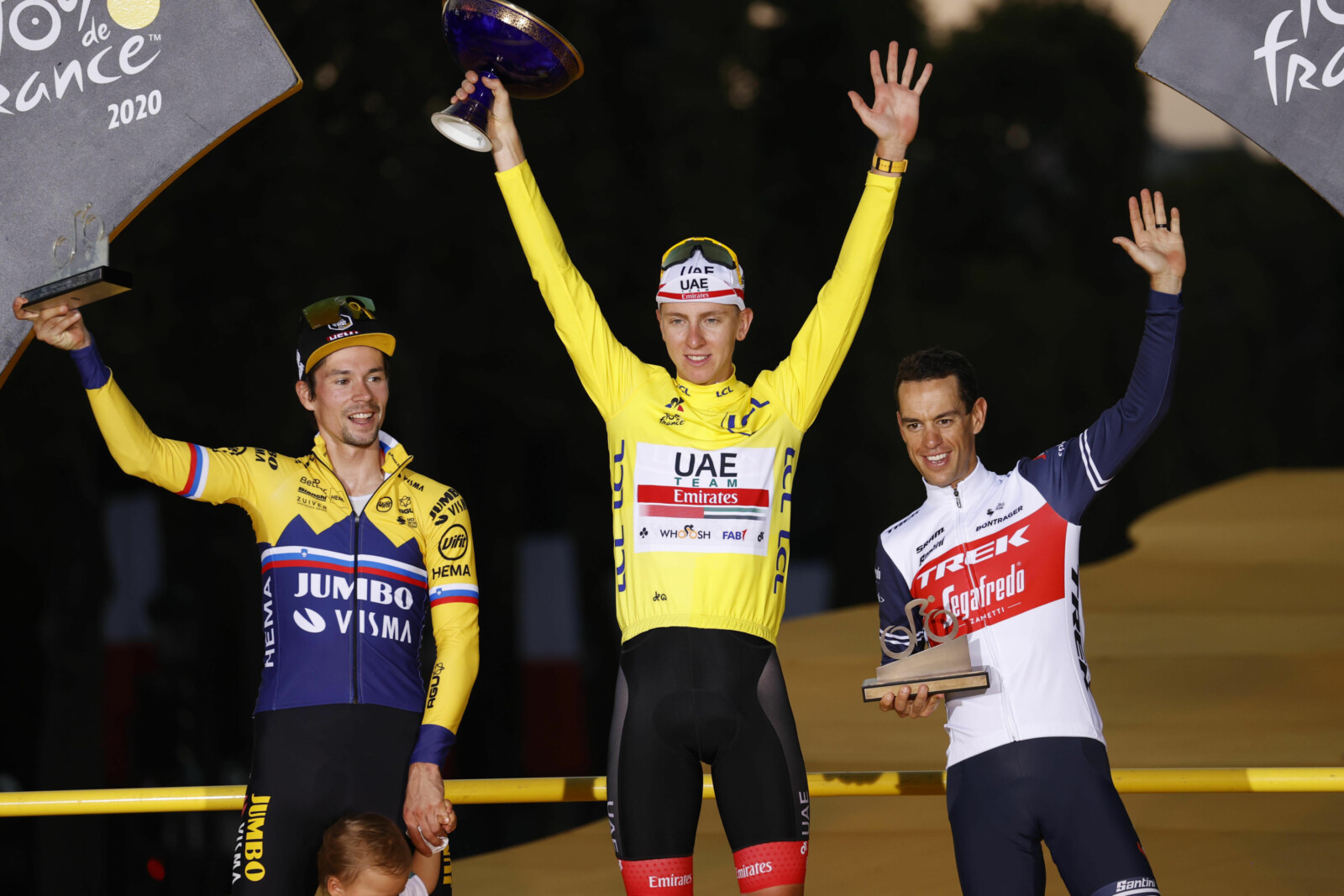 We were following the motorbike up through the crowd – next thing you know the moto just stopped dead … we didn't even have a chance to brake and went straight into the back of it. Also, I used to wear a small map of Tasmania pendant around my neck. After that incident I had to pull it out – it had stabbed me in the chest a bit! It was just a strange scenario and pretty scary. Froomey was kind of public enemy number one on that Tour. 
It wasn't good, the three of us on the ground and we probably would've made good time.
Then to Trek-Segafredo and what will probably be your career highlight – standing on the podium at the 2020 Tour de France. Can you take the readers back to that afternoon in Paris?
It is the year etched in mind. My wife was pregnant, and when the Tour dates were announced it was right when our daughter was due. It was a strange year – I was 35yo and had all the pressure of the team. I remember sitting on the couch with my wife and she said "you should go to the Tour … I'll be right with the baby".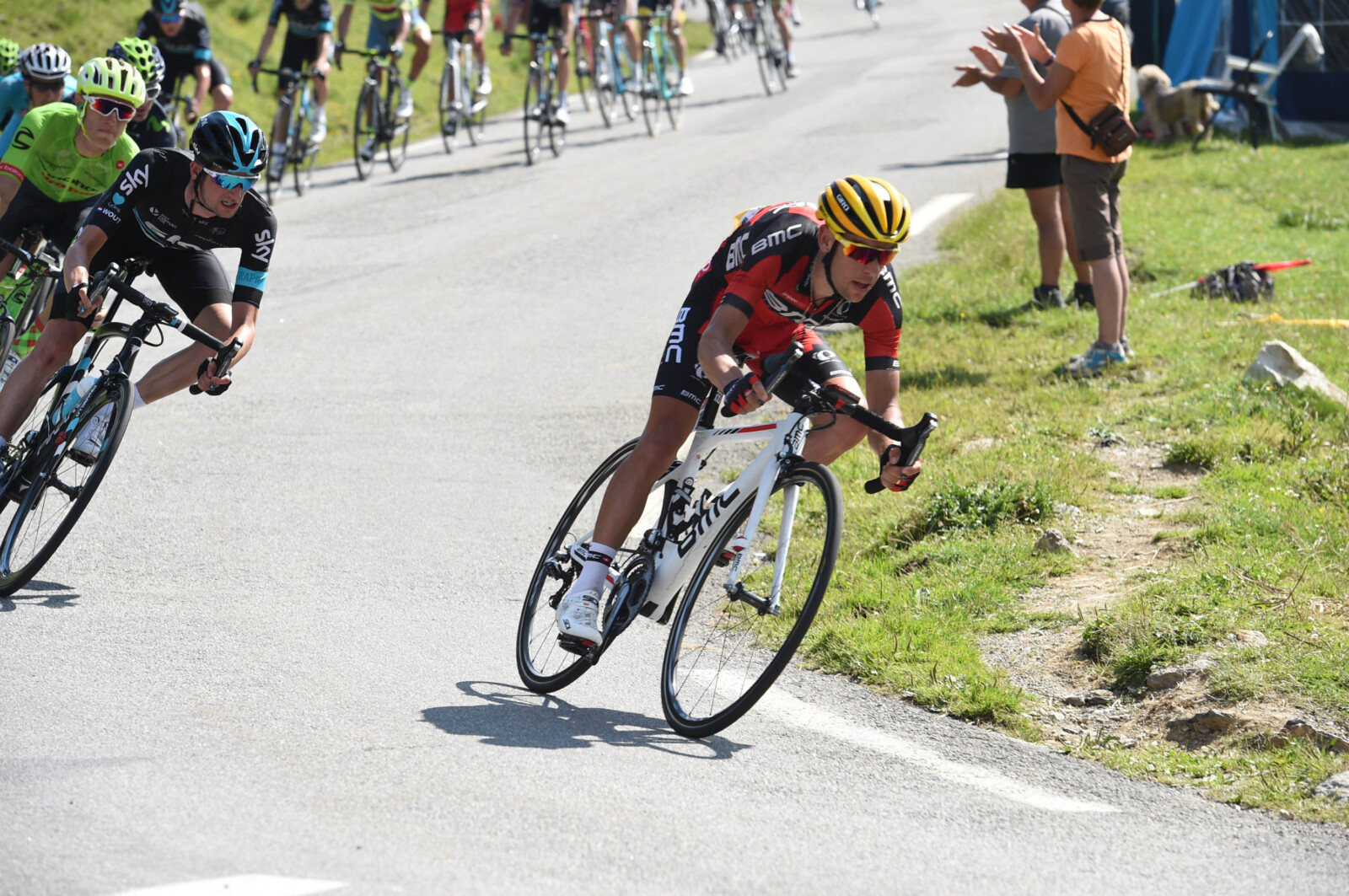 So I went. I had an incredible team with the likes of Mads Pedersen and Jasper Stuyven – two of the best big bodyguards. Especially Mads – he'd come to my room the night before a stressful stage, almost like a psychiatrist. "It's going to be OK tomorrow, just stay on my wheel, I'll get you through it," he'd say.
And he did – he went above and beyond day after day – probably the best teammate I've ever had was Mads. Kim Anderson was my Director Sportif at that time, and he was actually my first DS at Saxo Bank where he said to Bjarne Riis "why did you sign this guy?" But since then we've had quite a good relationship. To have him on the radio saying "You're going to be on the podium,"… it was just brilliant. I did miss the birth of my daughter but if you're going to miss an occasion like that you really need to be on your A-game.
Did you cry on that podium in Paris?
No I didn't cry, but my wife said she did. There were moments of emotion, particularly thinking back to being a young kid in Tassie – riding to work in crappy weather. And the amount of money my parents loaned me to either buy bikes or fly to Europe – just that many people have done things for me – that's what made me emotional rather than actually being on the podium. As a kid I watched the Tour with my mum and said "I want to do that". To then make that podium was absolutely incredible.
And then Ineos had a private jet going home. Even though I wasn't on the team they took me home to meet my daughter later that night.
In 2021, a decade on, you returned to Ineos – how have the past few years been?
It was like coming home to be back with Ineos. I had a great early season – and then won the Dauphine which has been the race I've always wanted to win. I probably wouldn't have won it on any other team.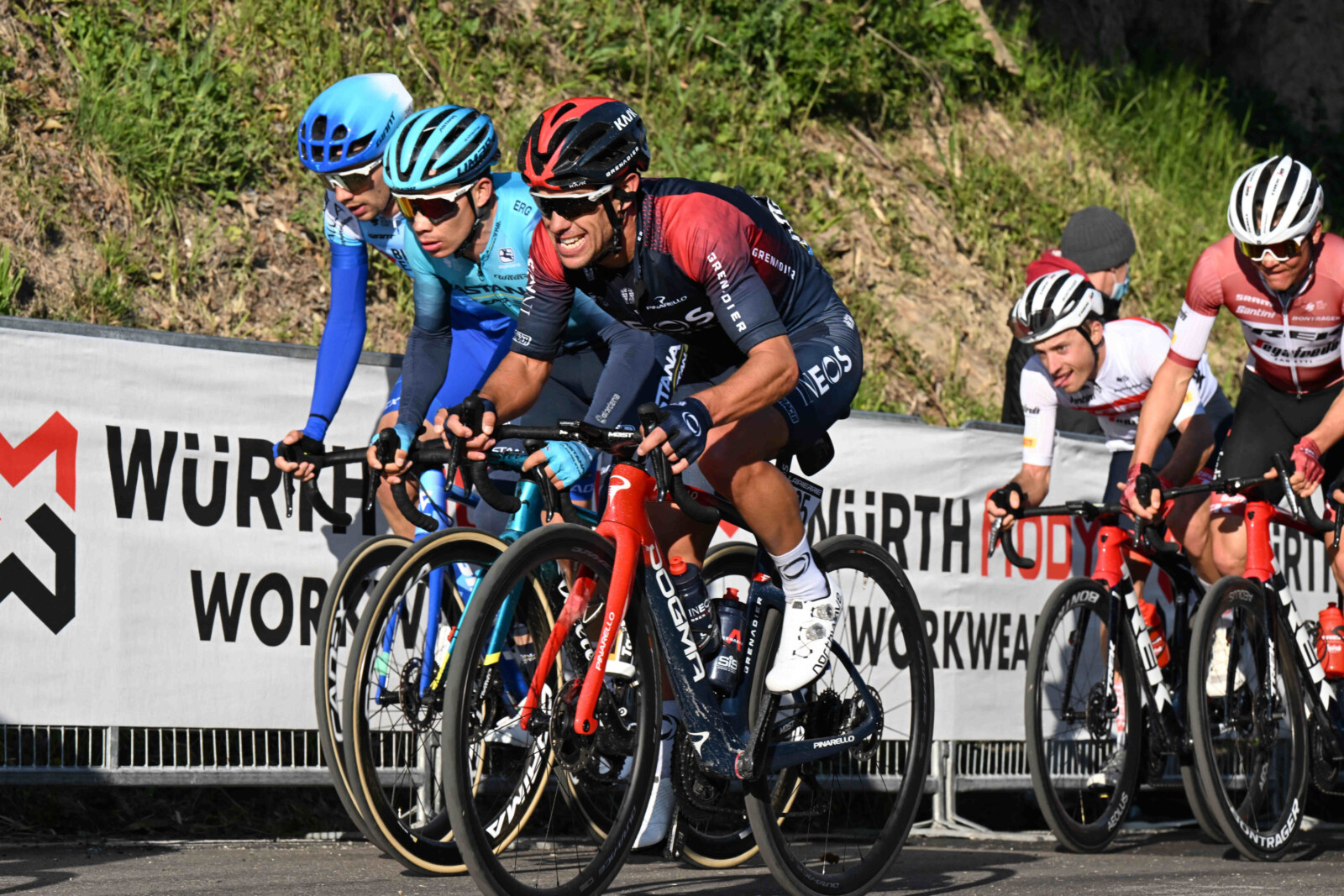 What are you looking forward to?
That normal get up, breakfast with the family, the school run. To not live on the other side of the world. It's just the simple things.
Will you head back to Tasmania?
I'd say so, yes. I just want to enjoy a normal life, a backyard, a couple of dogs, to have weekends back and go and watch the kids play sport … things like that.
Richie Porte leads the peloton into Paris in the 2014 Tour de France during Team Sky's glory days.
After leaving the original Team Sky, Richie was team leader for BMC Racing Team from 2016-18.
Richie's Fast Facts
3rd at 2020 Tour de France
8 Tour Down Under stage wins
8 Paris-Nice stage victories
17 Grand Tour starts
33 Career stage victories