'Riding to fight cancer below the belt' … that's what the Below the Belt Pedalthon is all about, cycling to raise funds for treatments and better outcomes for those living with testicular, penile, prostate, bladder, and kidney cancers.
The 2023 Below the Belt Pedalthon will be held on Tuesday 31st October at Sydney Motorsport Park. Whether you're an experienced cyclist, new to the sport or just looking for a personal challenge, organisers are calling all riders to unite to help fight cancer.
The Pedalthon promises to provide a unique event to network with the community, promoting teamwork, healthy competition, and having fun. And every cent raised by the Pedalthon goes directly towards clinical trials and research.
Sydney cyclist David Grimes is a good friend of us here at Bicycling Australia – he's well-known as a strong rider and powerhouse of the sport. But life took a dramatic turn for our great mate last year, as he explains here –
David's Story
'In May 2022, I was diagnosed with Stage 4 prostate cancer, which is both incurable and inoperable due to its aggressive sub-type and the extent that it had spread. My diagnosis came out of the blue, given I had no real prior symptoms and for many years I have had my PSA tested, with results below the 'normal' range for a relatively fit and active 60 year old.
Unsurprisingly, this diagnosis rocked my world!
The side-effects of the treatments that followed have had a dramatic effect on both my physical and mental well-being. Significantly, they have robbed me of one of my greatest sources of pleasure in my life (outside of my family) – cycling with my mates.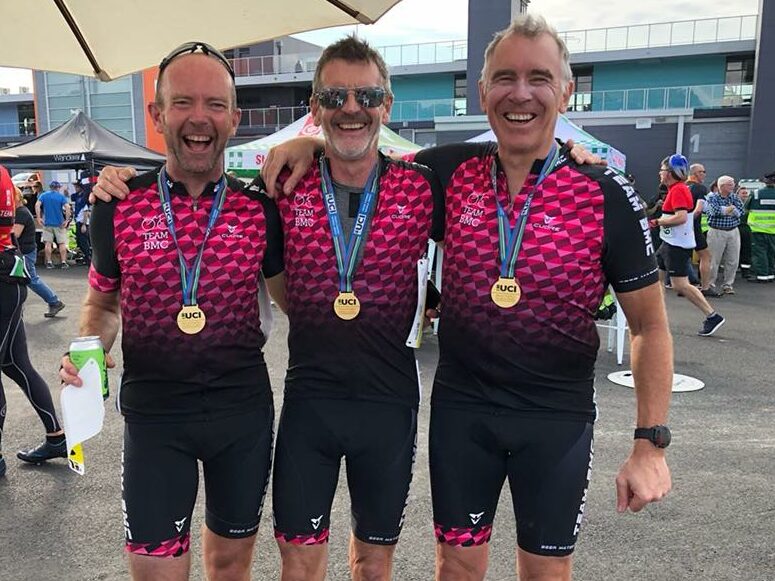 For many years, my cycling crew or 'Team BMC' (BMC for 'Beer, Mates & Cycling') have met 3 to 5 times a week for a ride and a chat (and the occasional beer or two).
Whilst going through the initial post-diagnosis period and early treatment phase (including androgen deprivation therapy and chemotherapy) cycling became impossible for me to contemplate. Many of Team BMC became more that just 'cycling buddies', they became my support network that was always there to help with meals and transport to treatments, plus much needed moral support.
Only recently have I felt up to recommencing cycling on a regular basis and already I feel the great positive impact on both my physical and mental state. Whilst I'm not yet up to riding fully with the BMC peloton, I am able to ride shorter distances at my pace, and we arrange a 'hare and hounds' type ride so that we eventually catch up with each other.
In 2022, 33,107 new cases urogenital cancers, also called 'below the belt cancers', were estimated in Australia, with over 24,000 men diagnosed with prostate cancer in 2022. Each year nearly 4,000 Australian men are newly diagnosed with lethal Stage 3 or 4 prostate cancers. In 2022, over 3,500 men died from the prostate cancer. These men were someone's Father, brother, son, mate or maybe someone you knew.
Australia is a global leader in the research to development of improved treatments for urogenital cancers, including bladder, kidney, testicular, penile and prostate cancers and has been pivotal in identifying new technologies for the diagnosis and treatment of prostate cancer. But this research is not cheap!
By enrolling in the Below the Belt Pedalthon 2023, I'm hoping to help raise monies for the ANZUP Cancer Trials Group. Funds raised will assist in further research to develop improved treatments for below the belt cancers.
The Below the Belt Pedalthon will represent a real physical challenge for me. As an individual entrant my challenge is to ride for at least 3 hours around Sydney Motorsport Park – likely to be the furthest that I have ridden since my diagnosis in 2022, and yet a mere shadow of my pre-diagnosis rides of up to 5 to 7 hours. But I am going to give it a red-hot go, what have I got to lose?
Please assist me in doing my small bit to contribute to the search for new and improved treatments for urogenital cancers, by making a small tax-deductible donation to ANZUP and the 2023 Below the Belt Pedalthon. Every cent raised by the Pedalthon event goes directly towards clinical trials research.
Finally, if you are male and over 50, please have a discussion with your GP about getting tested for prostate cancer. It doesn't require any gloves! just a simple bulk-billed PSA blood test – and hopefully this will help in catching prostate cancer early, while it is treatable and curable.'
If you are able to make a small contribution, please do so at www.belowthebelt.org.au/fundraisers/davidgrimes
And to sign up for the organisation's pedalthons and other fundraisers visit www.belowthebelt.org.au