'The only way is up….' No, we're not taking about the late eighties song from Yazz, that catchy ear worm that came out when bike tyres seemed about half the width they are now. 
This 'only way is up' review starts with news that more and more major manufacturers are offering road and endurance bikes that will accomodate up to 35mm tyres.
Just over the past few months we've seen two new releases, the lates Synapse from Cannondale and new Endurace models from Canyon. Both companies have made a fair bit of hoopla regarding their respective new endurance offerings taking 35mm tyres.
Obviously there's nothing new in wider road tyres, it's a trend we've watched develop over the past few years as manufacturers created frame and fork space for 25 to 28, then 30 and 32mm tyres, and tyre companies played their role with newer, wider models.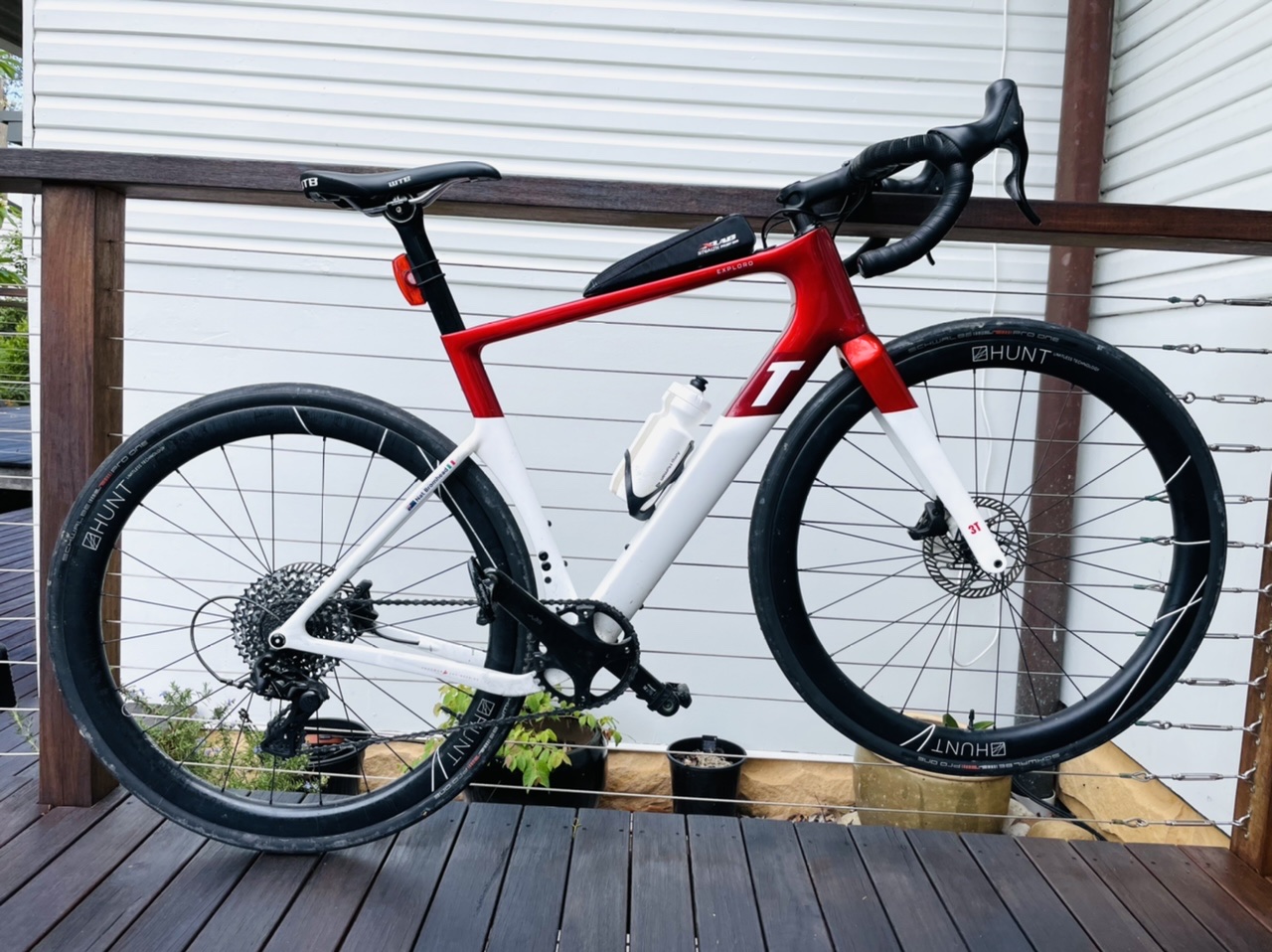 Late last year German tyre powerhouse Schwalbe revealed they were releasing a 34mm version of their popular Pro One TLE, a tyre that quickly cemented itself as one the fastest, slickest and most reliable tubeless offerings.
The good news is that we were able to get a pair of the new 34's for review. The bad news, the bike industry being how it is at present, is that retail stock is very difficult to come by. If you want wider tyres and are able to find Pro One 34mm TLEs available – grab them!
To the unboxing and fitting, and first up the Pro One's a clearly a premium product and aimed at the rider who wants the best possible rubber on their rims. The packaging is classy and slick, and we've got to say it's a pretty exciting moment to slide the box up and take that first look at the big 34's.
For those familiar with 28, 30 or 32mm Pro One TLE's, the only difference with the big brother is the width. The Addix grip, the casing, the branding, the quality and the easy fitting nature is identical.
Fitting
We chose to fit the new Pro One 34's to Hunt Limitless 42mm wheels with their 25mm internal and 36mm external width. One of the main reasons behind this was for a near vertical sidewall – the thinking being that the 25mm internal measurement would help widen the actual inflated tyre size to very close to that the rim. Remember that old 'lightbulb' shape of say a 25mm tyre on a 17mm (internal) rim? None of that here! With this tubeless setup we were going for aerodynamics, efficiency and as fast a wheel and tyre combo as possible.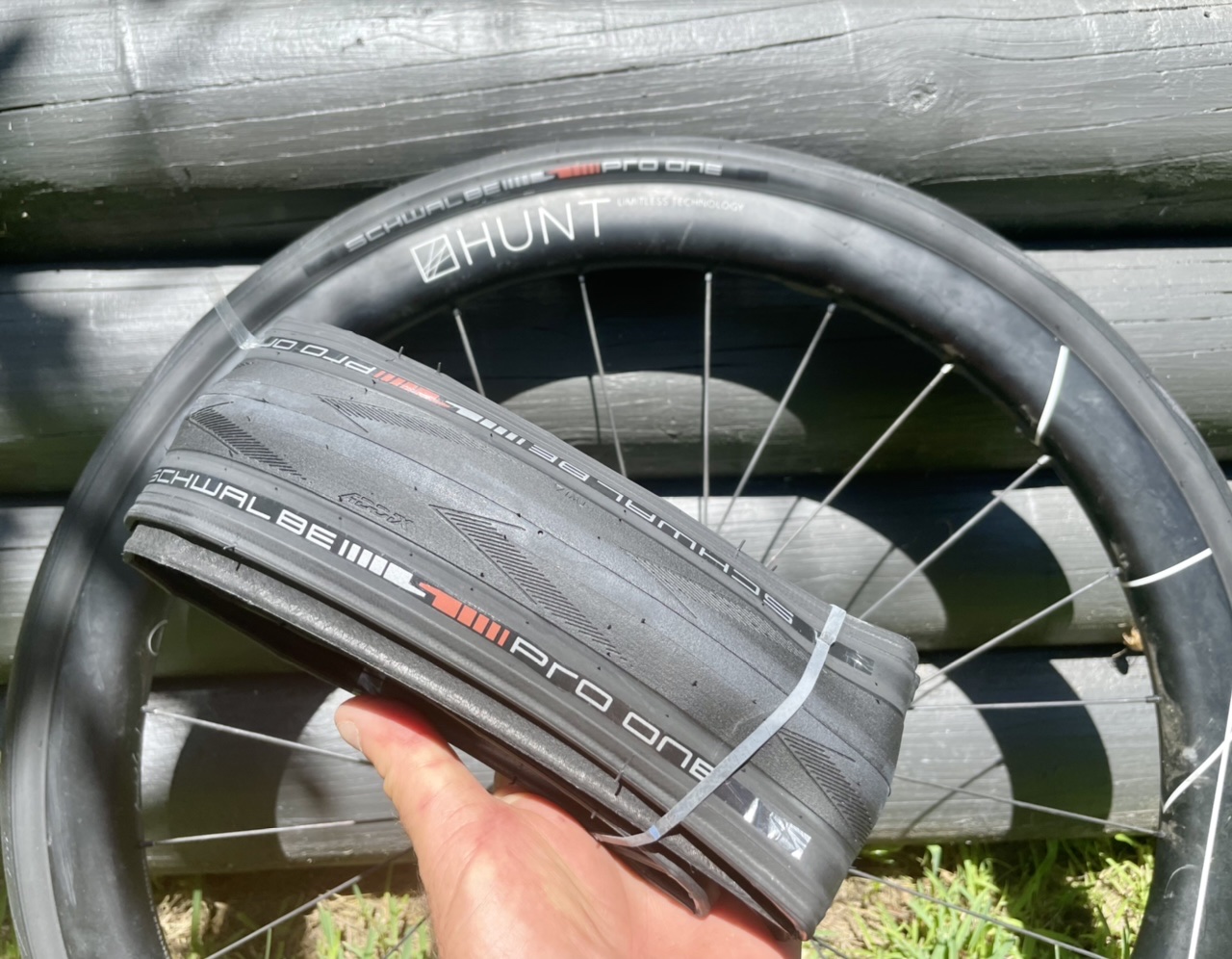 Fitting was simple and straightforward – that 'TLE 'Tubeless Easy'' branding being true to a T. While the tyres were tight as the beads stretched over the rims, they were certainly not as nightmarish as other tubeless tyres we've fitted over the past year.
To initial inflation, and it was an absolute cinch. A compressor was on standby but didn't need to be started. Instead, our tired and rather average floor pump easily set the beads firmly into the rim.
Deflated again, the sealant was added, tyres pumped up to 40psi, and they stayed at exactly that prior to the next morning's ride.
"If you don't go forward you go backwards," Schwalbe Product Manager and former pro rider Félix Schäfermeier told Bicycling Australia at the initial launch of the Pro One TLE's in Italy.
Three years on from that launch, these words are as true today as that fine morning in Tuscany. Just like the major frame manufacturers, Schwalbe continue to move forward by creating wider tyres to suit the more comfortable and efficient all-road trend.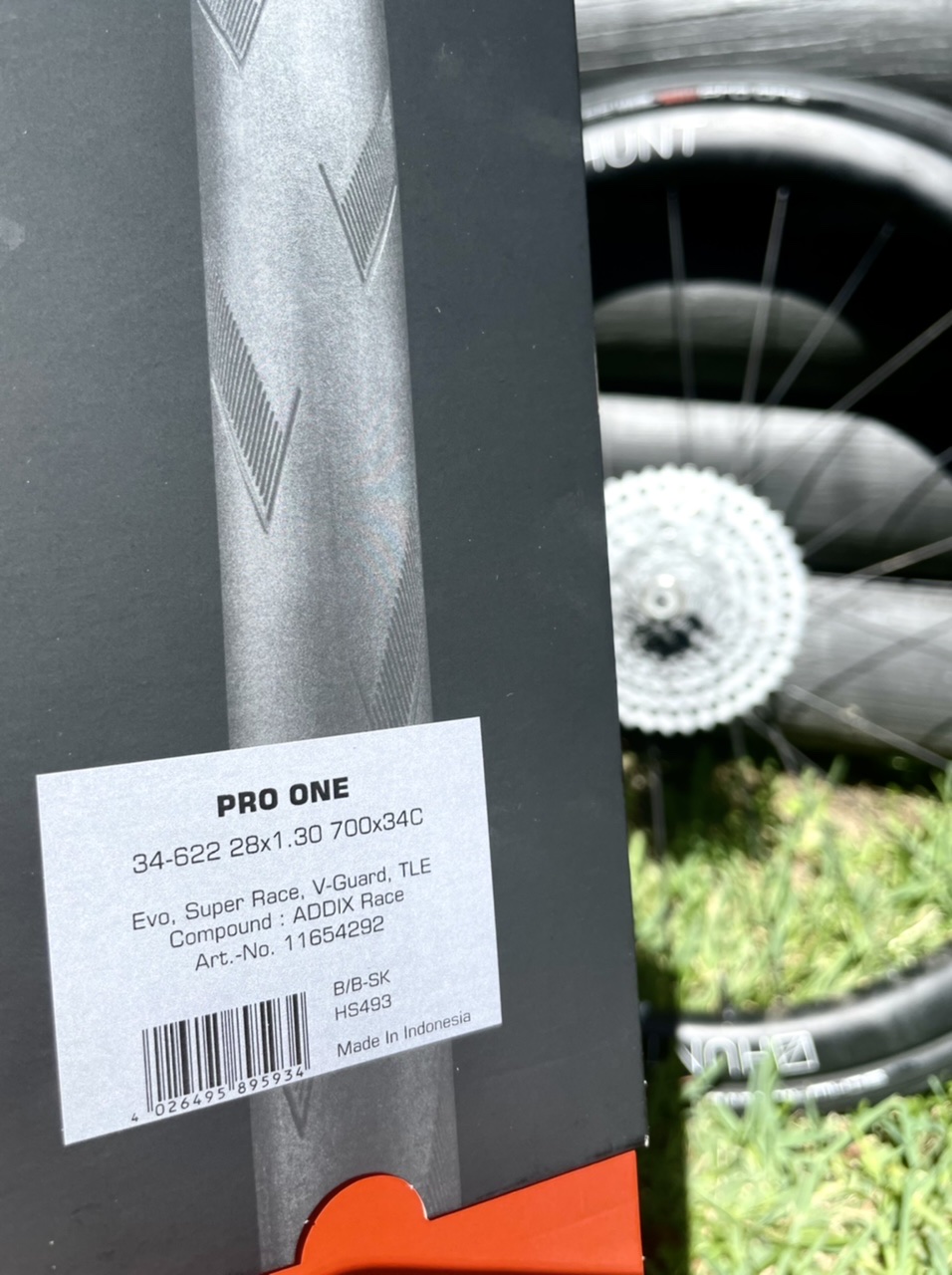 "The tyre is the only interface between rider and road, so what can we do to improve that? … We can add what we are calling souplesse, or suppleness. This is obviously a common word in cycling and has been through the ages. Suppleness is smoothness and this is what we have adapted to the tyre. To generate the most supple tyre and ride feeling we've developed a completely new tyre with a new compound and new technology."
If anything, the 34's felt more supple and more comfortable that previously tested Schwalbe tyres. Mated to the wider wheelset, and ridden over a range of road surfaces from super smooth to rough, coarse country roads, these provided fantastic efficiency and impressive cushioning.
They Must Be Slower?
Well if they are it isn't noticeable. With the weight savings and efficiencies of tubeless, and mated to the top-quality and fast-spinning Hunt Limitless wheels, the ride was fast, direct, grippy, and …in a word … sweet.
Traction and control were noticeably better than ridding narrower tyres, as was (unsurprisingly) overall comfort. Speed and efficiency was particularly noticeable downhill and cornering, maybe a part of this was the increased confidence in having more rubber on the road. Whatever the reason the 34mm Pro One's were additive to the experience and a joy to ride.
Like others in the Pro One range, the tyre offers premium puncture protection through an internal 14mm wide 'V-guard' belt.
This consists of a high-resistance puncture material with a tight mesh weave to help prevent piercings. With test rides that included everything from smooth blacktop bitumen to rough and shaly gravel, we're yet to see a puncture or any serious damage to the outer casing of the tyre.
In the Pro One TLE range Schwalbe set out to offer a lighter tubeless tyre, that's softer riding, easier to install and delivers increased performance. They have certainly achieved their goal, the 34mm being yet another welcome addition to the range and establishing itself as the world's premier tubeless tyre in the size category.
Schwalbe Pro One TLE 34mm
Weight: Around 315gr
Price: TBA
More info: www.BikeBox.com.au