As if the elation of completing 160km by bike wasn't enough, one Bowral Classic participant had another major reason to smile soon after conquering the challenging Maxi-Classic course.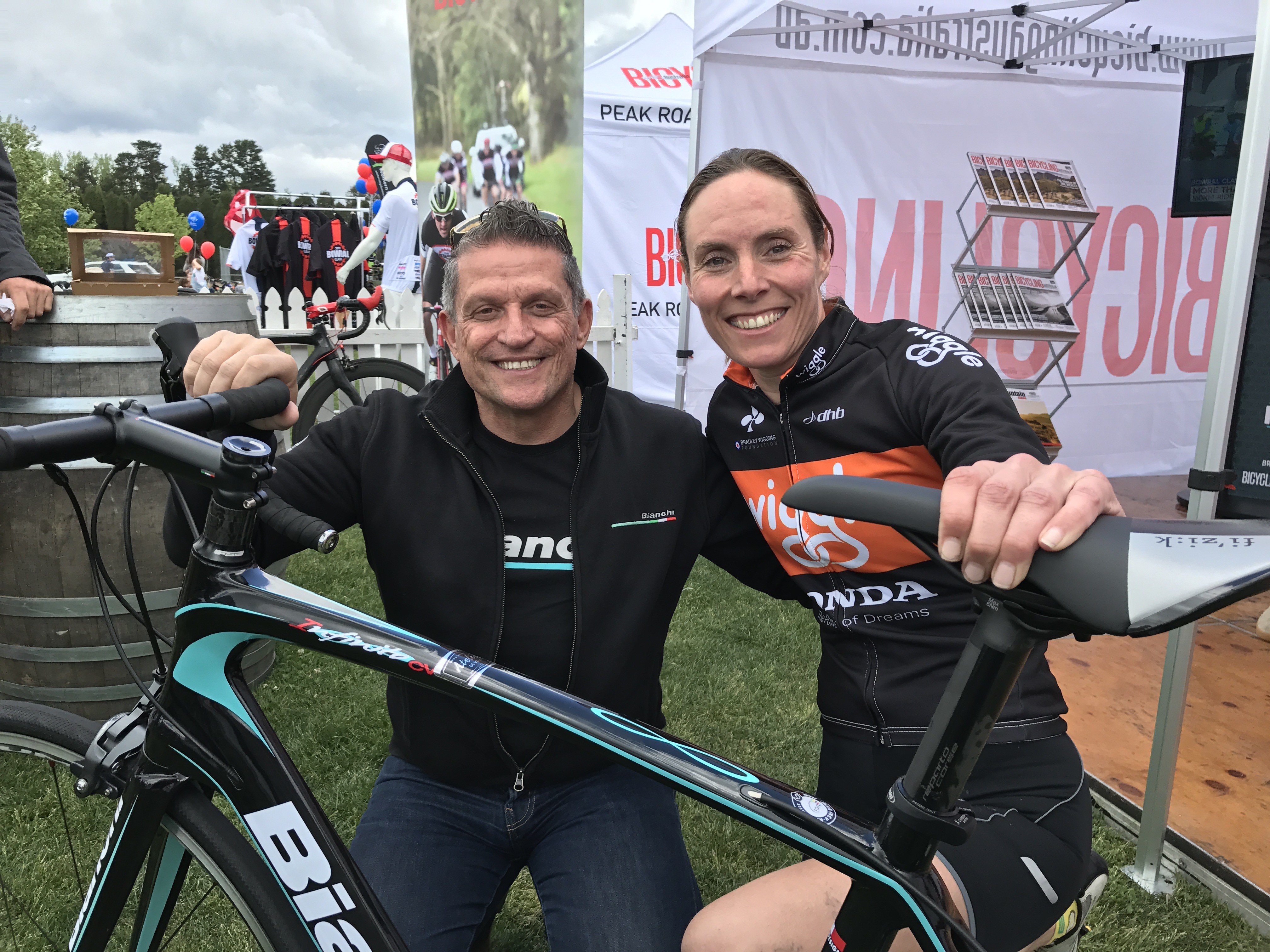 As frontrunner of the event's popular #Bianchi4Bowral competition, Jules Mackin could hardly contain her excitement when she was officially announced as winner of a Bianchi Infinito CV valued at $6,199.
Presented by John Tsekouras representing event partners Bianchi Australia, Jules simply could not believe the fact she'd achieved her dream and would soon be riding away on the bike of a lifetime.
"I can't think of a more deserving winner," said Tsekouras.
"This Infinito is Ultegra equipped and features our CounterVail technology – this is the vibration cancelling technology that removes 80% of vibration. It sure is a bike that you're going to enjoy riding and get a lot out of," he told Jules.
'This Means The World To Me'
"I'm happy and shocked at the same time," she said, while trying to hold back tears of joy.
"I'm really, really grateful, this means the world to me," she continued. "My current bike is very worn out and desperately needs to be upgraded. I'm a keen cyclist and enjoy travelling around Australia on two wheels. My most recent bike adventure was with my partner Iain, we rode from our home town of Port Macquarie to Adelaide. We took the scenic route viewing the wonderful sights of the snowy mountains and then along the Great Ocean Road."
Major Health Battle Leads To Love For Cycling
Diagnosed with cervical cancer at age 31, Jules said the major health scare changed her entire life.
"Cycling and triathlon have been a major part of my road to recovery and the key to leading a healthy life," she said.
"After turning to cycling and triathlon in 2010 I've never looked back. I've enjoyed the lifestyle it provides, the health benefits, the places you go and the people you meet."
Following Sunday's event Jules described the 160km Bowral Classic as "amazing and extremely well organised".
"The scenery was beautiful and the event itself most definitely a challenge," she said. "I can't wait to be back next year,"
Jules Thanks Friends From Wide And Far
Buoyed by the help of a huge number of friends and supporters throughout the #Bianchi4Bowral competition, Jules said "I'd like to thank a few key people for helping with my campaign – Em, Mirek, Micheal Gallagher, David Plews, my parter Iain, the Port Macquarie community, Richie at Train Gym in Chester England and of course all of my family and friends."
She finished by offering a final piece of important advice for all females.
"I simply want to encourage all women, regardless of age and ability, to try riding a bicycle," she said.
Bicycling Australia and the Bowral Classic offer our congratulations to Jules Mackin and a huge thanks to event supporters Bianchi Australia for the generous prize.
You can now register your interest for the 2018 Bowral Classic at www.bowralclassic.com.au