In this exclusive interview, Coco Louise Henry speaks with leading Aussie cyclist Tiffany Cromwell and her partner, F1 legend Valtteri Bottas.
It would be hard to find a more impressive cycling power couple than Tiffany Cromwell and Valtteri Bottas right now. The Australian Olympic cyclist and the Finnish Formula One driver; both are at the top of their game and seemingly helping each other to greater heights as they trip around the world together.
Tiffany races road and gravel with team Canyon-SRAM and Valtteri is a Formula One driver for Mercedes (soon to be Alfa Romeo from the 2022 season). Bicycling Australia caught up with both of them from Monaco to chat about how they make it work.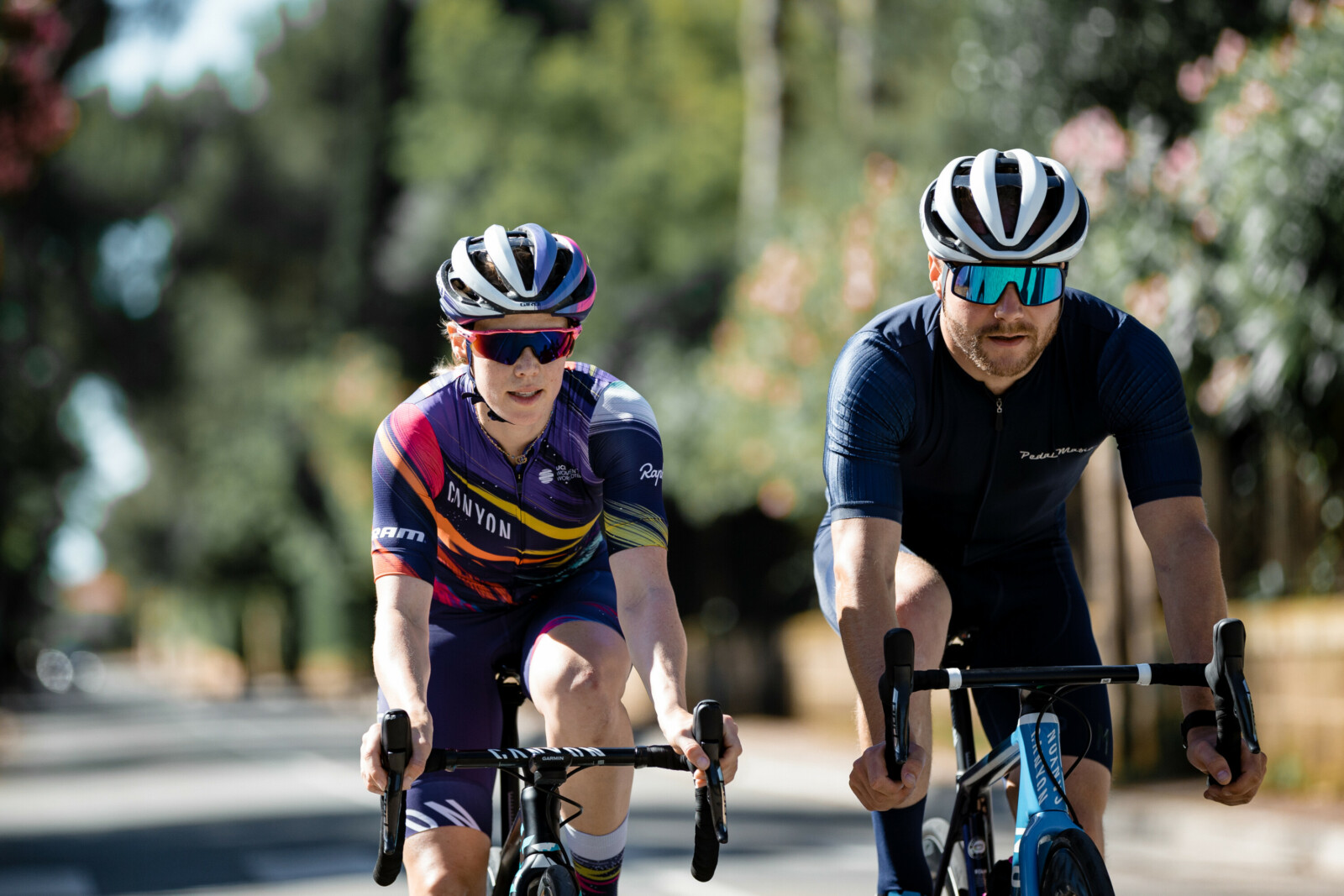 Coco: Valterri, How did you get involved in cycling?
Valtteri: I've used cycling as part of my training since I was young and I always used to do a bit of mountain biking, a bit of road cycling. I started to get older and I was always a bit more of a runner when I was doing endurance training. Eventually,
I started to have some issues, you know, pain in the knee, stuff like that that you get with running.
So a few years ago, I decided to change a bit more into cycling when I was doing my cardio training. And I would say then it was still maybe 50-50 cycling and running. Tiffany and I have been cycling quite a bit together and definitely I'm cycling more now than I'm running.
Coco: Oh, good. Welcome to the dark side.
Valtteri: Thanks.
Coco: So when you say for your work, why do you cycle? Is it fitness or weight control, or does it help with your mental focus?
Valtteri: It's mainly for fitness. But it's a way to release pressure as well. Just to get out whether it's for running, a hike or a bike ride, it can quite easily clear your head. And in my sport you actually need quite good endurance.
Coco: So when you say you go out cycling, Tiffany, is Valtteri just tagging along with you and doing whatever training you've got? Or do you guys carve out some time to do rides together?
Tiffany: It really depends on the day—if we can ride together, then we definitely will. Obviously on race weeks for him he can't do the hard training that I'm doing. But we've had times—for example, during the lockdown period in Europe when we were in Finland—then Valtteri was doing pretty much all of my training.
If I am doing specific training, particularly the climbing, then that's where sometimes I just go off and do my thing and then we meet up, or he might start with me for the first two hours. Then I continue my ride and it's nice that we can actually do a lot of it together. And you know, he's strong enough and more than capable to do it, but he also knows not to overdo it or else it affects his racing.
Valtteri: What I enjoy a lot is the gravel riding.
Coco: Tiffany, I feel like you never used to be quite as visible on the gravel.
Tiffany: Yeah. When I was doing my contract negotiation at the end of last year with the team, Ronnie proposed the idea of racing gravel because, you know, I have been in the sport a very long time. Maybe it could be a good idea to try something else to bring back that spark. I was all for it.
The plan was to start earlier this season, and then I made the Olympic team, so that got delayed. The first gravel race happened to be in the F1 summer break. So I was like 'Valtteri, you'll come to Colorado you can race a gravel race, too'. And then he went and got a gravel bike as well.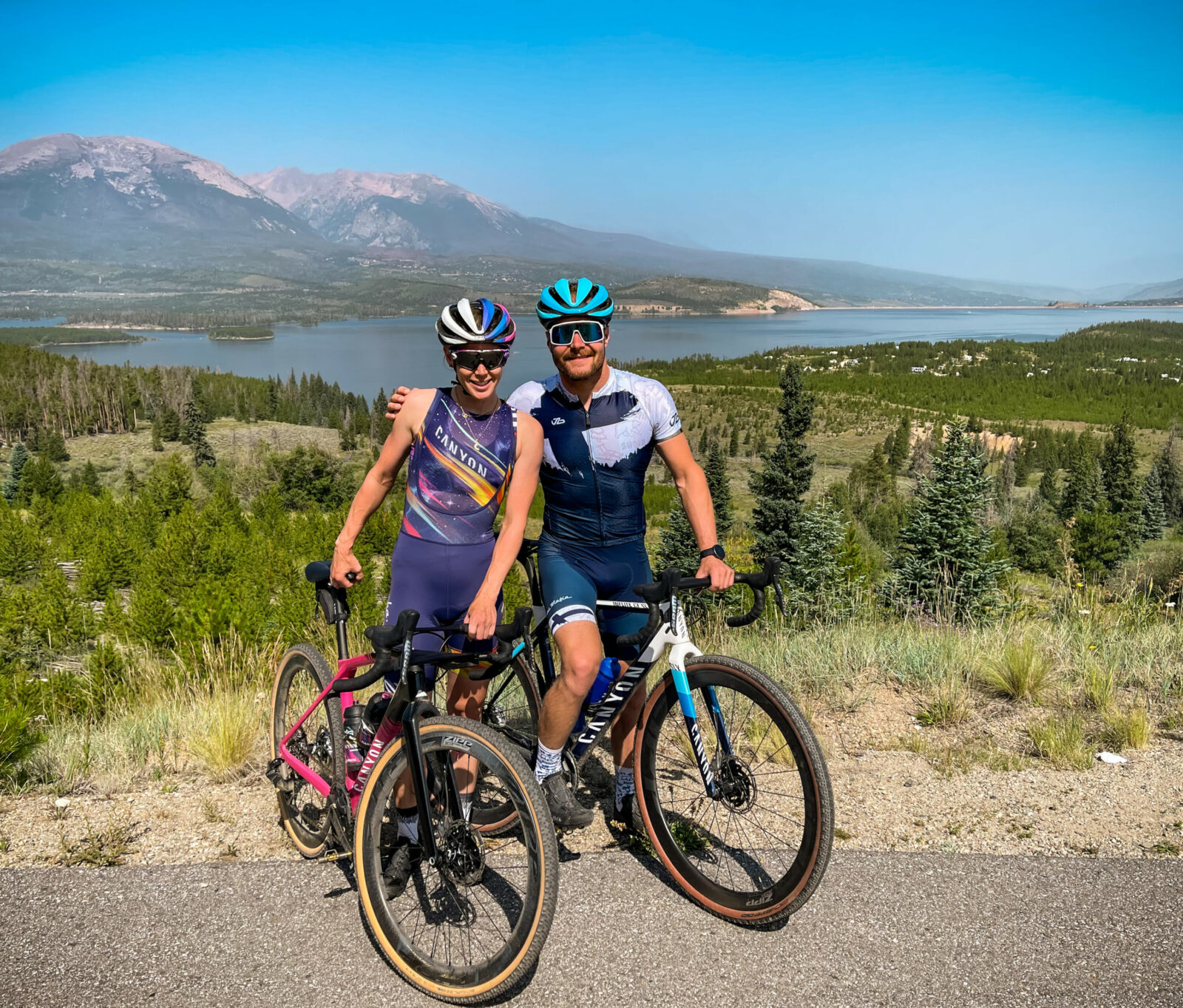 Coco: And do you have a favourite place to gravel yet or is that still very much
up in the air?
Tiffany: It's still in the air. In Finland, there's some really good gravel riding that we've recently discovered.
Valtteri: I think there's a lot more to discover and that's the nice thing with the gravel, there are so, so many opportunities around the world.
Tiffany: But we've also learned that here in the south of France, it's a terrible place to gravel. First day out of the box, we tried to find some roads and…
Valtteri: It's too rocky here.
Tiffany: We're like, Yeah. Let's not try this again
Coco: Valtteri, why did you choose gravel over road for your Duathlon in Finland?
Valtteri: The Duathlon event is always in Pajulahti and it's all gravel roads, it's a trail run and then the ride. Some people do it with a mountain bike, some people with a gravel bike. It's just so nice, you know, in the woods there.
Coco: It sounds really fun, it's definitely something that I'm sure once people learn more about it, they will be flooding into the little town.
Valtteri: Yeah, I hope so, because it's really accessible, you know, most people can run, most people can cycle. You know, the tricky thing with triathlon is the swimming part, and most people are not that comfortable with open water swimming.
Coco: So turning the tables—Tiffany, has Valterri let you drive his car on the track?
Tiffany: What, his F1 car? I don't think the team would even allow that, I would probably crash it straight into the wall. But he does let me drive him around.
Coco: Wow, that's saying a lot for a Formula One driver. That is zero fragile masculinity right there.
Tiffany: Yeah. And also when we drove on the ice rally track in Lapland, he did become the passenger on one lap.
Coco: Wow, what was that like?
Valtteri: That was scary.
Tiffany: (Laughs) It was fun, feeling the non-traction. My problem is I'm just not so good on the braking side, I want to go full gas but need to run the braking points better.
Valtteri: No fear. Absolutely no fear.
Coco: Wild. So Tiffany, I did hear that the year that you went to Finland for a break, you actually came back feeling a bit stronger?
Tiffany: Yeah, definitely. I think it was the first time in my entire career I've ever had time off because I've never had major injuries or illnesses. Knock on wood. We decided to do the winter in Finland and that's the first time I've done a full European winter. But it is minus 20 or 30 degrees Celsius so I wasn't really riding my bike. I was doing Zwift for two hours because that is all my head could manage. So then I was doing a bunch of other sports for cross-training like cross country skiing.
And I think both mentally and physically, it just helped set me up for the season because it wasn't the typical Australian summer where it's easy to get too fit too quickly.
Coco: Do you think that Valtteri's experience in Formula One has been a help to you in your cycling career?
Tiffany: Yeah, for sure. I think if you're social with any other athlete at the top of their game, you definitely bounce off of each other. For example, teaching me to actually recover. You know, a lot of cyclists aren't very good at that because we just feel like we need to do more and more and more all the time. Sometimes more isn't always better. And he also has little comments on the aerodynamic side.
You know, he can see these smaller details that could also potentially help performance. But it's more just having similar mindsets of understanding what it takes to be at the top. Bouncing off of each other when one of us is down and just trying to stay in a positive mindset, I think that's the bigger influence that Valtteri has had.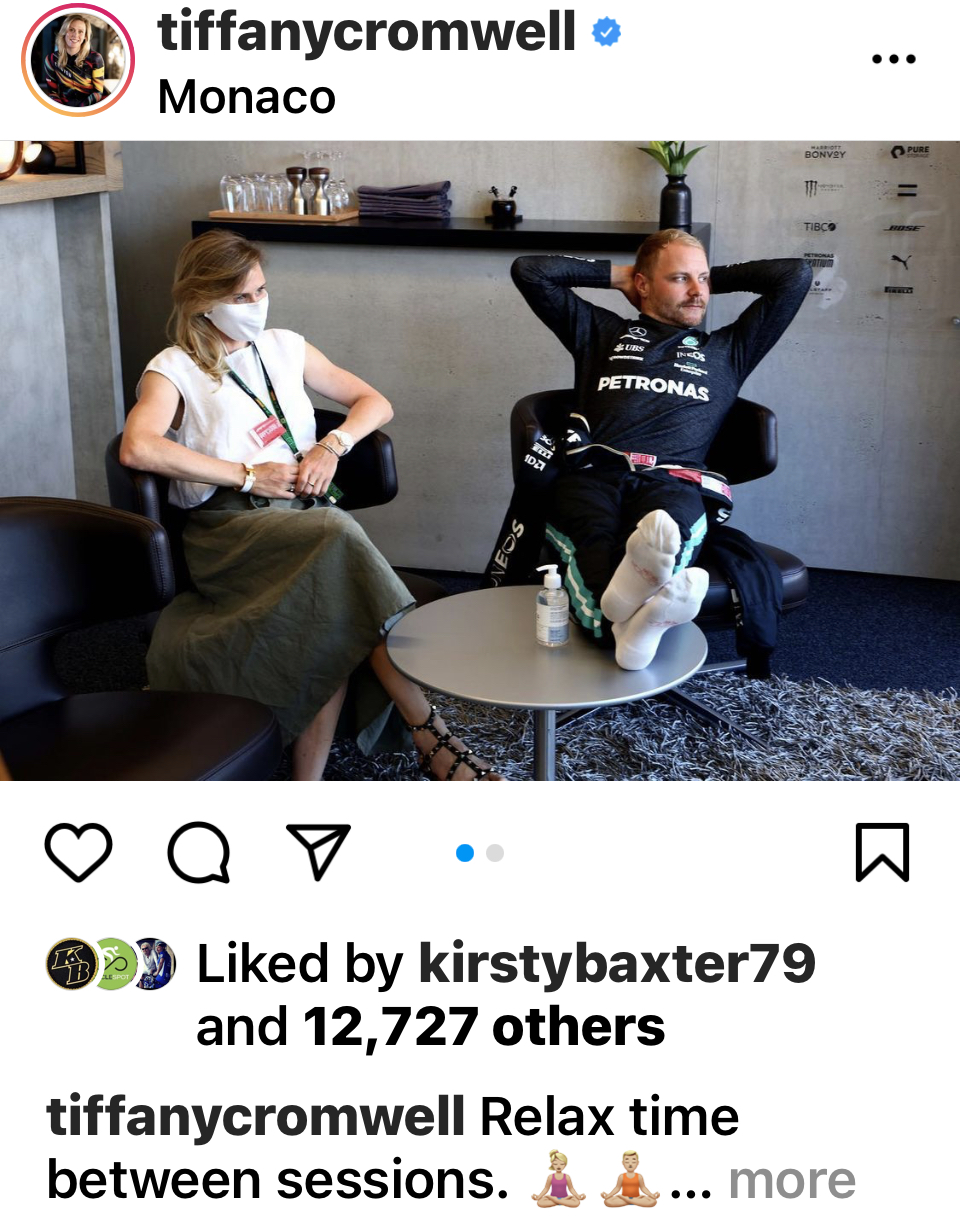 Coco: Valtteri, has Tiffany's experience and watching what she goes through had any impact on you and your F1 career?
Valtteri: Definitely. You know, seeing a close up of the life of a professional athlete at the top of her game, I have learned a lot. I never had so many training hours in my years in sports, so I learned that the body can actually take a bit more than what I thought initially as long as you keep the intensity low enough. Cycling is another sport, but in the end, most of these sports, what combines them is the mental side of things.
Coco: And how do you cope when you're both under extreme pressure?
Tiffany: Well, I think in general, we've managed simply because I can be a bit more fiery whereas Valtteri is very calm. I think it balances each other out. So maybe when I get a bit more worked up with stress it irritates me if he is being too calm, but then it's like, OK, maybe I need to calm down. If you have two people who are both fiery then it's just explosive. If two are calm then maybe nothing moves forward.
I think we have this really nice combination together, on average, it's just been nice bouncing off of each other and the majority of the time it's just really positive.
Coco: So you're obviously both incredibly busy and you both travel a lot. How do you fit your relationship in?
Tiffany: We've been really fortunate that we've been able to do the majority of it together. For example, my team Canyon-SRAM, have been super supportive. If Valtteri wants to come to the races he's almost become part of the team, which is quite rare in cycling because it is not so common to have your partner there. And vice versa with the Formula One races, wherever possible I have been to his races.
I can train anywhere as long as I have my bike. And sure, it means we're travelling every other day, but if we didn't do it like this we would never see each other. We also try to make the most of everywhere that we are, try to turn it into a little holiday. And I think that's what makes it kind of fun, because then you get to enjoy everything together.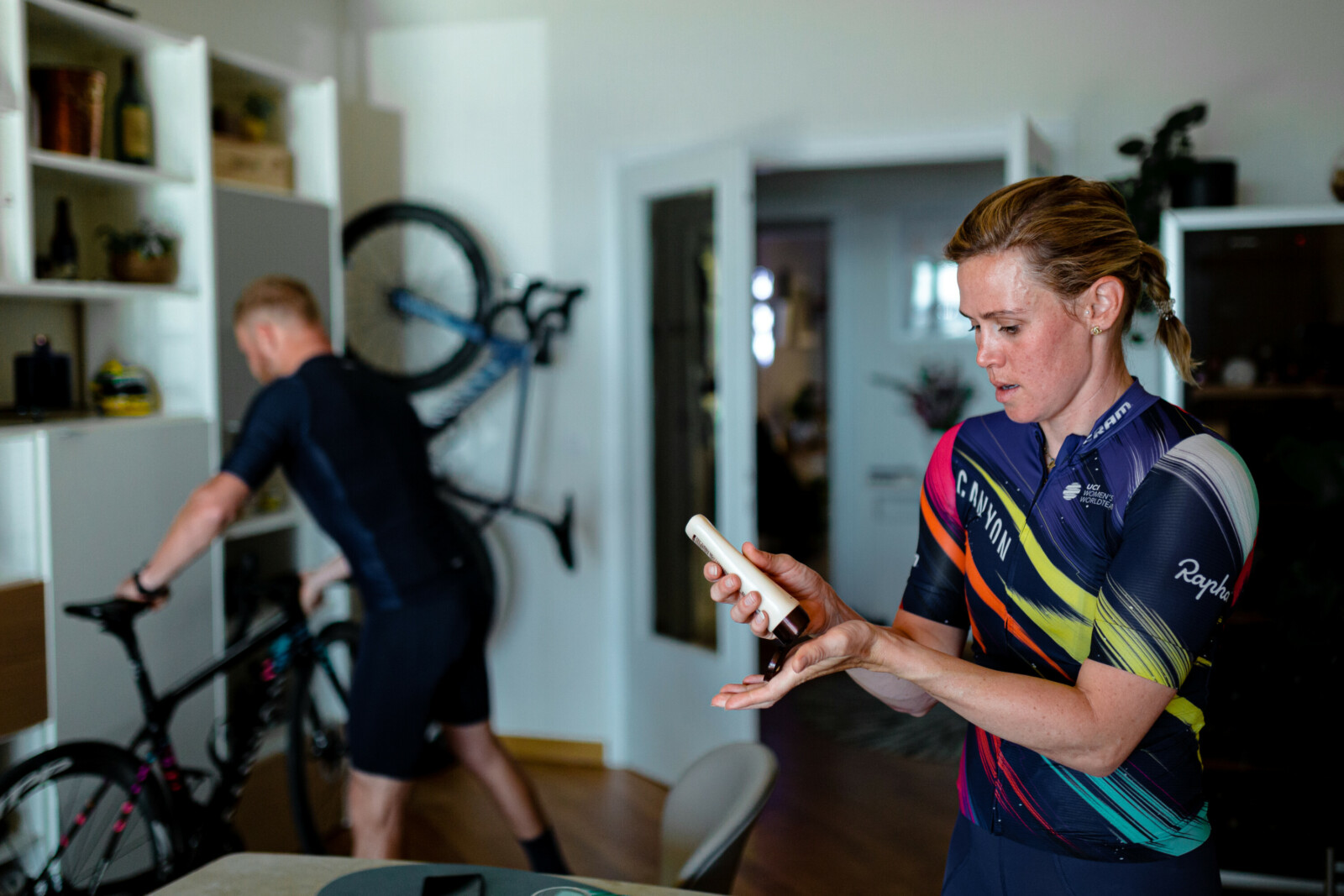 Valtteri: So lots of cycling holidays.
Coco: Sounds like it! Valtteri, it must be working for you, you've just signed with a new team haven't you?
Valtteri: Yeah, yesterday. This is my fifth season with Mercedes and it just feels like it's time for a new challenge. I'm going to join Alfa Romeo, an Italian brand, on a multi-year contract. In Formula One so far I've been on year-by-year contracts, so it's nice to have a bit more stability from that side and it is a bit of a project. The team (Alfa Romeo) have some work to do to get back to the front, but it is a challenge and will be a nice project to give my expertise and experience. I look forward to it.
Coco: If we were to compare it to cycling it is like you are stepping up to be the team leader now aren't you?
Valtteri: Kind of, yes. Yeah, exactly.
Coco: Great. So I have to ask, do you have to give all of your cars back?
Valtteri: No, I have one company car that
I've been using so that I will need to give it back at the end of December but that's it. Otherwise they are my own cars and I can, of course, keep them.
Tiffany: He doesn't actually own that many cars, he owns one car.
Valtteri: I've always owned one car at a time.
I'm not like a car collector.
Coco: Well that's surprising! I understand there were some haters in the early days that you both referenced on social media. Have they gone away?
Tiffany: On average between us two in our relationship, yes. There are always haters in Formula One supporters. But you know when there is a change in people's lives others will always have their opinions. But over time people have accepted that we're together now and they are much more supportive.
Valtteri: But yeah, to be honest, I pay no attention. I tend to not look at those things. We are happy and that's the only thing that matters to us.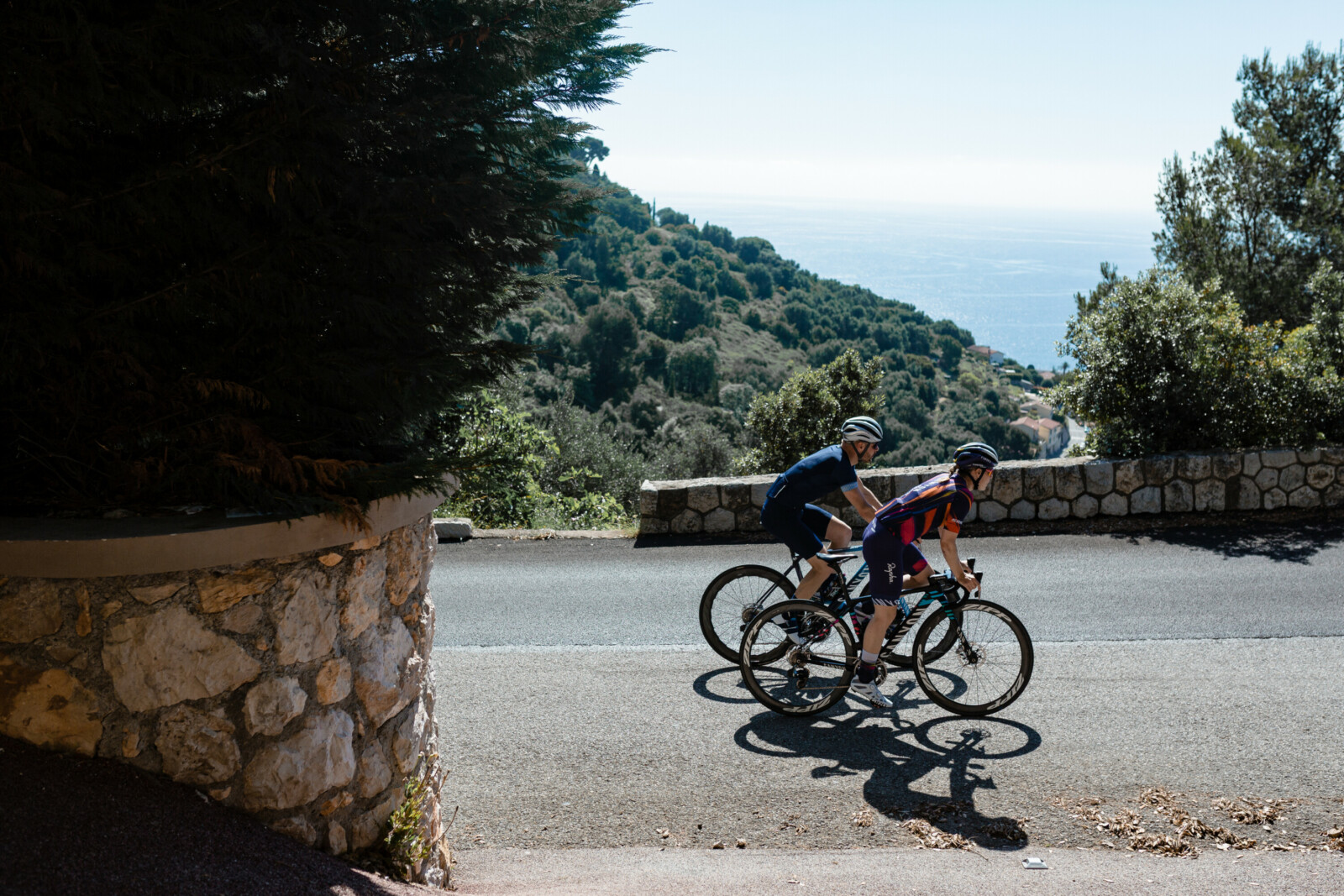 Coco: That's really sweet. Now Valtteri, what is this about you delivering a pointed message over the team radio when you won the 2020 Russian Grand Prix? It seems so unlikely, given what Tiffany has said about how calm you are.
Tiffany: To Whom It May Concern.
Valtteri: You know, I'm a human being as well. It's funny, when you're racing, you can feel the emotions and you have the adrenaline and you definitely tend to say things as you think they are. And yeah, sometimes things like that can just burst out.
Coco: I find that hilarious. Do you think Tiffany's worn off on you in that way?
Valtteri: I think I'm overall still quite calm.
But I would say, yes, I can be myself completely who I am and say what I want, and that's so good.
Coco: That's just perfect, I'm so happy for you both. I think I speak for us all when I say we're looking forward to watching what comes next. Good luck, and thank you!
Valtteri: Take care.
Tiffany: Thanks.