Arguably the most deserving of World Champions for both the way he raced and the long lead up to Wollongong '22 and Glasgow '23, Mathieu van der Poel won the Rainbow Jersey on Sunday.
After one of the most dramatic and thrilling UCI Road World Championships elite men's races in years, Van der Poel crossed the line solo, but not before a late crash on the wet and slippery technical Glasgow street circuit.
"I felt a bit like revenge for last year, it's an incredible feeling," Van der Poel said after his Glasgow victory, referring to having to pull out of the 2022 Wollongong Worlds after being continually disturbed at his hotel on the eve of the race. Van der Poel was subsequently taken to the local police station, questioned until the early hours of the morning, then released.
In the form of his life but in no state to ride, he pulled out of the 2022 World Championships soon after the start.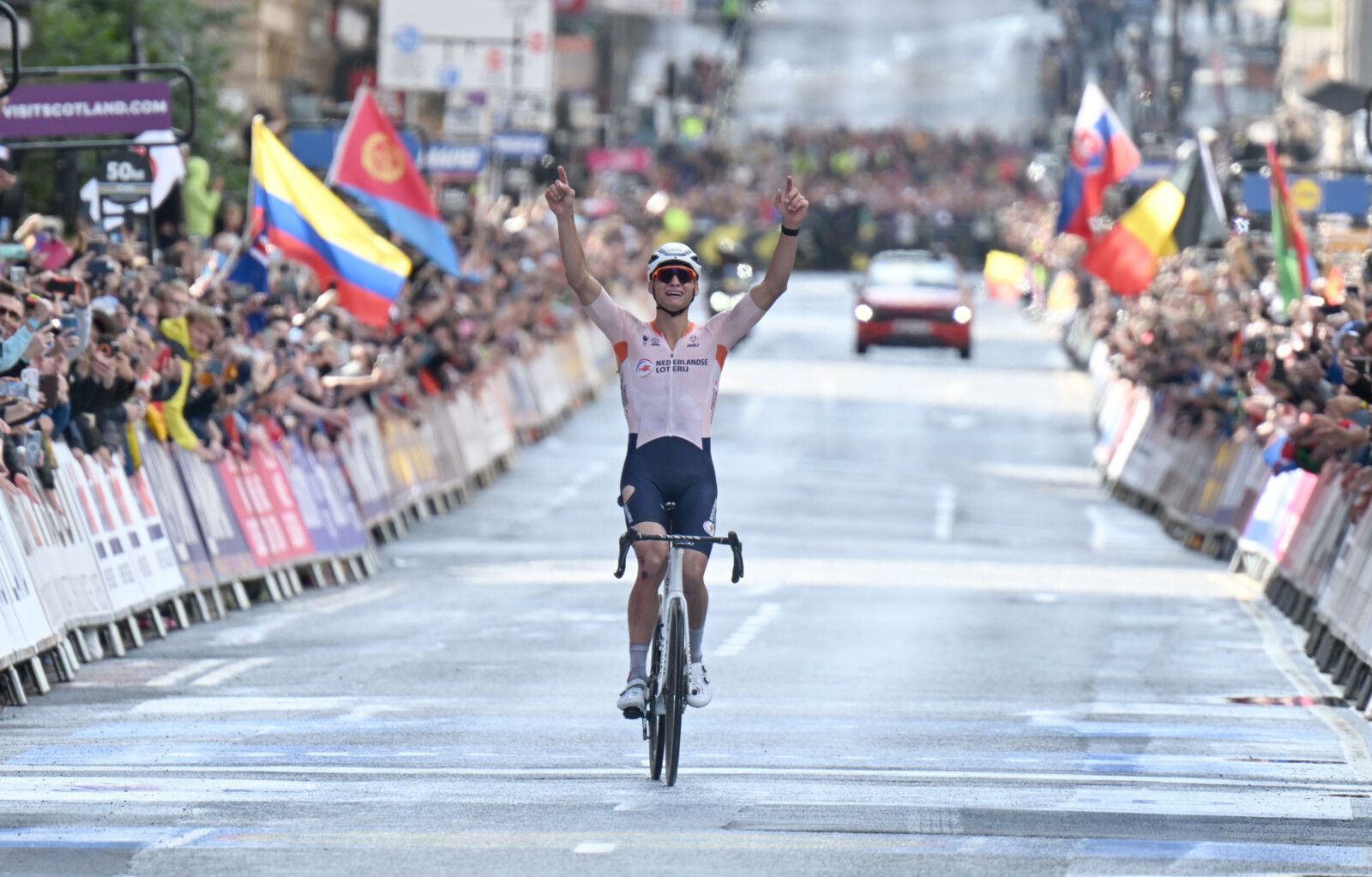 Jump forward a year, and it was a far happier fairytale finish for the Dutch superstar in Glasgow.
The race was disrupted and delayed for an hour after protesters stuck themselves to the road and had to be removed by police. Later in the race intermittent showers made the technical finishing circuit slippery, with many riders losing traction and sliding out.
"I was flying around the course before the crash," Van der Poel said.
"Then, all of a sudden I was on the ground. I was pretty pissed at myself but it's not that I was taking risks in my opinion."
His jersey ripped, shoe damaged, and with bloodied wounds, the Dutch powerhouse road on, smashed out the final 17km, and crossed solo for the win.
"To then to still manage to pull it off, I wouldn't say that it's even nicer, I would have loved to stay on the bike. If this had cost me the world title I wouldn't have slept for a couple of days."
MVDP said winning the rainbow jersey means everything to him, and it is "one of the biggest goals I have left".
"To win it today is amazing," he continued. "It completes my career. For me, it's the biggest victory on the road. I cannot yet imagine wearing the rainbow for a year," he continued.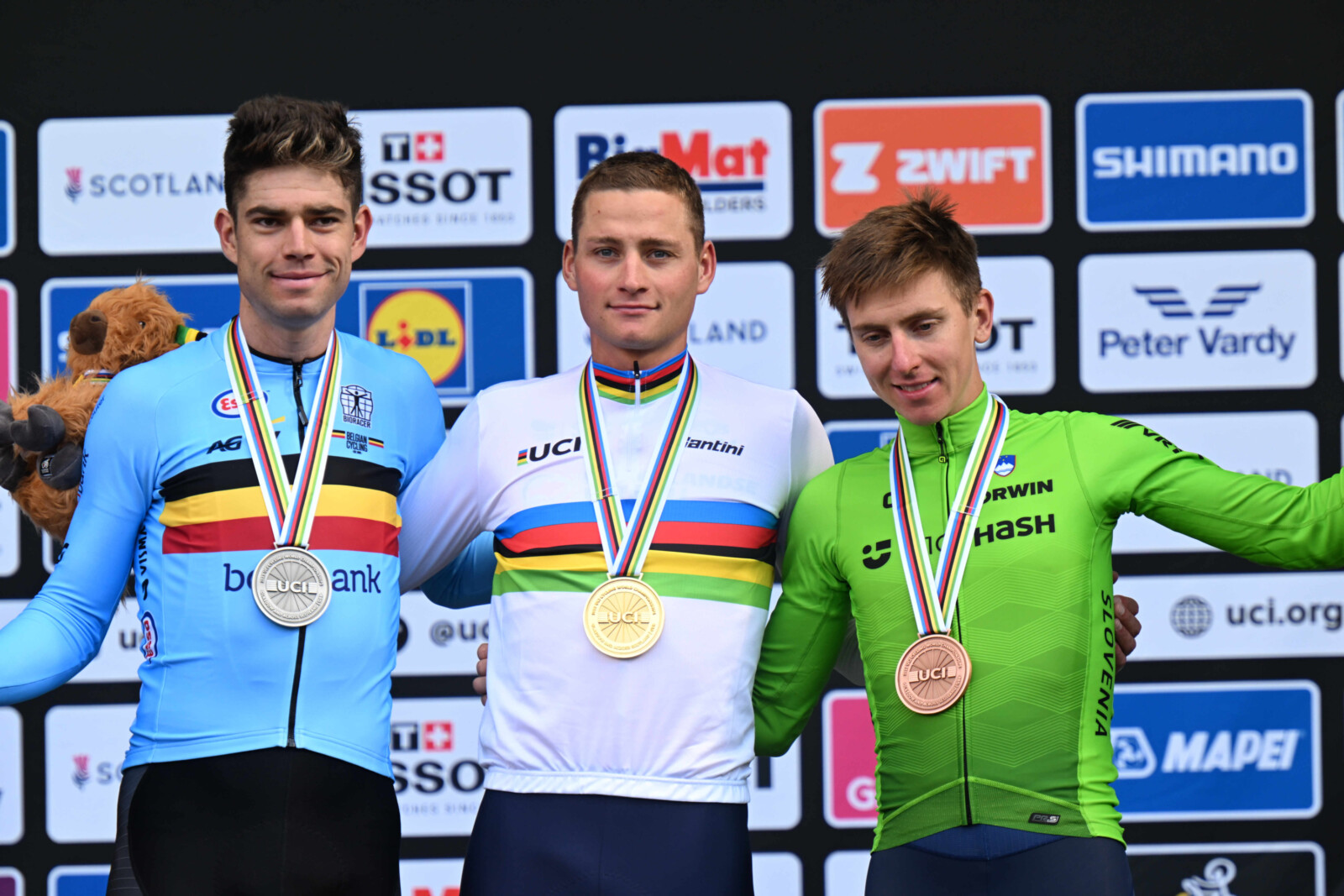 Dream Podium
A star-studded podium, Wout van Aert claimed silver with Tadej Pogacar finishing third.
It was Wout's second World Championships silver, the Belgian congratulating perennial rival Van der Poel for a hard-fought battle.
"Of course, I came here for the gold medal, but I am realistic enough to say that silver was the highest achievable today," he said.
"When Mathieu attacked, I was right on his wheel. I could stay with him for a while, but then I had to let him go. Even though we gave everything in the chase, Mads, Tadej and I immediately understood that he was gone."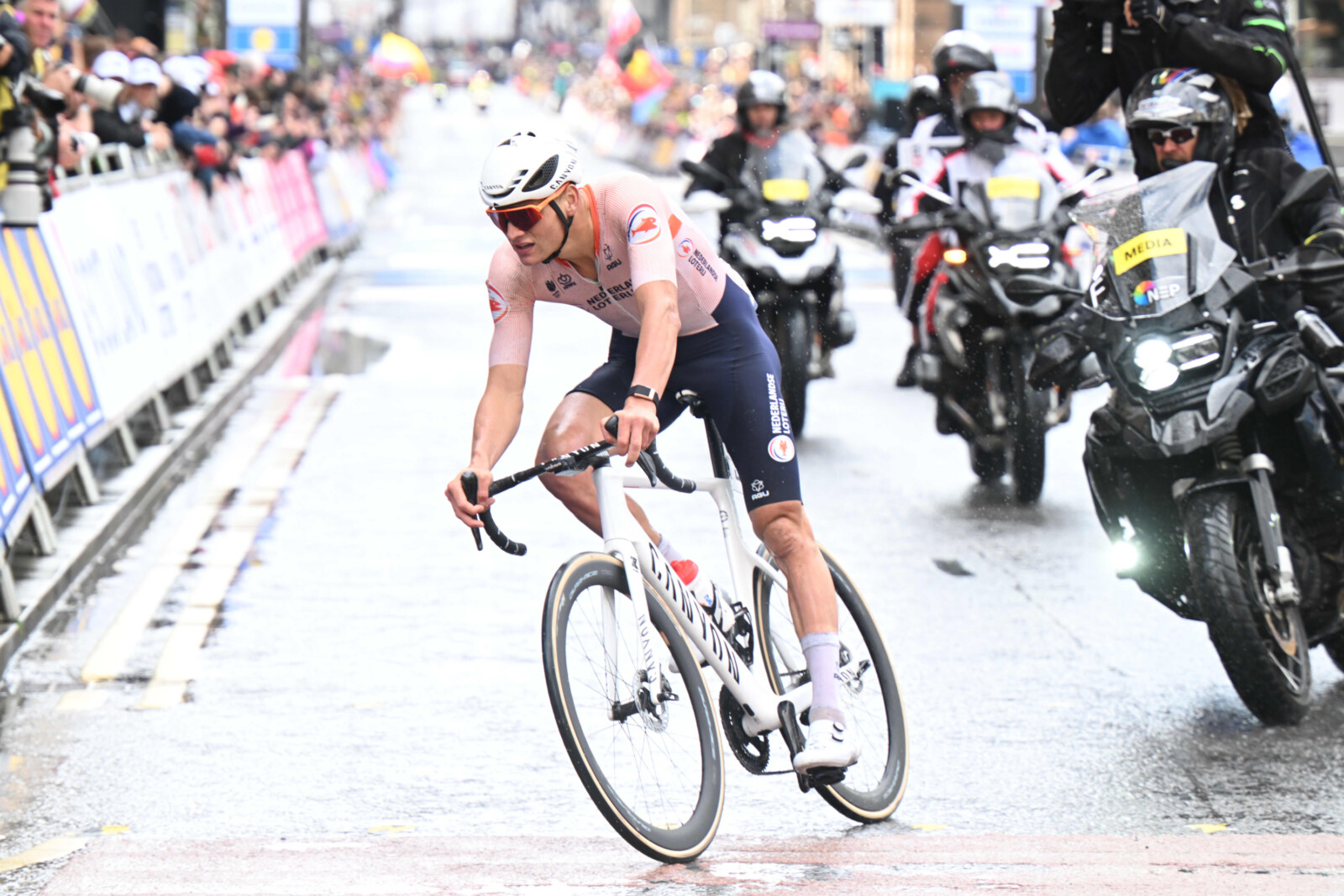 "It was a blistering race that eventually turned into a man-to-man battle," continued Wout. "I was always in an excellent position. I think that was the key to success on this track. I cannot thank my teammates enough for their support throughout the day. I was confident in the corners and wanted to take the initiative on the climbs. The legs were good, but one rider just proved to be better. Hats off to Mathieu for what he did today. My focus is now on next week's time trial."
Aussie Matt Dinham in Top 10
23yo Matt Dinham was best-placed Australian finishing 7th. Not even in the original Australian team lineup, Dinham was called up for the ARA Australian Cycling Team after the withdrawal of Caleb Ewan.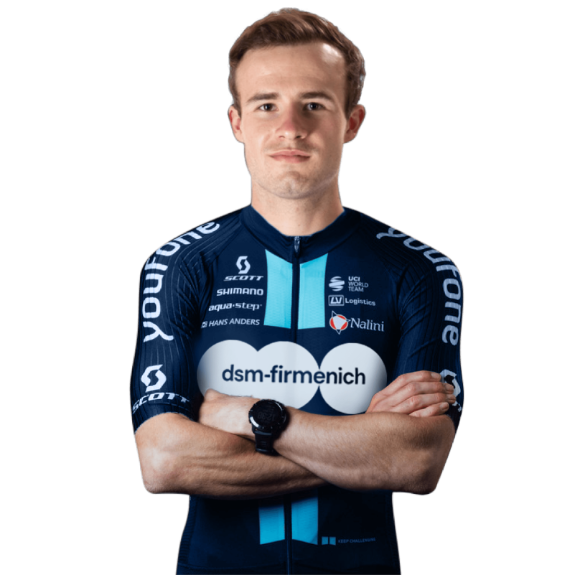 A road and mountain biker, and a neo pro with Team DSM–Firmenich, it was clearly a major sign of things to come from Dinham, a former cross country national champion.
"It was a really crazy day," said Dinham. "I was probably meant to be the first rider to work for the team and went on the offensive in that early move, which ended up paying off towards the end of the race."
"I just kept trying to put myself in a good position and fortunately I had the legs in the end. I just wanted to do the best job I could for the green-and-gold. I'm pretty ecstatic. I'm still pinching myself a little bit, but I'll try to enjoy the moment and worry about the rest later on."
Matt Hayman 'Blown Away'
Australian Team Sports director Mathew Hayman said "I'm a bit blown away at the moment," after Dunham's result.
"Every lap that went by, he continued to show he was as good as the guys he was racing against. Seventh at the world titles, that's pretty bloody impressive for a neo-pro."
"The expectation was to come here and work for others," Hayman said, "We know he's got some skills, I was able to follow him in the last couple of laps and he was definitely cornering very well. I know he comes from a bit of a mountain bike background.
"He's in the top 10 in the World Championships, but he didn't look out of place, that's for sure."
2023 Men's Elite UCI Road world Championships Glasgow
| | | | |
| --- | --- | --- | --- |
| | | | |
| 1 | | VAN DER POEL Mathieu Netherlands | 06:07:27 |
| 2 | | VAN AERT Wout Belgium | + 01:37 |
| 3 | | POGACAR Tadej Slovenia | + 01:45 |
| 4 | | PEDERSEN Mads Denmark | + 01:45 |
| 5 | | KÜNG Stefan Switzerland | + 03:48 |
| 6 | | STUYVEN Jasper Belgium | + 03:48 |
| 7 | | DINHAM Matthew Australia | + 03:48 |
| 8 | | SKUJINS Toms Latvia | + 03:48 |
| 9 | | BENOOT Tiesj Belgium | + 03:48 |
| 10 | | BETTIOL Alberto Italy | + 04:03 |