The route for the 2017 Giro d'Italia, the iconic race's centenary edition, has been officially announced at a gala launch in Milan. Beginning on Friday May 5 in Sardinia, riders will cover 3,572km before finishing in Milan on Sunday May 28.
Two-time Giro winner Vincenzo Nibali, said it looked to be an extremely difficult edition with two very important time trial stages.
"In this respect it's very balanced and similar to the ones I've won in the past," he said. "This Giro will require a lot of energy and you'll need to be ready from the start."
With just six sprint stages and eight stages of medium difficulty climbing, the viewing highlight will certainly be five highly-testing climbing stages including the 5400m double ascent of the famed Stelvio Pass on May 23.
That, a 227km stage, climbs up the Mortirolo from Monno, passes over the finish line in Bormio, climbs up the Passo dello Stelvio (Cima Coppi) and reaches Prato allo Stelvio and Glorenza. Riders then cross the border to Switzerland and clear the Umbrail Pass leading back to Italy, summit the Stelvio for a second time, then finish in Bormio.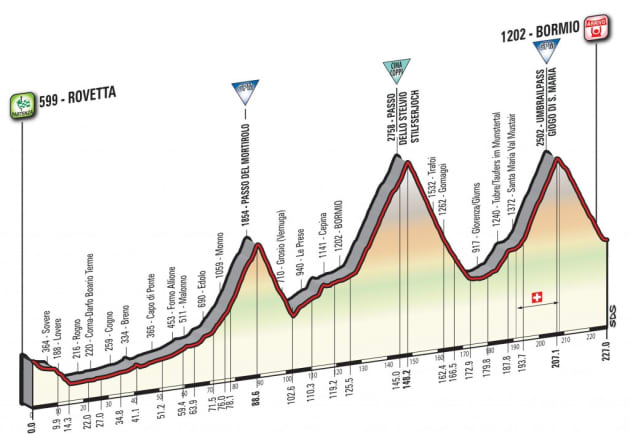 The 2017 Giro features two individual time trials totalling 67km. Riders will start the final stage from the famous Monza racetrack and finish at the Milan Cathedral.
Cycling legend Miguel Indurain was at the gala presentation and said he held many fond memories from the Giro.
"Among the cyclists with whom I raced in the Giro, I remember the young Pantani in 1994," Indurain said.
"Marco was very young but already strong on the climbs, I remember well when he attacked on the Mortirolo stage. Marco was a very shy person, very strong in the mountains from the beginning, but then he improved in the other specialties."