Chris Froome came out firing for Stage 11 of la Vuelta in Spain, decisively taking the victory on the challenging Peña Cabarga climb – the same place he won his first Grand Tour stage 5 years ago in 2011.
Fresh back from a rest day, Froome built up his fans prior to the stage Tweeting an image of his 2011 win with the message "#PenaCarbaga holds some special memories for me!"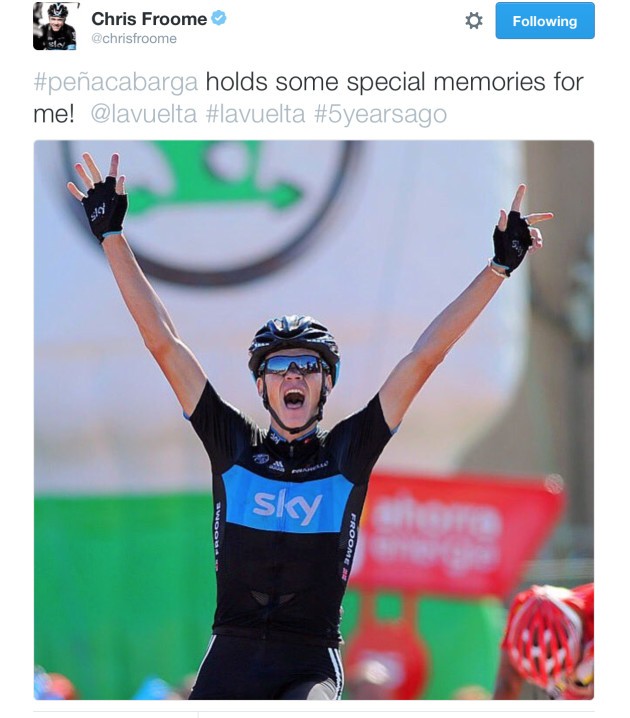 Whether the post was mere memory or more motivational, Froome followed through with a head-to-head battle alongside Nairo Quintana, beating the race leader to the line in a thrilling finalfew hundred metres and moving to second overall.
"It was definitely my objective coming into this race, trying to ride myself into the race," said Froome after the stage win.
"I obviously had a busy season with the Tour de France and the Olympics before coming to the Vuelta, so I didn't have a lot of time to specifically prepare for the Vuelta."
Froome said his objective had been to build into the race and hopefully be better in the second half.
"Hopefully, I'm on track for that now," he added.
Here is a full video summary of Stage 11 of la Vuelta.
Esteban Chaves of Orica Bike-Exchange was the other standout rider of the day. Finishing in 4th place overall, Chaves put in a blitzing attack at the start of that same Pena Cabarga climb.
"You can just ride and hold on to finish sixth or seventh on the general classification," said Chaves. "But it's better to try and attack instead, win a stage and finish tenth overall."
"I prefer the longer climbs of forty or fifty minutes and today it was more like twenty minutes. It was a difficult finale, it was steep in the last kilometre and when you go hard like that you're not really thinking because of the pain but we tried today and that's important."
Watch as Esteban Chaves attacks.
Chaves' OBE teammate and Stage 6 winner Simon Yates also rode strongly up the final climb to take sixth on the day and move up to seventh overall.
The 2016 Vuelta a Espana continues tonight (AEST) with Stage 12, a 193km journey into the Basque Country. After 4 tough climbs the Stage ends in Bilbao.
General classification after stage 11
1. Nairo Quintana
2. Chris Froome – 54 secs
3. Alejandro Valverde – 1:05
4. Esteban Chaves – 2:34
5. Alberto Contador – 3:06