With the track season upon us, I thought I would take this opportunity to talk about the recent additions to the Australian High Performance Cycling program. Towards the end of last year's track season, Cycling Australia in conjunction with the AIS introduced a women's specific track endurance program – a fantastic and long overdue initiative for cycling today. Previously track endurance women riding as part of the Australian team didn't have a program to belong to; we just sort of 'fitted in' with the men's program which worked OK but wasn't ideal.
With the implementation of a women's specific track program there is now the ability to tailor a program to suit the specific needs of elite female track cyclists. The women's track program has a specifically appointed coach in Gary Sutton, whose knowledge and experience is invaluable. To mention all of his accomplishments and victories as a cyclist is a whole story in itself, he excelled on both track and road. Gary has a terrific track record in coaching. Previous to becoming the national women's track endurance coach, he was national junior track coach and New South Wales Institute Head coach. This has obviously given Gary a great understanding of the difficulty of transition from junior to senior competition. Since the program's introduction there has been an increase in enrolments to the program. This has been great for both motivation and also for training; nothing like some extra competition to keep you on your toes. Outside of the program all of the girls remain members of our various state institutes with our own individual coaches.
All the coaches communicate with each other and from this we hope the results will follow. A lot of work and money is needed behind the scenes to produce a world class cyclist. It all begins with your first coach at club level and finishes with the women's specific elite program at the AIS, at least for me it does anyway. Not only does this specific program give us access to the best coaches in Australia, we are also provided with the best equipment, giving us no excuse come race day. With all this now in place I can go into the coming track season with confidence and it gives me the opportunity to build on the success I have had over the past couple of years. Being the first year of operation the program already has some awesome initiatives. Along with the track training camps this year there was an extended trip to Holland for some road racing. This provided a great opportunity for the track girls to experience road racing at an international level as well as build on their training base in preparation for the track season. Unfortunately, I didn't make it to Holland because of my broken arm, but I look forward to similar opportunities next year.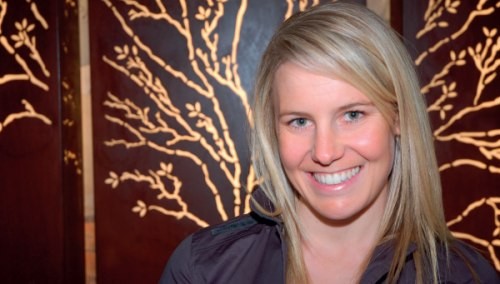 The program in place also gives us girls a great sense of belonging to a specific group. We have purpose when we turn up to training each day, knowing that we have a tailormade program to help us achieve our goals. As mentioned above, the transition between junior and senior level is often viewed as a challenging time for many athletes, especially females. Coming from junior under 19 competition, athletes tend to be at the top of the field and then suddenly get thrown into senior competition where the level is much higher. Previously this period of time was when high numbers of female cyclists the transition seemed too difficult or they didn't have the next stepping stone clearly mapped out for them. For me personally, this is a time when I struggled with the decision of whether or not to continue in the sport.
Coming out of junior competition and being at the pointy end of the results for some time, I found it difficult to be thrown into elite competition and struggling to finish some races let alone finish on the podium. During this phase I actually decided to take some time away from competing and focused more on my studies and enjoyed being a teenager without the pressure of racing. My time away from the intense competition gave me a chance to reflect and reassess my goals, from which I found the motivation to come back to racing, which subsequently made me a stronger athlete because of it. Juniors can be good across a range of disciplines but when you get to senior level competition there comes a time when you have to choose to focus on a specific discipline suited to your personal strengths to continue to be competitive.
Now with a women's track endurance program young girls can see a clear pathway of where they can go and what opportunities lie ahead depending on which career path they choose. I believe the introduction of a women's track endurance program will make a huge difference to the success of Australian track women at international events and feel grateful I have the opportunity to be a part of a brand new program and look forward to what we can go on to achieve.
Keep aspiring to be your best! Happy training, Belinda