There is a lot of bike equipment out there and none of it is 'bad'. How 'good' a bike part is depends on how appropriate it is for the rider. From a bike fitting and maintenance point of view, here's a synopsis and critique of what's currently available.
PEDALS
Five brands account for 99+% of what I see with fitting clients every year. Look, Shimano, Speedplay, Time and Keywin. All of them work well but there are differences; let's take a look.one over the other.
LOOK
Look came up with the first clipless pedal that gained wide acceptance in 1985. The current version is the Look Keo in various models. There are 3 cleat options: Black = zero rotational movement, Grey = 4.5 degrees of rotational movement, Red = 9 degrees of rotational movement. In each case, the cleat can be rotated in either direction on the sole of the shoe.
PROS: Light weight / reasonable cost / ease of entry and exit / variety of release tensions available in some models / titanium axle version available for the lightweight junkies / cleat release tension can be adjusted.
CONS: Almost always develop slop between the axle and pedal body / the walking 'platforms' of Look cleats wear down quickly / one axle length only / altering cleat rotational angle impacts on ability to laterally adjust the cleat.
SUMMARY: Smaller and lighter than original Look pedals but same minor shortcomings remain.
SHIMANO
Shimano 3 bolt cleat road pedals are also based on the original Look patent which is now in the public domain. There are 3 cleat options: Black/Red with zero rotational movement, Black/Blue = 2 degrees of rotational movement, Black/Yellow = 6 degrees of rotational movement. In each case the cleats can rotated in either direction on the sole of the shoe.
PROS: Durability / good cleat 'walkability / no slop between axle and pedal body / optional 4 mm longer than standard axle / a Light Action model for those who don't like a lot of release tension / cleat release tension can be adjusted.
CONS: Lack a cleat comparable to the Look 9 degree red cleat / 2 axle lengths only / adjusting cleat rotational angle impacts on ability to laterally adjust the cleat.
SUMMARY: The best made, most durable 'Look' style pedal.
SPEEDPLAY
The most comprehensive pedal 'family' on the market. There are 3 pedal models, each available with cromoly, stainless steel or titanium axles at varying price points. Speedplay are unusual in that the engagement mechanism is in the cleat, not the pedal. The pedal is a simple disc that can be engaged on either side.
The original Speedplay model has no ability to adjust the rotational movement and allows 10 degrees of heel in movement and 27 degrees of heel out movement and almost zero release tension. The cleat cannot be rotated.
Speedplay Zero is the performance model. Both entry and exit require more effort than the X Series. Rotational movement can be adjusted from zero degrees to 15 degrees. There is no ability to rotate the cleat. The remaining Speedplay road model is the Light Action, similar to the Zero design with less entry and release tension and no rotational adjustment.
PROS: Five different axle length options. Alternative baseplates that allow up to 14mm more rearward cleat adjustment / double sided pedal / best ground clearance / cleat rotational adjustment and cleat lateral adjustment completely separated / Best choice for anyone with significant differences in leg length because four bolt cleat can be shimmed more securely than the competitions three bolt cleats.
CONS: Three hole shoes require a baseplate to mount the cleat / more maintenance intensive than other pedals / fiddly set up / more maintenance intensive than other pedal systems / some find it difficut to learn the entry method / don't like dirt or sand.ty but no ability to rotate the cleat means that they lack enough potential rotational movement for a tiny minority when compared to the Look red cleat which also has the possibility of rotating the cleat on the shoe.
TIME I CLIC
Lightweight design with secure cleat in pedal despite extraordinarily low effort needed to engage.
The cleats can be rotated in either direction on the sole of the shoe and offer a total of 10 degrees of rotational movement. Cleats can be swapped to increase or decrease foot separation distance by 2.5 mm.
PROS: ease of entry and security of cleat in pedal / light weight / cleat allows more than average rearward adjustment on shoe.
CONS: a degree of self centering force on cleat / plasticky and don't stand up well to some physically strong riders who are hard on equipment / bearing problems not unknown.
KEYWIN:
The fit between cleat and pedal is very secure. The other major difference to the three bolt mainstream is that there is no rotational movement between cleat and pedal. Instead there is six degrees of rotational movement between pedal body and axle. This can be removed by fitting small plastic fittings into a shaped recess if zero rotational movement is required. Because every part of the pedal other than axles and bearings is plastic, parts need to be replaced more often than with other systems. Replacement engagement hooks and if necessary, pedal bodies, are inexpensive. A vastly underrated system.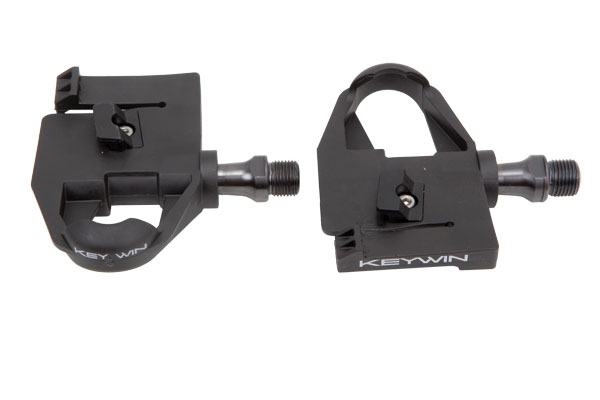 PROS: Ease of entry and exit / more than standard rearward adjustment potential of cleats / lightest version is far and away the lightest major system out there if cleat weights are included / 6 axle lengths; standard minus 6 mm, standard minus 3 mm, standard, standard plus 3 mm, standard plus 6 mm, standard plus 10 mm / largest cleat to pedal contact area available.
CONS: Limited ability to rotate the cleat on the shoe sole / Rotational movement limited to a maximum of 6 degrees. Combined with limited ability to rotate the cleat this means many of the minority of people who need longer than standard pedal axles due to dysfunctional hips and lower backs will not be able to gain the heel in 'duck foot' angle of foot on pedal that they need.
CRANKS
Crank length choice can be important for unusually tall or unusually short riders but apart from that there is not much to say. Campagnolo road cranks have a Q factor (distance from outside edge of crank at the threaded hole for the pedal to the same point on the other side) of 145.5 mm. Shimano and Sram are negligibly wider at 147 mm. Many aftermarket cranks are 150 mm. While these small differences do impact on some riders, it is a tiny fraction only.
SEATS
Seat choice can be a minefield. Just because you are really happy with your seat doesn't necessarily mean another rider will be. I'm a big fan of SMP as a brand because they get me out of trouble with tricky to fit clients regularly, but even then, they are not for everyone. The one comment that needs to be made is that if a rider is having constant seat issues and has trialled numerous brands and models without lasting success, then the problem isn't the seat. It is where the seat is (height and setback) and how that rider is forced to bear their weight on it. This is not the same as saying that every seat will suit everyone. Far from it. When a rider has persistent seat issues, either they are the problem in a functional sense, or their position on their bike is the problem or a combination of both. Bar position and cleat position can also be implicated in cases of chronic seat discomfort.
BARS
Handlebars are one contact point where the choices available, and how well they suit human beings has improved out of sight over the last 15 years. There are two basic shapes that stand out as being applicable to the vast majority of riders.
The first is shallow drop, short to medium reach bars. Examples are 3T Ergonova, Giant Connect, FSA Wing Compact, Cinelli Neos, Deda Zero and RHM series and many other similar bars. Most quality manufacturers have bars with drops of 120 – 135 mm and reaches of 75 – 85 mm that have a more or less single radius bend below the brake hood mounting area. Despite the apparent shallow drop this style of bar can be used by riders with even the widest palms.
The other major bar shape that is worthy of consideration is this so called Deep Drop round bars. I say 'so called' because the better versions tend to have drops of around 140 mm and reaches of 80 – 85 mm. Fifteen – 20 years ago deep drop bars had drops of 150 mm plus and todays 'Deep Drop' would have been considered a shallow or medium drop bar. Still they suit a wide variety of hand widths and user demands.
Shallow drop / short reach bars are typically at their most comfortable when the bottom of the rearmost surface of the bars angles up towards the front by 5 – 10 degrees. Deep drops are best angled up between 12 and 16 degrees. Ideally the user should be able to have a relaxed wrist while in the drops and still be able to reach their brake levers from the drops with ease.
SHOES
Over the last 15 years cleat mounting holes have moved rearwards on many shoe brands, a trend with which I agree. While not wanting to apply a broad brush approach, too far rearward a cleat position is a lesser evil than too far forward a cleat position. Too far forward tends to injure many riders over time. Too far rearward has little chance of injuring anyone unless taken to ridiculous extremes.
Sidi shoes are the most durable brand but are not light. Shimano, Specialized and Lake have the most rearward cleat mounting hole positions. Next best are Giro, Rapha (jazzed up Giros) and Diadora.
For those with wide feet, don't be tempted to go up a shoe size or two in an effort to gain necessary width. All that will happen is that the overlarge shoe will have cleat mounting holes that are too far forward. Several brands make produce models that are wider than standard. Shimano have a Wide fitting in several models. Sidi have their Mega range for the same purpose. The standard width Lake CX 237 is as wide as the Shimano Wide and Sidi Mega ranges. The Wide version of the CX 237 is the widest shoe relative to length on the market. Lake also make their CX 402's in a Wide version but the fit of the heel is much narrower than it is on the Wide CX237's.