The Kinetic R1, the world's only interactive, direct-drive smart trainer that allows your bike to move naturally as you pedal, is now available in Australia.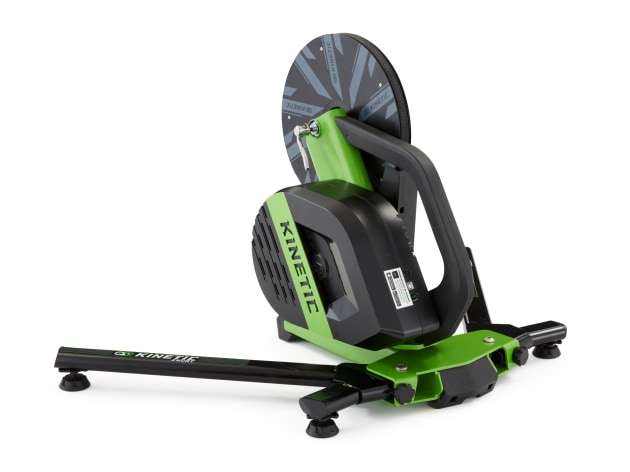 More comfortable and providing a more complete workout, the app-controlled Kinetic R1 electronic trainer immerses riders in a world of virtual training to help them enjoy training a more natural and realistic workout.
The key difference with the Kinetic system is the realistic road feel courtesy of 'Rock and Roll' technology. The unit moves slightly from side to side through the pedaling action, similalry to how a bike does. Movement is minimal when in the saddle and powering along, but get out to simulate a climb and you'll notice that familiar side-to-side sway.
Direct Drive Operation
The trainer features a large flywheel for quiet, direct-drive operation and it is the only direct-drive trainer with free movement. No rocker plate is required.
The trainer can be controlled via the Kinetic app and paired via all via ANT+™, ANT+™ FE-C, and Bluetooth® FTMS on connected smart phones, tablets and laptops to provide interactive resistance when used with platforms such as Kinetic Fit, Zwift
TrainerRoad, The Sufferfest & FulGaz. Each Kinetic R1 purchase includes an included 6-month subscription to the premium smart package in the 'Kinetic Fit' power-training app.
At A Glance
The Kinetic R1 is the only interactive, direct-drive smart trainer that allows your bike to move naturally.

More comfortable, more realistic, and a more complete workout, the app-controlled R1 electronic trainer immerses riders in a world of virtual training to help you enjoy training more than you ever imagined.

A massive flywheel and quiet, direct-drive operation provide a realistic road feel.

App-controlled, interactive resistance pairs to apps like Kinetic Fit, Zwift, TrainerRoad, Rouvy, Kinomap.

The Sufferfest and FulGaz via ANT+, ANT+ FE-C, and Bluetooth FTMS on connected smart phones, tablets and laptops.

Max slope: 20%, Max resistance: 2000 watts

Includes skewer

Australia RRP $1699
For further details and for stockists visit https://www.velovita.com.au/common/stockist