Luxury sports car maker Aston Martin have revealed what they are describing as 'the world's most bespoke, advanced and meticulously engineered road bicycle'.
Collaborating with titanium bike company J.Laverack, the Aston Martin .1R is handmade in the UK and said to 'exceed anything seen before'.
The companies say the bikes will be available in such bespoke individual builds that components can be custom made for each rider, right down to custom crank length increments of 1mm.
"Synergising the shared values of the two high performance British brands, Aston Martin and J.Laverack have applied truly innovative design and engineering processes to produce a fully integrated 'visually boltless' design that possesses an aesthetic purity and obsession to detail beyond compare," said a company spokesperson as the bike was released.
Gallery: The J.Laverack Aston Martin .1R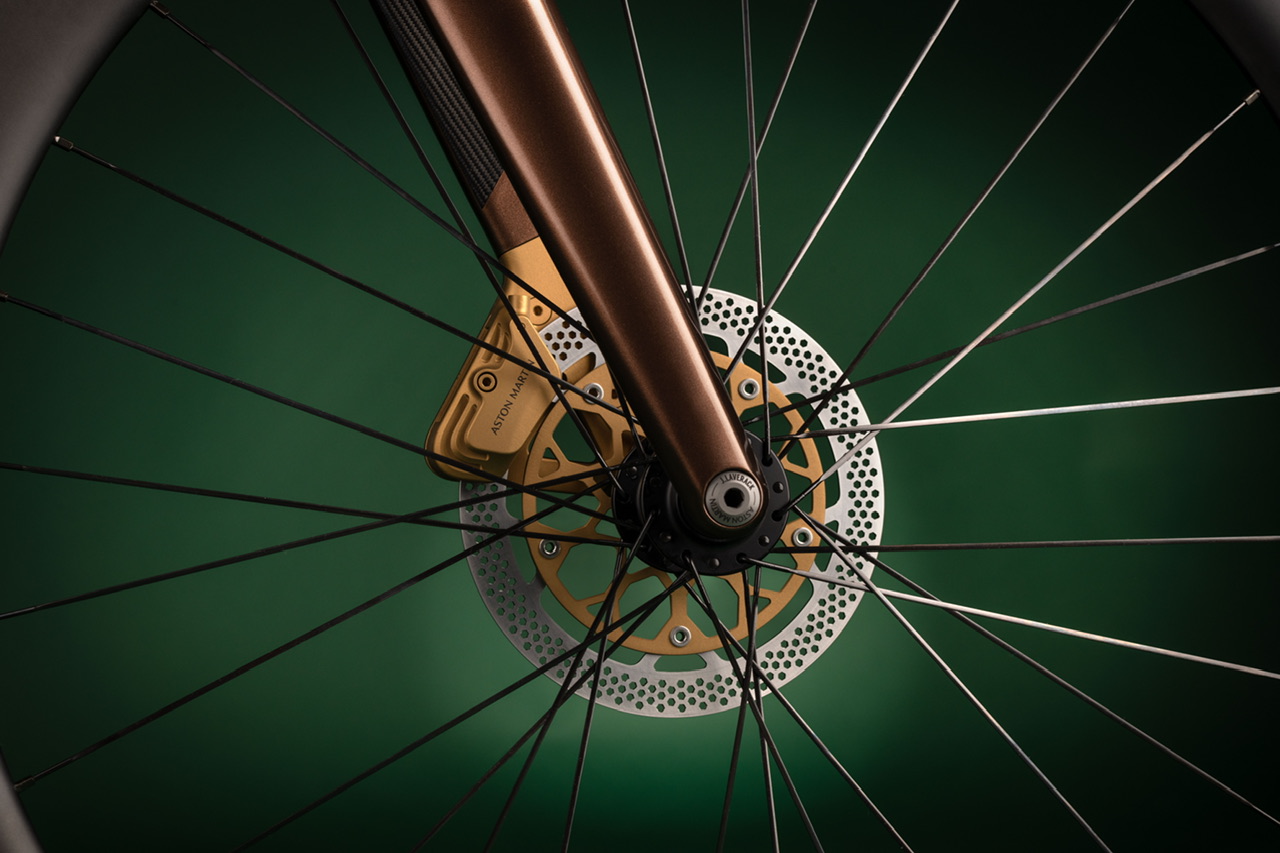 "The J.Laverack Aston Martin .1R uses a flawless fusion of parametrically designed, 3D printed titanium lugs and sculpted carbon fibre tubes. This ensures a frame that not only delivers an exceptional blend of response and comfort, but also sets new standards of elegance and beauty on two wheels. The smooth unions of the lugs and tubes are truly innovative and the herringboned weave of the carbon fibre on display is immaculate, despite the intricacy involved in manufacturing."
Oliver Laverack said working with the team at Aston Martin has unlocked new ideas and innovations.
"Working in collaboration with Aston Martin we have not only taken our titanium bicycles to new heights but have also unlocked true innovation within the cycling industry, creating a bicycle with unparalleled levels of craftsmanship and performance engineering," he said.
"Every component is designed to be part of the whole and to marry perfectly with the adjoining elements, achieving an unsurpassed degree of integration, which lays the foundation for the J.Laverack Aston Martin .1R's boltless design."
The J.Laverack Aston Martin .1R features clean lines with no visible fixings at the stem or seat post. Their are integrated four piston brake calipers and not a single exposed cable or hydraulic hose visible on the frame or fork.
The 'Sphyr' stem – named after the hammerhead shark (Sphyrna) – will be 3D printed from titanium to each owner's unique measurements.
Continuing in this vein, while crank lengths are generally only available in increments of 2.5mm, the owner of a .1R will be able to specify his or her crank length down to fractions of a millimetre. This is thanks to bespoke, 3D printed titanium tips on the carbon crank arms. The saddle height will be adjusted using a set of beautiful bespoke titanium collars that can be interchanged. Each bicycle will also be supplied with a unique set of tools, that will sit alongside the collars, inside a beautifully handmade wooden tool case.
Aston Martin wheel design can be glimpsed in miniature in the titanium piston caps of the brakes on the bike, while if you inspect the beautifully machined cups on the threaded bottom bracket of the .1R and you will notice parallels with the central wheel nuts on an Aston Martin Valkyrie.
Other details include the pierced stem, which artfully mirrors the side strake on an Aston Martin DB12 yet still allows enough room for the internal routing of the brake hoses. The titanium thru axles are also a work of art, with a wall thickness of just 0.7mm in places. And, unlike other bicycles, the end of each axle is hidden on the non-drive side.
Customers will be able to choose from any of the three 12-speed groupsets – Shimano Dura-Ace Di2, Campagnolo Super Record Wireless or SRAM RED eTap AXS, the J.Laverack Aston Martin .1R can be built accordingly. The .1R's bespoke chainrings are machined from aluminium and the sizes can be specified by each owner.
The AERA Components Æ|55 wheels are also unique to the .1R, featuring 55mm deep carbon tubeless rims with an internal width of 22mm. They are laced with 28 Sapim CX-Ray spokes that continue a black colour scheme on the wheels, as do the hubs that have been designed specifically for the .1R and are machined to perfection from high strength aerospace aluminium before being finished in a custom brevet black colour way. Continental has even created a 30mm wide special stealth black version of its GP5000S TR tyres, which are the optimal width for the specially made carbon rims and offer a perfect blend of speed and comfort.
The C13 saddle from British company Brooks has been specifically commissioned for the .1R. Each saddle can be trimmed in the owners choice of leather or Alcantara, and is finished with a single titanium rivet. The same material choice is available for the handlebar grips, with the full suite of Aston Martin colours on offer.
To the million dollar question, 'how much is it?'
We are told 'the price is on application and includes a travel case, track pump and handmade wooden tool case.'
The J.Laverack Aston Martin .1R will make its public debut at Rouleur Live in London on Thursday 2 November. A celebration of cycling culture, Rouleur Live is taking place at Truman Brewery, London from Thursday 2 November until Saturday 4 November.