In March this year Fuji released their new Gran Fondo range at the Taipei bike show. We had a quick test ride at the launch and happily were able to secure one of the first units in Australia for a longer review.
The Gran Fondo is touted as an ideal performance endurance bike with all day comfort and race handling. At first glance it's a good looking bike. A frame of black undressed carbon with blue accents fitted out with Fuji's home brand Oval Concepts stem, bars, post and wheels. Aesthetically it's top of class.
Neat touches on the frame include the gear cable porting at the rear derailleur which has the outer cable exit the frame aligned with the stays rather than ballooning out to the side. Also down the back you can switch between the 12mm wind up through axle and a regular 9mm quick release, so you can use another set of wheels on a trainer for example. Fuji has also added a chain catcher at the front derailleur as well as a metal chainsuck guard. Unfortunately there's no built in cadence sensor though, which would have been a nice extra to keep the sleek lines of the frame uncluttered. Shimano flat mount calipers however deliver in both form and function.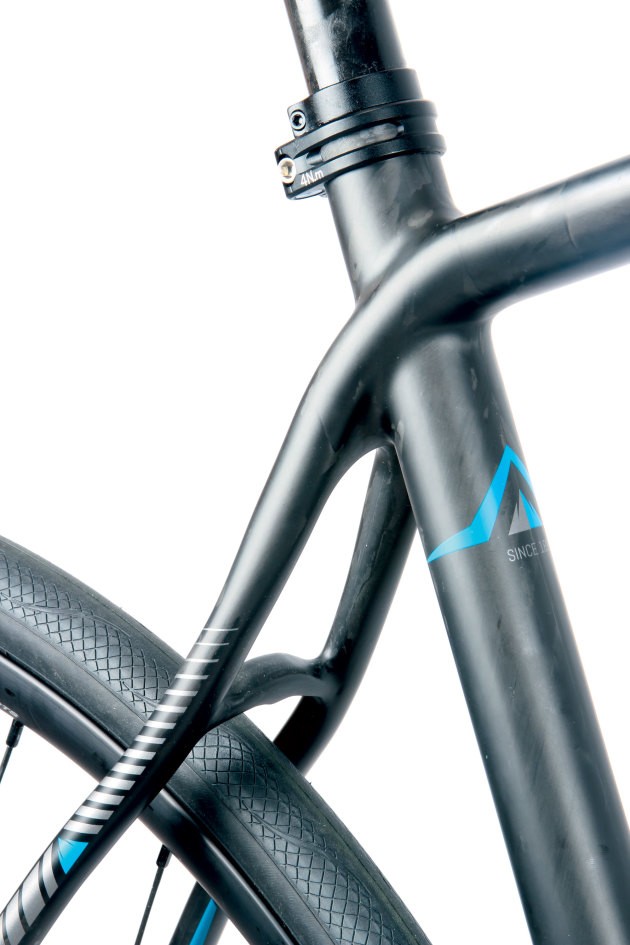 The left hand chainstay like a pitcher's arm is a little overdeveloped to handle the braking forces a disc setup brings to the hub. Slender seat stays include what would have once been called a brake bridge, though now it helps to keep the stays flexing only in a vertical plane, and avoid any squirrelly deflection that would let the rear wheel choose its own destination.
There's a slight deviation in the stays that's clearly designed to induce a level of flex and assist with softening road impacts and moderating buzz. Up front the cable porting at the head tube is again very clean—some of the best I've seen. The cables rest neatly against the frame, not able to mark the tubes though, as they're cushioned by soft rubber cable surrounds. The cables themselves have slim inline tension adjusters so you can tweak shifting if things get slightly out of whack.
The fork is one of Fuji's own blending perfectly with the headtube. Again with the hidden services; another neat porting job has the hydraulics hose enter the fork shoulder with fluid lines, exiting inside the left leg at the perfect angle to mate snugly with the caliper. Front and rear dropouts suit 12mm wind up axles for optimum stiffness. Fuji has even included simple additions like alloy bidon bolts, anodized blue, to match the accents of the frame. These small touches make the bike look very tidy and convey a feel of higher quality.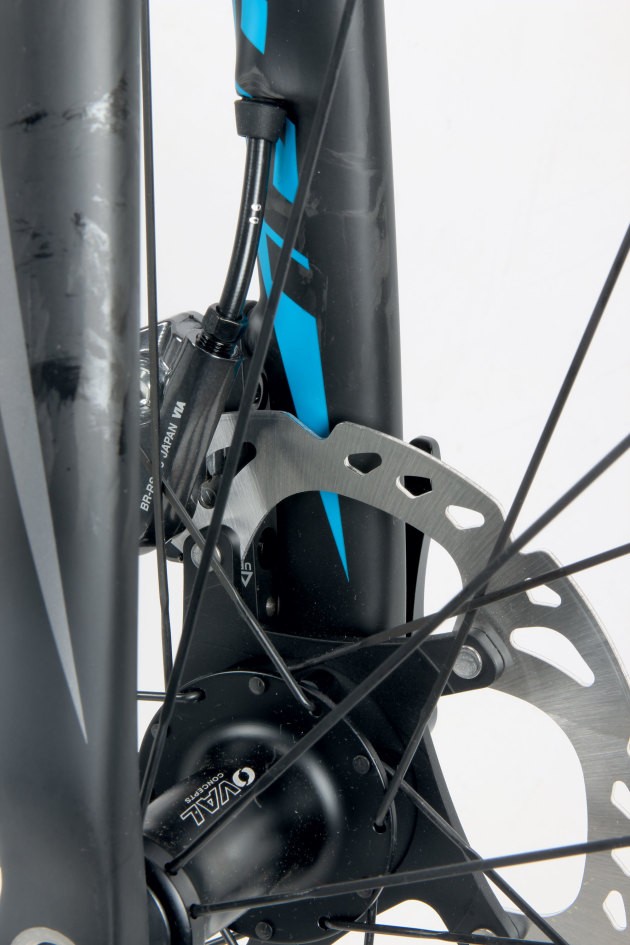 All these features serve their purpose, but on the road one of the most beneficial aspects of the frame is contained within the carbon fibre layup. Sheets of a polyurethane-treated natural fibre have been inserted in significant sections of the fork and stays, adding a level of plasticity that offsets the stiffness of the high modulus carbon fibre surrounding them. Fuji claims this 'Vibration Reduction Technology' has reduced road buzz by 24% over their previous model.
As well as adding damping layers inside the tube walls, Fuji uses size specific tube dimensions, based around the idea that smaller lighter riders need lighter gauge tubes in their frame than taller, heavier riders. This discussion also covers factors of weight of the rider, and also the length of the frame tubes where a longer tube of equal thickness is more prone to flexing, as is one subject to greater load. Upshot is, whether you are short or tall, where a frame has size specific tubes, you should experience the same ride qualities.
Setting the height of the 27.2mm Oval post was a one time job with a minimalist twin strap clamp and only 4Nm torque required. They've also put a tiny band on the seatpost that will serve to mark the height of the post should you remove it for packing or transit. The post shares a similar undressed carbon finish with the frame and has a simple two bolt saddle clamp at the saddle. The saddle itself is another Oval component that I found comfortable straight off. There's an alloy stem—also Oval branded, as are the 910 series bars which have slightly flattened tops that are thickly wrapped in suede finish tape…both features adding to the comfort factor, though some may prefer a less bulky finish.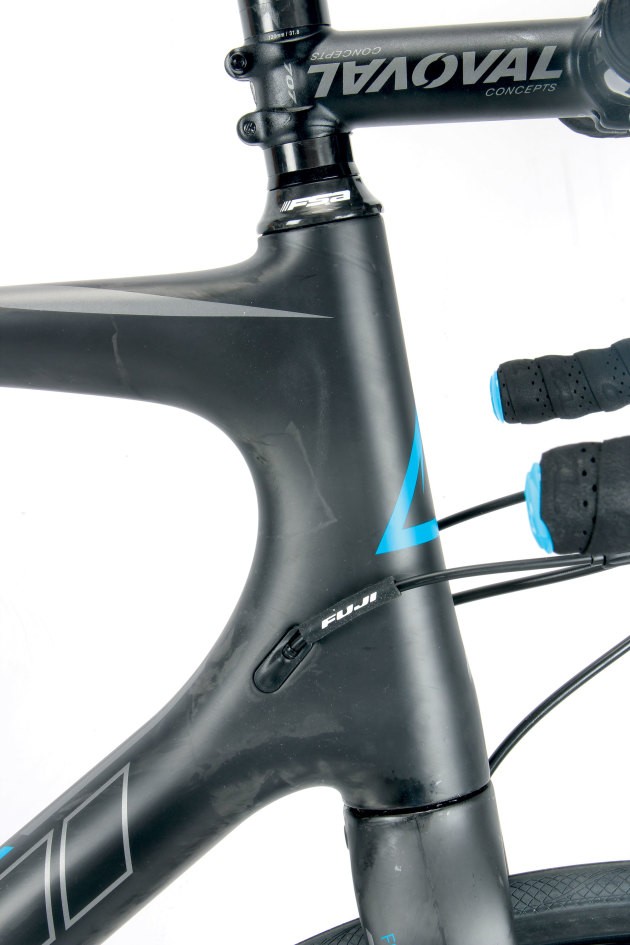 Oval Concept 723 disc wheels are a worthy feature on this top end frame, spinning up to speed easily and feeling light on the climbs. At just 670g for the front wheel without the 160mm Shimano Ice Technology rotor or 820g with it, and 840/990g for the rear, they are respectably light. Even though they carry the extra weight of the rotors, it's at the hub, lower than the weight of rim calipers. The rims are 23mm deep and a surprising 19mm wide internally allowing the Vittoria Rubino Pro 28mm tyres to inflate to 30mm wide at 90psi, though they'd probably fit 32mm if you feel like getting dirty. The hubs feature a high flange on both sides to cope with extra forces of the brake rotor and cassette on the rear wheel. The 24 spoke front hub is high flange on just the left hand, brake rotor side.
Braking performance was great; almost perfect, save for some low level squeal at just over minimum application. Squeeze a little harder to achieve moderate braking or more, and there was no noise at all.
The Gran Fondo is 45mm taller and 14mm shorter than it stable mate the Fuji SL, giving a riding position that will reduce pressure on your lower back and shoulders if you want or need it, while the longer stays and wheelbase enhance stability at speed and also serve to take more bang out of rear wheel impacts. On the road I initially found the more upright position of the Fuji a little strange but that sensation was soon replaced by the revelation of how refined and smooth it was. Regardless the oversized head and down tubes keep the front end plenty stiff enough for direct steering response and really confident handling. It's simply a pleasure to ride.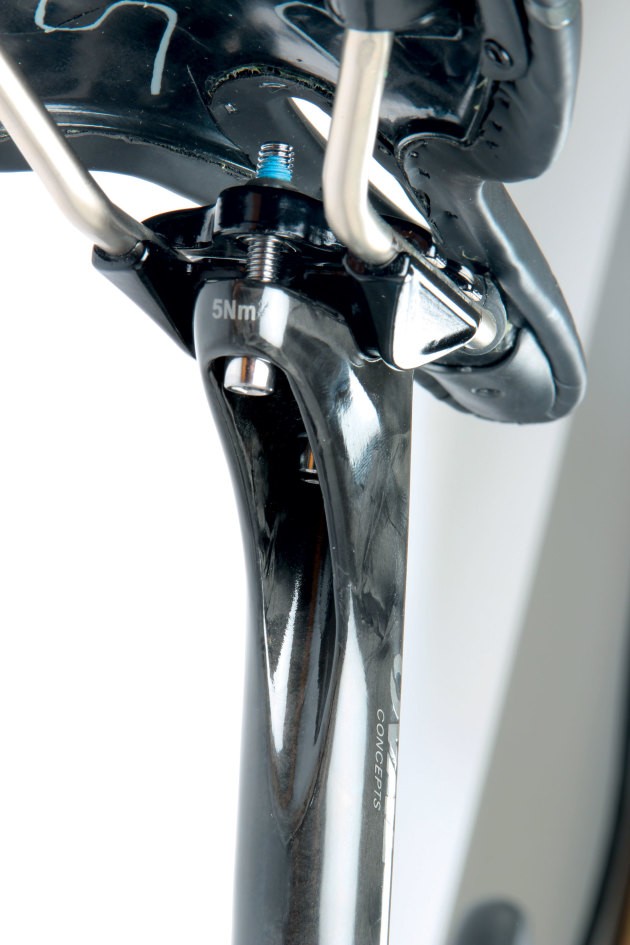 It's well capable of holding its own in the bunch too, and perfectly at home cruising quiet country back roads and climbs around the Illawarra. Once at the top, larger volume tyres really let you push the envelope on long fast descents. Overall Fuji has really nailed the brief, producing a fast capable all day bike.
If you're in the market for a new performance endurance bike, or even if you are not, this bike is well worth your consideration.
Summing Up
Quality
The Gran Fondo 1.1 is a high end frame matched to Fuji's in house Oval Concept components line and Shimano's mechanical Dura Ace drive train. Braking is also top notch. Move along… there's nothing to see here but good quality.
Performance
As the name suggests one day epics, and sportifs are all fair game and easy money for this high functioning Fuji machine. But it's also equally at home in a bunch riding scenario and while it may not be first amongst sprinters it is well able to handle your short sharp rides too.
Value
With top end components and clearly a well-designed, well made frame the Gran Fondo 1.1 will bring years of pleasure and see you through many epic rides. Discussing price seems almost rude, but for $5,750 this top end bike seems very good value.
Overall
The Gran Fondo 1.1 is an exceptional bike. It really does bring together many of the key characteristics you'd expect of a high performing endurance bike, to create a fast, capable, and comfortable machine that should be high on any Gran Fondo rider's list of bikes to consider.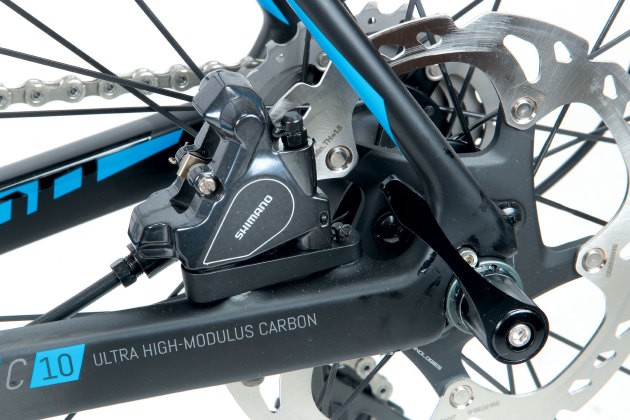 Specifications
Frame: C10 UHM carbon w/ VRTech, internal cable routing
Fork: FC-330 carbon monocoque w/ VRTech, tapered carbon steerer
Crankset: Shimano Dura-Ace, 50/34T
Bottom Bracket: Praxis conversion bottom bracket
Front Derailleur: Shimano Dura-Ace, braze-on mount
Rear Derailleur: Shimano Dura-Ace, 11-speed
Shifters: Shimano R-685 hydraulic, 11-speed
Cassette: Shimano Dura-Ac , 11-28T, 11-speed
Chain: Shimano Dura-Ace, 11-speed
Wheelset: Oval Concepts 723 Disc, Centerlock hubs, tubeless compatible
Tyres: Vittoria Open Corsa, 700 x 28,
Brakeset: Shimano R-805 hydraulic, 160mm rotors
Headset: FSA, 1 1/8" upper – 1 1/2" lower,
Handlebar: Oval Concepts 910 Ergo, carbon,
Stem: Oval Concepts 707, 3D-forged 6061 stem body, +/-7 degree
Saddle: Oval Concepts 700 with pressure relief zone, cromo rail
Seatpost: Oval Concepts 905, carbon & alloy, 27.2mm diameter
Weight: 7.65kg , Size XL
Price: Gran Fondo 1.1- $5,750
Gran Fondo 2.1 Ultegra Hydro discs $3,999
Gran Fondo 2.5 105 with mech discs $2,999
Distributor: Oceania Bicycles