Over the past 5 or so years, many Sydney and News South Wales-based riders would have heard of, spoken to or met Tristan Tucker. Better known as the Carbon Bike Doctor, Tristan has rapidly developed a reputation as the saviour of many a broken bike.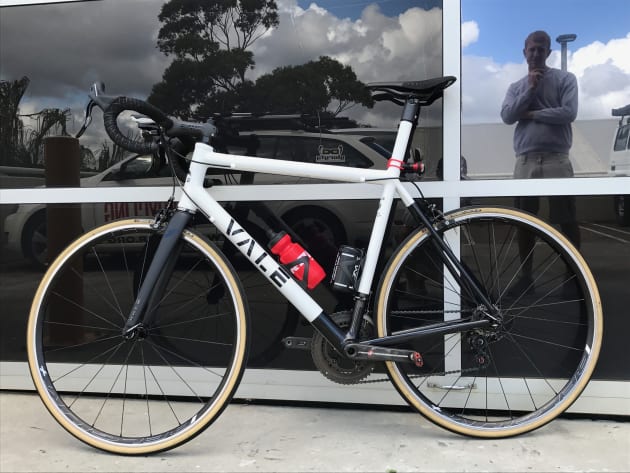 A master carbon fibre craftsman, Tristan weaves his magic from light industrial premises at Mona Vale on Sydney's Northern Beaches. Scan the modern workshop and you'll see an assortment of well-known makes from around the world – BMC, Bianchi, Pinarello, Cervelo, Teschner, Focus … to name a few. During a recent visit there was one bike that caught our eye, a make we've never seen nor heard of.
Introducing Vale bikes – Tristan's own design and the realisation of a long-held dream of manufacturing his own bespoke machine. Bedazzled by this white and black work of art, we started by asking about the name.
"Vale means Valley," said Tristan as he proudly wheeled the bike outside to show it off in the sun.
"I wanted to create a bike that descends very well so the name is fitting. Vale also means also 'Be Well, Be Strong' in Latin. And we started the company in Mona Vale."
Hand Made In Australia
The logo, a peregrine falcon flying above a twisting road, is positioned just above those rare words 'Hand Made Australia'
"The peregrine falcon is the fastest animal in the world when diving for its prey," said Tristan. "This goes in line with our bike descending very well. You feel fast and free on the bike."
With a classic and traditional look, the bike features round Enve tubing which Tristan says makes sense to build with.
"Being a carbon fibre guy I can control the process of manufacture very well," he said. "The result is perfectly smooth on the inside and offers very good compression through the curing process. This limits any defects or discrepancies."
The bike is fitted with an Enve fork and top-quality components throughout. The frame, in 58cm, weighs in at just over 1kg.
"It's a classic carbon bike," he said. "With externally routed cables and with our own made cable stops – I felt if you can build that you can build anything – it's much easier to build this than a Di2 or Etap frame which will come next."
The First Of Many?
With his first bike complete, Tristan has a second in the jig and is eager to complete it.
"Carbon bike repairs are my bread and butter business," he said, as he scanned the bustling workshop. "But I'm super-keen to build more of these bikes and start seeing them out there," he added.
A completely custom-fitted, hand made Vale bike is expected to retail for around $8,000 – $10,000. This includes frameset, fork, stem, handlebars and integrated seat post with hand-made seat post topper.