While Lapierre bikes may not be regularly spotted at your local café, they are no Johnny come lately to cycling. Lapierre has almost 70 years experience in building bikes from their French headquarters in Dijon. This experience along with their long standing relationship with pro team FDJ means their bikes are both innovative and pro team tested with an added dash of French flair.
Their association with the FDJ team was what initially brought the brand to my attention, and that of many Australians, with notable Aussies chargers Baden Cooke and Brad McGee piloting the, at the time, exotic Scandium alloy frames. Well, times, materials and riders have changed but Lapierre are still working with FDJ and this Aircode frame is a nod to that association.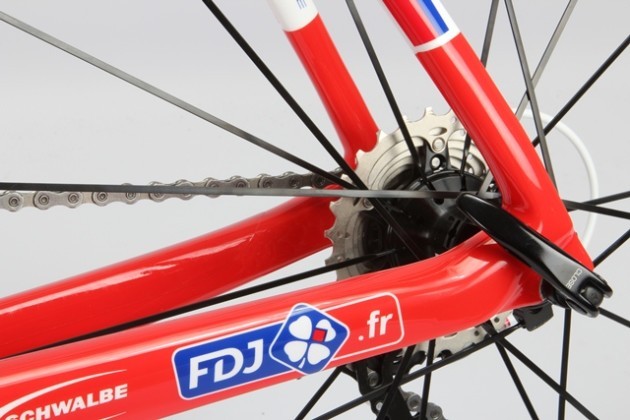 Now I'm generally not a fan of Pro Team colour schemes and the reason for that is that the cycling pedant in me feels you need to be totally committed to the scheme and this then places pressure on other equipment choices. Now granted this probably says a lot more about me than it does the bike, and most "normal" people possibly won't notice or care that the bike has a Schwalbe decal and Mavic tyres but I find it easier to try and side step that dilemma all together. Thankfully team FDJ is sponsored by Shimano so the running gear is in alignment with that part of the livery.
My quirks aside the bike presents beautifully, the colour choice while equally patriotic and pro team inspired could easily pass for simply a great colour scheme. The decals that show its team allegiance are small and discreet compared to many "pro team" bikes that are commonly on offer. The red, white and blue theme is a pleasant break from black, or black on black or matte black or how many other iterations of black bikes that seem to be omnipresent. The Aircode comes equipped with a mix of Shimano's Dura-Ace and Ultegra components, most notably the shifters and front derailleur are from the Ultegra stable. I can only assume this is done to meet a price point, and while there may be a few grams difference the Ultegra functions on par with its more exotic big brother and the only real loss is a little café cred. The brakes are also from Shimano's Ultegra suite with the front being a direct mount. I did read that originally this frame was to use an under mount rear brake but I'm glad that they have reverted to a standard brake. While the wind tunnel may say that an under mount brake will give marginal gains, for the average punter the ease of use and maintenance of a standard brake is worth more than the odd watt saving. Prospective buyers haven't been short changed in the finish kit department on the Aircode either, which has bucked the trend of using "in house" parts, instead opting for quality Zipp branded parts. The controls are cabled up with white cable outers to nicely suit the colour scheme and in a new twist the bars are wrapped with a two colour bar tape. Not really sure what to think of it, but it is different and if you don't like it, it is cheap and easy to change. In keeping with the French theme the Aircode came with Mavic Ksyrium Equip wheels and Yksion tyres. We all know Mavic wheels spin on buttery smooth hubs but some models can feel a little harsh, the Equips however when teamed with the Lapierre frame certainly didn't give that impression. The wheels stayed straight and true throughout the test and the tyres were fine in all conditions. I have been riding 25's recently so the 23's feel a little less comfortable by comparison but they managed to handle all conditions admirably and avoided punctures or even cuts despite Sydney roads, and the way the Mavic logos on the tyre and rim aligned perfectly gave me a twinge of bike geek excitement.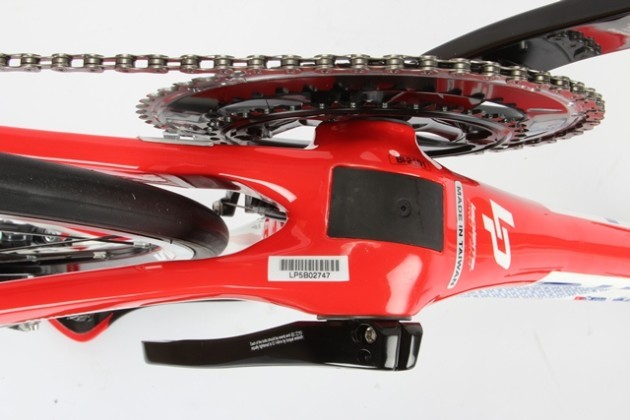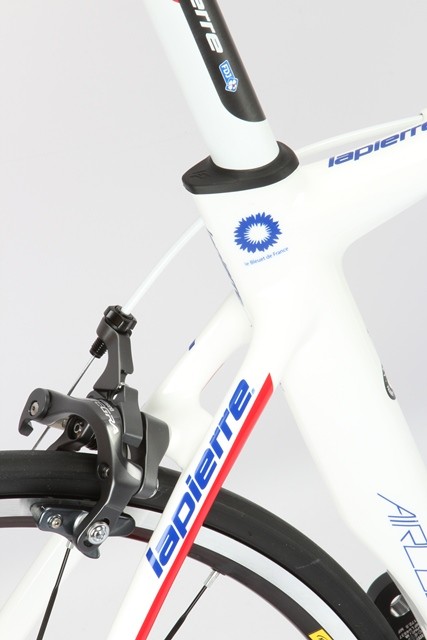 It wouldn't be French if there wasn't something a little "different" about the Aircode, and that is the sizing protocol they have used. Industry wide it have become accepted that top tube is the general rule for sizing bikes or at least to give a fair indication of "ball park" sizing, the Lapierre though uses seat tube length for its sizing meaning that the 55cm top tube bike that I was on is advertised as a 52cm, that being said the bike was a wonderful fit for me, and within minutes it felt as comfortable as a favourite pair of jeans.
When the rubber hit the road the Aircode felt like it was made for me. Size wise, straight from the box it fitted like a glove. My own bike has Di2 so I was anticipating being underwhelmed with the "drudgery" of manually changing gears but I was quickly reminded of how subtle and light the shifts are on the current Shimano 11 speed system. As has always been the case with Shimano the shifts are crisp and quick and changing between the chain rings posed no problems at all. A silent drive train on a pre-dawn ride is a joy to behold.
The Aircode, as the name would suggest, is Lapierre's aero road frame taking cues from their Aerostorm TT bike. The aero tube shapes utilised in the down tube and seat tube are of the kamm-tail variety, where the profile is truncated but appears to the wind to be a full aero profile. This allows the Aircode to look like a more standard road frame, but perform like an aero road bike. What it also does it seemingly take away the potential harsh ride that can come with aero bikes constructed with full aero tubes. This means the Aircode rides like a well- crafted road bike but gives the advantage of the aero gains. Big jarring bumps still rattle the bones, that is to be expected, but anything else up to coarse chip seal is handled with poise. The seat clamp on the Aircode is a neat little wedge that is concealed within the seat tube and hidden by a neat little rubber hood. It doesn't however have a torques setting on it and by erring on the side of caution it managed to creak and slip considerably on the first ride. A quick stop and a slightly firmer touch with the hex key had it all remedied and was good for the remainder of the test. It's hard not to sound gushing about this bike, but the way they have brought together the best bits of the Xelius road bike with its light weight and stiffness and the aero goodness of the Aerostorm makes the Lapierre a compelling package.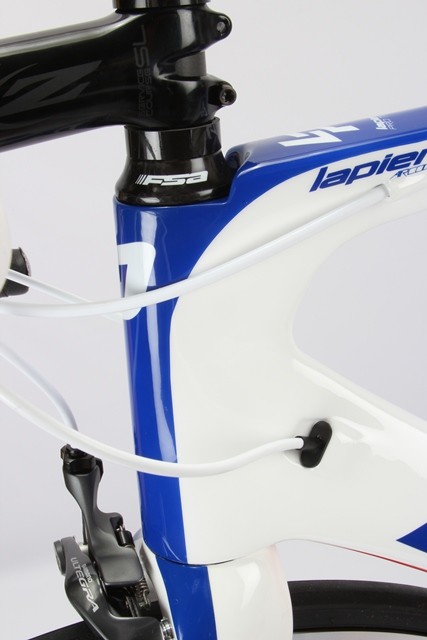 Summing Up:
With the exception of someone whose sole riding focus was century rides and above the Lapierre Aircode is almost the perfect 'do it all' bike, it is aerodynamic and stiff for crits and road racing, and comfortable enough for training with no surprises in the handling department. For someone like myself, who doesn't go super long very often, some nice supple 25mm tyres fitted to the Aircode would have me in my cycling sweet spot.
Performance:
With the exception of swapping in some race wheels there is nothing on this bike that will be holding you back, it is race ready if you are.
Value for money:
The $5k mark includes many and varied bikes and specs, the Lapierre won't disappoint for the money although full Dura Ace would go a lot further to sealing the deal.
Overall:
The Lapierre Aircode is a very impressive unit. The last time I tested a bike that was similar in fit and feel to this I bought it. Don't be surprised if you see me on a Lapierre sometime soon.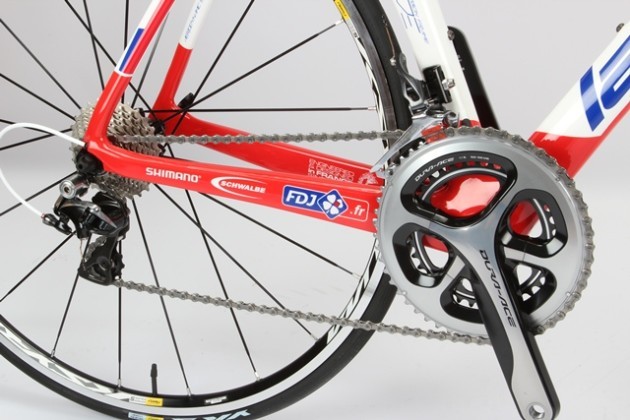 Specifications
Frame: Aircode Carbon
Fork: Lapierre Aircode Full Carbon
Shifters: Shimano Ultegra
Front Derailleur: Shimano Ultegra
Rear Derailleur: Shimano DuraAce
Crank: Shimano DuraAce 53×39 172.5
Cassette: Shimano Ultegra 11-28
Bottom Bracket: Shimano Pressfit
Wheels: Mavic Ksyrium Equipe
Tyres: Mavic Yksion Comp 23
Brakes: Shimano Ultegra (Direct mount front)
Handlebar: ZIPP Service Course SL 80 Beyond Black
Stem: ZIPP Service Course SL Beyond Black 6° 100mm
Headset: FSA
Saddle: Fizik Antares
Seat Post: Lapierre Carbon
Weight: 7.4 kg's
RRP: $4,999.00
Distributed by: www.advancetraders.com.au/