Pinarello has joined the ranks of bike brands now offering a power assisted dropbar road bike. Their Nytro model inspired by the Dogma F10, weighs in at 13kg with battery intact, and has disc brakes and thru-axles.
The Nytro joins several other significant brands offering conventionally styled racers with dropbars and electric assistance….Giant, Bianchi, Orbea, Merida, Cube and others.
The bike features a 400 watt motor neatly integrated in the bottom bracket area and features three power modes – Breeze (up to 125watts), River (up to 250watts) and Rocket (400watts). It should be pointed out a maximum output of 250 watts applies to electric assist bikes under Australian Standards.
The battery is similarly integrated into the downtube and according to Pinarello is good for 252 watt hours of use. All up the drive system weighs 4.7kg of the bike's 13kg mass.
The Nytro is fitted with RAD System 160mm disk brakes, 12mm front and rear through axles and 28mm tyres. According to Pinarello it is currently available in dealers across Europe.
A fascinating release! But Pinarello's marketing campaign failed to meet market expectations, implying that women need help to keep up with men on the bike.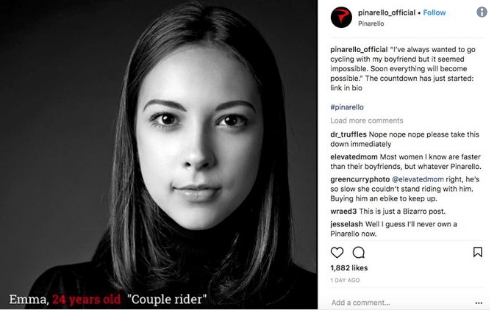 Needless to say social media melted down.
Pinarello has pulled the recent ad apologising for the blunder.