In 1974 when Muhammad Ali famously coined the phrase, "Float like a butterfly, sting like a bee", I doubt he ever thought it would apply to the 2017 Specialized S-Works Amira. However, weighing in at a feathery 6.36 kg (size 51) and packing a punch worthy of two consecutive world champion wins- there's no better way to describe this top-end machine.
'Amira' which translates as 'rich princess' is the female version of its male sidekick, the Tarmac, with key differences coming down to frame geometry, carbon lay up, size specific componentry and type of brakes. While the 2017 model is perhaps more generic than its predecessor, it still features a sparkly finish featured across many of the Specialized women's specific bikes. The shiny 'nordic red' racing stripes with the silver 'S-Works' embossed lettering stand out against the sleek matte 'tarmac black'. Where the frame lacks in gloss finish it makes up for in pallet contrast and racy minimalism in line with current global trends.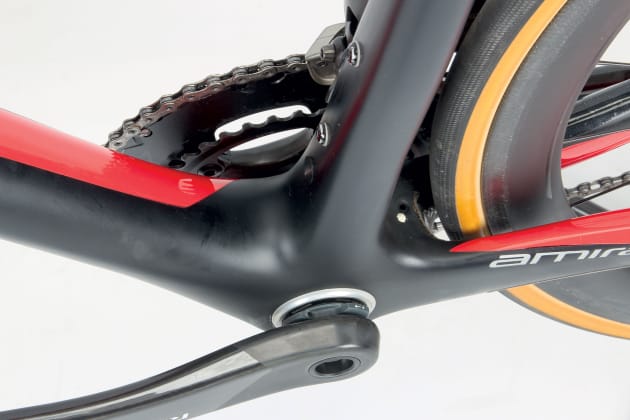 Standard for women's specific geometry, the Amira features shorter top-tube and stand-over height while maintaining a short wheelbase and race-inspired set-back seat post. By designing the frame with a shorter top-tube length, not only has Specialized given remedy to women previously stuck running a shorter, twitchier stem, it also encourages a lower rider position and enhances aerodynamics.
Frame angles have also been slightly adjusted to support this 'cobra' style frame without compromising handling – just ask the women of the world ranked no.1 team, Boels Dolmans, who piloted this bike to wins in the first three Women's World Tour races in 2016.
Built with Specialized's highest quality FACT 11r carbon the Amira frame produces a light and nimble, yet impressively absorbent ride, while also maintaining lightning acceleration due to stiffness where it really counts. Although the Amira is comfortable at a cruise, it's significantly smoother and tracks much better at high speeds.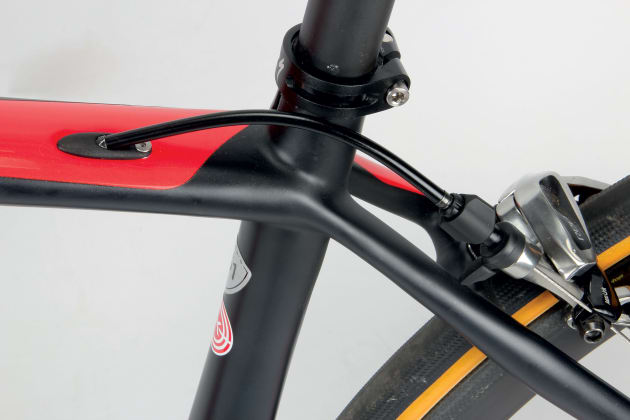 While I knew the Amira was going to be light and responsive to climb with, it was also a surprising pleasure to descend. Aggressive rider positioning paired with the aerodynamic Roval CLX 40s wheelset allows picking up speed on a downhill section to be almost effortless. They're also quite stiff providing direct and confident steering; a good match with the Amira's stiff front end I mentioned earlier.
Fitted with women's specific components such as the Body Geometry Oura Pro saddle and women's SL shallow drop handlebars and also coming in at more female friendly sizing (44, 48, 51, 54 and 56), the Amira doesn't compromise speed for comfort.
Although the Oura Pro saddle is highly rated by many females in the pro-peloton, personally it wasn't remarkable for my geometry. Despite this, the Oura Pro shouldn't be dismissed: designed with a gentle curve and narrow nose this race-ready saddle puts the rider in a position for maximum power transfer and comfort.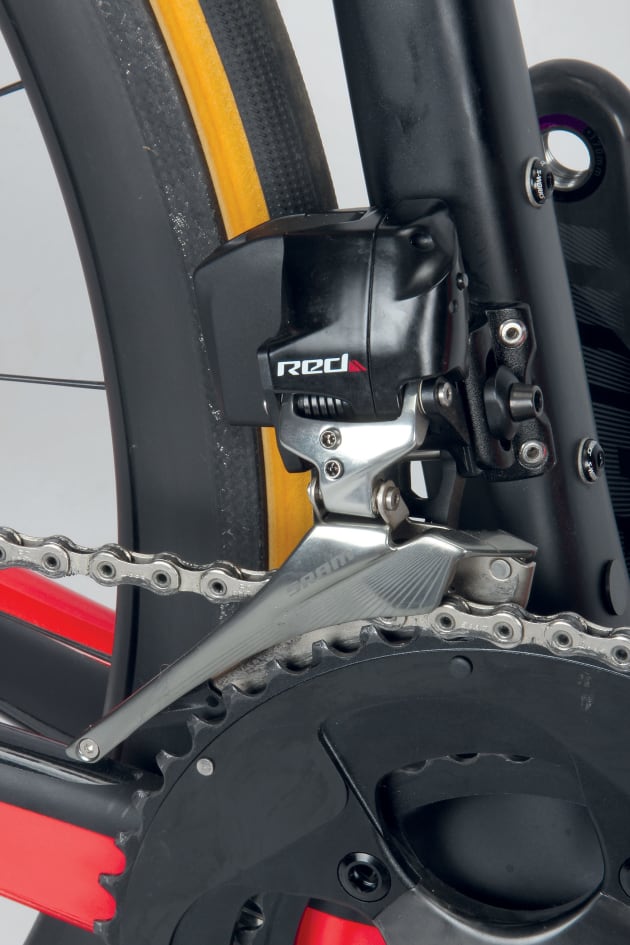 Kudos should also be given to the Body Geometry team for designing a saddle that features a large cutout with the aim to reduce pressure on soft tissue. Truthfully, I didn't take note of this during the review, but as many women will attest, not noticing your soft tissue is the best outcome.
SRAM eTap provides a different style of shifting to that of its competitors, but one I was excited to experience. Its shifting is very smooth, simple and just makes sense: for rear shifting the left button moves the derailleur to the left and the right button moves the derailleur to the right. To change the front derailleur: both buttons together. While I initially thought this would take a fair bit of commitment to master, I was surprised how quickly I became accustomed to this functional design.
Gear changing functionality aside I was impressed with the eTap system, is not only lighter and in my opinion more user-friendly with its removable batteries and micro-shift function, but it's also wireless, adding to the overall sleekness of this machine. While Shimano allows you to customise the Di2 programming, this doesn't seem to be required for eTap given the speed and efficiency of the SRAM derailleurs once set up correctly.
With a 52/36 SRAM Red crankset paired with a SRAM Red 11-28 cassette, the S-Works Amira is geared for versatility. As the gearing is taller than my previous 50/34 setup, it's unsurprising that taking on significant climbs required a little more commitment. In race conditions however (where the Amira call's 'home') this gearing is designed for both fast flat sections and rolling hills.
While my initial thoughts of SRAM eTap are nothing but glowing, I have two, small reservations about this componentry; firstly, though I expect this high-end gear to last a considerable time, long-term maintenance is unavoidable and SRAM gear isn't cheap to replace. Secondly, compared to Di2, the SRAM Red cassette is loud both in shifting and running steady, causing many people to opt for it's quieter Shimano counterpart. Although this extra noise is the result of the light and hollow (A.K.A powerdome) cassette, and doesn't affect the overall shifting quality of the bike, it will take some time to become accustomed to.
Roval CLX 40's come as standard on the S-Works Amira, fitted with stylish Turbo Cotton 'Gumwall' tyres that add to the overall look of the bike. These wheels are fast and noticeably quick to accelerate. In strong winds they demonstrate good stability, especially considering their 40mm depth.
While I'm yet to test the SwissStop Black Prince brake pads on a significant descent or in wet conditions, so far brake performance is fairly good. But while there's no horrible squealing during breaking, there is a noticeable lack of bite when you first grab the brakes, although this is not dissimilar to other top tier carbon break tracks and pads.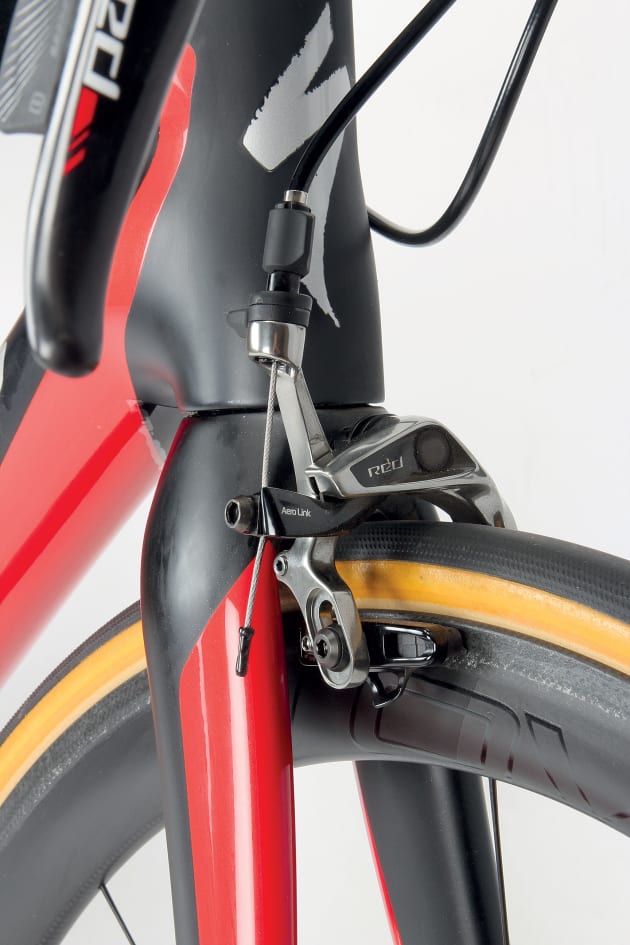 While it is disappointing that Specialized is yet to release a disc braked Amira to match her male counterpart- the Tarmac, it's impossible to miss the beauty of this bike. From its immaculate carbon frame and high-end componentry, the Amira is every racer-girl's dream- floating like a butterfly up steep climbs and winding descents, and stinging like a bee while attacking and in the essential final sprint finish.
Summing up:
Quality: The S-Works Amira is first and foremost a women's race bike. It's designed for speed and agility and certainly delivers on these points. While pricey, Specialized have incorporated only the best componentry to soften that financial blow.
Performance: Successfully raced by current world champion, Amalie Dideriksen (Boels Dolmans) as well as Australian national team: Specialized Women's Racing, the Amira has been tested in the toughest conditions; time and time again proving itself as a world class machine.
Value: 'Amira' translates to 'rich princess' and indeed this is no cheap bike. However the inclusion of top-end componentry and quality Roval wheelset on this race proven carbon frameset does translate into value for money. At a little over 10k, this bike isn't for someone who's after a simple commuter or Sunday session.
Overall: The 2017 S-Works Amira certainly ticks all the boxes in terms of 'lightweight and high-performance machine'. It doesn't shy away from a tough climb or snappy sprint finish and is definitely born to race. While the frame finish is perhaps a little more generic than the metallic purple of the 2016 model, Specialized have made up for this by including quality componentry to add ammunition to every racer-girl's inventory.
Specifications
Frame: FACT 11r carbon
Shifters: SRAM eTap
Front Derailleur: SRAM eTap, braze-on
Rear Derailleur: SRAM eTap, 11-speed
Crank: SRAM Red 22
Cassette: SRAM Red 22 (11-28)
Bottom Bracket: SRAM BB30
Wheels: Roval CLX 40
Tyres: Turbo Cotton
Brakes: SRAM Red 22
Handlebars: Specialized Women's SL carbon
Stem: S-Works SL (alloy)
Headset: S-Works 1-1/8″ upper, 1-3/8″ lower
Saddle: Body Geometry Oura Pro (carbon rails)
Seatpost: S-Works FACT carbon
Weight: 6.9kg (51cm frame)
Price: $10,500
Distributor: Specialized