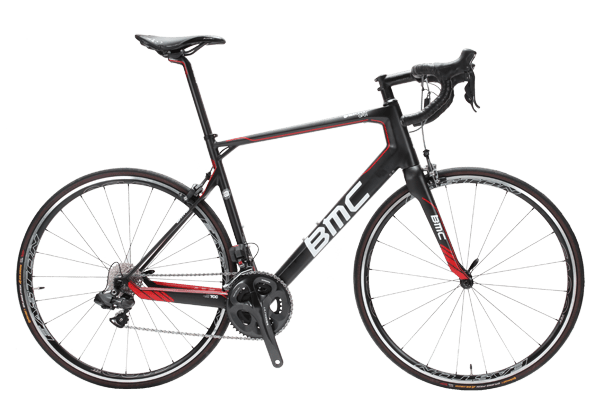 Designed for Thor Hushovd, BMC takes a brave step and in the process sets a new benchmark for cobbles and mass participation rides with their new GranFondo race bike.
There seems to be an increasing trend for bicycle manufacturers to recognise that not everyone needs to have the stiffest bike on the market, partly because there is a sizeable increase in the number of people using their bikes in a number of different situations. Increasingly, the words Gran Fondo are appearing on cyclists' lips. Taking over from the French word 'randonee' or even Cyclo Sportive, Gran Fondos are appearing everywhere. The idea is simple; a mass participation ride, usually over a long distance with tough terrain, where riders challenge themselves by the clock or their mates. As a general rule, Gran Fondos are not races, although some riders do treat them as such. In Europe you will find prize money and awards but here in Australia the events are participation only.
Despite the GF01 being a BMC Team race bike, they have named this model GranFondo because they believe it personifies everything a rider could want in such an event. A bike which is quick and responsive enough to keep you going quickly, is light enough to ride up the toughest of climbs, will absorb enough small bumps and road vibration to keep you fresh all day and also to be able to handle a bit of rough stuff. Let's see how they went.
When the BMC designers set to work on this model they had two things on their mind. Thor Hushovd and Paris-Roubaix. The big Norwegian has finished second and third in the Hell of the North and BMC wanted to put him on the top step of the podium. Unfortunately for them, and for Thor, it appears he was riding with a serious virus and despite finishing 14th, was in a good position before crashing. That virus saw Thor eventually pull out of the Giro, the Tour and the Olympic Road Race. All that aside, BMC would have been happy to see him right up there with the leaders on their new bike. They would have been even more happy to see Alessandro Ballan make the podium on it in the same race.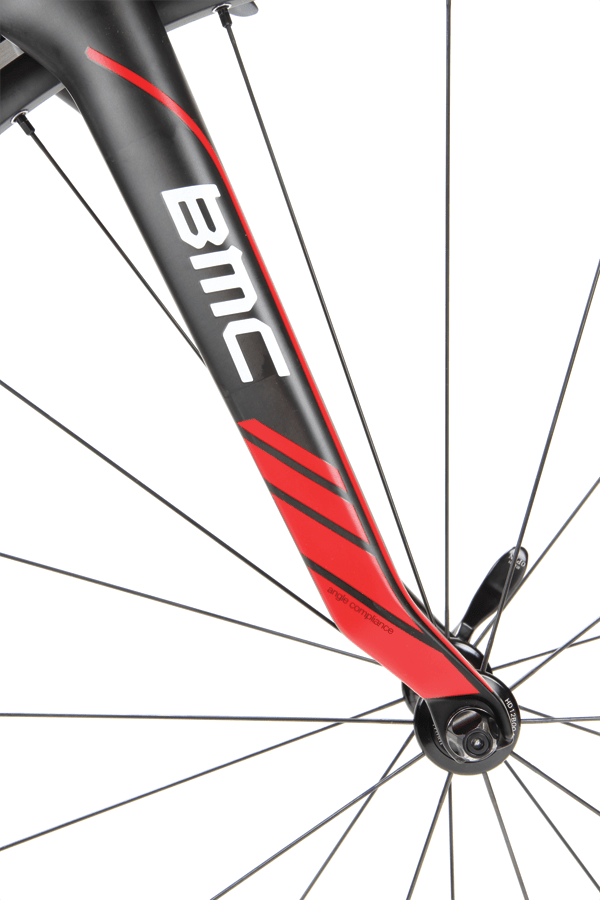 It sounds like a simple thing, especially if you say it quickly; build a bike that's faster than the others and glides over the cobbles. But it's not that easy. BMC have tackled the problem in a different and interesting way. The first point of contact on a cobblestone is the tyres and BMC have gone right out on a limb here by specc'ing 28c tyres on the GF01. There has been an increase in tyre widths in recent years with many manufacturers heading to 25c and creating wheels to match. Many people would see 28c as a step too far, but BMC say the tyre gives extra grip in difficult conditions and allows a lower pressure to be run with no loss of speed.
I was fortunate enough to ride some of these a few months ago and I have to say that my initial scepticism on tyre width seems to be completely unfounded. I was initially introduced to this bike in Queensland at its Australian launch. As a group we rode on tarmac roads to Daisy Hill, a bushland area with plenty of fire road-style tracks. On the tarmac we hummed along as a group. There was no feeling of sluggishness from the rubber. In fact, I would defy anyone to be able to say they were riding more slowly on these tyres. Once we hit the dirt, well, the confidence they inspired was amazing.
But it's not all tyres with the GF01. There's a lot of interesting facets in the frame. You'll notice of course the massive chainstays, particularly their slight upward angle. BMC have changed the way they mould this part of the frame. Often, the bottom bracket, bottom of seat tube, down tube and chainstays are moulded together, to give you extra stiffness where you're putting in the power. On the GF01 BMC have slightly lengthened the amount of chainstay that is created in this process. This makes that whole drivetrain area incredibly stiff and responsive. They claim that this bike is 20% stiffer in that area than the SL01 and combined with the 1-1 ½ headset, we're talking a stiff and responsive frame overall. If you get the chance to look carefully, you'll see that despite their inherent size, all of the tubes on this bike are designed to be thickest where they reach the bottom bracket. This is without a doubt, a full on race bike.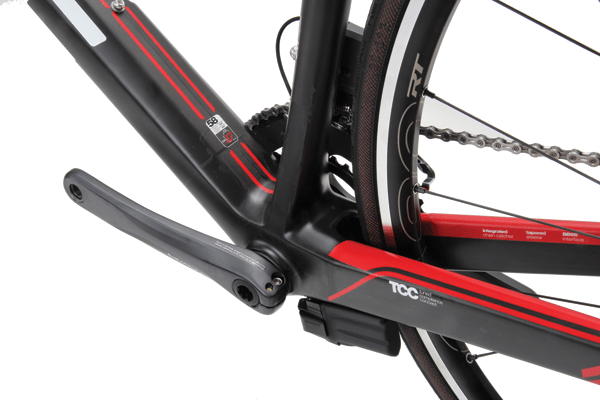 However, BMC have also created this bike to be more comfortable. How have they created a stiffer, yet more comfortable machine? The first answer can be seen in those chainstays. You'll notice that they trend down towards the rear hub and then kick up. This little kick is actually designed to 'flex' under load. Think fork rake, but at the rear. The drop-outs are set a little bit further back to allow this and to also add some stability.
Moving up the seat stays we can see more compliance indicators. The seat stays themselves are flat and sweeping and are positioned fairly low on the seat tube. Again, you'll see that upward bend where the stays come together which, similar to the chainstays provides an element of shock absorption. In concept, it's like a full suspension road bike with miniscule amounts of movement. While we're in the general area, the seatpost is 27.2mm to again allow for comfort and is available in three offset patterns; the standard 18mm plus 3mm and 30mm.
Not all the comfort is at the rear end of the bike though. The same treatment has been given to the fork. While it is super stiff at the steerer end, the bottom has been given an extra 50mm of rake. If you blur your eyes a little when looking at it, the shape is reminiscent of a classic steel race machine. BMC claim that all this attention to comfort makes the GF01 a whopping 40% more comfortable that the SL01. Twenty per cent stiffer and 40 per cent more comfortable than the bike George Hincapie used to race on? That's some claim.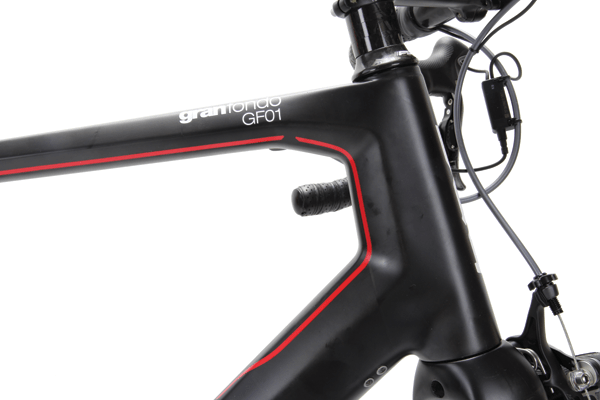 Back up top, the Gran Fondo style comes into play with a slightly longer head tube which puts you a little upright but not too much. The top tube is shorter than normal and this is something to be aware of when purchasing. Your normal 56cm frame may be a bit on the small side and this is good to know because at the time of writing there appeared to be no geometry information on the BMC website. In fact you have to go to a section saying 'Preview 2013' to find anything on the bike at all.
Taking this bike on the road it's easy to see why BMC are feeling a bit smug with the GF01. As previously mentioned, it hums along and there's very little feeling of any slackness coming from the rear end. There's also little in the way of bumps coming up from the road. I feel like I'm just gliding along. A few out of the saddle efforts to chase people down shows me that this bike performs exceptionally when you put the power down, but I also find myself wondering if it will be a difficult sell on the showroom floor. People when they test a bike in a shop want to feel a zing from the frame. Never mind that after two hours of riding they'll be aching all over. In many people's mind, stiff equals fast and while the GF01 is incredibly stiff, I don't immediately feel it with all the vertical compliance happening. What I do feel though, is a bike that is extremely confidence inspiring, particularly as the road gets rough. Regular checks of my speedo show no loss of pace.
The real beauty of this bike leaps out at me as I take it off road. Regular readers will know that when the tarmac ends I'm happy to keep going, making a loop on the dirt rather than turning back. I can say, hand on my heart, that I've never ridden a road bike that performs better on the dirt than this one. The combination of shock absorption and fatter tyres mean there's simply no need to slow down, even when cornering. It's just possible that BMC may have created a bike that will open up a whole new world for anyone who buys it.
Summing Up
Quality: BMC bikes always look good and the GF01 is no exception. Predominantly with a touch of red, it looks the goods. All the parts are out of the top draw and the quality of the carbon is such that BMC do not state a rider weight limit, yet give the frame a five year warranty.
Performance: The GF01 does its job and does it well, as evidenced by Alessandro Ballan's third place in Paris-Roubaix while riding it. However the bike does it so subtly that you have to take the time to notice. You can hold your own against all comers and still have plenty in the tank because you haven't been smacked around.
Value for Money: A great build, good parts mix, proven race pedigree and a frame that could take you to another level. That's pretty good value.
Overall: BMC have managed to create a bike that possibly will set a new benchmark for an emerging group of riders. Those who want performance, but may also want to extend their rides out of the tarmac comfort zone. As Gran Fondo events become more common and push the boundaries of what is considered a 'challenge' the GF01 will be ready.
Specifications:
Frame: BMC Carbon with Tuned Compliance Concept
Fork: BMC Carbon
Stem: Easton EA70 Aluminium
Handlebars: Easton EA70 Aluminium
Saddle: Fizik Aliante
Seat Post: BMC Carbon
Shift Levers: Shimano Ultegra Di2
Brakes: Shimano Shimano Ultegra
Front Derailleur: Shimano Ultegra Di2
Rear Derailleur: Shimano Ultegra Di2
Cassette: Shimano Ultegra 12-27
Chain: Shimano Ultegra
Crank: Shimano Ultegra 10sp
Wheels: Easton EA90RT
Tyres: Continental Grand Prix 4 Season 700x28C
Weight: 7.54kg without pedals
Price: $6,999
Distributed by Echelon Sports
www.echelonsports.com.au