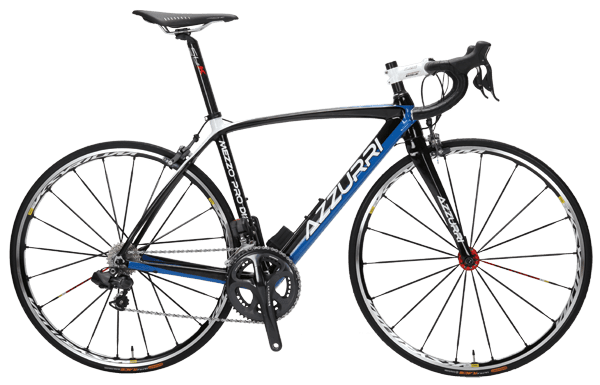 Let me ask you a question. Imagine you'd always coveted a famous brand of Italian bicycles. Perhaps they'd had Tour de France winners and an unbroken race sponsorship. They'd previously been manufactured in Italy but in modern times were made in Taiwan and then shipped back to Italy for painting in their own factory. You'd still want one wouldn't you? Particularly if they rode well and looked good. Well? The reason I ask, is that apart from the Italian heritage and Tour winners, I've just described Azzurri bikes.
Azzurri and their parent company Learsport have been in the bike business for nearly 25 years. They've made a huge number of frames in that time, which has gained them an enviable amount of experience when it comes to design and carbon layup. Bikes are created by Azzurri designers to their own specifications, manufactured in Taiwan and then shipped to the company's own workshop, also in Taiwan, for painting. They then come to Australia.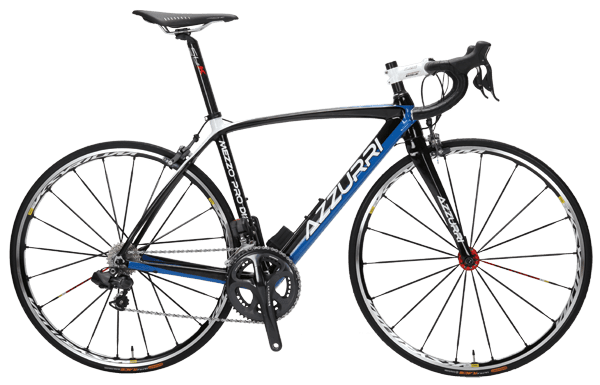 Any discussion of Azzurri has to include the issue of buying direct. To many people, particularly bike shop owners, selling direct to the customer is an evil and should be stamped out. There's no doubt that big overseas companies have made a dent into Australian distributors' income. But is it such a problem if the direct supplier is an Australian company? I don't know, but it is definitely something that is on the increase. Azzurri have an interesting business model which is somewhere in between the two. Yes they do sell direct through cyclingexpress.com, and incidentally currently employ 15 people in their Melbourne premises. However, they also have a network of bike stores around the country where you can collect your new bike, elect to get a professional fit or buy accessories. It seems a pretty fair way of doing things. Customers get cheaper bikes, shops get a profit and so do the distributors.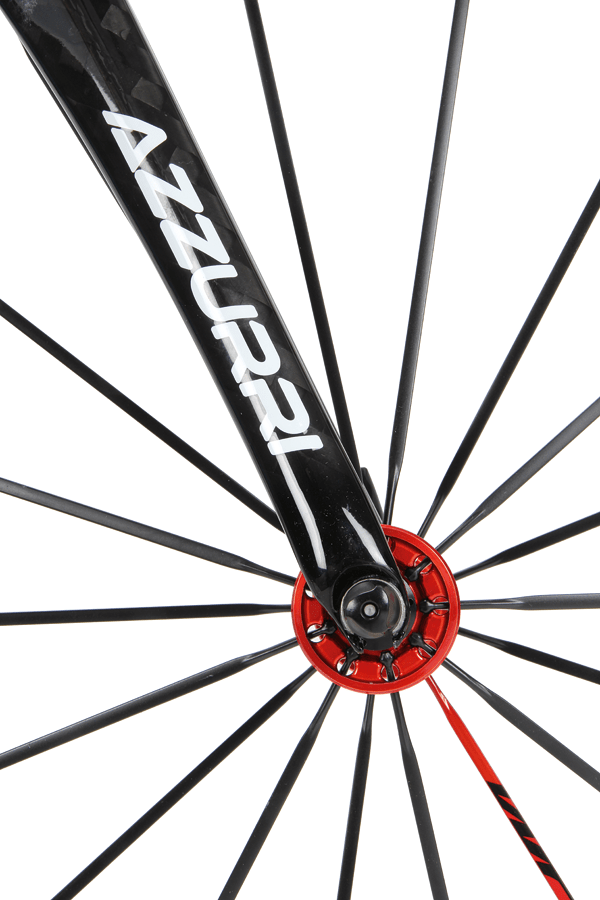 The Mezzo Pro on test here is a good indication of how the design process works. This model has been on the top of the Azzurri stable for some years. It is designed as a race bike, to be fast in a race and to add a bit of zing to an all-day ride. It has a monocoque, semi compact frame, with a short head tube. However the previous models were found to be a bit on the twitchy side when it came to cornering. Quite a bit actually, which is fine if you're a full time crit racer and need to zip in and out of the pack, but less so for the rest of us, particularly on long, fast descents.
Azzurri tackled the problem and the result is the Mezzo Pro you see here. Similar to the previous model, this is a unidirectional monocoque frame with a different lay-up. More carbon has been added to the bottom bracket area to increase stiffness, and less in the seat stays and seat tube to add some more compliance for longer racers or for the rider who wants a fast bike to ride all day.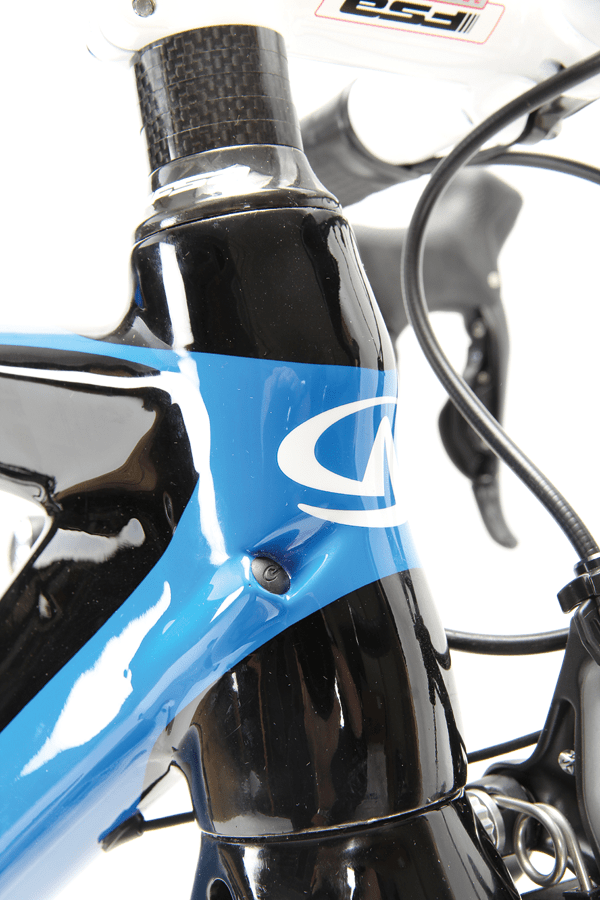 Extra carbon has also been added to the head tube to provide more stiffness and therefore, more steering control. It's interesting to note that this bike has a 1 1/8 headset. Where other manufacturers have increased the stiffness by going down the oversize headset route, Azzurri have stayed traditional. Personally, I haven't decided if this is the best way, or moving forward with new technology is better. Perhaps nether is 'better' if they achieve the same outcome. Additional stability has been added by slightly extending the fork rake and creating new moulds to give the frame a slightly longer wheelbase. It all makes for a bike which can tackle any corner or any downhill.
I didn't ride the old Mezzo, but I can tell you that descending and cornering on this bike was excellent. Really, really good. Even with the low head tube I still enjoyed it. Despite increasing the length of the head tube on this model, it's still pretty low (125mm) and if you're coming from a less racy frame it may take a bit of getting used to, although there are smaller ones out there. But it does put you into the perfect position for going downhill fast. And having that rigidity will help you go even faster.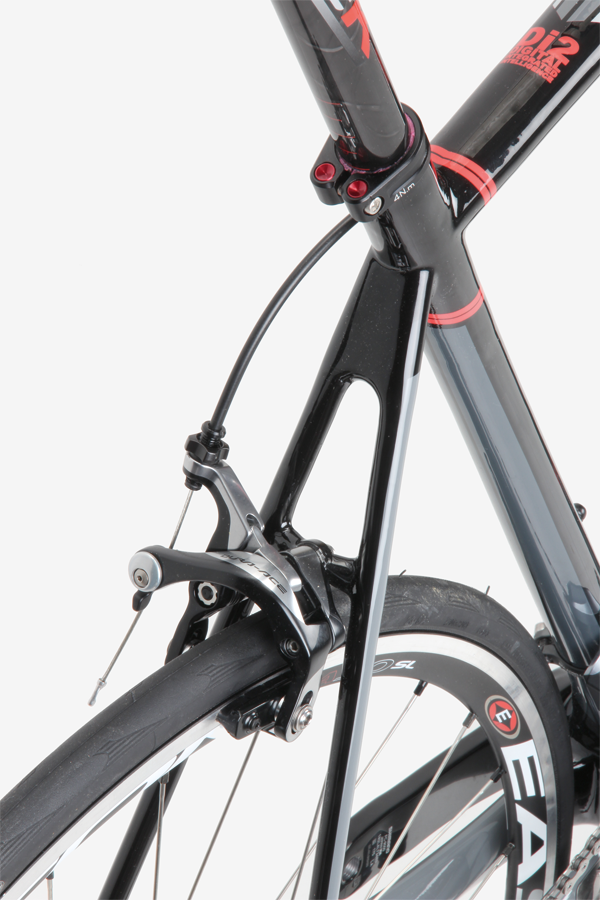 This bike also works well on the flat and when the road begins to go up. Our test model came with a pair of Mavic's Ksyrium SL wheels and I have to say that I'm a big fan of these hoops. It seems like they've been around forever and that usually indicates that something is pretty good. The SL on these wheels stands for 'super light' and despite regular updates, at 1,485g it would be a bit of a stretch to still call them that. Still they're respectable and are very stiff. Firm wheels at under 1,500g are a definite advantage when climbing, as is a stiff bottom bracket. I had no dramas at all, riding uphill on the Mezzo Pro, quite the opposite in fact. This bike gobbles climbs for breakfast and will leave enough in your tank to hit the drops as you fly down the other side.
The Mezzo Pro comes with two different wheel options, Ksyrium as seen here and Mavic Elite wheels for $500 less. All other components are the same on either models and include Continental's excellent Ultra Race tyres and Fizik's manganese-railed Arione saddle. FSA seem to throw their bars and seatposts to any bike manufacturer they can find, which can sometimes result in a good frame let down with heavy seatposts and stems. Here we see some of FSA's better options, a carbon SL-K seatpost, OS-150 stem and alloy Wing Pro bars. Good and useful stuff but there's still room for the weight weenies to lower the reading on the scales. The Mezzo Pro also comes fitted with Shimano's Ultegra Di2 groupset, and lets face it, it had to. Ultegra Di2 is the current battleground in the war of the bike manufacturers because it works so well and is good value. As usual, it worked flawlessly.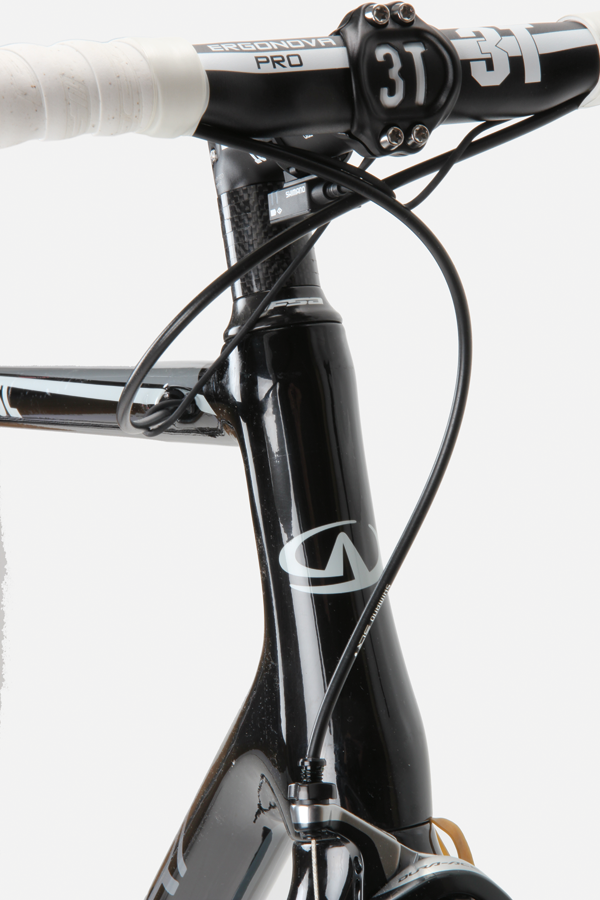 So was there anything that I didn't like? Well, I thought that four available sizes isn't very many, particularly as the largest size has a 570mm horizontal top tube measurement. The smallest is 525mm and while that range will fit a lot of people, the option of a larger model would be nice.
I did like the paint job. The blue and black colour scheme looks excellent, particularly the shade of blue that has been chosen. But I felt that the 12k decorative weave let the side down a little, particularly as the frame is made from unidirectional carbon. Unidirectional is the current fashion because a woven layer is purely decorative, having no structural function. Frame makers like unidirectional because it makes people think that the frame is lighter. Having a 12k weave seems, as a friend said recently, "so 2008". Perhaps Azzurri feel the same way, as their next model (a sub 800g frame) won't have the weave and it will be available in five sizes.


As I mentioned before, Ultegra Di2 is one of the main battlegrounds in bicycle sales. You can purchase bikes with this groupset beginning at $2,700 and go right up to just under $5,000. The $3,500 you'll pay for this bike with the Mavic Elite wheels is pretty spot-on, but in my opinion, it's worth paying the extra for the Ksyrium SLs. They take this bike from being a good bike, to being an extremely good bike.
When I test a bike I have a range of terrains that I ride each time. There's steep hills, downhills, hot mix and chip. And of course, dirt and gravel. This bike passed all of these with flying colours. But the big test is when I ask myself whether if this was the only bike that I could ride, would I be happy with it? The answer in this case is a very definite yes.
Summing Up
Quality
Unidirectional carbon (with a 12k weave!) and a good wheel spec makes this a high quality bike. It also has the extremely reliable Ultegra Di2 and a parts mix that doesn't need changing.
Performance
Excellent. The Mezzo Pro Di2 descends, it climbs and it plays the piano. No, seriously, if you bought this bike not only would you not need to replace any of the parts, you wouldn't feel that you needed a better bike either.
Value
A sizeable chunk of the $3,999 you'll pay for this bike is in the wheels. So it's also available with Mavic's Elite wheelset. This would save you $500, but I feel that if you can afford it, then go with the SL's. There are a one or two manufacturers who are putting very inexpensive Ultegra Di2 bikes into the market. You can get them for under $3,000. My honest opinion is that this bike rides like a $5000-$5700 steed. And, the frame does come with a lifetime warranty. So for those reasons I think its good value. If Ultegra Di2 is your main reason for buying, it can be done more cheaply, but you may find this is a better package.
Overall
An excellent bike from an Australian owned company. It rides like a more expensive model yet is still within many people's budgets. None of the components need to be changed, but if you're still looking at shedding some weight, it can be done. Give it a go, I think you'll be impressed.
Specifications
Frame: Azzurri Mezzo Pro UD Carbon
Fork: Azzurri 700C UD Carbon
Stem: FSA OS-150
Handlebars FSA Wing Pro alloy
Saddle Fizik Arione w. manganese rail
Seat post: FSA SL-K carbon
Shift Levers Shimano Ultegra Di2
Brakes Shimano Ultegra
Front derailleur Shimano Ultegra Di2 10 Speed
Rear derailleur Shimano Ultegra Di2 10 Speed
Cassette Shimano Ultegra 11-25T
Chain Shimano 10 speed
Crank Shimano Ultegra 10 Speed
Bottom Bracket FSA BB30
Wheels Mavic Ksyrium SL
Tyres Continental Ultra Race 700x23c
Pedals N/A
Weight 7.3kgs
Price $3999
Distributor Azzurri Bikes