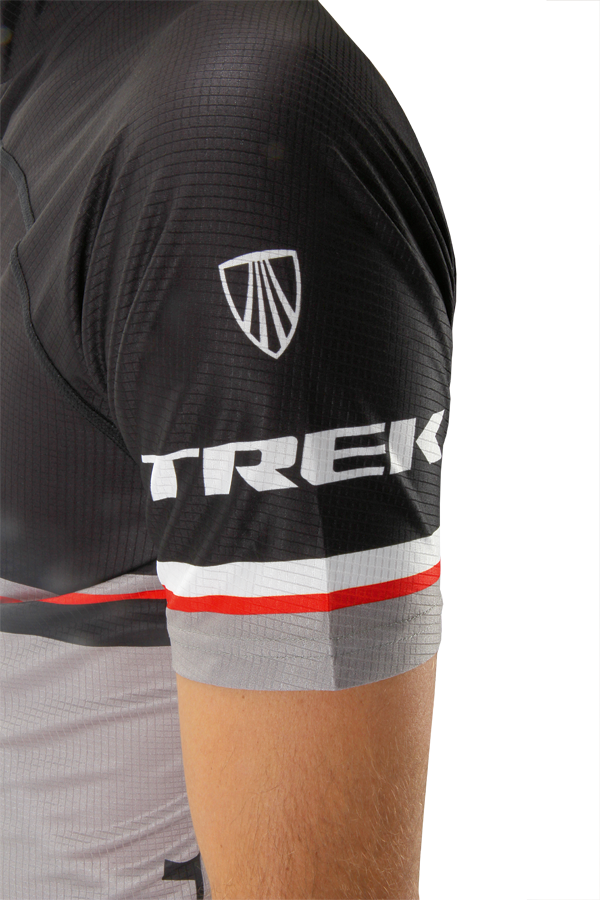 Bontrager Trek Co-Op RL Jersey
Fans of the Trek and Bontrager brands will be pleased with this their latest offering, the Co-op jersey. Its lightweight fabric breathes well and dries quickly making it a comfortable summer choice. The fabric is quite soft to touch; it's possibly the nicest feeling jersey I have come across! Sizing is standard and the cut is a streamlined, race fit; trim and tidy. I found the 'hidden' zip opens easily with a single hand and being full length makes the jersey easy to get on and off when you've been sweating. There are the usual three pockets in the back but also a single centred pocket inside the back for a radio or items requiring extra security such as wallet or mobile, though I suggest a ziplock bag or other sweat-proof cover for your phone. The short sleeves are not elasticised at the cuff but are a comfortable non-flapping fit.
Details such as the small loop sewn into the inside of the collar from which to hang the jersey when drying are a nice touch. The hem at the waist is elasticised and also has a grippy silicone pattern inside which effectively stops the jersey from riding up. Made in China, there are no stray threads anywhere on hems or seams.
Styling is conservative; a thin red stripe and white highlights separate the black shoulders from the lighter grey body of the jersey. The dark panels above light don't make for the most flattering design for the body conscious, tending to narrow the shoulders and accentuate any paunch. The Trek logo is prominent across the chest, sleeves and back and reflective piping at the side of the back pockets will aid visibility levels for safer night riding. Overall this is a high quality and comfortable jersey that not only Trek fans will love.
Price: $99.95
Bontrager RXL Bibknicks
Knicks are an extremely important piece of clothing for cyclists. After a long ride in poor quality knicks, anyone will place comfort at the top of their knick-shopping criteria; function way out-placing form. Cheaper knicks can have overly light foam pads; some with ragged cut edges, coarse fabric, or panels and stitching that rub and are not tailored to fit a seated body position. Some have long shoulder straps that tend to separate and slide down, or are cut too low in the front (presumably to assist in taking a 'natural break'), so that anyone with a 'balcony over the toyshop' may experience some 'avoirdupois overhang'. Then there are the tiny-chamoised knicks that offering little in the way of modesty or comfort.
Bontrager RXL Inform bibs however rate highly on many fronts, not least of which is comfort. First and foremost the pad is high quality, well sized and anatomically shaped, featuring staged layers of different density foam to make for a comfortable fit and ride. The mesh back panel aids cooling and is attached to the unusual rubberised shoulder-straps which stay in place as you'd hope. Before riding in them I thought this rubbery material would be uncomfortable and sweaty but didn't notice the straps at all. The leg gripper is made from this material too and prevents knicks riding up. The body fabric is designed with a level of compression in the front and sides while the lower leg panels are made from a more breathable material. There are a couple of reflective tabs in the legs for night riders and stitching all round the garment is well finished. I found myself reaching for these knicks rather than the drawer full of others.
Price: $199
Bontrager Sport Gloves
Carrying the Bontrager 'b' these lightweight fingerless gloves look smart and are a comfortable summer choice. There's a Velcro closure, and soft nose wipe (for those cold early morning starts) on the back of the hand, while the palm features cushioned sections at the heel, base of the thumb and across the metacarpophalangeal joints (knuckles). Specific attention has been given to the padding to ensure pressure is reduced over the ulnar nerve, helping to eliminate numbness and fatigue.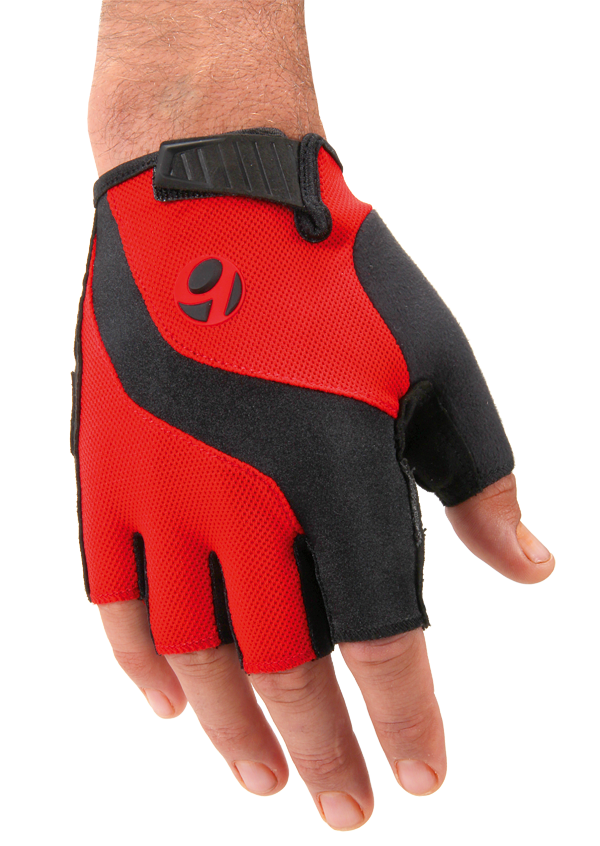 The upper section is clearly synthetic and the palm is too, though it does a decent impersonation of suede. Occasionally you'll come across gloves that have padding in the wrong place or have a poor cut resulting in bunching under the palm while you grip the bars. Not so here; I found the gloves to fit well and provide a comfortable grip.
Price: $29.95
Bontrager Specter Helmet
Bontrager's Specter helmet is neither super light nor overly beefy; the large size weighs a reasonable 334g. Still, it looks good – always important with helmets – and it's comfortable enough that you don't really notice you're wearing it after a while. That said, head shape varies widely from person to person so it's important that you try several brands on before you buy; what suits my melon might not suit yours. A helmet should fit snugly; a fair test of this is that it should stay in place without the chinstrap when you bend down to touch your toes.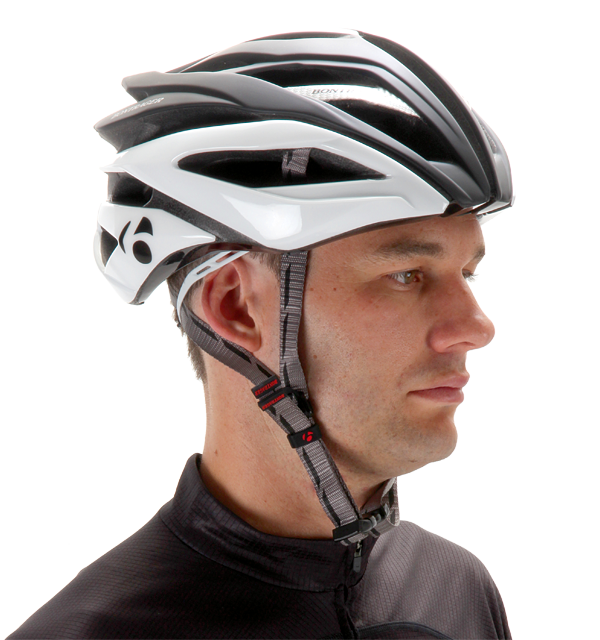 The retention system on the Specter is effective and comfortable with a dial at the rear to adjust tension. It seemed a shame to do away with the Bontrager embellished aglets but they suggest you cut off excess chin strap to stop it flapping (and after being whacked repeatedly in the face with 10cm of strap and the end cap at 80kph I agree) then seal the ends with a naked flame to prevent fraying.
Thirty vents in the Specter allow air to enter the helmet and flow through the internal channels past your head before exiting at the rear; it's an effective cooling system.
Once again the Bontrager guarantee applies so if you are not happy with the helmet you can return it within thirty days for replacement item or a store credit note. Even better, they have a Crash Replacement Guarantee offering free replacement if your helmet is involved in a crash during the first year of ownership!
Price: $229
Bontrager RL Road Shoes
The size 46 shoes tested here feature an extra-wide last and weighed in at a respectable 323g per shoe (including Shimano yellow cleats).
The mid-range RL uses the same carbon last as their top-end RXXXL model, providing a good stiff platform for your feet and efficient power transfer. There's a removable inner sole for those who prefer their own or orthotic inserts.
The micro adjust buckle has an interesting mechanism allowing reduction in tension of the main strap by 1.5mm per click. Two pawls side by side engage the stepped strap alternately as tension is increased or decreased. Pushing one side of the buckle releases the pawl lock and the strap loosens, slipping back that 1.5mm to engage the alternate pawl. There are also two velcro straps across the toe and bridge to provide a comfortable secure fit.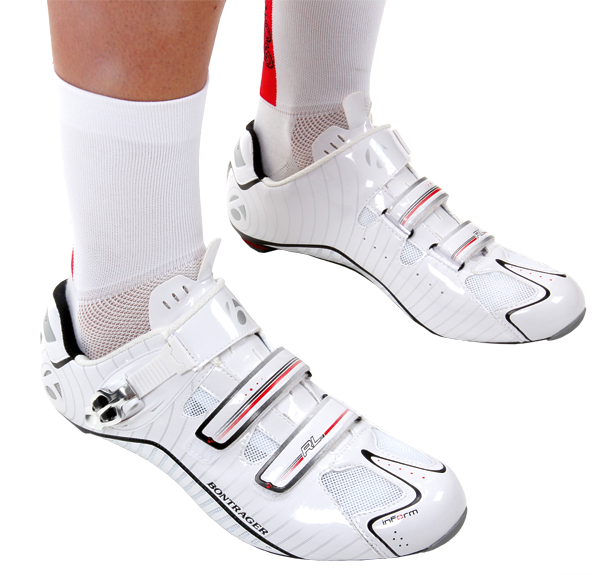 Ventilation of the shoes is adequate with mesh panels above the toes and along both sides of the shoe allowing the breeze in. The heel grips are replaceable should you walk enough to wear them out. They're available in either black or white – white shoes can become grubby and old quite quickly but happily, cleaning these shoes is a cinch; grease and grime wipes off the high gloss finish in a flash, leaving them looking like new.
Not surprisingly, a major international brand like Trek won't risk its reputation on poor quality products, so even if you don't like the style, all the Bontrager products tested here are well made. And as with all Bontrager gear the RL shoes come with a 30 day satisfaction guarantee. They boldly state, "Ride it and love it. If not, we'll take it back." It says a lot about their confidence in their products, don't you think?
Price: $239