Shimano have announced a major update of their S-PHYRE cycling shoes with the RC 902 launched today.
Introduced in 2017, Shimano's S-PHYRE Road Competition racing shoe has been a popular choice and earned a solid reputation. Shimano say the new 2021 version takes the design "to the next level" by focusing on three areas – function-specific zones, power transfer optimisation and engineered fit.
The S-PHYRE range include reinforced micro-fibre leather, replaceable heel pads, low-profile BOA dials and a Dynalast fit.
"By studying the pedaling dynamics and foot movement (we were) able to create function-specific areas of the new RC902 shoe," say Shimano in launch notes. "This solves an engineering puzzle by using reinforced mesh and leather upper materials in layered ways to maximise fit, rigidity, flexibility/elasticity and breathability."
"Aside from using SHIMANO's maximum level 12 carbon fibre sole, power transfer has been optimised through the use of the RC902's new anti-twist stabilizer heel cup shape.
"Foot movement and pedaling studies of professional-level riders were analysed to discover the forces exerted during explosive accelerations. This resulted in a redesigned heel cup featuring a combination of flexible and rigid materials built to handle the intense twisting forces caused by explosive accelerations."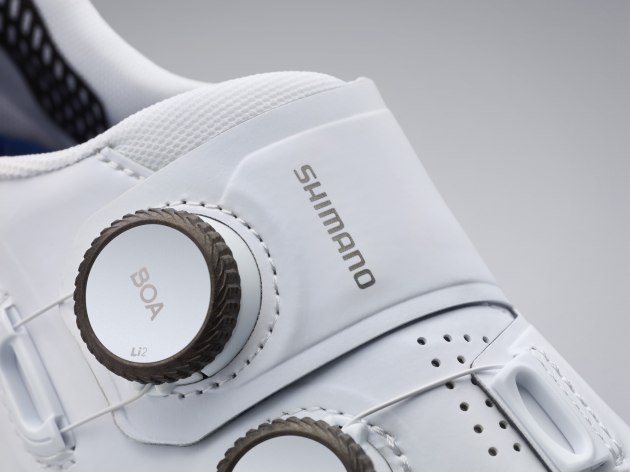 Shimano say the engineering helps create the perfect fit across all size variations including regular sizes, half sizes, wide sizes.
A new 360° Surround Wrapping Upper wraps the foot in a supportive cocoon from the upper all the way around the outsole to "provide remarkable holding power and supreme comfort for all riders."
The RC902 closure system uses the BOA Fit System Li2 dials with two-way adjustments and features 'Silvadur' stay-fresh treatment.
In size 42 the shoe weighs 235g and will come in sizes 38 to 48, with selected half size & wide options and four colour variations and in blue, black, white or red.
The SHIMANO S-PHYRE RC902 shoe will be available in stores in October with an RRP of AUD $549.95.