The E7 GPS computer on review is the new top model from Xplova, a Taiwan-based GPS company. The E7 computer is a recording device as opposed to one that provides routes, mapping and navigational direction. It won't tell you where to go, but like several other GPS computers on the market it records GPS data to track your location and progress through a ride for subsequent uploading to your home computer.
Physically the E7 is a boxy unit, 55mm square and about 20mm in height. It has a glossy chrome and black finish compared to the flat muted greys of other brands, and the display is clear thanks to sharp LCD pixels, with an easily adjustable three-level backlight (on/low/high).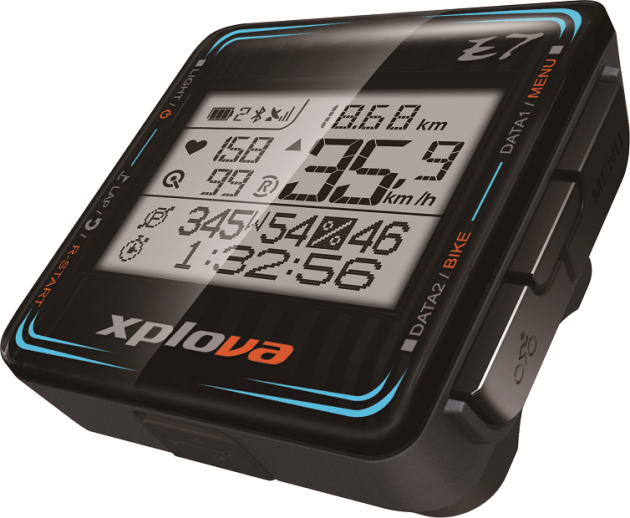 The Xplova can also provide real-time tracking of your location via the Internet using an Xplova designed app they've called 'Meetup'. The app allows you to create events, invite friends and connect. With your smartphone connected to the E7 via Bluetooth 4 you can relay your locational information to the wider world. A variation on this feature allows you to follow your connected riding friends' locations on a given route; for example in a gran fondo event.
The E7 can be set up for three different bikes, each with its own unique ANT+ sensors (cadence, speed and power being the most common three). It comes with one sturdy mount, so mounting to other bikes will require buying extra units, and while it has a similar twist lock cleat, it is not a great fit with the Garmin brand mount, but will fit on two aftermarket mounts we tried. I found the device was simple to pair with my existing ANT+ devices, including heart rate, power meter and speed/cadence sensor. There are six spaces for the ANT-ID, meaning the E7 should work with the latest ANT+ sensors that employ a six-digit code.
Simplicity is one of the strengths of the E7 because it doesn't have many options for configuration. Almost all possible data is displayed on the screen at once, which does make for a busy screen and some tiny numbers – non critical numbers though e.g. the small window in the upper left presents battery charge level, GPS signal strength, bike ID (1, 2 or 3) and Bluetooth status. The remainder of the upper half of the screen shows heart rate, cadence, speed, odometer, recording status (currently recording, or not) and speed comparison (showing whether current speed is above or below average speed). A flick of a button can change this upper display to average values or maximum values. The bottom half cycles through several different screens that reveal power and interestingly left/right power balance—which is not usually available on meters in this price bracket, time of day, slope of hill, total ascent in ride, elapsed time in ride and calories burned.
There is also an auto-pause function that is adjustable to a point – you set the speed below which the recording ceases, but it is not possible to turn off the auto-pause. The unit has no manual start/stop button – it starts and stops automatically when you start to move, or stop moving. I'd prefer to be able to stop and start the timer when I like and think this limits the E7 for racing and training purposes. However it makes some sensible decisions for you without any input (eg starts a new ride file if there is a long gap since your last ride ended) and will likely suit most users.
Like almost every GPS company, Xplova has a website that accepts uploads from their devices and presents the ride data in a map with accompanying graphs and statistical data. This website can be linked to Strava if that is your thing – and this is the easiest way to get your Xplova data into Strava, as Strava won't accept the proprietary file type Xplova creates (ie it's not a gpx file like many GPS units).
The E7 provides good data for the bunch rider interested in their ride stats; elapsed time, average and maximum speeds, gradients, capturing GPS routes, power etc. The Xplova hardware is simple to use, has a quality feel about it, and seems to work well. The social interaction phone app is interesting and while this aspect did not appeal to me it may have a bright future for some. I wouldn't hesitate to recommend the E7 as a viable option and worth consideration for people in the market for a cycling GPS device. 
Specifications
RRP: $320.00
Distributor: Biobike www.xplova.com