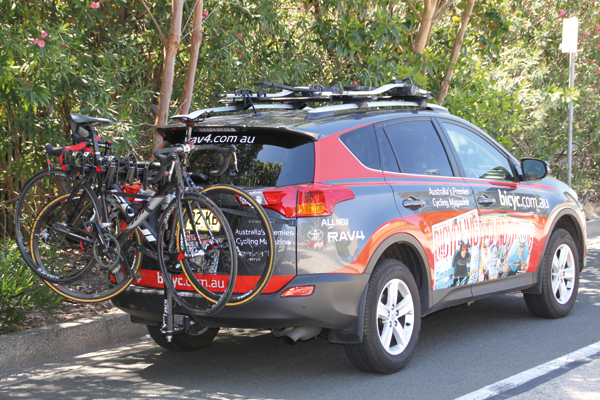 Another option for racking your bike on vehicles is the Zero 001; it's a tow ball mounted 'top tube hanger' type of rack with two widespread solid arms that can accommodate up to four bikes.
The rack is reasonably quick and simple to attach to your tow ball. The post has a bell-housing at the base that slips over the tow ball and is clamped in place with three high tensile allen key grub screw style bolts. These bolts tighten directly onto the base of the tow ball head. A large allen key is supplied along with a section of pipe to extend the allen key for final tightening which results in a very secure mount. In addition to the three bolts there is a pair of straps attached to the rack's main post that secure into the gap around your boot lid or tailgate to stay the top of the post. Once the side straps are on there's no movement regardless of any slop in the tow ball or hitch tongue—though there is usually a grub screw bolt on your towbar to take out this play—the rack is rock solid.
The arms that carry the bikes are secured in the horizontal position with a pin though the hinge, and easily swing down when not in use and are locked vertically again with the pin.
The arms each have four firm rubber seats (80mm wide) that cup each end of your top tube. The arms themselves are set 250mm apart. Plenty of tough stretchy rubber straps are included to fold over the top tube to hold your bike securely in the rubber seats. You can use two straps at each end of the top tube so the clamping force is spread over a wide area and any sway of the hanging bikes is checked by another strap. One of the considerations of these types of multiple bike carrying racks is potential damage either from the clamping mechanism on the rack damaging super-light top tubes, or other bikes on the rack swinging during transit and perhaps inflicting some damage with pedals or bars. With a little care and attention to securing the bikes when you load them you can avoid any concerns with damage to your frame.
RRP: $169.95
Distributed by Sheppard Cycles Australia