As veteran pro Alejandro Valverde was storming home to a solo victory of the Tour of Murcia in Spain, his years of professional bike handling experience were summed up in a split second.
Making his way down a descent at speed the Spaniard spots a rough patch of road, possibly containing loose gravel, just ahead.
He instinctively gets out of the saddle and smoothly bunny hops his bike across the questionable section of road.
Breaking clear of the peloton with 60 kilometres of the 182km race to go, Valverde went on to win the race in just over 4 hours! That's an average speed of just over 45kp/h which was incredible in itself, but everyone was talking about 'that' bunny hop.
How To Hop Like A Pro
As Valverde so smoothly demonstrated, the bunny hop is one of the more useful techniques to help a rider stay out of trouble.
To get the low down on how to hop like a pro, we spoke with Jake Kauffmann who's well-known for his bike handling and bunny hopping skills.
Kauffmann is an accomplished rider & racer, having been signed to a number of teams including Budget Forklifts and Canadian continental team Garneau – Québecor. He rode for the NSWIS (New South Wales Institute of Sport) cycling team and won the sprinter's jersey at the 2017 Jayco Herald Sun Tour.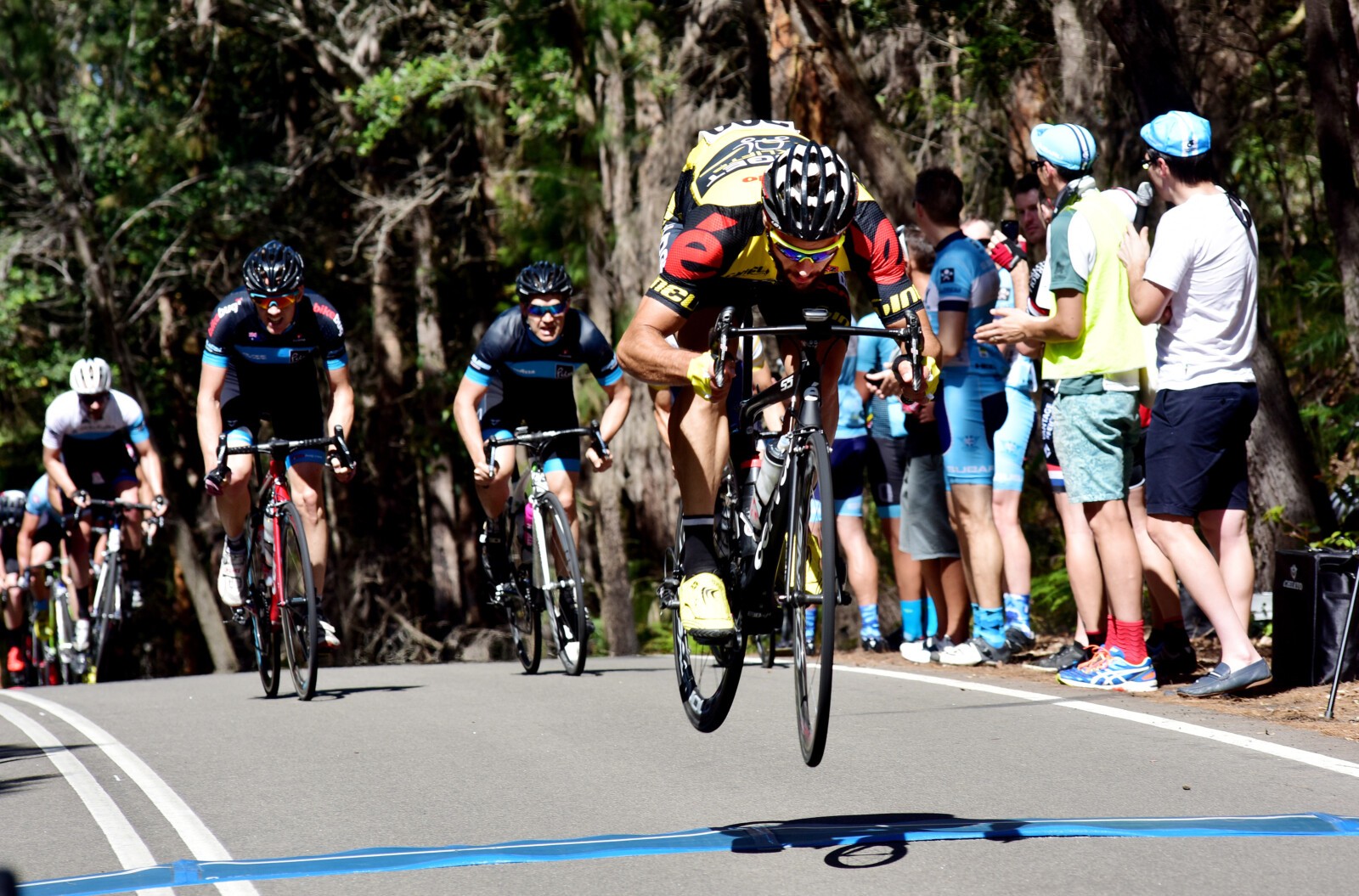 We asked Jake his advice on bunny hopping your way out of trouble, be it an obstruction on the road, a gutter, tram or railway tracks, a branch, stick, or patch of gravel like Valverde had ahead of him in Spain.
Pro Tip: You don't have to complete the full bunny hop process at first – just step by step then, over time, bring it all together.
Step 1:
Identify the object or rough piece of road you need to hop over. Look up and forward to where you want to land, do not stare at the object you're trying to avoid.
Step 2:
Grip the bars, bend your elbows and knees to 'load' your muscles and activate your core. Start by lifting the front wheel.
Pro Tip: Only bunny hop with correctly inflated (high) tyre pressures and always land on your rear wheel.
Step 3:
Push up with your knees and elbows to begin the upward movement and create the momentum that will carry you and your bike off the ground.
Step 4:
When nearing full extension of elbows and knees, quickly pull them up by bending again, pulling your bike up toward you as you continue with upward momentum, lifting off the ground.
Pro Tip: You will have more control and lifting power if you complete the action with your cranks in the parallel position.
Step 5:
Keep your core activated and eyes looking to the road ahead to keep tracking straight in the air and ensure a controlled and safe landing on the rear wheel. Remember to keep your knees and elbows 'soft' on landing to absorb the impact.
Landing with locked elbows or knees will cause your bike to buck and send your weight off to the side and /or turn your handlebars unexpectedly.
Have you ever had to bunny hop your way out of trouble? Share your story in the comments below.