Tailfin's AeroPack Carbon integrated rack and pack system has become de-rigeur for ultra racing and bike packing, but is it worth the hefty pricetag?
Like so many cyclists I was banging at the virtual doors to buy into that "iron cowboy" dream of bike packing, but I soon found that the bag & roll set up was more roll than rock.
The main issue with bigger bike packing seat pack systems is that no matter how tight you strap them they will swing around like James Brown on ice. Yes, there are now other options and frames that can be added to reduce this unnerving jive, and also even smaller packs – but are there better ways to go about it?
Over the years I've tried in vein with cumbersome mounts and systems to add racks to bikes without them, but gave up a while back – until I saw a Tailfin AeroPack whilst photographing an ultra race.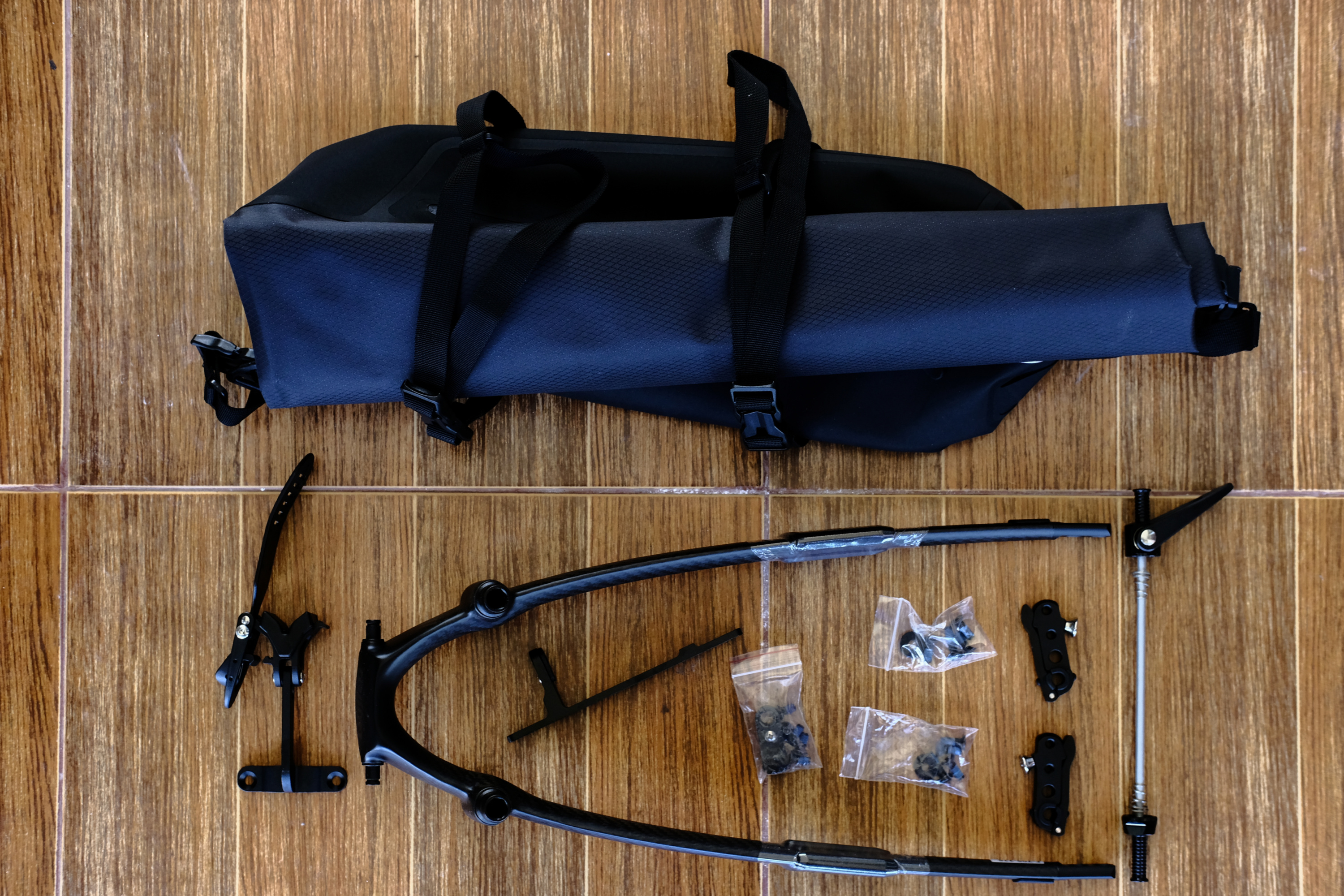 Tailfin is a small and passionate UK based company, and their products have taken the bike packing and ultra racing world by storm, with the likes of Lachlan Morton listing amongst their development team.
The AeroPack comprises of a carbon fiber arch that attaches to an integrated top rack and a roll top waterproof pack. Load capacity is a fair bit more than that of a large bike packing seat pack, only with being top loading it's far easier to open. The pack also has a bottom zip for easy access, plus a small side pocket for essentials.
An extended quick release racket clamp attaches the rack to your seatpost, while there are various options for mounting the arch to your frame, with the aluminium quick release ends and a dedicated skewer or through axle being the best option. Once assembled the hinged AeroPack can be attached and removed in just a few seconds – a simple and yet practical engineering masterpiece.
In use the system is rock solid; there is no sway, flex, clunking or rattling. This is a premium product, and quite possibly the best there is, although it also has the price tag to match, which is justified by performance and quality – if you need and can afford it.
I went for the carbon version with pannier mounts, as it opens things up to bigger adventures in the future, and also to the ever-evolving Tailfin line up of accessories that can mount to it.
For me this is a game changer (I can also carry a real tripod), although in hindsight the cheaper ($145 less) aluminium version could work best for me, simply because I will also use it on an MTB and for travel, where being bombproof triumphs over weight gains.
Having dealt with the company I can say that their customer service is excellent, as is their product, although for the foreseeable future it will only be available by mail order from Tailfin in the UK.
Check out their website, it is a mine of practical info, and their warranty and replacement options are very fair too.
Tailfin AeroPack Carbon Fast Facts
Price AU$700 (including QR mounts and skewer).
Weight 850g including QR mounts (plus skewer and straps).
Bag 430mm x 160mm (back) tapering to 127mm (front).
Carbon fiber arch, waterproof roll top & aluminium mounts.
9kg (20L) top bag load capacity.
More at www.tailfin.cc