Barely a day goes by without at least one impressive new release from the world of cycling – here we take a closer look at several new products from the past two months.
New Orbea Orca
The new Orca from 100+ year old Spanish company Orbea isn't just light, it's rediculously light! In the updated model Orbea have unveiled a 6.6kg specialist climbing machine to help you reach the top quicker than ever. They have honed and refined the frameset to improve vibration absorption, stiffness and handling.
With the Orca, Orbea prioritises lightweight construction by utilising round shapes and tube profiles in their frames. This approach not only ensures high stiffness at minimal weight but also eliminates sharp edges, simplifying the manufacturing process.
Sharp corners are notoriously difficult to produce reliably, often necessitating more fiber and resin for strength, consequently increasing the weight. Orbea's dedication to this philosophy is evident across the bike – from the round seat post, seat tube, seat stays, and down tube to the front, featuring round shapes at the junction of the head tube, down tube, and top tube.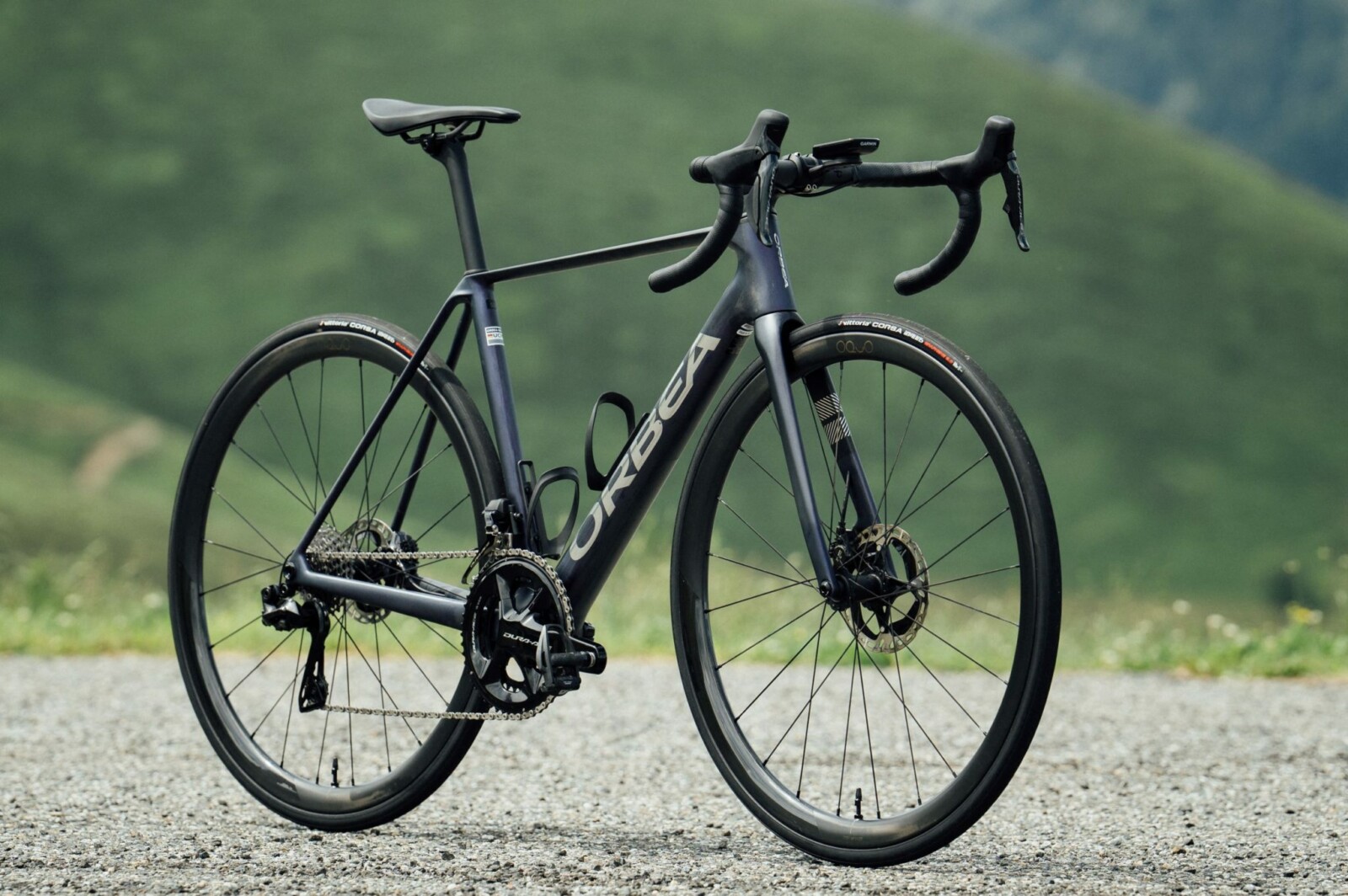 Equipped with Shimano DURA-ACE Di2 in size 53, the new Orca weighs a mere 6.64 kg, showcasing its commitment to a perfect balance between weight and performance.
High-performance and timeless, with all the customisation options of MyO, never has so little looked and felt so good. Orbea proudly boast that the bike is 'the ultimate climbing machine' with the heavenly claim, "Praise the light!"
More at www.orbea.com/au
Garmin Rally Power pedals
Garmin has released the Rally RS100, a single-sensing power meter pedal that delivers reliable power measurements from the left crank.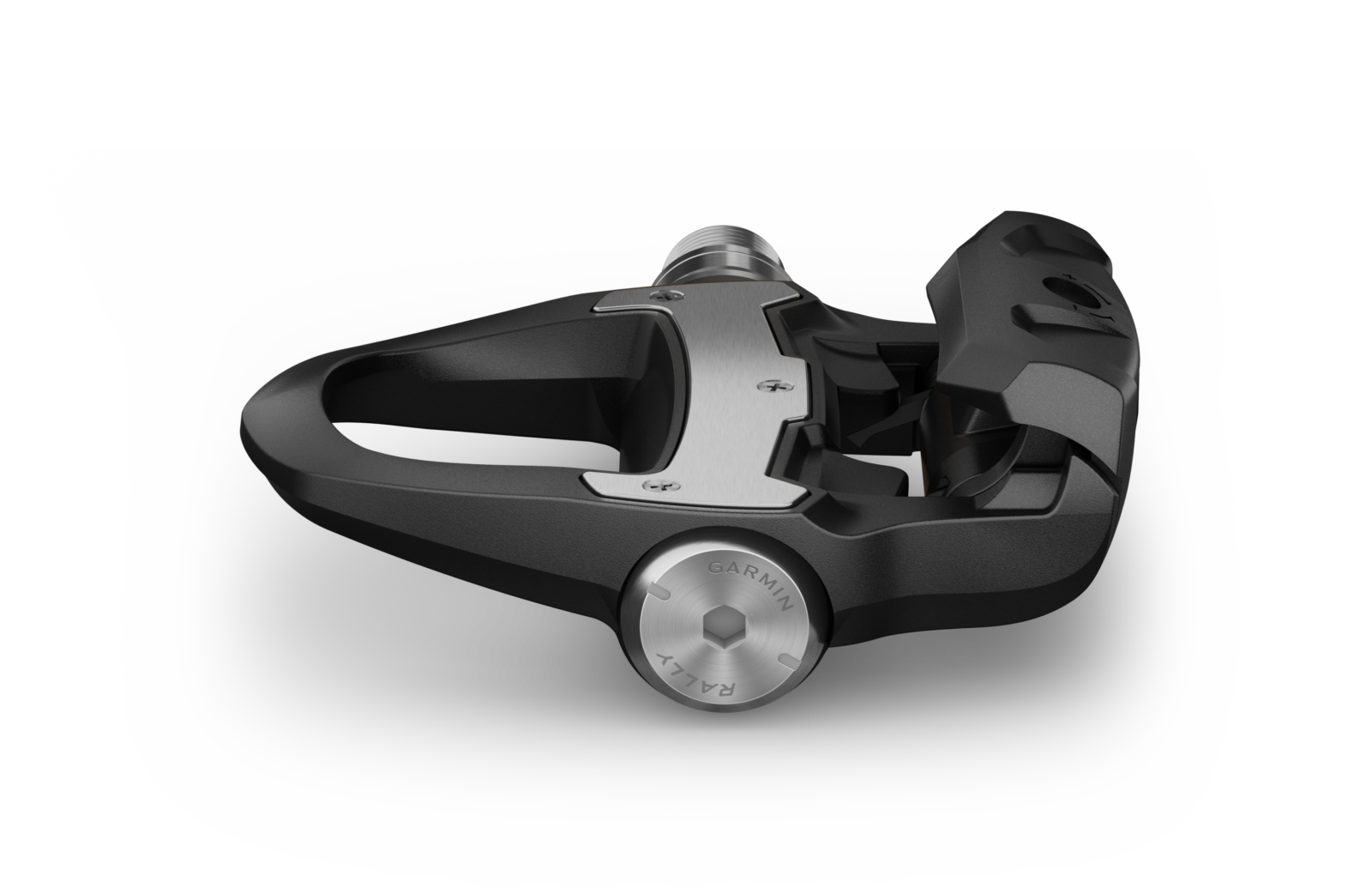 With accurate power measurement and the advantage of being able to be simply switched bikes, the pedal is expected to be popular, particularly considering a price point of around $1000.
"It installs like any other pedal and is easy to swap from bike to bike," say Garmin.
"Take a deep dive into your performance by measuring power and cadence."
The pedals are compatible with SHIMANO SPD-SL cleats and connect seamlessly to Garmin's Edge cycling computers (and others) via Bluetooth and ANT+.
The rechargeable Rally power pedal has a battery life of 120hrs and is expected to retail for $1099.
3T And Classfied
Long-time proponents of the 1x drivetrain, Italian manufacturer 3T have launched their new Strada model. Yes it's a 1x, but it combines the unique Classified Powershift hub and R50 carbon wheelset with SRAM Red AXS to offer the ultimate performance and all-round capabilities.
The result is a super-fast and aggressive 1x bike with a hidden 2x transmission. With the ability to run a bigger single chainring coupled with a larger cassette on the rear, Classified can further increase the efficiency of the 1x frame.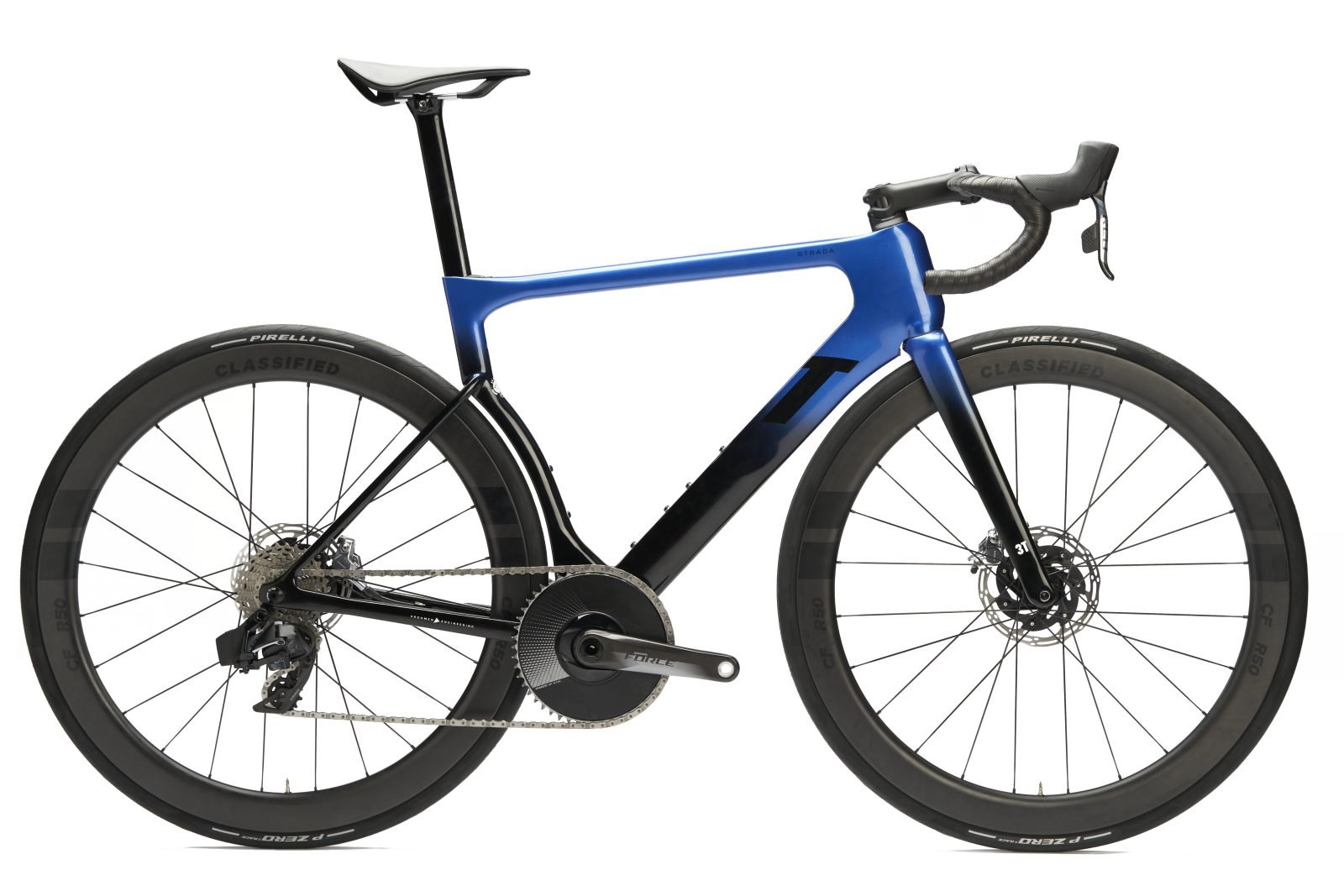 3T says this makes the Strada "the perfect weapon for fast flats as well as tough climbs, all in the same bike."
3T have also recently appointed a local representative – industry veteran Julian Green is now heading up Australian sales for the Italian brand.
For more visit www.3T.bike
Lonely Planet Launch Epic Bike Rides of Australia and New Zealand
Lonely Planet have announced the release of its latest epic title, "Epic Bike Rides of Australia and New Zealand."
This captivating collection of cycling stories takes adventure enthusiasts on an extraordinary journey through over 150 awe-inspiring rides of Australia and New Zealand.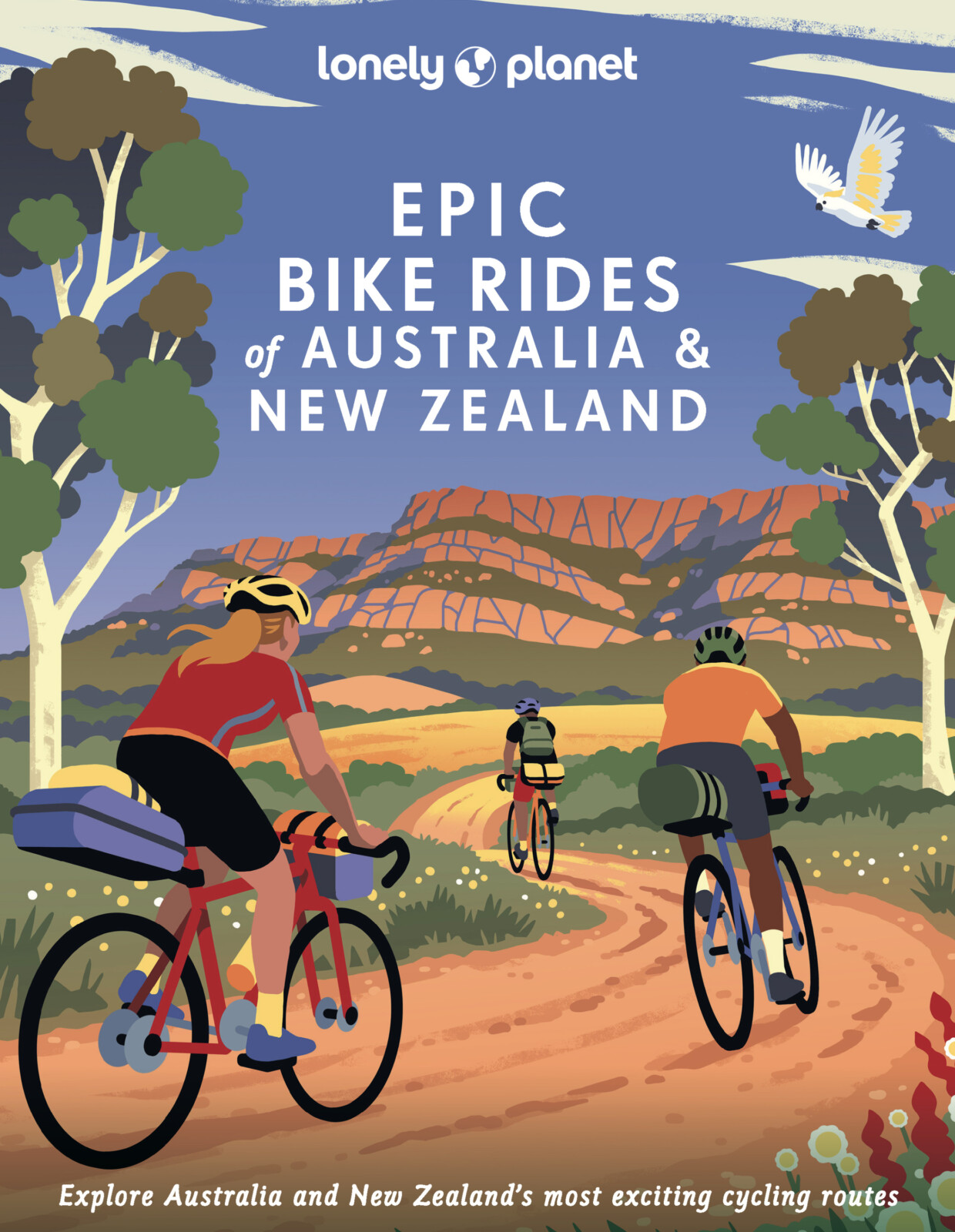 From the rugged Nevis Range in New Zealand, the mountain bike trails of Tasmania and Rotorua, a fun ride through Melbourne's inner-city laneways, a leisurely day jaunt on a family friendly rail trail,to the breathtaking Flinders Island in Tasmania, the book showcases the unparalleled beauty of each country's natural wonders.
Covering each state and territory in Australia, as well as the north and south islands of New Zealand, each adventure lets you immerse yourself in the local environment, escape the everyday and gain insights from experts who have peddled the route.
Push the boundaries of your comfort zone with stories like Sarah Pendergrass's remarkable 700km solo adventure into the Queensland Outback. Discover the joys of reconnecting with loved ones as Peter English and his family embark on an ambitious expedition along South Australia's Mawson Trail. Join Sam Elworthy and his adventurous crew on the Kōpiko Aotearoa journey across New Zealand.
Lonely Planet's Epic Bike Rides of Australia and New Zealand sells in AU and NZ for $44.99. Launching August 2023.
Available where all good books are sold or see www.shop.lonelyplanet.com
Camelbak Bikepacking Gear
Far better known for their backpacks, water bladders and outdoor equipment than cycling gear, Camelbak launched their debut bikepacking range at Eurobike in Frankfurt.
The range is named M.U.L.E. and consists of several fully waterproof bags. So impressed with the new release and their design, look, fabric and finish, CamelBak's On-Bike Collection received a Gold Eurobike Award for 'their seamless hydration-focused carry system for the trails less traveled.'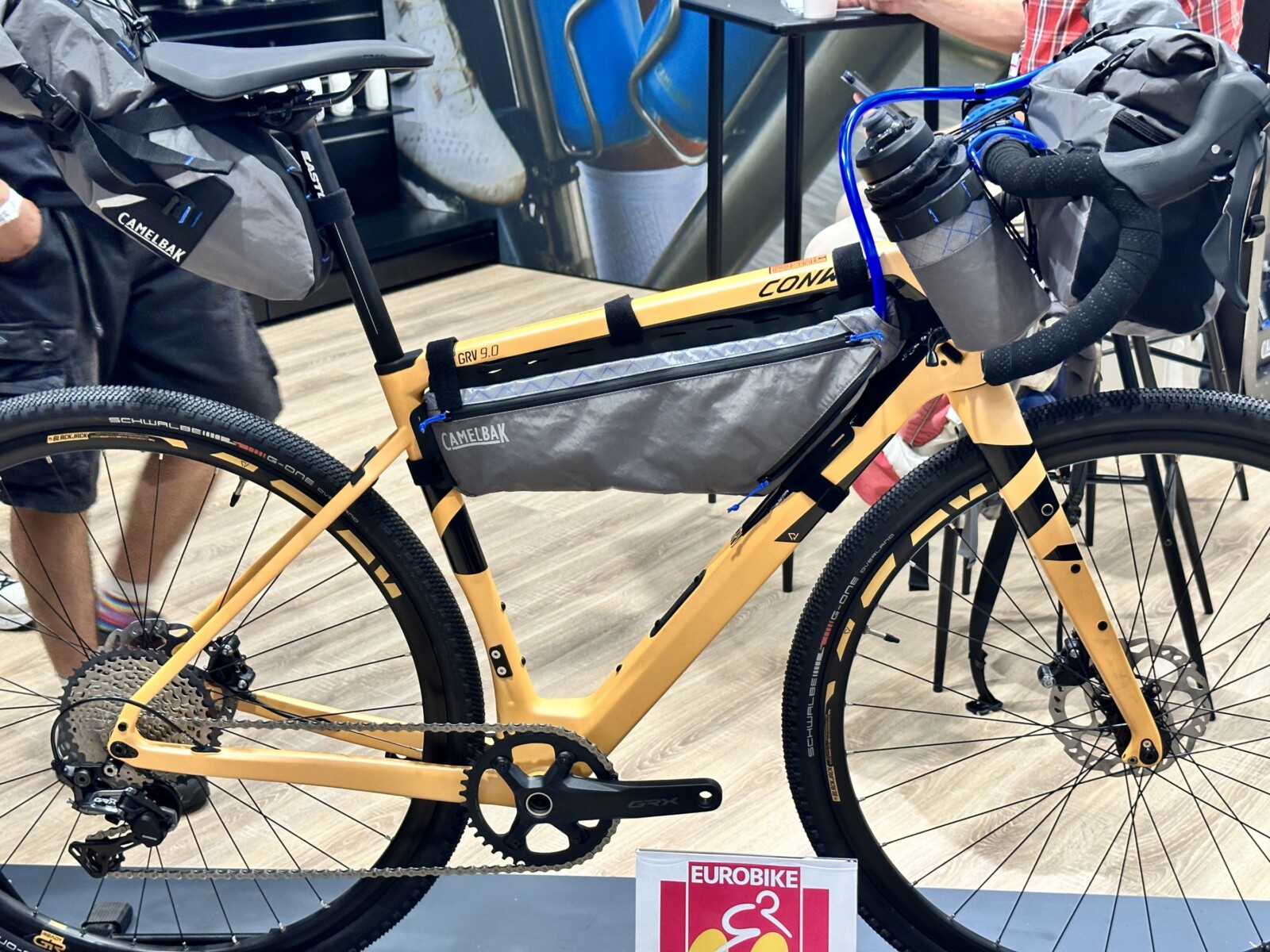 The M.U.L.E. On Bike Collection is scheduled for an early 2024 release with no pricing details currently available.
For more information visit CamelBak.com
New Merida Endurance Gravel
Also making its public debut at Eurobike in Frankfurt was the latest gravel-specific offering from Merida, the Endurance GR.
With the introduction of the new go-fast gravel machine, the bike sits alongside Merida's Silex to offer 'the right machine for every gravel rider and racer'.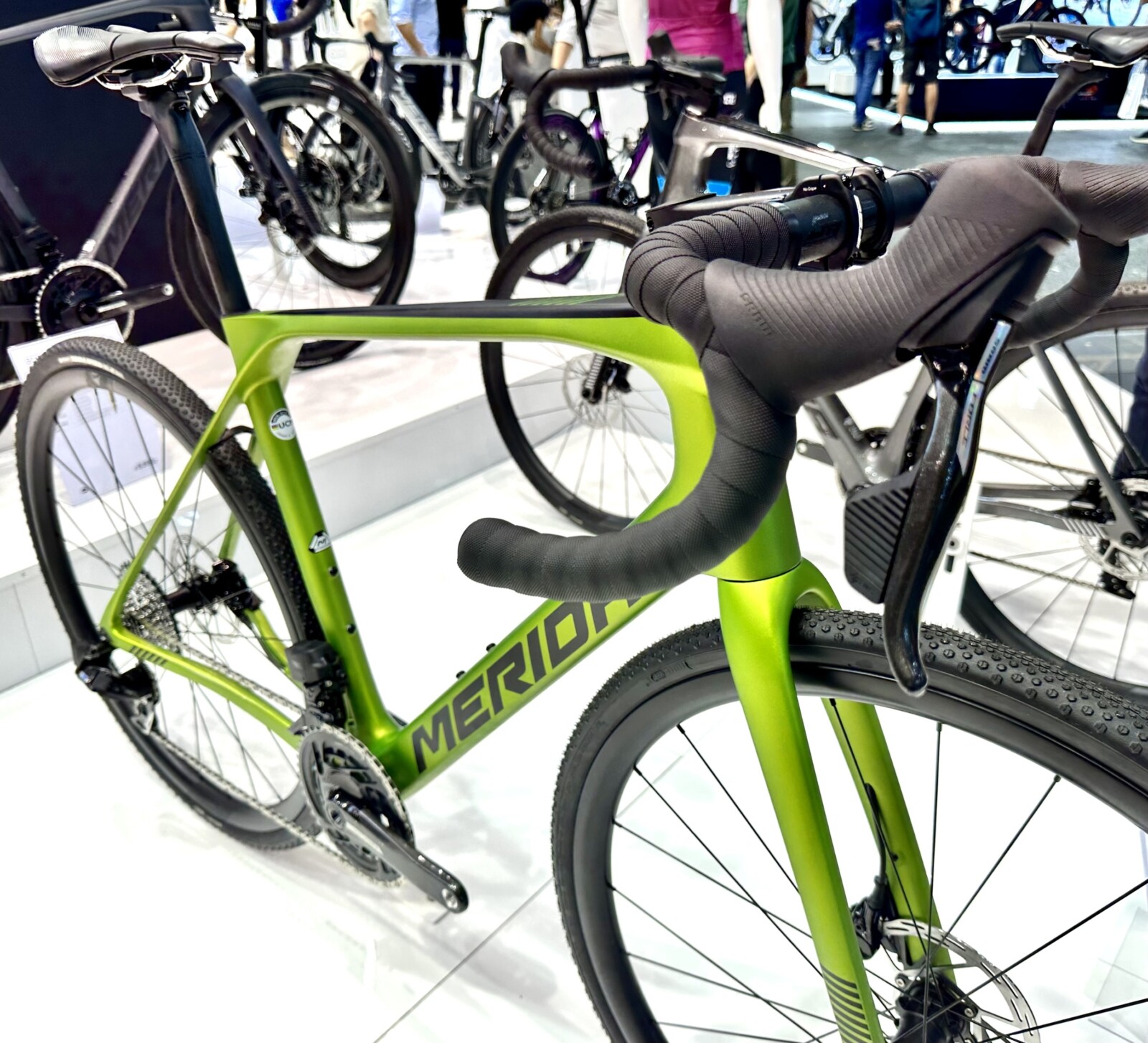 "The Scultura Endurance GR is for the race-focused rider tackling less demanding surfaces, and the hugely off-road capable SILEX ideal for adventure rides, bikepacking trips and more," a Merida rep told us at the show.
Comparing the Silex against the new Endurance GR, there's a considerably steeper head angle, shorter reach and a shorter wheelbase for better responsiveness and go-fast handling.
The new model is slick, streamlined and a great looking bike – it will take gravel race tyres of up to 35 mm and looks to offer comfort via the shape of its rear stays. We're in the lineup to review one – more coming soon.
Schwalbe Aerothan Tyres
Schwalbe has raised the bar (and more than a few eyebrows) with the teasing of a new range of ultralight road tyres, the Pro One Aerothans.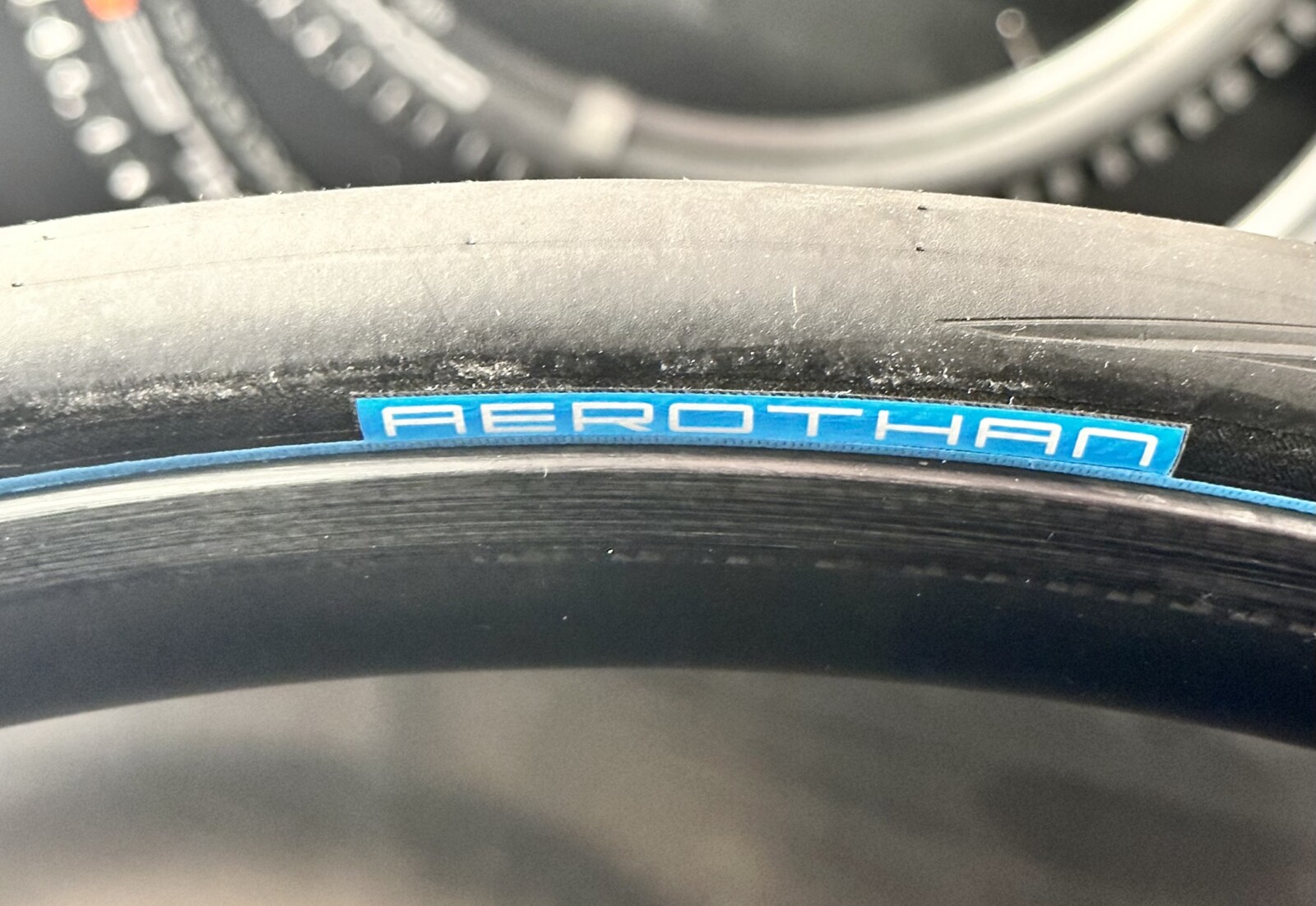 Tipping the scales at an incredible 165g each, the tyres have already proven themselves at the 2023 Tour de France where they were raced by both the Men's and Women's UNO Team X.
The tyres were on show at Eurobike, but kept behind a thick Perspex screen. What we do know is they're made of a composite polymer material, much like the company's super light Aerothan tubes. Traction and grip from that? Well, if the impressive Tour de France performance of Team UNO X is anything to go by, these are outstanding high-performance tyres.
Of interest, while ogling over the tyres at the Schwalbe stand at Eurobike, a very muscular German guy arrived, was quickly handed a pair of the tyres, and left. Yes, Andre Greipel is riding them … and if these 165g tyres are good enough for the Gorilla, well that will be a solid endorsement indeed.
A release date? We've been told anywhere from 6 to 18 months. Stay tuned and we'll keep you posted via www.bicyclingaustralia.com.au
New Factor 02 VAM & Wheels
Talking weight savings (or shavings?), Factor's new 02 VAM is so light you could easily imagine the bare frameset being hung by a couple of small helium balloons. An aero-optimised climbing bike – that's how Factor describe the update that was released in July.
Teased at Eurobike 2023, and raced at the Tour de France, the bike can be built to 6.2kg in size 54 with Dura-Ace Di2 and the company's new 28/33 wheelset (details below).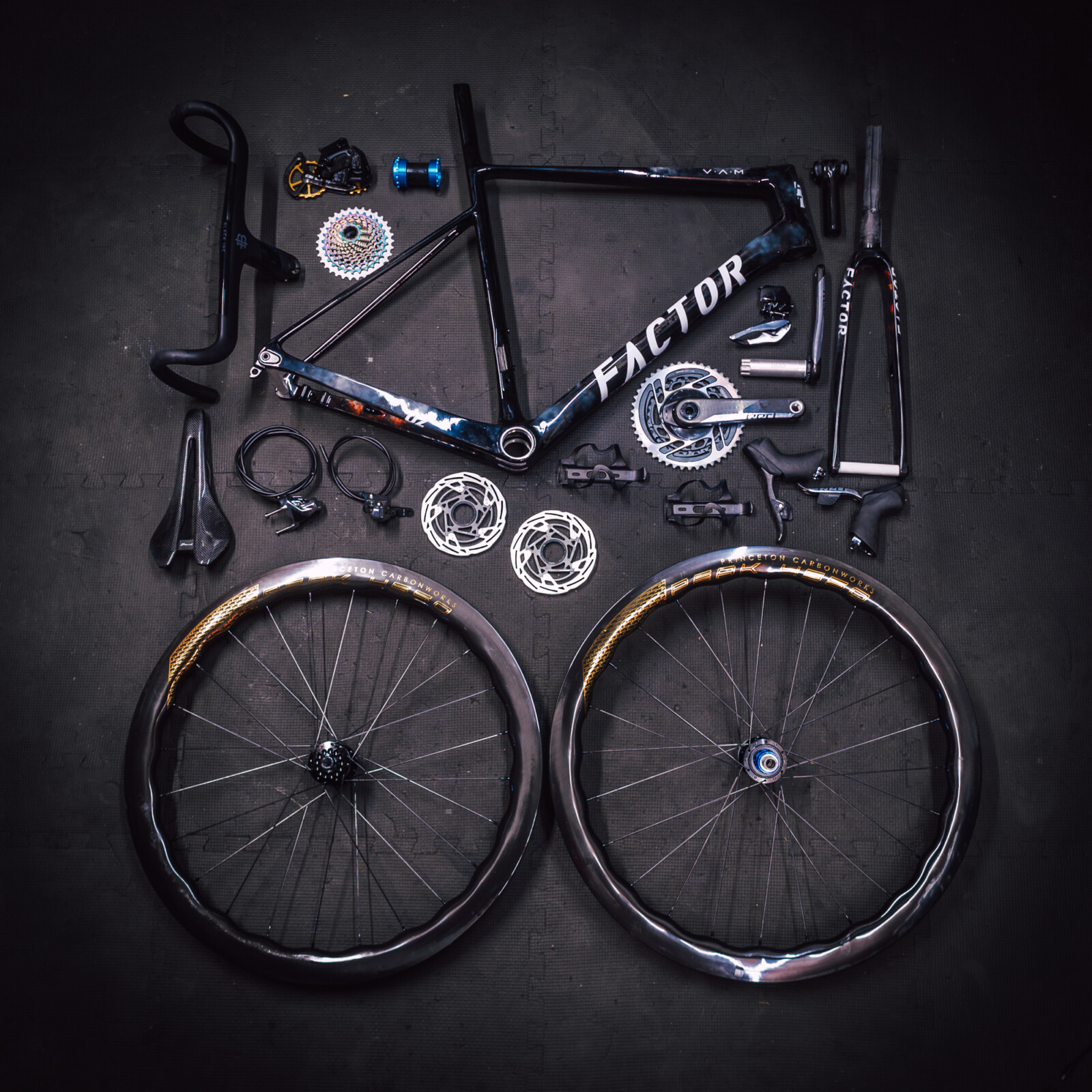 Key features include –
Complete bikes from 6.2kg
Frame weight 730g in size 54
12W faster than previous model, average +15/-15º sweep, 48kph
35% stiffer on average across all sizes
External seatpost
D-shape truncated aero profiles
Optimized for 28mm tires / can take 32mm
The company has simultaneously released new wheels that come with the bike or can be purchased separately.
The 28 / 33 wheelset weighs a feathery 1,146g as tubeless clinchers optimised for 28mm tyres. They feature differentiated front and rear depths of 28 and 33mm, measure 23mm internally and 28mm externally, and use exceptionally light and strong carbon fibre spokes.
The 28//33 wheelset is available from all Factor and Black Inc authorised dealers, as well as www.factorbikes.com and www.blackinc.cc
Tissot TDF Watch
The Tour may be over for another year, but this limited release from Tissot will let you live the Tour de France every day of the year.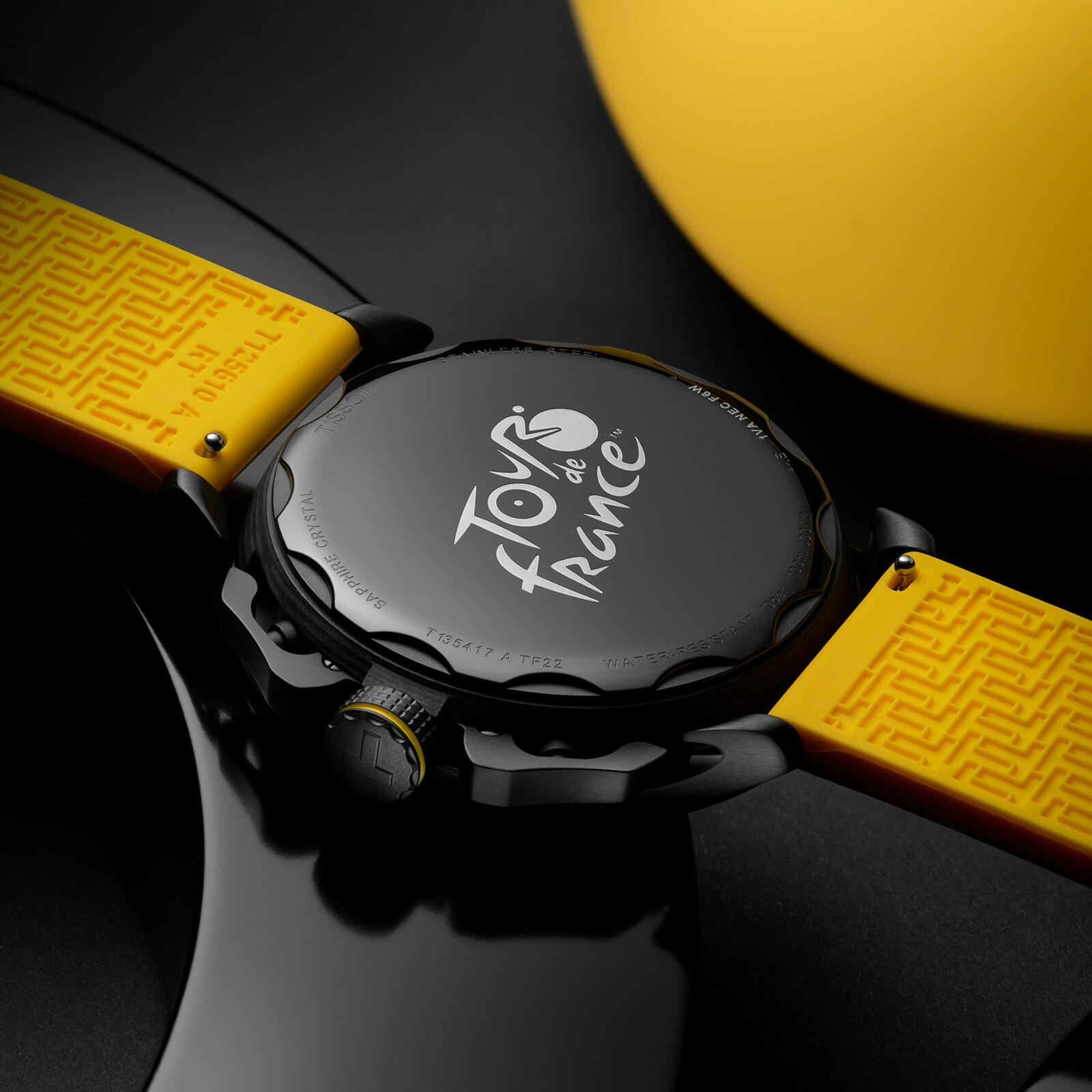 Official event timekeeper Tissot recently released the T-Race 2023 Tour De France edition.The perfect timepiece for cycling enthusiasts, the T-Race features a cycling-inspired design and an asphalt-grained 45mm dial along with the second hand in the shape of a bike.
The watch comes with a yellow silicone strap along with a stylish perforated black leather strap, both specially designed for cyclists.
The special edition Tour de France T-Race retails for $950 and is available – if you're quick – via www.tissotwatches.com/en
Lightweight Bike Bag From OruCase
The world's smallest and lightest bike travel cases – that's what Orocase say about their range that include the aptly-named Airport Ninja and their B2.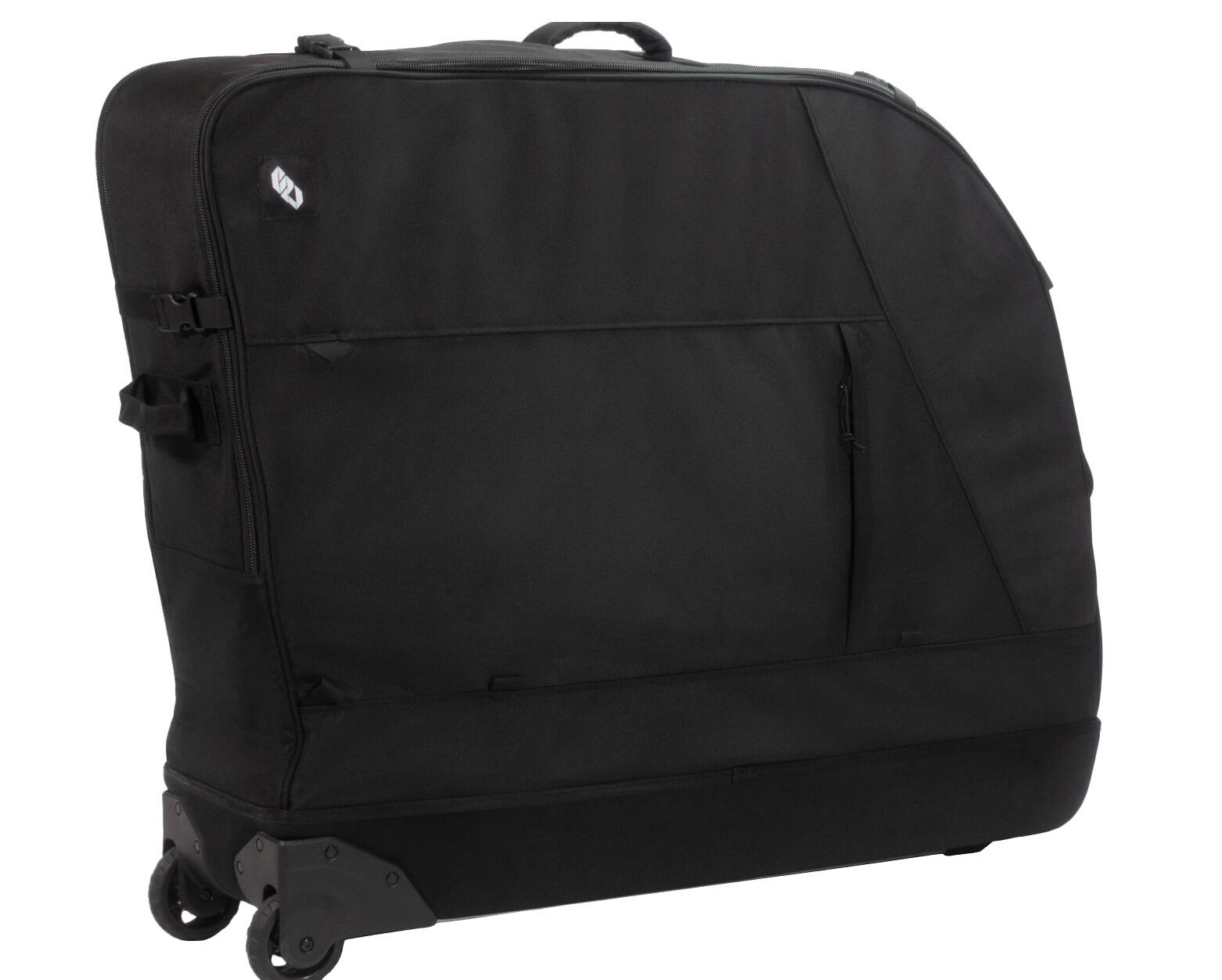 Orucase say their bags have been extensively tested by themselves plus tens of thousands of cyclists, and have amassed well over a collective 100,000 flights.
We are currently reviewing the company's B2 and can attest to its astonishing lightweight, the bike protection and security features, and its ease of portability. Being such a small soft shell case, it's also a lot easier to store when not in use.
"Packing the B2 requires only one additional step over a traditional bike case," say the company. "But this reduces the overall dimensions by two linear feet compared to a traditional bike case. Fifteen minutes of packing can save as much as $500 in additional baggage fees on a round-trip flight."
Our findings will be included in the detailed review in the next edition. In the meantime, more at www.orucase.com
The Apple Watch Gains Power
Apple have launched new cyclist-focused metrics available on the Apple Watch including the ability to synch a watch and iPhone to a power meter or other devices such as a heart rate sensor.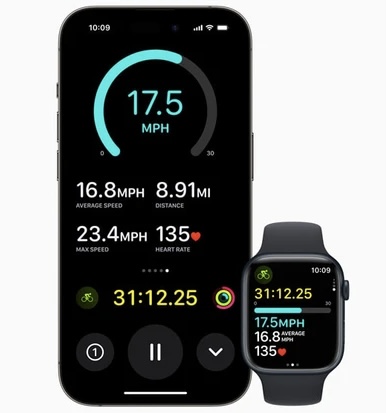 The updated Workout app in watchOS 10 adds more advanced features and will now automatically connect to Bluetooth-enabled accessories.
There's now also the option for Apple Watch cycling metrics to be viewed on an iPhone screen.
With a connected power meter, Apple Watch can calculate your estimated FTP. Other metrics include Current Power, Average Power, Segment, Split, and Interval Power. Cadence metrics include Current Cadence, Average Cadence, Segment, Split, and Interval Cadence.
We're yet to trial the new features, but Apple tell us when a workout is started from the watch, it will automatically show up as a Live Activity on your iPhone Lock Screen.
Tapping the Live Activity will take over the entire display of your iPhone, so the same metrics that are on your Apple Watch will be streamed to your paired iPhone, which you can safely and securely mount to your handlebars. Your metrics on the iPhone display are large and easy to read, and there are buttons for Pause, Mark Segment, and Menu.
More at www.apple.com
The Santa Cruz Stigmata
Santa Cruz have entered the gravel and adventure market with a unique offering, a bike named the Stigmata.
Better known for their impressive MTB range, this is the first drop bar bike released by Santa Cruz which is part of PON holdings, the parent accompany of Focus, Cervelo and several other major bike brands.
Dubbed a race, all-road, bikepacking, backcountry and free-road bike … it certainly seems cut out for any occasion.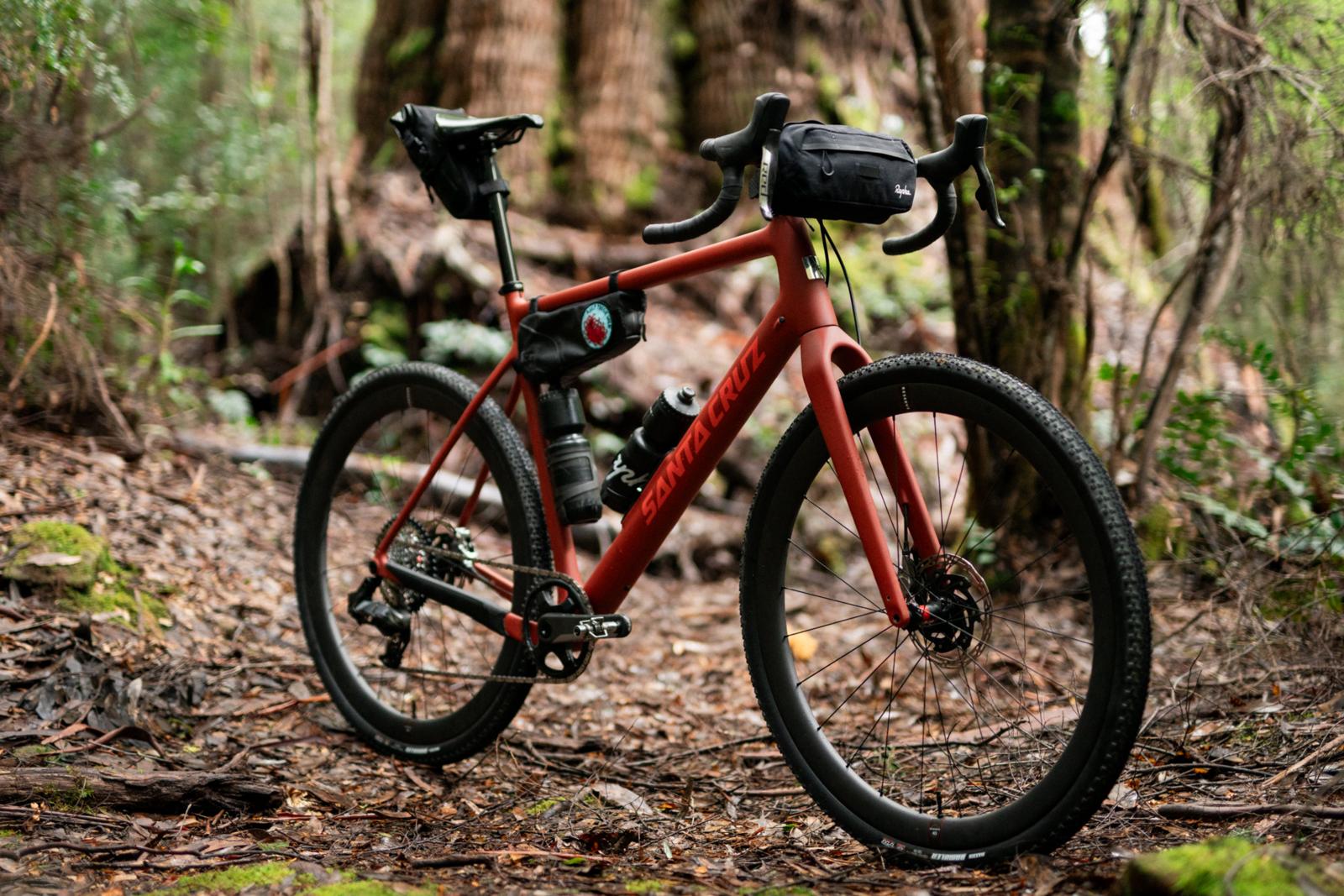 Santa Cruz say the Stigmata suits riders looking for 'new commute options, to escape the grind, escaper traffic, ride multi-surface free-roads, and for those who are happy to sometimes ride in baggies' – a reference to loose shorts, not necessarily skin-tight knicks.
The Stigmata is dropper post compatible, has up to 50mm of tyre clearance with 700c wheels, includes a downtube 'glovebox' and – in one variant – comes with 40mm of front suspension!
It looks to be a versatile and all-encompassing offering, a model that can be put together and customised in whatever way best suits the rider. Unique, left-field, fresh and exciting, we like it!
RRPs have not yet been released. More at www.santacruzbicycles.com/en-AU/dealers
MILO Outdoor Communicator
Communications start-up Milo have launched a small device known as the Action Communicator into the Australian market. Basically a hi-tech, re-imagined walkie-talkie, the small device enables outdoor enthusiasts to keep in touch with one and other during activities such as cycling, skiing, surfing, diving … pretty well anything.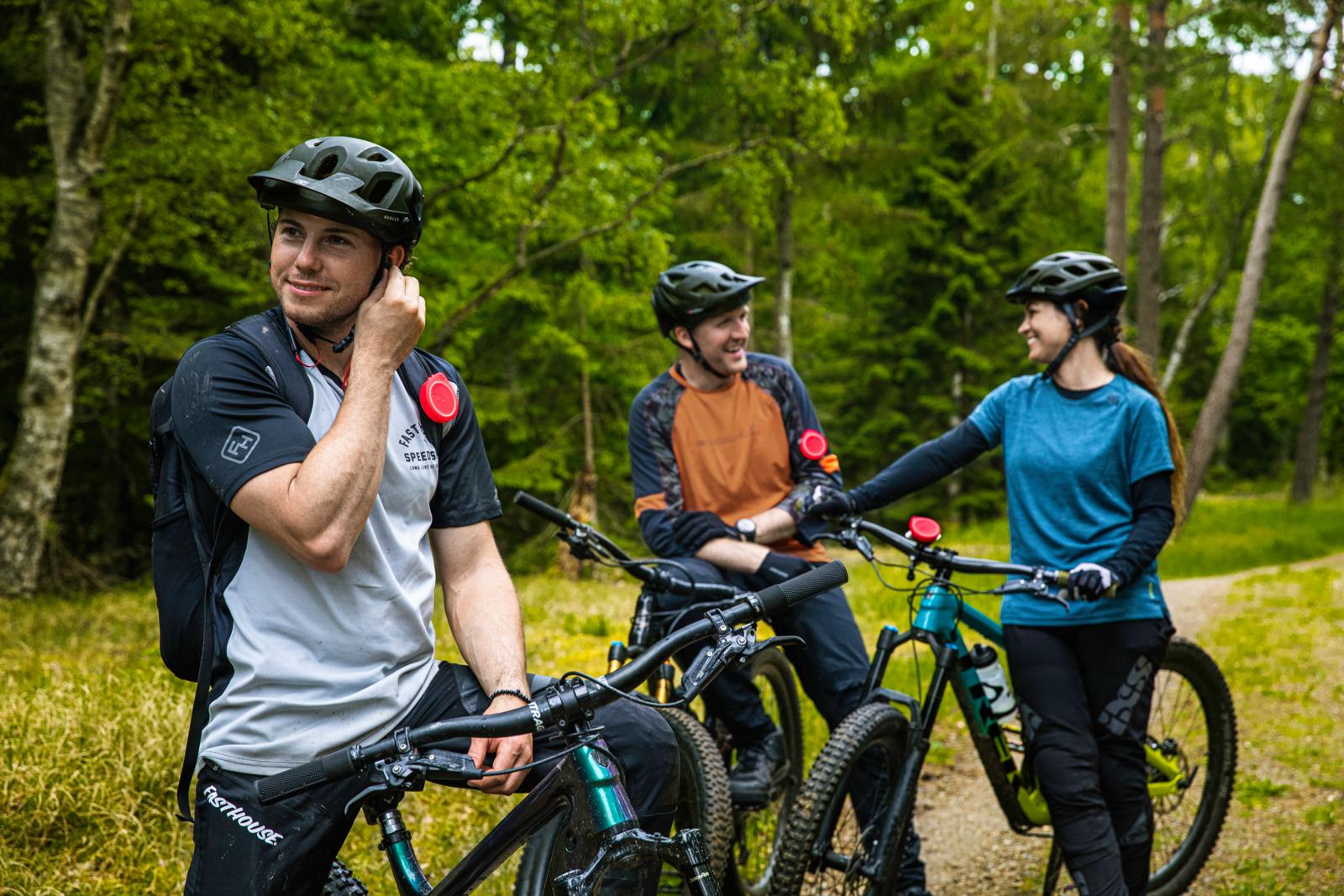 Designed in London and produced in Silicon Valley over six years, the Milo Action Communicator is a hands-free communication device that requires no network connection, allowing users to be in the moment while enjoying multi-way group conversations. The company say it has a range of up to 1500m.
The communicator doesn't need a sim card or phone signal, it's fully weather and waterproof, and boasts a battery life of 10 hours.
It's the brainchild of Australian-born founder Peter Celinski, who on a family ski trip was unable to keep up with his children on the slopes
Backed by a 2017 Kickstarter campaign, Milo generated USD$2.5 million in pre-orders within its first 37 days and went on to win Time Magazine's Best Invention Award and the coveted Red Dot Design award.
The Action Communicator is priced at $399 and now available for purchase online via www.okmilo.com/en-au/. We are currently testing it out and will have a review in the next edition of Bicycling Australia Magazine.