Bicycling Australia magazine has teamed up with Australian watch manufacturer Adina for an exciting competition with a $745 Adina watch up for grabs!
All you need to do to enter is post a photo from a bike-packing or bicycle touring trip on the Bicycling Australia Facebook page. We'll choose the best photo and announce the winner on Friday November 11.
Why an Adina watch? That's simple. Adina's an Australian manufacturer and the man in charge is a mad-keen bicycle touring enthusiast as you'll see here.
Adina Watches founder and CEO, Grant Menzies, loves nothing more than taking his family on cycling adventures they'll never forget. Riding across Europe, hundreds of kilometres at a time, the family carry all their own gear as they explore new places and share the excitement, passion and thrills only bike-based touring can bring.
"After many years of cycle touring, firstly on my own then with my wife, it felt like a natural progression to continue touring when we started our family, aka 'Team Menzies'," Grant told Bicycling Australia.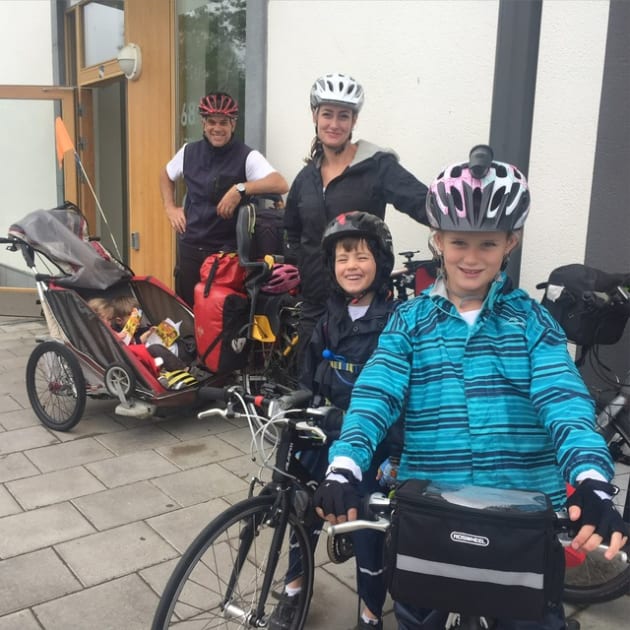 "Firstly, with Estella (14mths) in Croatia, then riding from Zurich, Switzerland to Amsterdam with Archie (10mths) and Estella (almost 3). Two years later we were on a 3-month, 3000km epic from Nantes, France to the Austrian capital Vienna with the latest additions to our team, twins Audrey and Clancy (10 months)," he said.
"Two years ago it was Geneva to Nice along the Rhone River, last year Hamburg to Prague along the river Elbe and this year we crossed Sweden and Denmark, beginning in Stockholm to finish in Hamburg, Germany."
Packing For A Family Of 6
Taking into account the family carry everything needed for the six of them – 6 sleeping bags and mats, 2 tents, cooking gear and all-weather clothing, on two bikes and towing a trailer each – and this is starting to read like a seriously epic adventure!
"Needless to say we turn a few heads," Grant chuckled.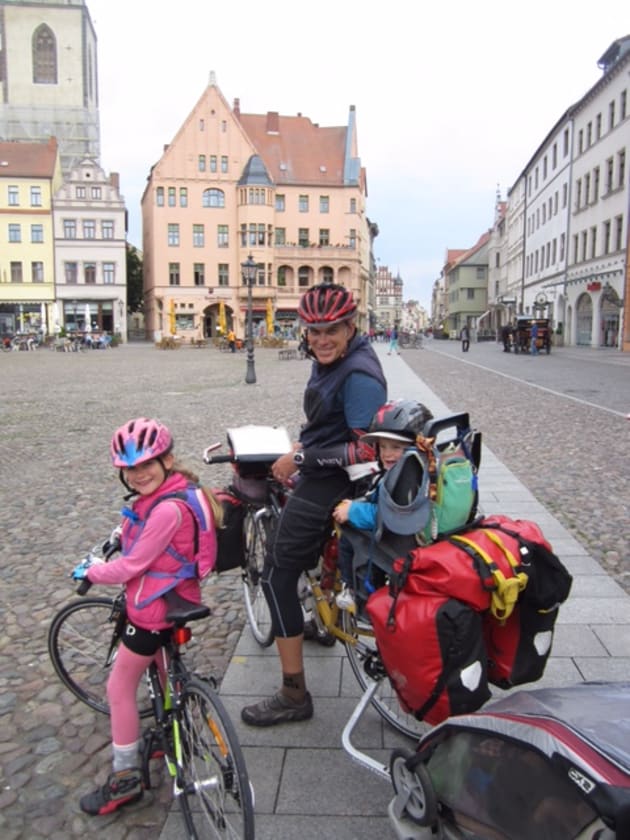 In 2015 6-year-old Estella decided she was going to ride the 906km trip completely unassisted. This year she went even further completing 1100km unassisted. Clearly a good influence on her 5-year-old brother Archie, he covered 500km solo as well!
"The motivation to tackle a journey across a country in this fashion partly comes from the incredible scenery," Grant continued.
"In part we've always enjoying the physicality of the day's ride and the feeling of achievement on reaching your daily goal. No matter what Mother Nature serves up, and the obvious euphoria on reaching your overall destination at the end of a trip. For the most part however, it's the ability to immerse oneself into a country and enjoy all its subtle nuances in its people, food, language and culture that are so often missed by the regular tourist."
Getting To Know The Locals
Bicycle tourists invariably make regular stops for food, water, directions – even just a rest or a stretch. Even the shortest of breaks opens the opportunity to further interact with locals of the various areas travelled. A great example of this was when the family made a brief stop at a supermarket in Orleans, France. An elderly lady asked the Menzies' where they were riding to and a new friendship was born.
"When she understood what we were doing she, without hesitation, invited us into her home for dinner," said Grant.
"She put us up for the night, all 6 of us, much to the delighted surprise of her husband," he added.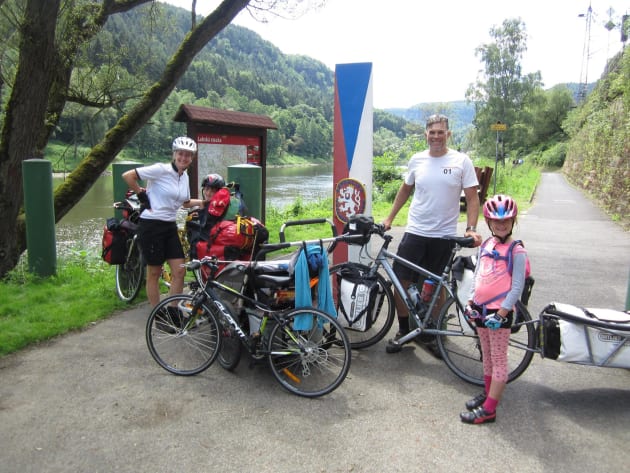 The key to getting the most out of trips, he said, is preparation and organisation. Grant said despite the challenges and logistics involved, the rewards were without peer.
"We have watched our children grow with an understated confidence, as they learn of castles and kings, mountains and rivers," he said.
"They make themselves understood, playing with the local kids and have even made international friendships. There are challenging times when you wonder why you are doing it but the experiences and interactions as individuals and as a family leave you sitting on the flight home pondering where next?"
Some of the Menzies' family bike trips include –
2016 Stockholm to Hamburg – 1100KM
2015 Hamburg to Prague – 905km
2014 Geneva, Switzerland to Nice, France – 940km
2013 Nantes France to Vienna, Austria – 3000km
2011 Zurich, Switzerland to Amsterdam, The Netherlands – 980km
2009 Venice, Italy to Dubrovnik, Croatia – 1065km
Win an Adina Watch!
Bicycling Australia and Adina are thrilled to offer you the opportunity to win a $745 watch, the same ruggedly stylish time piece Grant wore on his recent European adventure.
To win a Adina Mens 200m AMPHIBIAN Retrograde watch all you need to do is 'like' the Bicycling Australia Facebook page and post a picture from a bike-touring or bike-packing trip.
We will chose the winner on Friday November 11 and notify the winner soon after. Competition terms & conditions can be read here Adina Ts & Cs.