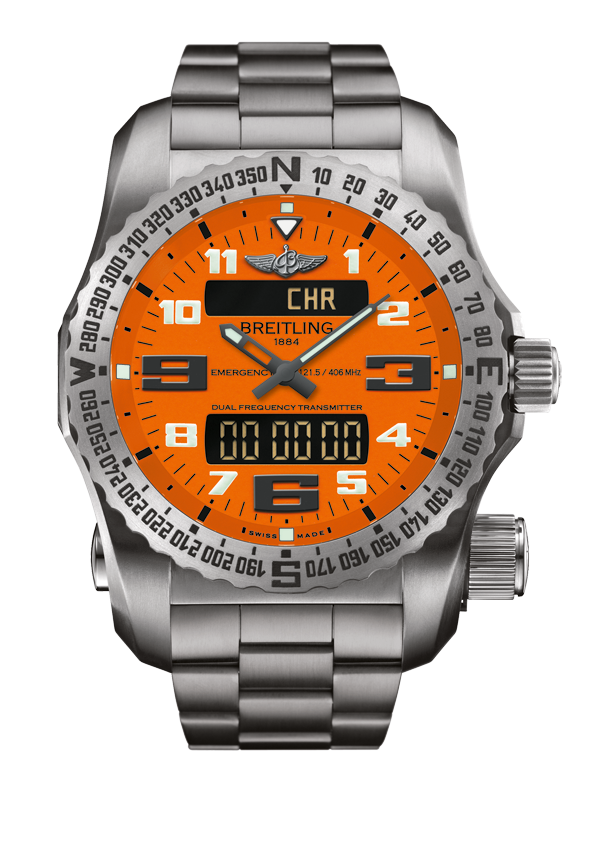 Breitling have a reputation for exclusive prestige timepieces; you'll possibly have seen the brand advertised in and around airports. Or perhaps emblazoned across the wings of extremist aero adventurer, Jetman Yves Rossy as he flew around Mount Fuji recently. Breitling's new Emergency II certainly upholds that reputation for prestige. It is the world's first wristwatch with a dual frequency locator beacon built in. It uses the Cospas-Sarsat international satellite alert system that will allow rescuers to trace your position in case of emergency on land or at sea. False alarms are not possible as the definite action of deploying the antenna is required to activate the distress signal transmission.
The Emergency II is intended for a wide range of users including those involved in aviation, navigation, climbing, trekking, hiking, exploration, extreme sports and cycling, all of whom may need to know the time occasionally, but also may find themselves in a spot of bother and require a helping hand.
The case is made from brushed titanium, and comes with a choice of three dials – Volcano black, Cobra yellow, Intrepid orange. This impressive unit weighs in at 140g without the strap, and will lighten your wallet to the tune of $19,000.
Distributed by Breitling.com