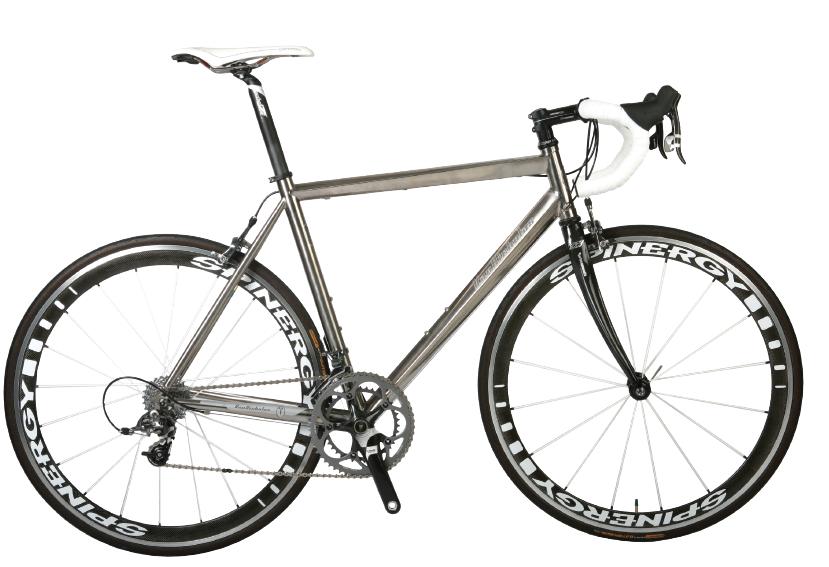 Van Nicholas are so focused on the properties of their product that they'll stand by it forever. They offer a lifetime warranty on each frame. Not the lifetime of the frame, your lifetime. They will also pay expenses if something goes wrong and if you crash it they will replace the frame for 50% of the current retail value. If it doesn't fit or the position is uncomfortable they will modify it for you within the first 60 days and once you receive it you have a 10 day money back guarantee. Lastly, should you want to sell the frame later on, you can send it back to Van Nicholas for inspection and if it passes they will issue it with a new warranty for the new owner. Not bad.
This is all very well, but how did it ride? In a word, great. You'll notice in this issue that I also rode a Ridley Noah and a BMC. On the equivalent loop, the Van Nicholas was only marginally slower than these two bikes and it costs considerably less. You could suggest that comparing a titanium bike with a carbon race bike is like comparing a Bentley with a Porsche and to an extent you'd be right. Well, maybe a Bentley is a bit unfair, let's say an Aston Martin. But the point I'm trying to make is that just because ProTour teams exclusively use carbon bikes doesn't mean that the other materials have been left behind. By no means. Most of us have become so used to carbon that if we don't feel that complete stiffness in the frame we think something is wrong. It's only when you mentally step back and observe that you think, well unless I've suddenly become Robbie McEwen, maybe this is the way I should be riding
The Astraeus seems to roll along, soaking up the bumps and giving you a very comfortable ride along the way, while still being sprightly enough to keep up with most other riders. A certain amount of credit for this feeling has to go to the Spinergy wheels. Carbon rims, for the most part do make a big difference to the way a bike feels and handles on the road. The combination of the Astraeus and the Stealths is a good one. A marriage of stiffness from the wheels and compliance from the frame. I did have one reservation with these wheels, however and that was the skewers, which were titanium. These were impossible to get tight. I first noticed it when climbing a small hill with Ben our ad manager. I make it a point of honour not to let Ben beat me to the top of this particular hill, but this day, he nearly did. I could hear him just behind me but over that I could hear the rear brakes rubbing badly. "It couldn't be the stays flexing that much," I thought. And it wasn't, it was the skewer. The titanium simply wouldn't grab on the aluminium axle and it was causing it to slip all over the place. Slipping a different skewer in solved the problem so the lesson is, great wheels, but stick to a non ti skewer.
This bike is so nice, it deserves the best components you can afford. You can go the whole hog with it by adding titanium branded bottle cages, ti stem, spacers and seatpost. Even a ti seat post collar. On the fashion front there's the standard full riding kit, tee shirt and water bottles. Click on the 'titanium jewellery' section. The Van Nicholas Astraeus is more than just a bike, it's a lifestyle investment.
Specifications
Frame
Van Nicholas Hydroformed 3Al/2.5V seamless double-butted cold worked Titanium tubing
Fork
PRO Carbon
Head Set
N/A
Stem
VNT Element Aluminium
Handlebars
VNT Element Aluminium
Saddle
PRO Griffon SL
Seat Post
PRO Aluminium
Shift Levers
SRAM Force
Brakes
SRAM Force
F Derailleur
SRAM Force
R Derailleur
SRAM Force
Cassette
SRAM 12-25T
Chain
SRAM
Crank
SRAM Force
Bottom Bracket
SRAM Force
Wheels
Spinergy Stealth
Tyres
Continental Ultra Gator Skin
Pedals
N/A
Weight
7.9kg without pedals
Price
$6,200
Distributor
Blue Globe Alliance

Ph +61(0)411 969154
Email : sales@vannicholas.com.au
Summary
Quality
Excellent. Beautifully finished and fine components. This bike oozes class.
Performance
Pretty good. The Astraeus, despite not being a super stiff carbon machine is still pretty fast. In fact, it's probably quicker than a lot of the low end carbon bikes in the market. The carbon wheels help here, but ditch the skewers.
Value
Good. At $6,200 you get a bike with a lifetime frame warranty, carbon wheels and a good groupset. Considering a number of us would replace say a $4,000 bike every few years this is very good value. Other prices include: Red ($7,450.00), Dura-Ace ($7,700), Super Record ($9,600) and of course all other groups are available.
Overall
With titanium bikes being this good and within the ball park of many people's budgets, we can expect to see more of them on the roads in future. The Astraeus is a beautiful looking machine and the combination of carbon wheels and titanium frame makes a bike that is both fast and comfortable. Ride it in a race and you won't fall behind. Ride it all day in the countryside and you won't be aching all over. Maybe bikes like this will begin to change our ideas about what we should and shouldn't be riding.