China is a country full of traditions, with a massive history and not the first place we think about when dreaming of our next cycling holiday. For a lot of us, our knowledge of China can be summed up by its population of 1.4 billion, their food (which we have Anglicised here in Australia) and those cute pandas we see on youtube. Now, it's time to rethink where your next holiday may be.
There is nothing like venturing to a new country. Flying into Chengdu, China's eighth largest city with almost 8 million people, was not like flying into any Australian city. There is no doubting that China produces a lot of the world's products and Chengdu plays a role in that supply chain – you can see hundreds of massive factories as you fly into the the capital of Sichuan. Chengdu is famous for its manufacturing of high-tech computer chips, hotpot plus those cute pandas. It is situated close to Tibet which means that it is surrounded by mountains.
At the base of those mountains is a city called Dujiangyan. A city of around 700,000 people which is famous for its ancient irrigation system, originally constructed around 256 BC. It is a sight to see and the city certainly has an old world charm complete with a restored historical centre with tiny alleys, boutique shops, interesting cuisine and is completely car free.
We were in Dujiangyan for the inaugural Haute Route Qingcheng. This 3 day cyclo-sportif was held from Friday 25 October to Sunday 27 October 2019 for 200 amateur cyclists from all over the world. The first two stages were 'classic' stages; 82km with 1,885m of elevation and then 133km with 2,510m followed by an Individual Time Trial stage of 13.13km with 696m. During the event, riders went over 1,000m passes many times and topped out at around 1,240m above sea-level on Stage 2.
Each morning, we did not have to ride far from the centre of Dujiangyan before we were pedalling on quiet secondary roads. And amazingly, the roads were completely closed for all stages. During S1 and S2 there were around 1,000 volunteers lining the roads to wave, welcome you and make sure the roads remained car free! There is something reassuring to know that when you descend, there are going to be no cars on any corners at any time.
Seeing The Sights Of China
The various stages included racing (or if you wanted riding) past the famous dam which supports the immense irrigation system, through bamboo forests and riding past the large kiwi fruit farms, where certain farms put a pouch around each piece of fruit to aid the growth.
We also witnessed things we never 'see at home' – outdoor meat markets – no refrigeration necessary, Tibetan villages, earthquake ravaged regions – this area was severely struck in 2008 by a quake which killed 40,000+ people – and villages which were lined with locals who were there to welcome and cheer us on.
This first event was deemed a huge success with one of our past riders mentioning:
'Spectacular courses, great organisation, absolutely closed roads (thanks to literally hundreds of marshals), tasty food, good hotels, pandas – the inaugural Haute Route Quingcheng had it all.'
Post event, we spent a morning at the Panda Breeding and Research Centre getting up close and personal with these delightful animals. Then we headed back into Chengdu for our last night.
We did a city tour of Chengdu on some handmade bamboo bikes, made with a lot of love by a local man and are impressively strong. Abu, the creator of the bikes, then showed us around his beautiful city, visiting temples, food markets and The People's Park where in one particular corner they have their own modern interpretation of match-making where people place an A4 sheet of paper to a tree listing their best qualities and their phone number. It really was a great four hour tour seeing this impressive city before heading to our hotel, the one and only luxurious Diaoyutai Boutique Hotel.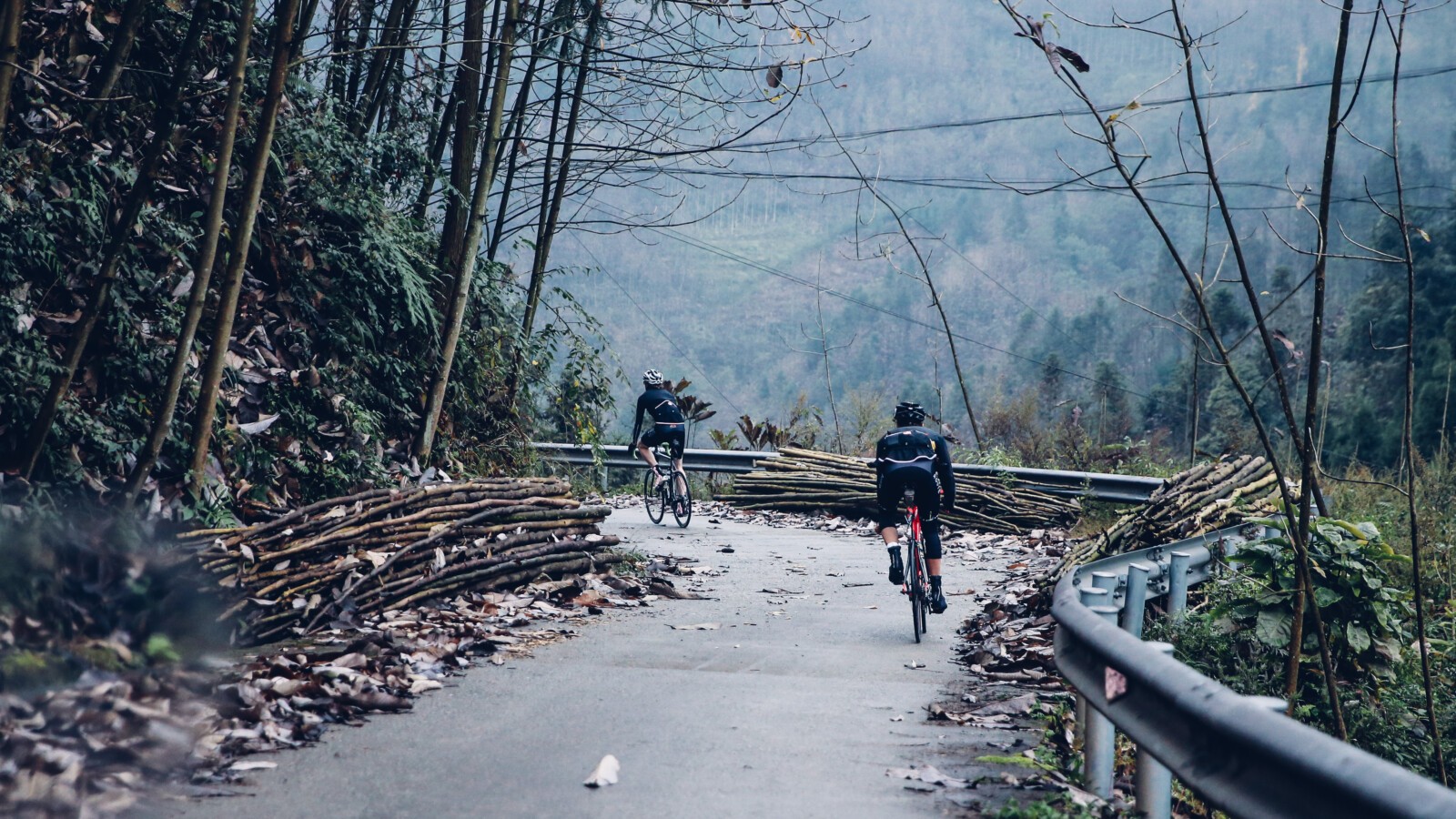 Some additional observations: bike shops are not easy to come by in Dujiangyan or Chengdu. The only western bike shop in Dujiangyan, a Giant Shop, recently closed down so it would be best to BYO gear to get you out of trouble. There are thousands of 'share bikes' being used around the city but beyond that, you are on your own. In Chengdu, remembering that it is a massive city, there are a number of bike shops available in different suburbs, just remember to use bing.com
Food; prepare yourself for Chinese delicacies which we do not see at our local take-away restaurants. In addition to exquisite local cuisine, there are the more exotic items such as pigs noses and chicken feet plus tripe and other delights to test your taste buds. Plus as you are in the Sichuan region, expect chilies, copious amounts of them. You will find them on everything from vegetables to your chicken feet. This is the beauty of travel, sample everything and keep your mind open. Then when you get home, laugh at what is considered traditional Chinese spicy Sichuan food.
twowheeltours attended this 3 day cyclo-sportif event with 16 clients as part of a 6 day tour – Thursday 24 October to Tuesday 29 October 2019. We will be offering another tour from Wednesday 14 October – Monday 19 October 2020.
Images: Haute Route and Will Levy
Link: https://twowheeltours.com.au/haute-route/china-qingcheng-2020
Social: http://instagram.com/twowheeltours