Recently we were invited to attend a cycling event with a difference. Firstly it was convened in Aspen Colorado. An intimate group of just 24 riders gathered at the charming Little Nell hotel in the heart of Aspen had the opportunity to ride with Christian Vande Velde, George Hincapie and Craig Lewis around the iconic ski resort village. The Clip in with Christian event was timed to coincide with the Stage 3 finish and Stage 4 start of the USA Pro Challenge, the Pro Continental tier race renowned for its tough climbing at high altitude through the Rocky Mountains.
Our host Simon Chen, an Australian ex -pat, is the Managing Director of the Little Nell hotel, which is gaining a reputation for developing innovative, high end experiences for its clientele who are looking for unique ways to spend their down time. Many destinations offer package tours, fly fishing the lakes and streams in the area, or other routine outdoor adventuring trips. But these are off the shelf offerings that anyone can take. Customised experiences to suit Little Nell clients for example have included a training session operating the massive snow cat ski-run grooming machine. It was truly unique, and for the skiing obsessed guest, an amazing money can(usually)not buy experience.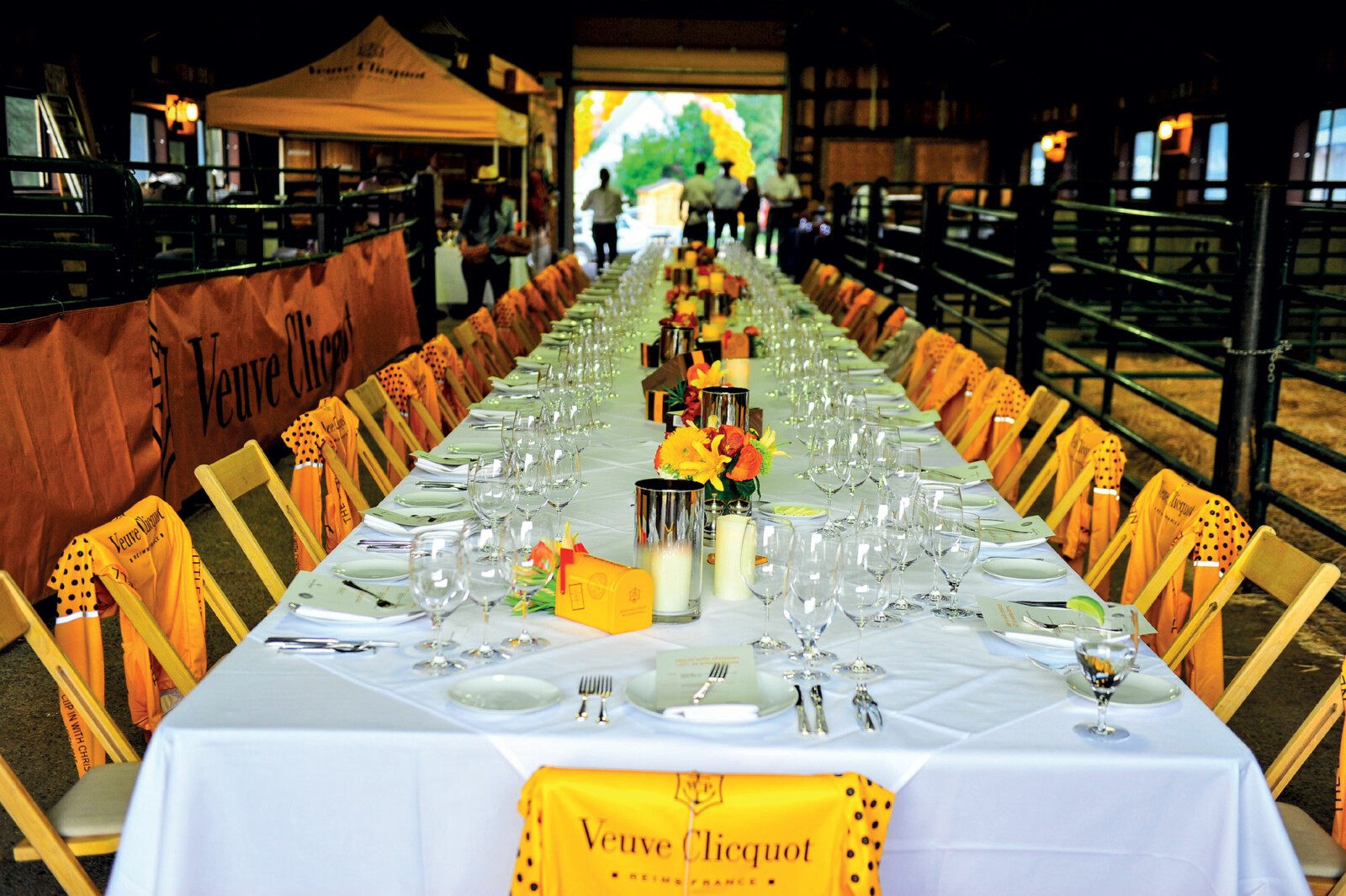 Clip In with Christian is not quite so obscure an adventure but truly an experience for cyclists who do, or would, enjoy the 5 Star, 5 Diamond lifestyle — modern luxury accommodation and a superb wine and dine experience, augmented with the unique chance to meet and ride with ex pro riders Christian Vande Velde, George Hincapie and Craig Lewis. Throw in riding one of the pass-baggers must do rides on the US continent; ascending the iconic Independence Pass, not to mention riding some of the scenic roads around Aspen under sunny blue skies and you have the recipe for a very special, most definitely unforgetable, even extravagant, cycling experience.
Summer is a magical time of year in Aspen. The countryside is green and the sky a rich blue contrasting vividly with the red earth of cliffs and canyons of the area. It's a magnificent region for riding and there are many hours of riding quiet roads to be had around the pretty little ski resort town with the big reputation. Aspen is blessed with an average of 300 sunny days per year, and when it does rain it's likely in the afternoons, and with snow usually overnight during winter.
Coming out of winter in Australia the Aspen sun is a pleasant change. Another contrast is the altitude. My hometown is at sea level so I arrived in Aspen a couple of days prior to the Clip In event to 'acclimate' to the thin air, and I'm glad I did. Riding below your expectations especially with a new group of people is not fun, and it definitely took a few days of riding before I felt close to my usual self on the bike.
Maroon Bells
Heading out to Maroon Bells was to be my first ride in Aspen and I couldn't wait to get started. Saddled up on my hire bike I headed out of town with my guide from the Nell, chatting comfortably until the slightest incline when conversation becomes stilted by my shortness of breath. One of the good things about Clipping In is that you get some serious altitude training right at the start of spring, so you can return home hopefully endowed with the lungs like Phar Lap!
Maroon Lake is at the far point of this ride, filling a crater at the base of the twin peaks: the 'Bells', Maroon and Pyramid. The lake is fed by runoff from snowfields and the waters are gin clear offering nowhere to hide for the rainbow trout cruising 30m offshore. As do many roads in the area, this one follows a stream, the Maroon Creek in the valley between two steep mountains.
After the ride I had the afternoon and evening to myself and so ventured into town to see what Aspen has to offer. Great dining choices, high end boutique retail, antiques and art galleries proliferate. The usual tourist T-shirt places too with any number of shirts shouting about the high altitude. And, for those wishing for a different kind of high, hash bars are legal in Colorado and you can get what you need at six fine establishments across town, but you'll need to finish or leave it before you head home.
There's an almost universal "Robert Palmer t-shirts in their travel bags" vibe going on downtown through the stores and cafes. Art galleries have some fine pieces on display and it's easy to spend some time wandering through them, each with their own style and feel. Most items are for sale from reproductions of classic posters from $1500, to large wall art portraits of Marilyn Monroe or Audrey Hepburn at a hefty $38,000 and yes, I'm told they do ship to Australia.
As a cyclist you'll feel right at home in Aspen; there are masses of bikes parked all over town, leaning against trees, chained to lightposts … old-school steel Raleigh roadies, I even saw a vintage Pro Flex K2 MTB.
Buttermilk Snowmass Loop
I rode the next day with Simon and Peter from the Little Nell around one of their regular loops they call Buttermilk Snowmass Loop. At just 31 kilometres with some easy hills; it's a nice little ride to get your lungs tuned in to the altitude. Chris Bogue from Giro also joined us. It's an idyllic route along one of the many wide pathways and then quiet roads through farmland away from highway traffic for the most part around Buttermilk and Snowmass; two of several ski resort towns in the area close by Aspen.
The big 'pass' ride is coming up tomorrow so on this afternoon I got all my gear laid out and went over the bike to make sure everything was in order, before heading out for dinner. Upon hearty recommendations of the concierge and some returning guests, that evening I head to the very hospitable L'hosteria, an Italian place for dinner and a few drinks the night before the Independence Pass Ride. A great night turns into an early morning but nevertheless I'm keen, and roll up to the start feeling 'close' to the top of my game.
The Clip In package included a schwag bag from event sponsors three complimentary riding kits from Hincapie's line, a new Synthe helmet from sponsor Giro and sunglasses by Smith Optics. Needless to say the Clip In bunch certainly looked the part wherever we rode during the stay. Non resident packages are also available or options to have a non riding partner join you for the stay.
Independence Pass
The visiting Clip In guests assembled for evening drinks in the poolside courtyard the Nell's Element 47 restaurant to meet and greet their riding companions for the next few days and prepare for the next day's ascent of the Pass. Two groups would leave at the same time; one comprising less proficient riders, mainly partners of those looking to leave their mark on the climb, while the fitter keener group left from the Little Nell with the pro riders.
Riding out of town took only a few minutes and we were soon into the climb with Hincapie and Lewis in the leading group, chatting with guests keeping a comfortable tempo. To our left is the steep mass of the mountain, to the right the rapids of the Roaring Fork River churning amidst stands of pines.
This is a bucket list ride for pass-baggers across the globe. It's a scenic, even spectacular ride, finishing well above the tree line on top of the Continental Divide at 3,687m, or 12,095 feet.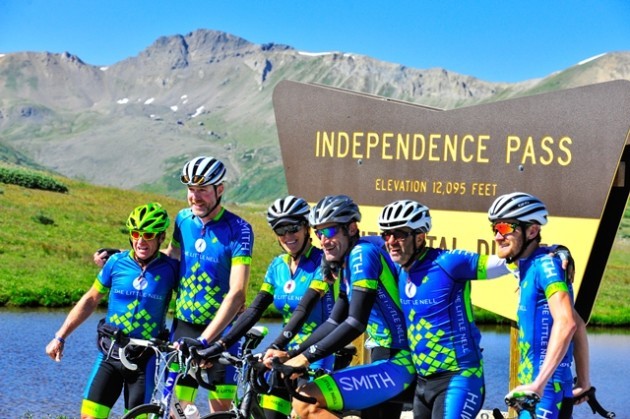 There are turn-outs now and then where you can stop and get a sense of the scale of the ride, looking back down the rocky rapids of the Roaring Fork River. Well paved and wide, the road is not overly technical in terms of tight corners or switchbacks. Rather it's a long haul, 30km of climbing, at regular grade with postcard views all around, so you can find your groove, settle in and enjoy the scenery, or wind it up and see if you make it to the top before your lungs give out.
Continuing over the top of the pass, you could descend down to the town of Leadville, home of the famed mountain bike race. It was also en route from Breckenridge to Aspen during Stage 3 of the Pro Challenge this year. Rohan Dennis and the BMC team pulled back the break on the climb from Leadville to the top of the pass, quite a stunning performance from the Aussie who was in brilliant form. We however were doing the out and back and so turned round and headed back to Aspen.
Headline celebrity with the Clip In With Christian event is the personable and outgoing Vande Velde who retired from pro racing in 2013 and has since found a comfortable niche as anchor for NBC's cycling broadcasts. His duties with the race commentary kept him from riding Independence Pass with us, while George and Craig held the fort on the mingling front. We made it to the top took photos and headed down to escape the wind chill.
Despite my initial indifference, I found I was quite chuffed to be sitting next to these men at breakfast and dinner, having a few drinks and chatting about their experiences— then and now, and riding with them on some spectacularly scenic roads. It was clear to see the rest of the crowd was equally impressed with their new friends, especially when they would ride alongside chatting and sometimes give a friendly shove over the next rise.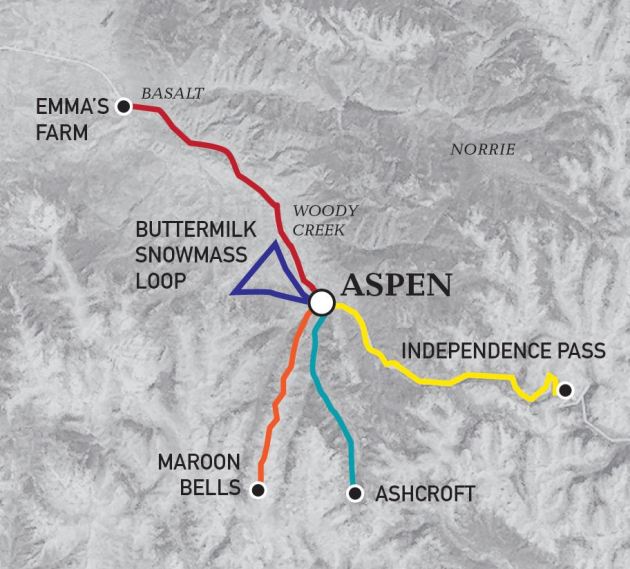 Aspen to Ashcroft
Day two of the event and there's a delicious breakfast and great coffee before the second official ride with the Clip In crowd, the 2.5hr Ashcroft loop. It's another out and back ride of 38km, and again a steady climb most of the way for its total 699m.
We head through green farmland and alongside bubbling streams, mountains encircling us constantly. At one point the pros take off with a fast bunch and return soon after for a more casual ride chatting with partners and those taking in the spectacular surrounds. Uphill on the way out makes for a fast return trip. (Check out a front and rear view video of part of the ride on our facebook page www.facebook.com/BicyclingAustraliaMagazine.)
It's a rare treat to ride with guys of this calibre. Christian Vande Velde and Craig Lewis are fun and outgoing characters while Hincapie is more quiet and reserved but with a wicked sense of humour lurking not far beneath. Hincapie made friends with Andy Devine, an outgoing tour operator and pretty decent rider. At one point when the going got tough though, Hincapie turned to his new mate and said mock-menacingly "I've ridden 19 tours de France. You will never get a better coach than right now. So cowboy the f— up, and get on my wheel."
We have a casual lunch at the Little Nell's Ajax Tavern, then meander the few blocks down to watch the Pro Challenge riders finish stage three in the main street of town. It's a big bunch sprint to the line after Rohan Dennis romped up the far side of the Pass pulling back the break, and then blasted the final 30 km to the finish line in Aspen. Dennis took second and the lead of the overall race form BMC team mate Brent Bookwalter.
Emma's Farm
After the fast paced ride to Ashcroft this morning the final ride of the Clip In With Christian experience was a casual meandering ride along a superbly engineered bike path that continued downhill at a constant -1% grade for around 30km to Emma's Farm. Bike and pedestrian traffic is very light and several bunches formed chatting and reliving the past couple of days' rides. With the warm afternoon's setting sun, and riding beside the Roaring Fork River in the red rocky canyon; it's just delightful.
The caterers had in store something special for the gourmands of the group. Perhaps the most opulent meal of the event, there is exquisite seafood, wagyu steak and thanks to a partnership with Veuve Clicquot, four varieties of vintage champagne.
But wait there's more! A final addition for the shwag-bag from the sponsors and organisers. Hincapie teamed up with Veuve Clicquot to create a long sleeve gold jersey for every rider replete with Veuve logo emblazed across it. I haven't been game to wear this one for fear of envious reprisals!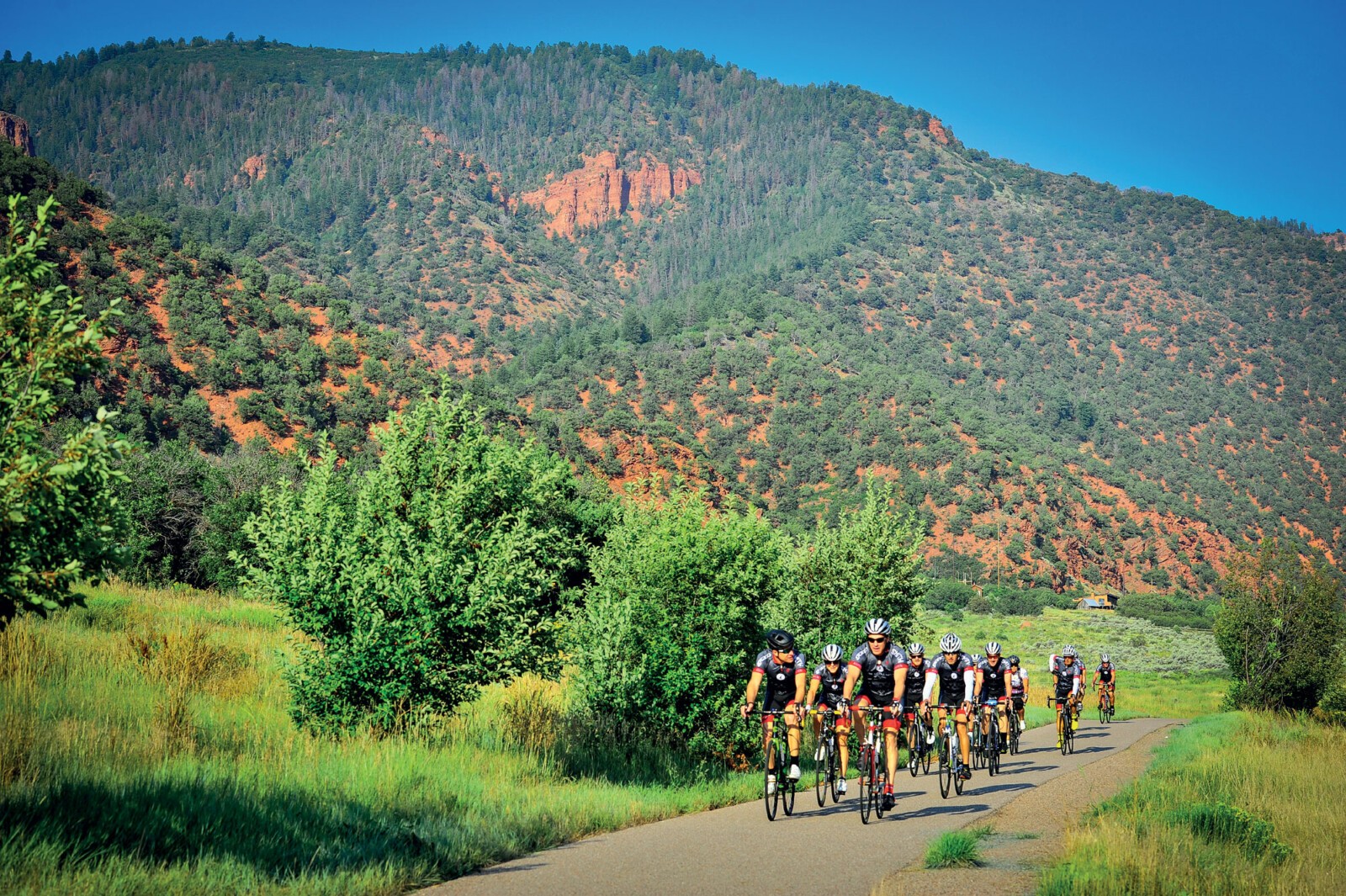 This event is without doubt at the top end of the market pricewise and won't be for everyone. However interest in the current group was high enough to indicate they'd need two groups in 2016. If cost is no barrier or if you simply love the idea of a prestige treat for yourself to ride one of the highest and most scenically stunning and challenging road passes out there, Clip In With Christian should definitely be a consideration.
Into Thin Air
'Oxygen content' is related to air pressure, which is a direct result of the total air mass in the atmosphere pressing down due to gravity. The greater the total mass of air above you (between the earth and space), the greater the pressure, and the more molecules of all the gases that comprise the air are squeezed in per given volume. The lower the pressure, the lower the density i.e. the less particles per volume.
Air pressure sea level or zero metres 
altitude is 101kpa, or 760mmhg millimeters 
of mercury.
1,000m is 90kpa or 679mmhg which is 89% of the oxygen available at sea level.
2,000m is 81kpa or 604mmHg or 80% of the oxygen available at sea level.
3,000m is 72kpa or 537mmHg 71% of the oxygen available at sea level.
3,687 the top of Independence Pass is 66kpa, or 494mmHg, at which level there is just 65% of the oxygen that is available at sea level.
The mountaineers still win … Everest base camp is at 5,545m above sea level, with a reading of 52kpa or 392mmHg, and just 52% oxygen saturation!
Anyway, best pack an extra set of lungs.
Keeping it Real
Coffee at Victoria's (run by an Aussie expat) is reputedly the best in town and has been for 20 years. It's casual and a bit rough round the edges but they make a good brew all the same.
The Butcher's Block has 40yrs plus serving the community as a great little café and deli that is keeping it real, very good coffee and food options including freshly made salads, cold meats and sandwiches.
Aspen Bike Tours and Rentals is immediately next door to the Butcher's Block—and just across the road from the Little Nell.They provided a carbon Litespeed with compact gearing for me to ride while in town, a decent, late model bike that eliminated the hassle of lugging my own across the globe.
L'Hostaria is a great place to eat out, favoured by locals, has entertaining service staff, good music and delicious Italian food.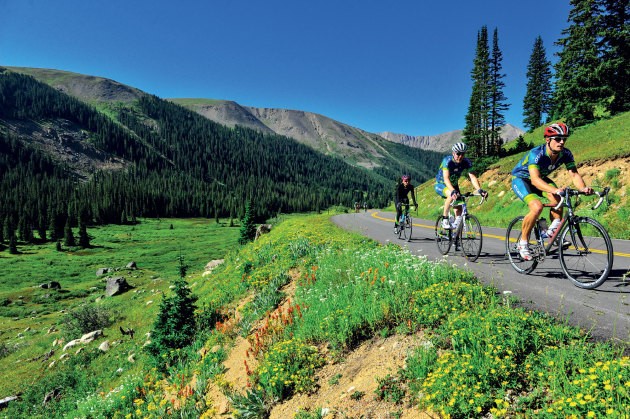 Race Through the Rockies
The USA Pro Challenge has been running since 2011 and sponsors have recently announced they will step down and organisers are looking for new supporters to step in.
Levi Leipheimer took the inaugural event in 2011, followed by Vande Velde in 2012 and then Tejay Van Garderen in both 2013 and 2014, while Rohan Dennis dominated the race this year and went on to win the seven day race.
USA Pro Challenge is a Pro Continental status event racing through the Rocky Mountains in Colorado reaching altitudes higher than any professional Stage race in the world. It is one of the three largest cycling races in the US along with the Tour of California, and the Tour of Utah.
Overall winner Rohan Dennis, 2nd place Brent Bookwalter (+0:40), 3rd place Rob Britton (+1:31)
Stage 1 
- Steamboat Springs Circuit, 155.5km, 
won by Taylor Phinney
Stage 2 
- Steamboat Springs to Arapahoe Basin, 184.7km, won by Brent Bookwalter
Stage 3 – 
Copper Mountain Resort to Aspen, 
163 km, won by Kiel Rejnen
Stage 4 
- Aspen to Breckenridge, 203km, 
won by Rohan Dennis
Stage 5 – 
Breckenridge ITT, 14km, 
won by Rohan Dennis
Stage 6 
- Loveland to Ft Collins 165km, 
Roman Kreuziger
Stage 7 
- Golden to Denver, 110km, 
won by John Murpphy
Australian riders comprised around 15% of the field with 18 individuals and two teams; Team Budget Forklift, and Drapac Pro Cycling.
Teams with Australian Riders
BMC Racing Team – Rohan Dennis
Team Budget Forklifts – Brendan Canty, Tommy Nankervis, Jack Anderson, Brodie Talbot, Josh Berry, Jack Bobridge
Jelly Belly – Lachlan Morton, Angus Morton
Drapac Pro Cycling – Lachlan Norris, Tim Roe, Adam Phelan, Jordan Kirby, Sam Spokes, William Clarke
United Health Care – Jonny Clarke
Hincapie Racing – Joe Lewis
Trek Factory Racing – Calvin Watson